Today in this post let's compare JBL Charge 3 vs Charge 4.
JBL is famous for its handy Bluetooth speakers, among which are the Charge 3 and Charge 4. These speakers give you pounding bass regardless of their small frame.
Last update on 2023-09-21 / Affiliate links / Images from Amazon Product Advertising API
Charge 3 and Charge 4 are two of the best JBL speakers with so many similarities. In fact, it may be hard to tell them apart. However, the subtle differences give each speaker its unique usefulness.
Which one is better, the Charge 3 or Charge 4?
Are there any features that make the Charge 3 or Charge 4 better for you?
I will answer these questions in this article.
Features
JBL Charge 3
JBL Charge 4
Bluetooth version
4.1
4.2
Battery life
up to 20 hours (varies by
volume level and content)
up to 20 hours (varies by
volume level and audio content)
Battery type
Lithium-ion Polymer (22.2Wh)
Lithium-ion Polymer 3.6V, 7500mAh
Power bank included?
Yes
Yes
Voice Assistant integration
Yes
No
Speakerphone
Yes
No
Weight
800g
0.96 kg
3.5 mm audio cable Input
Yes
Yes
But at Amazon
Buy Charge 3
Buy Charge 4
JBL Charge 3 vs Charge 4
Build and design
Charge 3 is a well-built Bluetooth speaker with a solid frame. You feel the sturdiness immediately when you grab the speaker in your palm. This Bluetooth speaker is quite bulky, but will still fit into your backpack, although there won't be much space for other stuff.
If you're hiking, this speaker may weigh you down a little – it weighs 1.76 pounds. If you're not trekking a long distance with it, you should be able to carry it along.
There's another layer of protection in the form of a fabric wound around the speaker. For a much lighter option, you may look at the Flip 4 bluetooth speaker.
This allows you to use it at the beach without worrying about sand getting inside. The fabric also helps your grip when holding the speaker, especially when wet. It holds the water without making the speaker slippery.
Charge 4 is quite similar to Charge 3 in design, although it's a bit larger. The difference in size is not so obvious and makes only a little difference.
Aside from the slight size difference, other physical qualities are the same – a 3.5mm aux, USB-C and USB-A ports are at the rear of the speaker, protected by a silicone door.
In Charge 3, you only have a mini USB port. Make sure this door is closed anytime you're not using the ports to prevent water or dirt from getting in.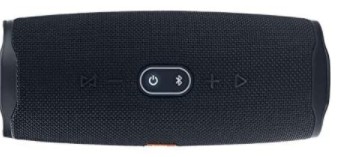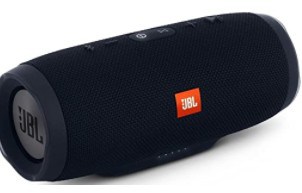 The controls on the speaker are for playback, pairing volume, and power. The buttons make a click sound when pressed. This makes it easier to use them in the dark. However, only the power button has a backlight, so it may be tricky finding them in the dark.
Verdict: There is very little difference in build, but the slight difference in weight can mean something for long-distance trekkers. If you're walking a long distance, you should go for Charge 3. Also, the mini USB port on the Charge 3 may be a deal-breaker – it's easier to get a Type C cable these days.
Features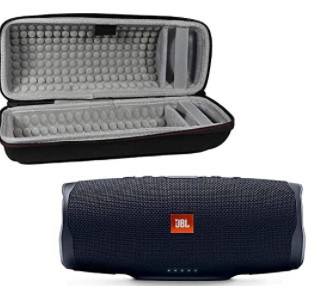 The JBL Charge 3's Bluetooth connection covers a lot of distance. Without any solid obstruction like a wall, you can place your phone 60 feet away from the speaker and still play your music.
With walls, in between, it gives you up to 30 feet. That's still a good distance that can cover anywhere in the house. Charge 4 gives you a similar connection distance.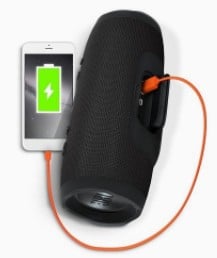 The difference in connection shows when using the JBL Connect+ app. In Charge 4, you can connect up to 100 speakers in the party mode.
Charge 3 has the older JBL Connect app, which only allows you to connect with two speakers. Unfortunately, Charge 3 is not compatible with the Connect+ app. It shouldn't be a problem if you're not looking to throw a huge party soon.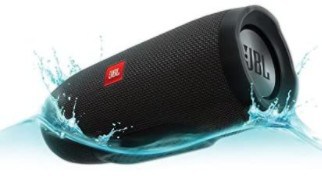 Both speakers have the IPX7 waterproof rating. This means that they can survive a 30-minute dip inside water. If you're by the pool and it falls in by mistake, there's nothing to worry about. Also, they float for a while when dropped in water.
Charge 3 and Charge 4 do not have mics. So, you can't answer your calls with them. Also, you can't give voice commands since they can't "listen".

In a Charge 3 vs UE Megaboom comparison, this would be an advantage for the Megaboom, because it has a mic and can take voice commands.
Verdict: If you're looking forward to a huge JBL Connect party, you should stick to the Charge 4. Aside from that, other features are quite similar in both speakers.
Sound quality and performance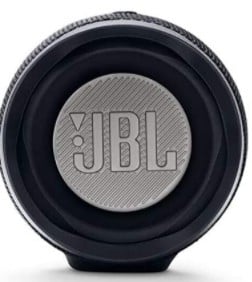 The first thing you will notice in Charge 3 is its bass boost. The bass is more prominent than other frequencies.
While this may impress some bassheads and hip-hop fans, audiophiles may find it imbalanced. The midrange is quite reduced. This means that classical and jazz music may not sound as rich and warm as it needs to be.
The elements affected most are the quieter parts of the midrange, like a soft guitar or whisper. Charge 4 sounds very similar to Charge 3 despite having fewer drivers.
The reduced midrange is also evident here. In both speakers, there is little stereo width – it's expected because of the size.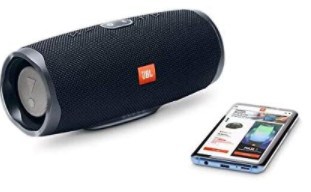 It is also important to note that these speakers don't give 360-degree sound. The sound comes from the front of the speakers. For better bass, place the speakers vertically. This makes the bass from the radiator vibrate off the surface.
Even though these speakers have an impressive bass response, you'll enjoy such production more when using them indoors. Either way, they can fill up medium-sized spaces.
For the outdoors, you may look at portable party speakers, especially if you'll use one speaker. Also, there's no sub-bass sound production. We can't expect that given the speaker sizes.
Charge 4 is a little bit louder than Charge 3, although most people won't notice the difference.
If you're using the speakers outdoors, listeners farthest from the speakers will hear less bass than treble sounds, because the bass travels less. Generally, you'll have better bass indoors.
Verdict: The only difference here is that Charge 4 is a little bit louder – which you may not even notice. These speakers are basically the same in terms of performance.
Similarities and differences
Similarities:
Both Bluetooth speakers can connect over a distance of 60 feet without obstruction.
Both speakers are similarly shaped, with bass radiators at both ends.
Charge 3 and Charge 4 both have louder bass than midrange and treble.
The speakers have a similar waterproof rating (IPX7) – they can survive 30 minutes of water submersion.
Differences:
Charge 3 uses JBL Connect app to connect two speakers, while Charge 4 uses the Connect + app to pair up to 100 speakers.
Charge 3 only has a mini USB port. But Charge 4 offers both Type C and Type-A USB ports.
Pros and cons
Charge 3
Pros
Good for hip hop and EDM because of its loud bass
Relatively mobile – it can fit into backpacks
Bass radiators improve the bass response
Cons
Charge 3 lacks 360-degree sound – can't play in all directions.
It can only pair with two speakers.
Charge 4
Pros
It is waterproof – good for the poolside and beach.
The covering fabric prevents beach sand from getting inside.
The speaker is quite loud and can connect to up to 100 speakers.
Cons
Low midrange response – not the best for classical and jazz music.
Speaker is bulky – not the best fit for long trekking.
Recommended read:
Conclusion
The JBL Charge 3 and Charge 4 are similar in many ways, but the subtle differences still make each one unique.
Charge 3 is every bit as useful as Charge 4, except if you hope to connect multiple JBL speakers for a party.
If you need your speaker just for personal use, Charge 3 is just as good. The other thing you may need to consider is the mini-USB port in Charge 3. Getting a replacement cable won't be s easy as getting a USB-C.