Today in this post I am going to review JBL Xtreme 2 vs Charge 4 and help you decide which one is the best solution for you.
Last update on 2023-09-21 / Affiliate links / Images from Amazon Product Advertising API
JBL has a number of Bluetooth speakers that are quite similar. Most times, you may find it hard to make the best choice.
Such is the relationship between Xtreme 2 and Charge 4. However, in this case, the few differences between these speakers are vital to your satisfaction.
So, which speaker should you choose, the Charge 4 or Xtreme 2?
What features must you consider when making your choice?
Which speaker is more useful, and in which cases?
In this article, I provide answers to these questions and many more.
Features
Xtreme 2
JBL Charge 4
Bluetooth version
4.2
4.2
Battery life
up to 20 hours (varies by
volume level and content)
up to 20 hours (varies by
volume level and audio content)
Battery type
Lithium-ion Polymer (10,000 (mAh))
Lithium-ion Polymer 3.6V, 7500mAh
Power bank included?
Yes
Yes
Voice Assistant integration
Yes
No
Speakerphone
Yes
No
Weight
800g
0.96 kg
3.5 mm audio cable Input
Yes
Yes
But at Amazon
Buy Xtreme 2
Buy Charge 4
JBL Xtreme 2 vs Charge 4
Build and design
The Xtreme 2 is a solid cylindrical Bluetooth speaker unit from JBL. It has a solid build with the middle slightly wider than both ends.
At the bottom, there is a rubber base to keep the speaker grounded. It is about 11 inches long, so we can consider it portable in terms of size.
The same can be said of the Charge 4 – cylindrical shape that can fit in your backpack. Their similar sizes will tempt you to expect equal weights.
Surprisingly, this is not the case. At 5.3 pounds, the Xtreme 2 weighs more than twice the Charge 4.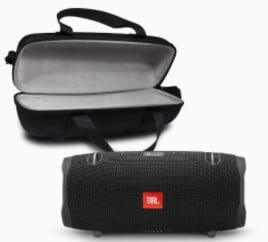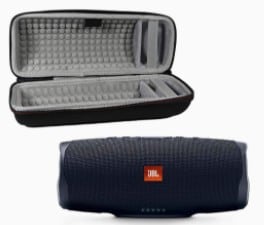 So, even though both speakers can fit in your backpack, they have different impacts on your shoulders.
The Xtreme 2 has hooks where you can attach a strap for carrying it around. So, without a backpack, you can sling it over your shoulder. It may seem unimportant, but it's actually very useful.
Like Charge 4, Xtreme 2 has bass radiators on both ends. These radiators help the Bluetooth speaker to pump a punchier, more powerful bass.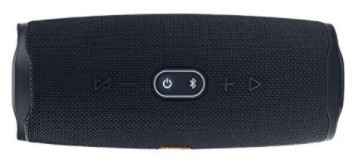 The Xtreme 2 does not have track navigation buttons – the controls available are Bluetooth pairing and volume adjustment buttons.
At the rear of the Xtreme 2, you'll find the ports, well secured in a compartment to prevent exposure to water or debris.
Inside the compartment, there are the 3.5mm aux port, USB and micro USB ports. There's also an outlet for charging via the power adapter.
Charge 4 only has USB-A and USB-c ports. It suggests that Charge 4 is a more recent product.
The speaker is quite bulky, so you can't grasp the full width in your palm. The straps give you a cool carry-on option. Charge 4 has no allowances for such hooks, despite being similar sized.
Features
The JBL Xtreme 2 has a Bluetooth 4.2 connection. The pairing and connection quality is similar to Charge 4 in many ways.
It gives you up smooth playback for up to 30 feet with solid barriers, and as far as 60 feet in an open space.
With the Connect+ app, you can hook up your JBL Xtreme 2 to 100 other JBL speakers. Of course, most people won't need this, but it's a pretty cool possibility.
The Bluetooth audio connection is the basic type – not AptX or AAC. This means that you may experience a little latency while playing videos or games.

If you're playing a shooting game like COD, this latency can be deadly – you'd probably be dead before you hear your enemy shoot.
Charge 4 isn't any better in this regard. Even though it's a more recent product, its bluetooth connection behaves just like Xtreme 2.
Having said that, you should know that these speakers are awesome for music.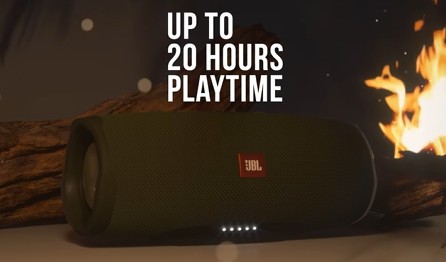 We'll explore the sound quality shortly. The battery lives are also similar in both speakers. If you play them at 75% of the maximum volume, their batteries will last up to 15 to 20 hours.
One major difference is the charging option.
The Xtreme 2 charges via the AC port. The correct adapter is included in the pack.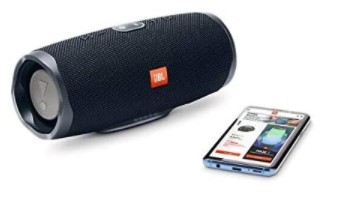 Charge 4 on the other hand charges via the USB port. This means that you can charge Charge 4 with a mobile power bank when you go camping.
The Xtreme 2's AC adapter sounds like something from way back. It has a micro USB port, but that's just for servicing.
Both the JBL Charge 4 and Xtreme 2 have an IPX7 rating. This means that they can survive inside water for up to 30 minutes, without taking any water-related damage.
There's a caution to this though – you must make sure that the back panels are well covered. If they're not, water can seep in and damage the input ports.
You're probably wondering where the difference is. It's in the microphone function. Charge 4 does not have a mic, so you can't receive calls with it and it cannot receive voice commands. With Xtreme 2, you can do both.
Verdict: Here, I'll go for the Xtreme 2. The speakerphone option is enough to pick my choice. However, if you don't intend to use your Bluetooth speaker to receive calls, Charge 4 may prove more efficient, because it has more modern features.
Sound quality and performance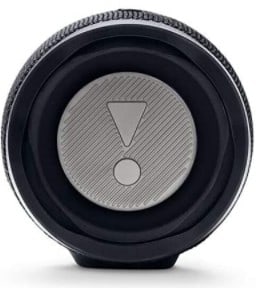 Some good news for bassheads here!! The Xtreme 2 sound is more focused on pumping more bass. Hip hop, EDM, Grime, and other bass-heavy music lovers would love this bass response.
However, though the bass is loud and punchy, it doesn't reach deep enough to give you sub-bass. You can't have that with a speaker this small.
Charge 4 has a similar bass response – bold and punchy. Xtreme 2 bass should be about 5Hz deeper, but you won't really notice this difference by ear.
In the mid frequencies, there's a slight dip. This makes some elements in your music less audible – like quieter guitars or strings.
This means classical music might be missing some detail. The upside here is that there's no harshness in the upper mids.
Music with shouting vocals and loud guitars can sound pleasant without hurting your ears. Again, the sound here is similar to Charge 4. It's hard to tell the difference if you can't see where the sound is coming from.
The highs are bright and bold, but not harsh. For a speaker this loud, you would half expect some screeches when you turn up the Xtreme 2 or Charge 4. Instead, the sound stays just like it sounds at lower volumes.
One other similarity in the sounds – both speakers do not give 360-degree sound. This means that if you're behind the speaker you won't hear the best sound. You'll feel the weight of the bass though.
Verdict: There's no difference of note when it comes to sound here. It wouldn't make any audible difference I chose either of the speakers.
Similarities and differences
Similarities
Both speakers have a cylindrical shape, with a rubberized base for standing.
The Charge 4 and Xtreme 2 have bass radiators on either side to enhance bass response.
The Bluetooth speakers are both waterproof, with an IPX7 rating; meaning that they can withstand being in the water.
Both Bluetooth speakers have batteries that can last up to 15 hours.
The JBL Charge 4 and Xtreme 2 sound-alike – strong bass, slightly reduced mids, and balanced highs.
Differences
While the Charge 4 charges via its USB port, Xtreme 2's battery is powered via its AC adapter.
Xtreme 2 has a mic that enables you to receive calls and give voice commands – a feature that's absent in the Charge 4.
The difference in their weights is notable, with Xtreme 2 weighing up to 3 times the Charge 4.
Also read:
Verdict
While these two speakers are so similar, the few differences are significant.
If you're hiking, Charge 4 should work much better for you – it's much lighter.
Also, if you plan to use the speaker outdoors, it will be easier to get a power source for the Charge 4 since it charges via its USB port.
Xtreme 2 will be the speaker for you if it's important to give voice commands or receive your calls with the speaker.