Today in this post I am going to review the best speakers for projectors.
Our Best Pick
Bose Companion 2 Series III Multimedia Speakers - for PC (with 3.5mm AUX & PC Input) Black
Excellent Surround Sound
Logitech Z906 5.1 Surround Sound Speaker System - THX, Dolby Digital and DTS Digital Certified - Black
Best Value
OontZ Angle 3 Bluetooth Speaker, up to 100 ft Wireless Range, Portable Speaker for iPhone, Android Phones, Louder Volume, Crystal Clear Sound, Rich Bass, IPX5 Portable Bluetooth Speaker (Black)
Our Best Pick
Bose Companion 2 Series III Multimedia Speakers - for PC (with 3.5mm AUX & PC Input) Black
Excellent Surround Sound
Logitech Z906 5.1 Surround Sound Speaker System - THX, Dolby Digital and DTS Digital Certified - Black
Last update on 2023-09-21 / Affiliate links / Images from Amazon Product Advertising API
Projector speakers!
Why do you even need them?
As you might know, projectors only recreate images and videos, no sound.
You need some kind of speaker to reproduce the audio!
| | | | | |
| --- | --- | --- | --- | --- |
| | | | | |
| | | | | |
| | | | | |
| | | | | |
| | | | | |
| | | | | |
There are solutions such as soundbars, projector sound systems, outdoor movie speakers, external speakers, wireless speakers, and sound system speakers in general.
Now keep in mind, projectors come with audio ports and Bluetooth so you can connect these speaker systems.
Makes sense, right?
Some of these speakers are battery-powered, portable, and even water-resistant depending on the model.
For wedding situations or general "party" environments, wireless/Bluetooth speakers are ideal in order to reduce the cabling mess.
On the other hand, for home theater and quieter situations, wired speakers are more suitable using RCA cables.
Which one should you buy? Here we go!
Top 5 speakers for projectors reviewed
Specifications:
Speaker Connectivity – Wired
Audio Wattage – 20 Watts
Wattage – 50.00
Batteries Included – No
Batteries Required – No
Connector Type – AUX, 3.5 mm jack
Includes Rechargeable Battery – No
Remote Control Included? – No
Sound quality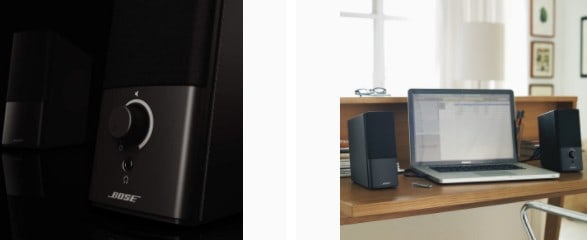 As most Bose equipment, the Companion 2 Series III Multimedia Speakers deliver great sound quality considering the small frame they present.
The 2" speaker cones paired with the 6" deep cabinets give these speakers the possibility of obtaining a nice and powerful volume, for the everyday computer and projector user.
The distortion is very low even at higher levels, making them sound very flat across the spectrum.
Features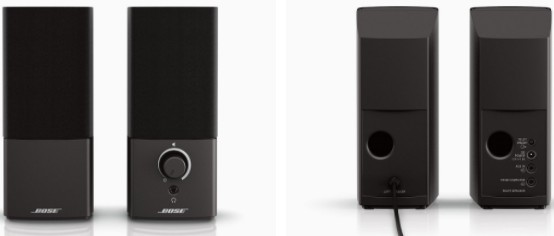 These speakers have two independent inputs. One for the computer and another one for an auxiliary source, ideal when you have a projector or other audio player device on your system.
The front of the unit contains a headphone jack to plug your favorite 3.5mm headphones for a more personal experience with sound, perfect for those working late hours or night shifts.
There is a volume knob on the front of the speaker to regulate the overall output of the speakers and headphones and make it easier to access for the user.
What do we like?
Bose's sound quality makes these speakers very low in distortion, even at high volume levels.
Two independent source inputs, ideal for users that have more than one playback system available.
Front volume control and headphone port make them accessible for the most demanding users.
What we don't like?
No Bluetooth or wireless connection option provided, therefore you always need a cable to send signals to the speakers.
Not battery powered, you will always need external power to energize these speakers, making them less portable than others.
Specifications:
Total watts (RMS): 500 W
Subwoofer: 165 W
Satellites: 4 x 67 W, wall mountable
Center channel speaker: 1 x 67 W, wall mountable
Digital optical input: 2
Digital coaxial input: 1
Six-channel direct input: 1
Sound quality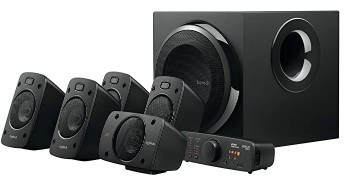 The Logitech Z906 is a surround sound system, meaning it has 5 satellite speakers plus a subwoofer, giving you the ultimate cinema sound experience.
Having a surround system makes the perceived soundstage bi-dimensional, letting you feel not just the left and right sides of the image, but also front and back. You will think you are part of the movie!
The system provides 500 watts RMS which are capable of creating loud audio and deep bass reproduction.
Features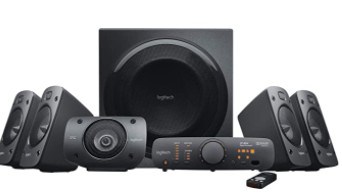 This system is extremely versatile, letting you connect up to 6 different devices, such as your projector, computer, laptop, iPad, all using 3.5 mm connectors, RCA, and even optical!
It comes with a control console that lets you switch between sources, control the volume, mute the system, and toggle between surround, 4.1, and 2.1 modes.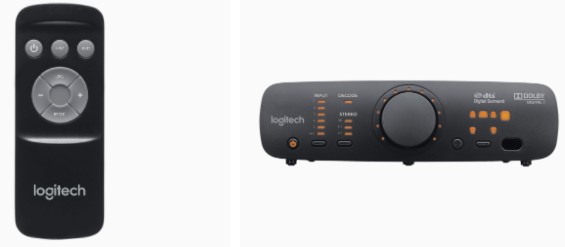 It also has a remote control that lets you operate the system from your couch, without even needing to stand up to manipulate it.
These control options are easy and fast to operate, with no hidden functions or obscure modes.
What do we like?
This system can get loud with its 500 watts RMS, great for home movies-purposes using a projector.
The sound quality, especially of the low-end is great due to its dedicated subwoofer speaker.
The control features make this system extremely versatile to operate and interface with other devices.
What we don't like?
Not portable at all, since it is designed to be mounted as a fixed install.
It must be plugged to external power at all times, no battery options are available.
Specifications:
Bluetooth 5.0 (Black Version) – Bluetooth 4.2 (White Version)
Play up to 100 feet from your audio device
Exceptionally Loud Volume
IPX7 Waterproof (Black Version) – IPX6 Weatherproof (White Version)
Ultra-Portable, Ultra-Lightweight
Stylish Design plays horizontally and stands to play vertically
Hands-Free Personal Speaker Phone
Sound quality
The OontZ Angle 3 is a portable speaker system that can deliver surprisingly loud sound on a small 5-inch wide frame.
It comes with two Precision neodymium Stereo Drivers, capable of recreating a very decent stereo image of mids and highs.
At the same time it as a downward-facing Passive Bass Radiator that recreates loud low frequencies, ideal for party music!
The system is capable of playing back vertical or horizontally without losing sound quality.
Even though the system only has 10 watts, it capable of reproducing audio perfectly for a room or an outdoor pool situation.
Features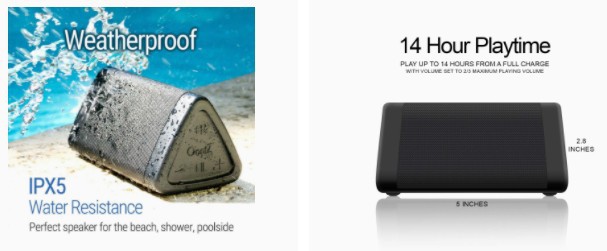 These speakers are rain and splash-proof, great for outdoors!
They are portable and lightweight, so you can set them pretty much everywhere, either inside with a projector or outside with your phone.
The sources connect via Bluetooth so you will never need any more cables that can fail.
It comes with rechargeable batteries that can last up to 14 hours! This makes them ideal for longer parties, gatherings, or binge-watching your favorite series on your home projector.
They also have a built-in microphone so you can answer calls of your phone when it is connected to it via Bluetooth.
What do we like?
Rechargeable batteries are great for outdoor situations.
Bluetooth capabilities reduce the number of cables.
What we don't like?
Small speaker cones will never be able to yield the same frequency response of high-quality professional speakers.
The stereo image is very narrow, almost making it sound mono.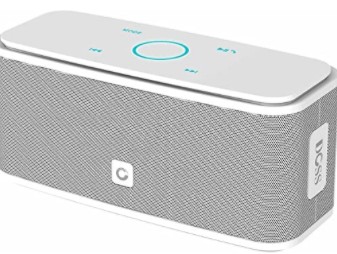 Specifications:
Sound Driver: 2 x 6W High-Performance Drivers
Waterproof: IPX4
Bluetooth Version: Bluetooth 4.0 + EDR
Feature: Touch Control
Playtime: 12 hrs
Size: 6.6 x 2.9 x 2.7 in
Weight: 1.23 lbs
Sound quality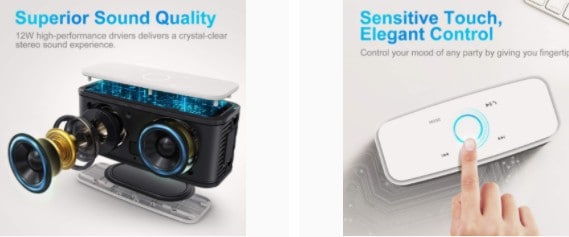 The DOSS Soundbox is a 12-watt portable speaker ideal for indoor as well as outdoor activities.
The iconic shape is capable of reproducing a 360-degree stereo sound that everyone can enjoy!
Its speaker design makes it possible for this device to deliver full sound with great bass response.
It has two main drivers that are capable of reproducing the high and medium frequencies, with a pressure bass that enhances the low part of the spectrum.
The combination of drivers and enclosure makes it possible for this to yield harmonic distortion levels below 1%, extremely rare on this type of system.
Features
These speakers are powered with rechargeable batteries that last up to 12 hours, plenty of time to blast your favorite music!
Their design features IPX4 water and dustproof ratings, ideal for using it outdoors or indoors.
The user interface is completely touch-based but also supports voice control. This speaker understands your language!
The audio signals can be routed into the speakers using Bluetooth, microSD or even and aux input. So you have pretty all possible connections in a single box. (By the way, the aux input cable is included!)
What do we like?
Bluetooth, microSD, and aux inputs available, making it ideal for any situation.
12-hour battery power makes them last very long, great for extender parties!
They sound great, considering they are portable speakers.
Touch operation and voice control make them ideal for the most demanding and "technological" users.
What we don't like?
No surround sound options for cinema sound.
No MicroSD card included
Specifications:
Brand – TaoTronics
Speaker Type – Surround Sound
Item Weight – 1.42 Pounds
Power Source – Corded Electric
Dimesnsion – 16 x 2.5 x 2.8 inches
Sound quality
The TaoTronics speaker is a Sound Bar, not a portable speaker system.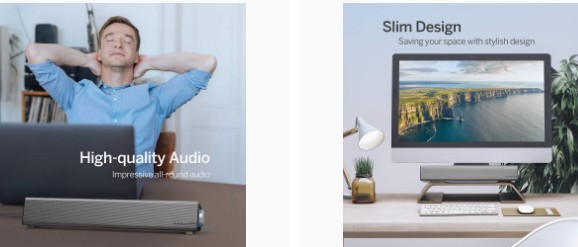 Soundbars in general are well known for their extended stereo soundstage that makes you feel you are part of the stage because of how big it sounds.
Like a lot of soundbars, it connects to the computer or projector using a 3.5mm input cable, no Bluetooth included.
The sound quality is great and the overall volume is decent too.
A dedicated volume knob is located to the side of the bar so that you can control the overall output gain of the system, very easy to operate.
Features
The slim enclosure design makes it ideal for users trying to locate the speakers below a TV, computer screen, or even the projector screen.
This system must be powered using the USB cable included, which can be connected to a power adapter or a computer.
It also has a 3.5mm microphone connector so that you can actually "talk into it", ideal for gaming purposes.
These speakers also have a 3.5mm headphone jack so that you can connect your favorite sessions and perhaps use them for "late" movie watching without bothering your peers!
What do we like?
The slim design makes them ideal for a fixed install, perhaps for a projector or TV.
Great sound quality and extended sound stage, ideal for movies and gaming.
Having a headphone and microphone connector is great for late-night movies or gaming.
What we don't like?
Not portable.
No Bluetooth connectivity options.
Unfortunately, it cannot be driven by batteries.
Conclusion
If your goal is to find the best speaker system for a projector that you will use to watch movies, series, and concerts at home, exclusively for indoor purposes, your best bet is to buy the Logitech Z906 5.1 Surround Sound Speaker System.
You can't go wrong with this system because of its surround sound design, its power rating, and the extended control features.
Now, let's say you want something portable, easy to use, and extremely versatile… The right choice would be the DOSS SoundBox Touch Portable Wireless Bluetooth Speakers.
I mean let's face it, these speakers can do it all! Bluetooth, microSD, aux input, touch operation, rechargeable battery, loud drivers, splash resistant. What else are you going to ask for?
Last but not least, let's think about the style. Think about your living room or your home cinema. You want this to sound good and to look good paired with your projector, right?
Don't look further, the TaoTronics Sound Bar is the answer. It sounds good, it is easy to operate and it looks very elegant. You will love it!
Read Also: How to Fix Bluetooth Lag in Car? – 8 Super Quick Solutions