What kind of microphone is the best for streaming?
This is a question every gamer, vlogger, and content creator asks when it's time for streaming.
Last update on 2023-09-21 / Affiliate links / Images from Amazon Product Advertising API
There are two microphones that easily come to mind: the HyperX QuadCast and Razer Seiren X.
In this article, we compare these two mics and see which one of them is the best for streaming.
Also, the HyperX comes at a higher price point so, in this article, we will find out:
Which microphone is better for streaming, the QuadCast or the Razer Seiren X?
Is the QuadCast worth the extra bucks or not?
Let's dive right in!
HyperX QuadCast vs. Razer Seiren X: Features compared
Build and design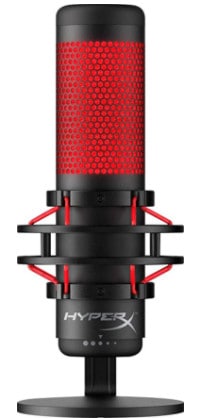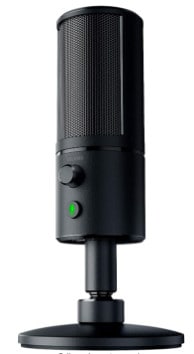 Just by taking the first look at these two USB mics, it's obvious that they couldn't look more different from each other.
The HyperX QuadCast has a striking appearance, with its red and black finish.
If you're a streaming gamer, it could be the perfect addition to your futuristic-styled gaming headphones and computer, if you're into that style.
The mic itself is longer than most (8 inches). However, in practical use, there's not much difference.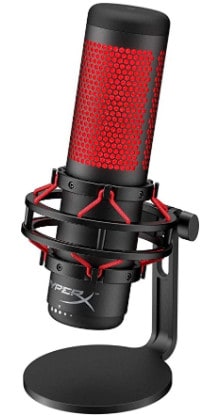 The QuadCast comes with a short desktop stand that balances the overall height after setup. If you wish to use a boom stand, there's an adapter in the box that enables you to do a smooth setup.
The Razer Seiren X is even smaller than the QuadCast. This makes it perfect for streamers who don't want their mics to show in the video.
However, if you would like your mic as part of the aesthetics, you should go for the pink one – it's pretty striking.
Like the QuadCast, the Razer USB microphone comes with its desktop tripod but is also compatible with a boom stand.
The major advantage of a boom stand is that it allows you to place the mic closer to your mouth, therefore capturing a richer tone.
On the other hand, a desktop stand may be more convenient and allow more freedom, but your keyboard and mouse clicks will be captured too.
Also, it's possible to accidentally hit your mic stand while streaming. Both mics take care of this by adding a shock mount that keeps such sound from messing up your recording and audio quality.
Sound quality and performance
Looking at the QuadCast's specs, you get the feeling that it should not be far from popular streaming microphones like the Blue Yeti.
It has a sample rate of 48kHz and a 16-bit depth. This audio recording quality is standard and doesn't sound inferior to your audience in any way.
Also, with a frequency response of 20Hz to 20kHz, we expect the mic to capture every element of your voice without problems.
Well, that's all potential.
So how does the HyperX QuadCast fare in practice?

The moment you plug the QuadCast into your computer, the first thing you notice is the low noise.

Since there's no external audio interface, it's common to have considerable noise from USB mics. With the QuadCast, you have no noise worries.
There's a slight enhancement in the bass and low mids that gives the Quadast a warm sound. If you don't have a deep or husky voice, you may not notice this though.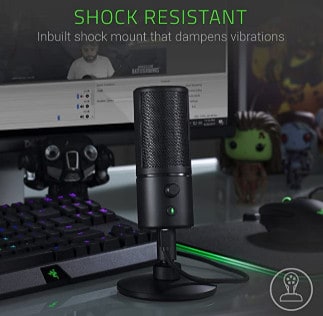 For streamers with higher-pitched voices, you will notice a slightly rolled-off treble. It's good because it prevents harshness even when you talk loud.
Additionally, the sound you get is dependent on what pickup pattern you select. We'll discuss that under features.
For the Razer Seiren X, there's just one pickup pattern and it's the supercardioid.
It has a narrow pickup radius, so it rejects unwanted sound effectively. You can stream live from your room even if you have that roommate that won't shut up.
In terms of tone, Seiren X is quite the opposite of the QuadCast. Its bass is a bit recessed while the treble is bright.
It gives some air and "life" to your voice. However, if you have a deep or husky texture, your audience may hear a less deep version.
Features
The standout feature of the HyperX is the multiple pickup patterns available. At the rear of the microphone, there's a switch that enables you to select among the stereo, omnidirectional, cardioid, and bidirectional.
The stereo records from left and right, giving your sound a wider perspective. The omnidirectional pattern makes the microphone capture sounds from all directions. This works when you're streaming and there are different people talking at the same time.
It's not popular with game streamers, but could come in handy should you choose to start a roundtable podcast in the future.
The cardioid pattern is the most popular with gamers and streamers and for good reason. When you enable cardioid, it makes the mic capture sound directly in front of it. By implication, it rejects most of the other unwanted sounds.
The bidirectional pattern captures sound from the front and rear of the mic. Obviously, most streamers would want the cardioid pattern to ensure that other sounds are rejected.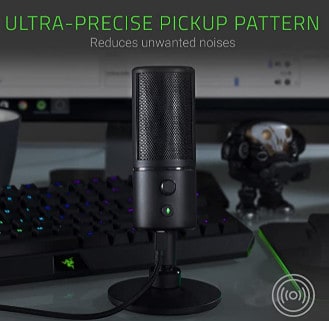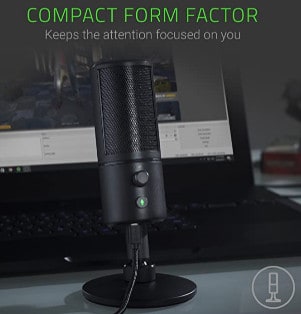 In contrast, the Razer Seiren X only has one pickup pattern- the supercardioid. This pattern is a lot like the cardioid, capturing its sound directly in front of the mic. However, it does a better job of background noise rejection than the cardioid.
If you're an alone streamer, the Seiren X will do a greater job of rejecting unwanted sound than the QuadCast. You still have to keep your room or streaming studio as quiet as possible though.
for a balanced comparison as regards streaming, we should compare the cardioid of HyperX to the supercardioid pattern of the Seiren X.
Monitoring is essential to have a hitch-free streaming session.
The QuadCast has a headphone port so that you can monitor your sound easily. This way, if you're moving away from the mic or there's too much noise, you can easily catch it before it messes up your audio.
The Seiren X also has a headphone jack for zero-latency monitoring.
However, you should note that the headphone monitoring only gives you what the mic captures, not the processed sound recording on your computer.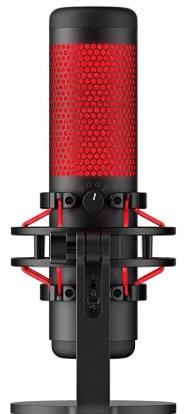 Surprisingly, there's no volume knob on the QuadCast. It's not really a deal-breaker, but it's something you would expect at its price point.
HyperX QuadCast vs. Razer Seiren X: Similarities and differences
Similarities
Both microphones connect to your computer via the USB port.
The QuadCast and Seiren X come with desktop stands that enable you to prop them up as soon as they're delivered.
For both microphones, there are no external interfaces needed, all you need is to plug them in and you're all set.
Like the QuadCast, the Seiren X gives you zero-latency monitoring via the headphone output port.
Both mics have the ability to reject sounds not directed at them – for the QuadCast, you have to switch to the Cardioid pattern.
Differences
The Seiren X comes with a volume knob for headphone monitoring, but the QuadCast does not have that feature.
The QuadCast has a more flashy aesthetic, while the Seiren X blends in with its all-black design.
The HyperX QuadCast adds more warmth to your voice while the Razer Seiren X adds more shine.
While the Seiren X has just the supercardioid polar pattern, the QuadCast gives you 4 polar pattern options.
The RazerX does a better job of rejecting keyboard and mouse clicks than the QuadCast.
The QuadCast has a better shock mount, so it does a better job of keeping accidental knocks from being recorded.
Pros and cons
Pros
It adds some warmth to your voice.
The mic is useful in multiple streaming situations because it has different polar pattern options.
The shock mount effectively prevents mic bumps from getting in your recording.
You can easily mute the mic by tapping the top.
Cons
It has no gain control for headphone monitoring.
The design may be too flashy for streamers who like their mics blending in.
Pros
The design blends into any stream with its all-black finish.
This microphone has zero-latency monitoring with a gain knob.
The audio quality is bright and focuses on speech clarity.
Cons
Thick voices may sound a little thin with this mic.
It has just one pattern. making it useful in a few situations only.
Conclusion
Looking at the most essential features, I would say that both these microphones are solid reliable options for streaming. They are both plug-and-play mics that work once you connect them via USB.
The HyperX QuadCast has better bass and midrange response, giving that warm sound.
Since my voice is a bit on the deeper side, I would prefer that. Also, it has more pickup patterns, but for most streamers, this won't make a lot of difference.
The Razer Seiren X has a brighter sound, and just one polar pattern.
These are good enough to have a smooth running stream. Ordinarily, I may just go for the Seiren X, but being an audiophile, I'll pay the extra bucks for the QuadCast.