Affiliate disclosure: In full transparency – some of the links on this website are affiliate links, if you use them to make a purchase we will earn a commission at no additional cost for you (none whatsoever!). Will this be a problem? This is how we manage to create free content for you. Please know that your trust is so important for us. If we recommend anything, it is always because we believe it is worth exploring. And, buy me a coffee ☕️
Do you want to flaunt your gaming skills on YouTube? Are you looking for the best gaming microphones for commentating along with your gaming videos?
Look no further as we here to guide you in getting the best microphones for YouTube gaming.
The key to excelling in YouTube gaming is to make sure your videos have crystal clear audio quality. An engaging voiceover along with the gameplays is what keeps the audience interested in the content.
We understand there is an ocean of products out there. Hence, we have segregated and shortlisted 5 of the best microphones used by professionals.
Without further ado, let's have a look at them:
Top 5 mics for YouTube gaming reviewed
Specifications:
Connector-type – USB
Connections – USB
Power Source – USB
Audio Sensitivity – 120 dB
Polar Pattern – Unidirectional
Item Weight – 2.1 Pounds
Material – Aluminum
16 bit/48kHZ Resolution
Zero Latency Monitoring
Sound quality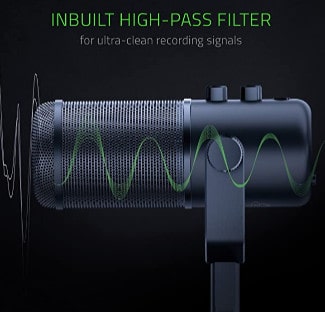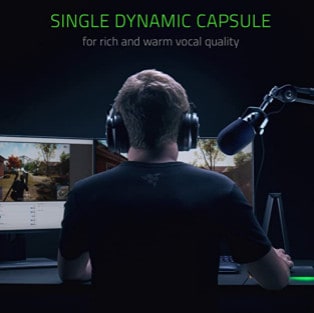 The Razon Seiren Elite does not have a strong and meaty output. In contrast, it has a rather subtle sound quality with a warm texture to it.
This mic won't meddle with the natural vocal sound. In fact, it will add some low-end depth to it. If you have a light voice texture, this mic will add some weight to make your voice more audible to your game streaming audience.
It comes with an inbuilt high pass filter button. This prevents some low background noise from getting into the mic. It can be distracting for other gamers and even your own YouTube or Twitch audience. In addition, it also removes the muddiness from the voice.
Features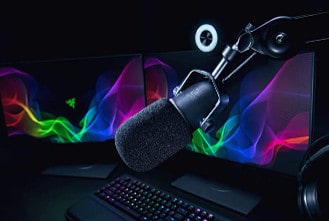 The Razon Seiren Elite has an LCD strip. It displays information about volume levels and polarity patterns. It also displays the volume adjustment for the mic as well as the pass-through headset.
With the knob present on the front of the mic, you can control the headset volume. If you need to change the mic gain, there is a knob for it on the rear side of the mic.
The Razon Seiren Elite has four recording patterns:
Cardioid for typical voice recordings upfront
Stereo for capturing the directional aspects of vocal
Omnidirectional for room ambiance or musical purposes
Bidirectional for a two-person interaction session
Even though there are different pickup patterns, cardioid is ideal for YouTube gaming.
If you stream your gaming session with the omnidirectional pattern, your audience and other gamers will keep hearing your keyboard and mouse clicks and everything else in the room.
On the bottom side of the Razon Seiren Elite, you can find:
An on/off switch that lights up the logo when turned on
3.5mm headphone jack
Threaded base for standard mic stand mount
USB Mini-A jack
What do we like?
Crisp, clear signal and warm tone
High-pass filter button
Headphone monitoring with zero latency
What we don't like?
Hissing sound when gain levels go above mid
Knobs have a low-quality feel
Digital signal processing won't impress audiophiles
Specifications:
Connector Type – USB, XLR Connector
Connections – USB
Power Source – Corded Electric
Audio Sensitivity – 4.5 dB
Polar Pattern – Multipattern
Item Weight – 0.1 Grams
Hardware Platform – PC
Sound quality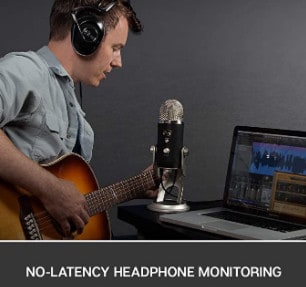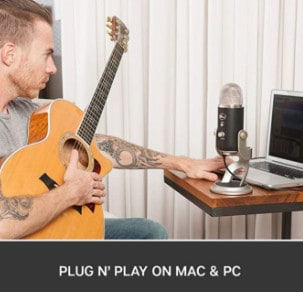 The audio quality of the BlueYeti Pro can be summarized into one word – awesome. Doesn't matter how you arrange the settings, this microphone will perform.
Vocals sound smooth, accurate and cover the full frequency range in the cardioid polar pattern.
You can also change the polar pattern to the Omni mode. This comes in handy when you need to record instruments, say during a jam session. But it makes sense to stick to cardioid for gaming if you want the best experience.
Also, the Blue Yeti Pro does a fine job in dampening vibrations – thanks to its heavy stand with thick foam coats in the bottom. So, if you accidentally bump the mic's base while moving your mouse, it won't mess up your audio.
Even though the sound lacks in tone and depth, the overall output is commendable for such an investment.
Features
The mic capsules in the Blue Yeti Pro are capable of giving you four different pickup patterns. The patterns are:
Bidirectional for capturing sound from the front and rear sides simultaneously, typically ideal for interviews
Omnidirectional for capturing sounds coming from all directions
Cardioid mode ideally used for game streamings, podcasts, and normal vocal recordings
The stereo mode picks up sounds from left and right and creates a realistic sound image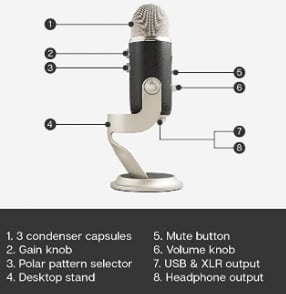 Its custom base and threaded mic stand provide assistance in cable management along with being the fundamental support system.
The direct controls built into the Blue 1967 Yeti Pro allows you to perform the following functions:
Adjusting the microphone's volume
Selecting the pattern modes
Muting the microphone with the mute button
Adjusting the headphone volume with the volume control knob
Muting the mic may not seem like a big deal, but it comes in handy when you need to say something to your roommate in the middle of a stream.
What do we like?
Amazing frequency response
Highly versatile with multiple selectable pickup patterns
Warm and clear sound quality, ideal for voiceovers
What we don't like?
Weight can sometimes hamper portability
Can get affected under harsh weather conditions
Too pricey for a USB microphone
Specifications:
Connections USB
Power Source USB
Polar Pattern Multipattern
Item Weight 0.1 Grams
Hardware Platform PC
Mac and PC compatible
Sound quality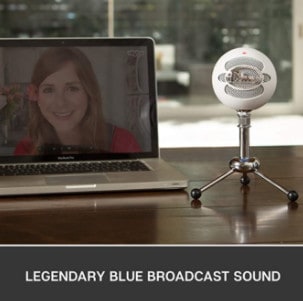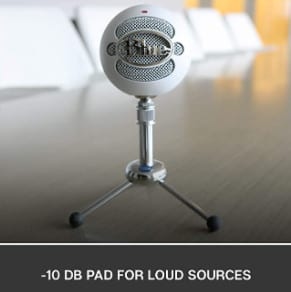 The Blue Snowball has such an up-to-the-mark audio quality that you don't need to waste hours in adjusting your audio settings.
With such an impressive performance, the Blue Snowball becomes suitable for multiple applications – from simple voiceovers to professional podcasts.
It may have some limitations when it comes to its pickup patterns, but the amazing sound makes up for it.
Features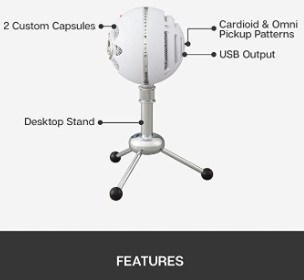 The Blue Snowball comes with a 3-position slider present on the back of the mic. It allows you to change between the three polar patterns:
Cardioid
Omnidirectional
Cardioid with -10 dB pad
The -10 dB is a fascinating feature in Blue Snowball. It reduces the sensitivity of the microphone. It also eliminates and diminishes sudden peaks in sound levels. This means you can be rest assured the Blue Snowballwill produce the best possible sound even in loud conditions.
In Spite of having a threading base, the Blue Snowball also has a desktop mic stand. Furthermore, you can also get specific shock mounts for added protection.
The shock mount ensures that when you tap your desk by mistake, it does not make a loud thud in your audience's ears. Getting a shock mount will cost you extra though.
Also, since it's a USB mic, you don't need any additional installations. Simply plug it into your computer using the supplied USB cable.
What do we like?
Crisp audio delivery while recording in cardioid pattern
Very affordable as a voiceover microphone
It looks stylish and is very easy to use
What we don't like?
Mic angling and positioning issues
Lack of recording software
No other input/output other than USB
Specifications:
Connector Type – USB
Power Source – Corded Electric
Polar Pattern – Unidirectional
Item Weight – 0.3 Kilograms
Material – Copper Plated
Hardware Platform – Tablet, Camera
Frequency Range – 20 hz – 20 khz
Sound quality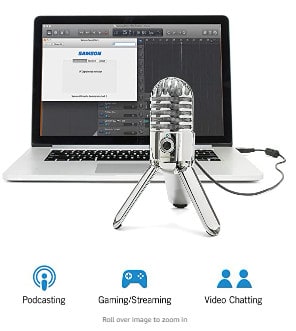 The Samson Meteor USB Studio Microphone is all about its high-quality recording experience. This trait has made it such an essential home recording equipment.
However, like any other condenser microphone, the performance of the Samson Meteor entirely depends on the recording environment.
It is highly sensitive in picking room noise, so make sure you are in a soundproof setting or a less noisy place when recording.
You should only go for this mic if you're alone when streaming your games on YouTube. If you have a noisy roommate or partner, you will quickly notice that this mic can be noisy.
As for the output, it is rather plain and simple without any added coloring. There is an ample amount of presence in the sound and overall, it feels full to the hearers.
Also, you can make up for the absence of a pop filter by making sure that your mouth doesn't face the capsule directly. You can position the USB microphone such that your mouth is just above it.
Features
Talking about features, the Samson Meteor is subtle with nothing as such to show-off.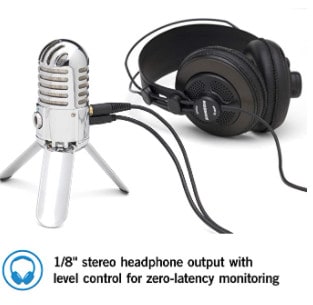 On the back, there is a USB port for connecting the mic to your system along with a 3.5 mm headphone jack for monitoring purposes.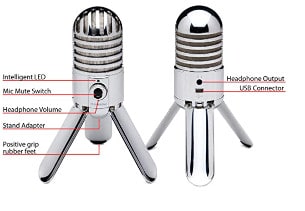 Coming to the front, there is a knob to control the volume for your headphones. Right in the center of that knob, you can find a mute button.
Just above the knob, there is an LED light that has three colors:
Blue for indicating power
Amber for indicating the mute function
Red for loud recording sounds and clipping warnings
I especially like the mute function light because it eliminates the risk of talking into a muted mic.
Below the Samson Meteor, there is a provision for attaching a mic stand or a boom arm.
What do we like?
Compact, sleek design promotes portability
Clear and latency-free headphone monitoring
Flexible built-in stand
What we don't like?
Sudden jump while adjusting volume through the knob
The bottom thread does not fit with all stands
Absence of gain control
Specifications:
Connector Type – USB
Power Source – Corded Electric
Polar Pattern – Unidirectional
Signal To Noise Ratio – 78 dB
Hardware Platform – Laptop, PC
Frequency Range – 20 hz – 20 khz
Noise Level – 16 dB
Sound quality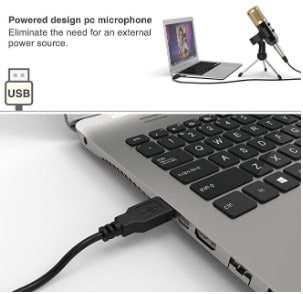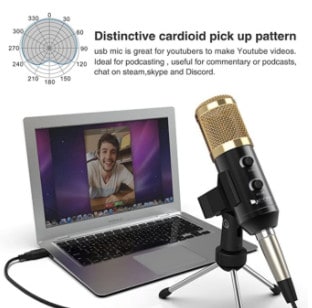 As far as sound quality is concerned, the Fifine Plug & Play condenser microphone is quite sensitive. It produces very good quality vocals.
Its audio is characterized by very low noise. If you don't have a loud voice, this mic is perfect for your YouTube game streams. Because of its low noise, your audience can hear your quieter words.
The overall texture is smooth with an extended frequency. This is why Fifine is ideal for home recording, podcasting, voiceovers, etc.
Features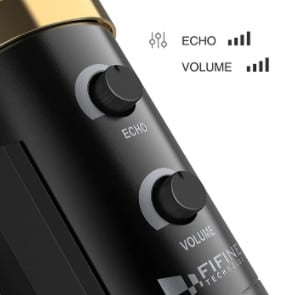 Fifine Plug & Play mic has simple controls that make it very easy to use, especially for beginners. During recording, you can easily adjust the volume and echo through dedicated knobs.
Its cardioid pickup pattern is very directional. It only captures the sound coming from the front and rejects everything else. So you need not worry about ambient noises from your AC unit or fan getting into your mic.
If you want to attach the Fifine on a scissor arm stand or a tripod, you can easily do so with the help of its bottom clip.
What do we like?
Very lightweight and portable design
Amazing noise cancellation capabilities
Highly adjustable and tiltable according to need
What we don't like?
The shock mount is of poor build
Absence of LED or mute button
Lack of headphone monitoring
Conclusion
With the help of these microphones, you can take your YouTube gaming skills to the next level. Even if you are just beginning, these can really turn out to be some beneficial investments.
If you need to go by our recommendation, we would highly suggest you opt for the Razer Seiren Elite, Blue 1967 Yeti Pro, and Samson Meteor USB Studio Microphone.
The logical explanation is pretty obvious – they excel in their sound quality. Plus, they have awesome features, such as pickup patterns to choose from. So, you need not get a new microphone every time you wish to try some new concept.
Basically, to conclude, we can say that these three microphones are an all-in-one package for vocal recording.
Hi, I'm Jennifer I'm a passionate singer and an audiophile from Detroit, MI. 
I'm on a mission to help music creators to create fine music that help them position uniquely in the saturated music space.
Follow my blog for regular content :-)