Recording drums is undoubtedly one of the trickiest. Since the acoustic element in drums directly hampers the quality of sound, it is crucial for any recordist to use the best mics.
Any basic drum kit consists of three toms – top, middle, and floor. Any drum groove is incomplete without toms.
And since tom sounds add a certain tonal quality to the otherwise percussive audio profile of drums, it is important that tom sounds are recorded accurately.
How is that done?
Yes, you guessed it right – mics. But not just simple mics. We are interested in mics that are tailor-made for toms only.
That is exactly what we are going to talk about today.
Here's a look at some of the best mics for toms:
Top 5 mics for toms
Specifications:
Polar Pattern Unidirectional
Frequency Range 40 Hz – 15 khz
Connector Type XLR Connector
Connections Wired
Item Weight 10 Ounces
Build and design
The exceptional build quality of the Shure SM57-LC is what makes it stand out from the rest. It is made from rugged material that ensures maximum durability.
Though it has a slightly unconventional look, it is in fact a dynamic microphone.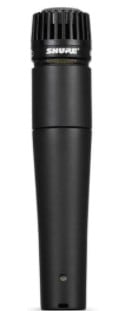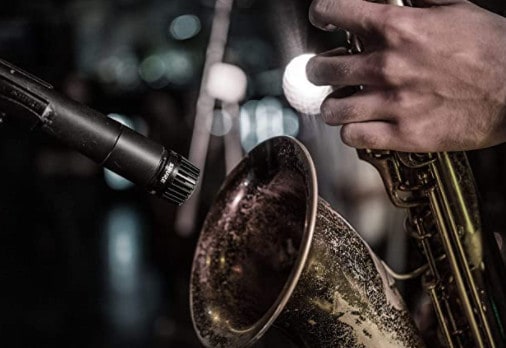 Shure SM57-LC has a cardioid pickup polar pattern. It is designed to focus on the sound coming from the source. At the same time, the mic works greatly in reducing background noise.
This mic is known for its superior isolation properties. This is one reason why this mic is preferred so much by drummers. If you are looking for the best isolation headphones for drumming, you can read my post here.

Even when these mics are placed close to each other, they only pick up the sound towards which they are pointed. So for recording toms, this is ready to go mic.
Shure SM57-LC features an inbuilt pneumatic shock mount. This enables the mic to counter any vibrations that are caused by sudden movements.
Placing and mounting this mic becomes easy with the help of mounting clips that come along with it.
As this mic only weighs 10 ounces, portability is not at all an issue.
Sound quality and performance
Mic placement is a key factor with Shure SM57-LC. Different mic positions can cause drastic differences in tonal quality.
Generally, the mic should be placed at the center of the tom in a vertical position. This placement will pick up the meaty, bright tom sounds.
The sound quality of Shure SM57-LC is definitely a pro. It is capable of handling high-pressure sounds. Also, this mic is tuned in such a way that the audio signal has minimal distortion during mastering.
Shure SM57-LC attenuates the sub-bass frequencies so that they don't overpower any performance. The mic emphasizes the upper midrange and treble frequencies that are important for creating an authentic tom sound.
Being a cardioid dynamic microphone, the Shure SM57-LC provides a decent amount of axis rejection. It primarily picks up signals from the front with a little bit of off-axis pickup.
Noise-cancellation is another feature that this mic excels in. Additionally, its low self-noise makes the Shure SM57-LC perfect for quiet surroundings.
The frequency response of Shure SM57-LC ranges from 40Hz to 15,000Hz.
What do we like?
Extremely versatile and all-purpose dynamic microphone
Perfect for both amateurs and professionals
Very durable and rugged
What don't we like?
Absence of power switch
Sound can be a bit bassy
Gain is low and requires a good amp
Bottomline: Want a safe yet reliable mic for recording toms? If so, you can confidently go with Shure SM57-LC. Being a reputed brand, this mic offers the necessary trust factor. So it does not matter if you are a newbie or even a professional. Shure SM57-LC fits right everywhere.
Specifications:
Connector. XLR-3.
Frequency response (Microphone) 40 – 18000 Hz.
Weight. Without cable: 60 g.
Sensitivity in free field, no load (1kHz) 1,8 mV/Pa.
Nominal impedance. 350 Ω
Min. terminating impedance. 1000 Ω
Weight w/o cable. 60 g.
Build and design
Sennheiser E604 is a pinnacle of German engineering. This is exactly why this microphone is extremely reliable and durable.
Sennheiser E604 is a type of dynamic cardioid microphone that is specially built for toms and snare drums.
This mic features a standard cardioid pattern. It is designed to pick up any sound signal that is immediately in front of the face of the mic.
Sennheiser E604 is special when it comes to mounting options. It comes with an integrated clip that is particularly designed to be fitted on the drum kit.
This mic is comparatively smaller than other tom mics. This makes it highly portable and light-weighted.
Sound quality and performance
Apart from clipping it on the drum kit, Sennheiser E604 can also be placed inside the tom or even kept lying on the floor, depending on the kind of sound you require.
The sound quality of Sennheiser E604 showcases different characteristics under different circumstances. For instance, the mic does not produce that better quality for smaller toms. Although for larger toms, it produces a great sound.
Sennheiser E604 succeeds in maintaining a uniform response both on-axis and off-axis.
In terms of noise cancellation, the mic impresses as well. No feedback is generated from it and the amount of self-noise is pretty low as well.
Sennheiser E604 is rated with a frequency response from 40Hz to 18000Hz.
For those who prefer a low mid-tone in their tom sounds, this mic provides that bump at around 200Hz.
What do we like?
Integrated mounting clips
Very low noise
No distortion at high sound pressure levels
What we don't like?
Angled XLRs cannot be used
Have to be bought in packs
Bottomline: By getting the Sennheiser E604, you do not need to get extra mounting clips. Also, this mic is very lightweight. So portability and storage is never a concern.
Specifications:
Frequency Response 40 Hz – 18 kHz

Polar Pattern Hypercardioid
Output Impedance 280 ohms
Sensitivity 1.4 mV / Pa @ 1k
Off-Axis Rejection >20 dB
Maximum SPL ≥144 dB
Power Requirements None
Connector 3-pin XLRm
Build and design
The anti-feedback design of Audix D4 is one of a kind. The body is covered with a black steel grille that is scratch-resistant and very durable.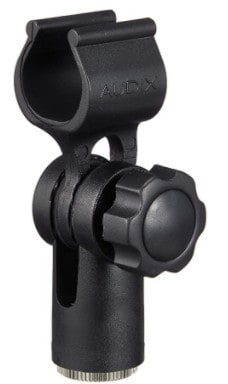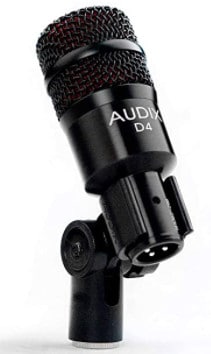 Audix D4 is a transducer type dynamic microphone that is ideally suited for recording kick drums.
This mic has a hypercardioid polar pattern. This enables the microphone in fixing the phasing issues in case of a multi-mic setup. It focuses on a particular point and also provides room for picking up the necessary ambiance.
Audix D4 comes with a specific clip that holds the mic and directs it to the desired sound source.
Sound quality and performance
Placing the Audix D4 has a lot to do with how it sounds. The best position for this mic is slightly inside the drum. The sound will deteriorate if it is placed too far or too near.
Audix D4 produces a thunderous sound that is typical of a drum mic. At the same time, the mic manages to keep the sound clean and tight.
Although the Audix D4 is best suited to kick drums, it performs better on toms as well than most alternatives for a cheaper price.
Apart from that, this mic offers exceptionally low feedback and great off-axis rejection.
Audix D4 offers a wide frequency response from 40Hz to 18kHz.
The tonal quality of this mic remains smooth across the frequency range. It has a deeper low tone, fuller mid-tone, and cleaner high end.
What do we like?
Sound does not bleed or distort
No feedback with amp
Solid and punchy lows
What we don't like?
Transient response is next to zero
More of a kick drum mic than a tom mic
Bottomline: There is a catch with Audix D4. As mentioned above, it is ideal for recording kick drums. So unless you want to record both kicks and toms, this mic would not be ideal for you.
Specifications:
Ideal for tom and snare recordings.
Cardioid.
Frequency range: 20 – 20,000 Hz.
Impedance: 200 Ohm.
140 dB max. SPL.
Special mount MKV 87 included.
XLR output.
Clamp dimensions: 85 x 118 mm
Build and design
The Beyerdynamic TG D58 is exclusively designed for toms and snares. Thanks to its incredibly low-profile design, the mic is the easiest one to mount on a drum kit. Its flexible gooseneck design makes it a great choice for a tom mic.
As for the microphone type, it is a cardioid electret condenser mic with an integrated pre-amplifier.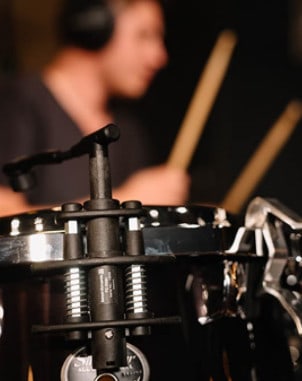 The polar pattern of Beyerdynamic TG D58 is unidirectional, similar to that of a cardioid dynamic mic.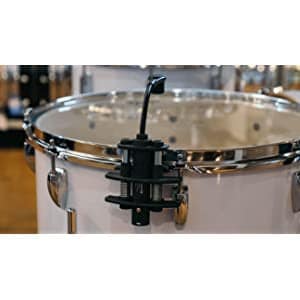 The mic has a spring-clip mounting system that is compatible across drum kits of all types and kinds.
Sound quality and performance
Beyerdynamic TG D58 ensures hassle-free mic placement with its 2-inch flexible gooseneck. It can be swiveled from one side to the other. For further placement fine tunings, it can toggle between numbered positions that are indicated by clicking sounds.
With such great handiness and ease of usability, the Beyerdynamic TG D58 delivers soundwise too. The audio quality is very detailed and has a lot of depth to it. It is capable of capturing the stick sounds while maintaining the thickness.
Beyerdynamic TG D58 guarantees high sound pressure levels by its increased level accuracy. There is no coloring to the sound output from this mic. Thus, mixing the tom sounds recorded via it is easy as it gets.
This mic is capable of covering the entire frequency range, which is typical for a condenser mic.
Beyerdynamic TG D58 features an improved signal-to-noise ratio.
What do we like?
Perfect mic for toms
High-quality sound delivery
Mic housing is very durable and reliable
What we don't like?
Cheaper alternatives available
Bottomline: The Beyerdynamic TG D58 is another handy tom mic. Looking for something that occupies minimum space? Don't want to worry about mic placement? This mic is the solution for you!
Specifications:
Operating Principle Pressure Gradient
Capsule Dynamic
Polar Pattern Cardioid
Performance
Frequency Range 30 Hz to 17 kHz
Impedance 200 Ohms
Output Connectors (Analog) 1 x XLR 3-Pin
Build and design

The Sennheiser MD 421 II is built to be tough and strong. Lookwise, it is like a conventional condenser microphone in a solid black color.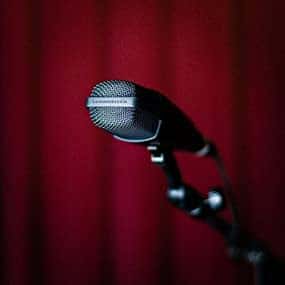 Coming to its type, the Sennheiser MD 421 II is a large-diaphragm cardioid dynamic microphone. One benefit of large diaphragm mics is that they have a larger sound space with a very natural sounding output.
Sennheiser MD 421 II has a cardioid polar pattern and hence it is acutely unidirectional.
The mic comes with a clip mount. It can be attached to the bottom of the mic by sliding it on the groove.
Sennheiser has made developments with the MD 421 II specifically in the areas of durability, both outside and inside the mic.
Sound quality and performance

Sennheiser MD 421 II is highly effective with toms. When kept up-close, it gives a clean and honest signal. While placing it at a considerable distance, the mic can also deal with higher decibels.
In comparison to other dynamic microphones, the Sennheiser MD 421 II has a reputation for producing detailed sounds. It has plenty of clarity that allows the sound to cut through any kind of mix. Even at higher levels, the mic has minimal distortion.
The on-axis response of this mic is exceptionally good. However, the off-axis rejection is not up to the mark and can cause disturbances to other sound sources.
The tuned frequency response of Sennheiser MD 421 II easily reaches 30Hz to 17kHz.
The tonality of this mic is a perfect match for toms and drums.
Sennheiser MD 421 II showcases effective feedback rejection. This in turn helps tremendously in reducing any excess noise even when it is taken close to the speakers.
What do we like?
Very well-manufactured mic
Less prone to humidity and dust
Great noise reduction
What we don't like?
Extremely fragile mic clip
Problematic off-axis leakage
Bottomline: Sennheiser MD 421 II is a great mic in every way. It is a large-diaphragm cardioid mic. So you can imagine the amount of transient response you'll get. But here's the catch. The clip is very fragile and will break off easily. And changing it is a costly affair. Hence, it becomes an unpreferable choice.
How to mic toms?
To mic toms, one needs to keep two basic things in mind – the type of tom mic to be used and positioning the mic.
Although one can always choose to go with a unidirectional condenser mic, it is usually recommended and preferred to use a cardioid dynamic mic to record toms.

The type of mic has a lot to do with how the tom would sound after recording.
Next up, the sound characteristics of toms largely depend on where the mic is placed.
The sound varies with different positions. When the mic is targeted directly at the center of the tom, the sound has more attack. On the other hand, when the mic is placed in a downward position, the overtones are emphasized.
Also, one should be extra careful in minding the cymbal positions. Generally, the mics should be placed as far off-axis as possible to minimize the bleeding generating from cymbals.
Conclusion
To wrap up this discussion, we have shortlisted three of the best mics for toms.
The first one is an obvious choice – Shure SM57-LC. From solid build to professional performance – it covers all the bases. This mic is a go-to choice for any kind of tom recordings.
Up next, we have the Sennheiser E604. With integrated clips, this mic becomes very handy. Additionally, it has minimal noise and great high-pressure sound level handling capabilities.
Last but not the least, we also like the Beyerdynamic TG D58. The unconventional gooseneck design fits right onto the tom. And since it is a condenser mic, the detailing in its sound is exceptional.
If you are new with recording drums and do not want to compromise on your tom sounds, these best tom mics should be more than enough to give you a good head start!
Read Also: How to Earrape Mic? (Discord, Zoom) – Don't Miss this Guide