If you are a traveling musician, then you could have certainly looking for the best travel studio monitors, right?
Table could not be displayed.
Today in this post, I will be reviewing the best travel studio monitors that are highly portable, lightweight to carry around, and also super durable.
I have researched all the important factors that need to be considered and finalized this list of travel studio monitors.
Trust me, you can't go wrong with any of these studio monitors.
If you're a musician who travels a lot you likely understand the challenges posed by working with different equipment. Your ears get used to hearing music a certain way and when it changes it may throw off your ability to accurately judge how your audio sounds.
A great solution is to get a pair of portable studio monitors to provide a consistent sound source.
But wait. Aren't studio headphones cheaper and more portable alternative to studio monitors?
Let me answer,
Professional headphones aren't necessarily cheaper than studio monitors. Many of these headphones lack accurate representation of some frequencies.

Furthermore, they may not accurately represent mixes meant for playback in places such as clubs.
This is because the audio in headphones reaches your ears directly whereas audio played on a loudspeaker travels a larger distance through the airwaves, thereby altering the ear's perception of the sound.
The good news is that there are a wide variety of studio monitors that provide a perfect balance between sound quality, portability, and price.
Here are our 7 best travel studio monitors
Neumann KH 120 A –
My favorite travel studio monitor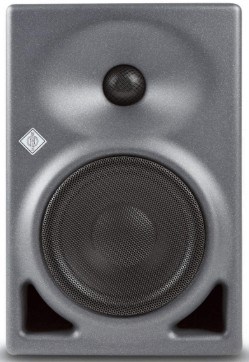 Specifications
Dimensions (H x W x D) – 10.875 x 7.125 x 8.625 (277.0 x 182.0 x 220.0 mm)
Weight -14.1 lb (6.40 kg)
Power Supply – 100 to 240 V; 50/60 Hz
Power Consumption – Idle: 20 W
Full Output AC: 200 W
Drivers – woofer / tweeter – 3.25" / 1", both magnetically shielded
Cabinet surface finish, color: custom – Painted aluminum, anthracite (RAL 7021)
Overview
The Neumann KH 120 A is an active, two-way nearfield studio monitor with a ported design.
It's a compact speaker that measures 277 x 182 x 220mm and weighs just over 6kg.
The cabinet is constructed from cast-aluminum which makes it resistant to multiple forms of wear and tear that may occur while traveling.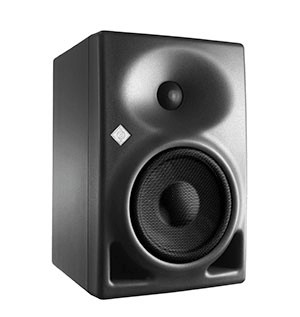 The woofer is 3.25-inch in diameter while the dome tweeter is 1-inch. It has an XLR input and knobs for controlling bass, low-mid, and treble.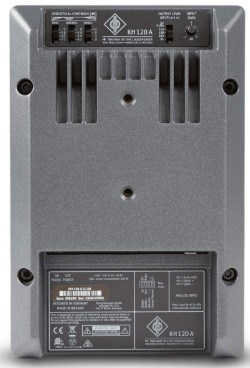 These controls will help you adjust your speakers for use when you're on the road and quite possibly using them in rooms that aren't acoustically treated.
Sound quality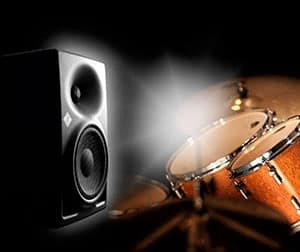 The speaker has a frequency response of 54Hz to 20kHz which is pretty good considering its size. The bass on this speaker is clean but not very deep.
Frequencies below 50Hz are not audible because of the physical size of the speaker and it's something expected with all small speakers.
The mids are flat. It's quite challenging to get a smooth sounding mid-range out of this speaker due to its flat nature, meaning that if you do get a smooth sound then you've done a great job mixing.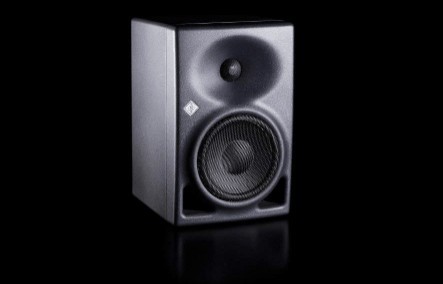 The high end is also flat with no coloration. If the highs in your audio sound too harsh when mixing on a pair of these speakers then chances are that your mixes are not clean enough.

Overall the speaker sounds flat and dry. It doesn't attempt to sweeten anything, unlike hi-fi speakers.
It's flat and a little woody sounding but that's what you want from a monitor. If you can make something sound good on a set of these speakers then you're assured that it will sound good elsewhere.
One thing to note is that there's an audible hiss when you're sitting about 30cm from the speaker but this is not a problem if you sit a little further from it.
Pros
Compact and portable design
Solid, durable physical design
Flat, uncolored sound.
Cons
A little pricey
Hiss is audible at really close range
Verdict: The Neumann KH 120 A is a portable and durable studio monitor that has a truly flat sound despite its small size.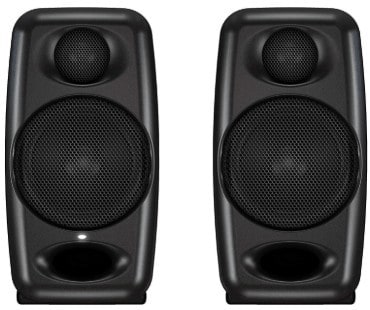 Specifications:
Type: 2-way active, bi-amped, studio monitor
Frequency response (-3dB): 55Hz – 20kHz
Crossover Frequency: 3kHz
Tweeter: 3/4" silk dome and neodymium magnet
Woofer: 3" paper cone
Number of amplifiers: 4
Dimensions (inches): 180mm x 135mm x 90mm (7" x 5.31" x 3.54")
Weight (oz): 920g (32.45oz) left speaker – 800g (28.22oz) right speaker
Overview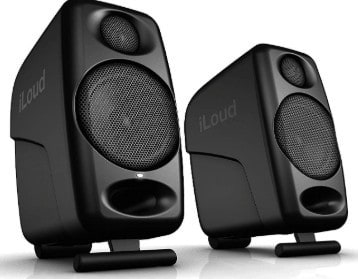 The IK Multimedia iLoud speakers are the most stylish monitors in this article. They are powered two-way monitors that can push out up to 70W of power.
Due to their small size, you can throw them easily into a backpack alongside your laptop and you're good to go. They can easily fit in the luggage compartment in a plane.
You can connect your devices to the iLoud via Bluetooth, 3.5mm jack or RCA connections.
Each speaker cabinet contains a 3-inch woofer and a 0.75-inch tweeter.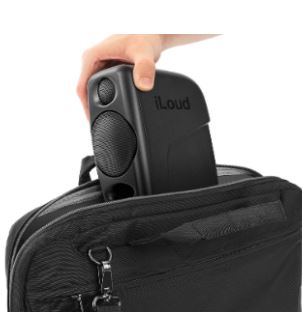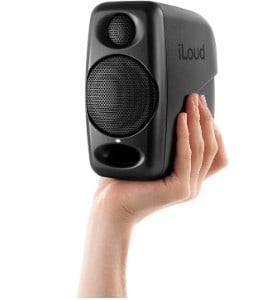 The Bluetooth option is great because traveling musicians often find themselves working in unconventional places where cabling might cause challenges such as outdoors or in tight spaces.
A control switch is available at the rear to adjust the EQ of the speakers for desktop use or to flatten the audio which is essential when you're traveling and working in different environments.
Sound quality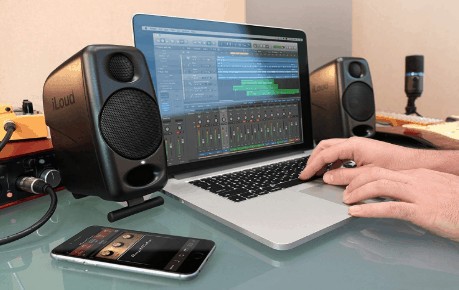 The speakers have a frequency response of 55Hz to 20kHz and are designed for nearfield use.
The low-end on these speakers is surprisingly responsive with plenty of bass for such small speakers.
The mids are relatively flat and reproduce sounds such as guitar, pianos and the human voice very well.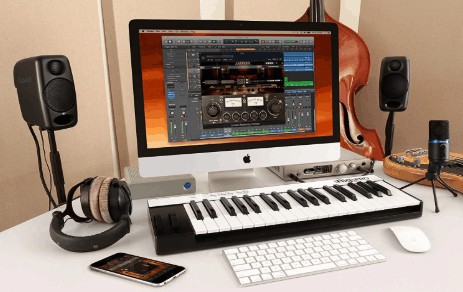 The highs are not as bright as some people might prefer. They sound damper than other speakers in this list such as the JBL 305P MkII. But to be fair iLoud speakers are smaller.
Another thing to note is that these speakers produce a hiss even at low volumes. These speakers are not very loud due to their compact size. But this is expected from a speaker of this size.
Pros
Stylish design
Highly portable
Multiple connection methods
Cons
Some of the physical elements such as the on/off switch are flimsy which could break if you don't handle the speakers with care when traveling.
Verdict: The iLoud speakers are great for working in small rooms and on the go. They're highly portable and support audio input via Bluetooth which is a plus.
Specifications
Crossover Frequency: 1725Hz
Maximum Peak SPL: 104 dB SPL
Enclosure Type: Rear Ported
Total Power: 60W Class D
Frequency Range: 88Hz-20kHz (-3 dB SPL)
Weight: 4.54 lbs. (master), 3.81 lbs. (slave)
Dimensions: Height 9.72" Width:6.02" Depth:4.88"
Overview
The JBL104 speakers are designed for entry-level musicians and home users. They accept 1/4-inch balanced RCA and 1/8 inch inputs.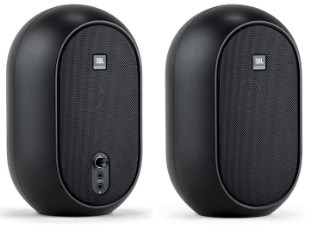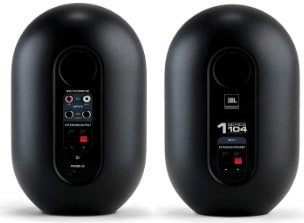 These also work well for musicians who are often mobile due to their small size. They have 4.5-inch woofers and 0.75-inch soft-dome tweeters with an overall power output of 60-watts.
Sound quality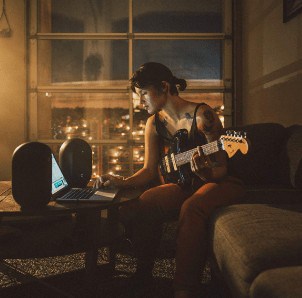 The sound quality of these speakers is not flat. These speakers are not meant for professional and high-precision audio purposes so they are colored to make them sound good.
But you often don't really need highly accurate travel monitors since in most cases they're not your primary speakers.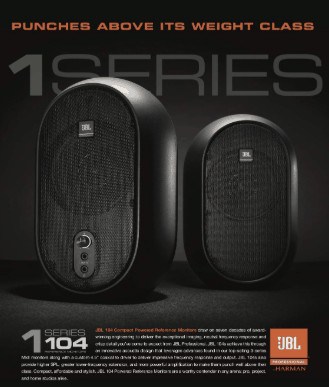 The bass response on these is also not flat. It's boosted quite a bit making them unreliable for audio work that requires accurate reproduction of low frequencies.
The low-end boost is mostly audible around the 100Hz range which slightly bleeds into the low-mids.
The mid-mids and upper-mids are not too colored and thereby provide a reasonably accurate response.
The highs are also relatively flat though there is a little bit of coloration, but nothing too over-powering.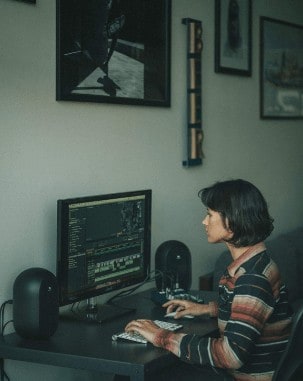 All-in-all the sound on these speakers is good considering their cost and size. These speakers are not meant for audio professionals who require high-level precision so keep that in mind before purchasing a pair.
But their low price makes them perfect for travel because if they do get damaged it's not a huge loss.
You wouldn't want an expensive pair of Genelec or Focal speakers as your travel monitors since traveling can cause your speakers to take quite a beating.
Pros
Highly portable.
Relatively inexpensive.
Easy to set up and use.
Great speakers for casual purposes such as watching movies and listening to music.
Cons
Subpar bass response.
They are not well-suited for high-precision audio applications.
Verdict: The JBL104 speakers are highly portable, entry-level, general-purpose speakers that are suited for casual audio work.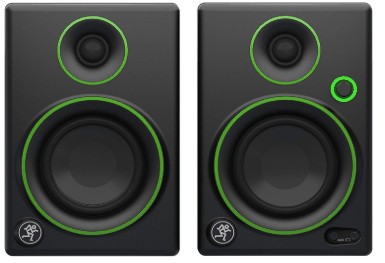 Specifications
Total Power: 50W Peak Class AB
Frequency Range: 80Hz-20kHz (-3dB)
Crossover Frequency: 3kHz
Enclosure Type: Rear Ported
Enclosure Material: Solid MDF wood cabinet with black vinyl wrap
Dimensions – Height: 8.2" Width: 5.5" Depth: 6.2"
Weight: 9.4 lbs. (pair)
Overview
The Mackie CR3 multimedia monitors are general-purpose two-way multimedia speakers which also makes them great travel monitors.
Each speaker is 208 x 140 x 158 mm and a pair weighs in at 4.1kg making them very portable. You can even take these with you on a plane without worrying about the weight of your luggage.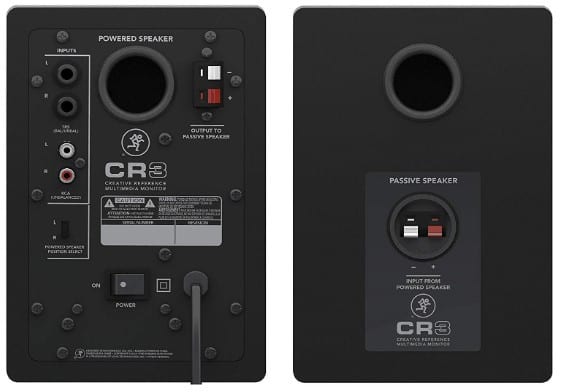 A 3-inch woofer and a 0.75-inch dome tweeter are installed in each speaker cabinet. Only one speaker in a pair of these is active. The other is a passive studio monitor that gets its feed from its counterpart
Sound quality
The speakers have a frequency response of 80Hz to 20kHz. It's noticeable that these speakers don't perform well in the low-end department. But that's expected if you're buying a pair of speakers of this size.
The mids and the highs are slightly colored on these but it's something that you can get over once you get used to how they sound by testing and referencing other material on them.
These are not the type of speakers you'd have for your primary monitoring purposes. They are not designed for heavy-duty studio use due to their lack of an overall flat response.
However, they make a great pair of speakers for on-the-go video editing, mobile use or just casual music playback.
Pros
Highly portable.
Great general-purpose multimedia speakers.
Affordable price.
Cons
Lacks power in the low-frequency range
Verdict: These Mackie CR3 speakers are good for demo studio work or as desktop or bookshelf speakers for general purpose use with your phone, computer or music player. Their small size renders that perfect for the traveling musician due to the ability to easily transport them.
Specifications
Frequency Response: 80 – 20000 Hz

Crossover Frequency: 3300Hz
Controls: power on/off, volume
Protection: on/off transient protection, output current limiting, thermal protection
Design Features: laminated vinyl enclosure
Width – 5.1 in Depth – 6.1 in Height – 7.5 in
Weight: 5.62 lbs
Overview
The M-Audio AV32 studio monitors are two-way active desktop speakers that consist of a 3-inch polypropylene coated woofer and a 1-inch silk-cone tweeter in each cabinet.
Audio input is via 1.8-inch to RCA cables. One speaker is powered while the other is passive and draws power from its counterpart via ordinary speaker cables.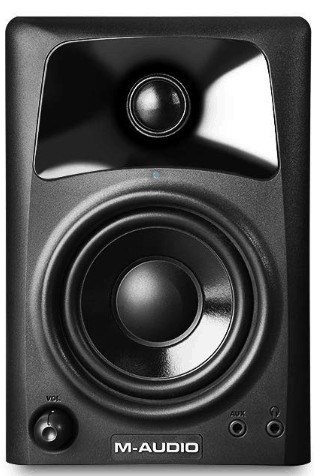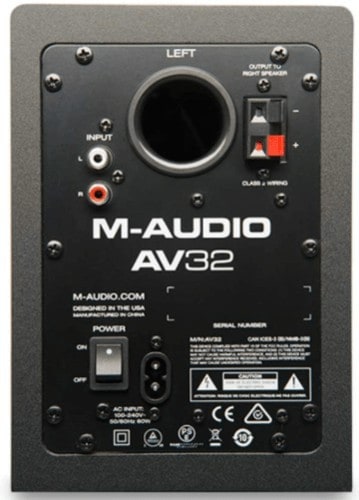 This is actually a good thing because it means you only need one power cable. Power outlets may be scarce as you travel in various places so that's one less thing to worry about with these babies.
An aux input is also available on the front of one of the cabinets which are convenient for connecting devices such as phones, music players or gaming consoles to the speakers.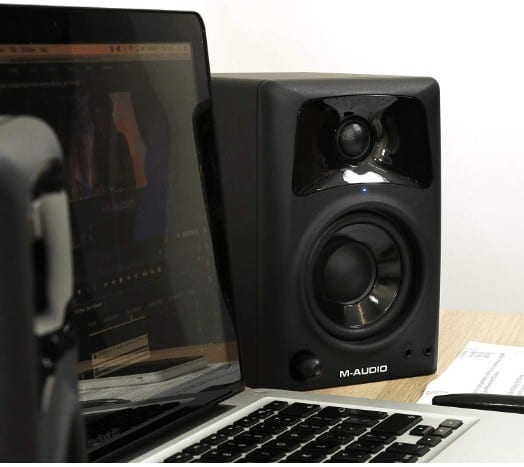 A headphone jack is also available to allow you to listen privately in headphones. They weigh in at 5.3kg and cabinet dimensions are 201 x 135 x 160mm. The small size means you can hoist these in a small duffel bag and move around with them easily.
Sound quality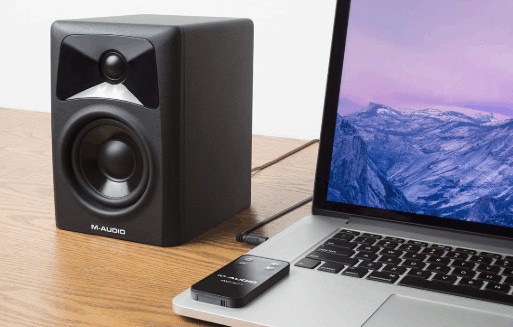 These speakers have a frequency response of 80Hz to 20kHz. The low-end is weaker than most of the other speakers in this article. So mixing bass-heavy content is not advisable as these speakers can't accurately reproduce low-end detail.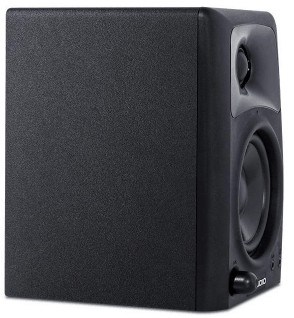 The mids are slightly colored and contain an overall boxy sound. If you can make your mids sound good on these speakers you should pat yourself on the back. The highs are slightly colored too but not as much as the mids.
The sound on these is generally meant for casual gaming, semi-serious audio referencing and some light media creation such as YouTube video editing and the like.
Pros
Inexpensive
Small and easy to carry around
No need for an external audio interface to use them, making them easy to move around with.
Cons
The mids on these sound muddy.
Produce some static noise.
Verdict: These monitors are lightweight and easy to transport in a small bag with no need for an audio interface for operation. They're very easy to set up and suited for mobile users.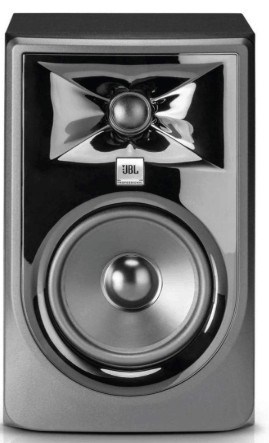 Specifications
Enclosure Type – Ported
Enclosure Construction – 15mm MDF
Enclosure Finish – Matte black PVC
Power Configuration – Bi-amplified
Maximum Peak SPL – 108dB
Net Weight – 4.73 kg (10.43 lbs)
Dimensions – Height – 298 mm (11.7"); Width – 185 mm (7.3"); Depth – 231 mm (9.1")
Overview
The JBL Professional 305P MkII is an active two-way studio monitor. It supports unbalanced XLR and 1/4-inch TRS inputs.
The cabinet measures 298 x 185 x 231mm and weighs in at 4.73kg making it lightweight and easy to transport.
It's made of Medium Density Fiberboard which means it can take a beating on the road without breaking under the strain.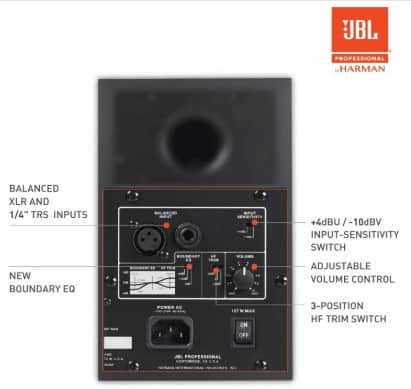 Sound quality
The speaker has a frequency response of 49Hz to 20kHz. The woofer is 5-inches in diameter and the Neodymium woven-composite tweeter is 1-inch wide.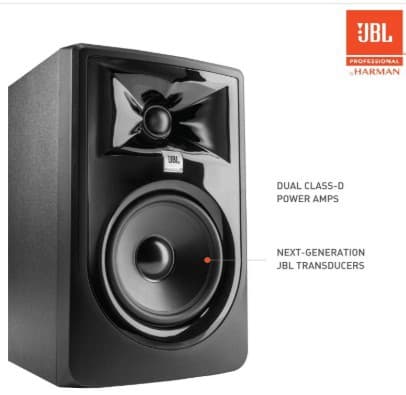 The bass on this speaker is decent for its size. The lows are well-represented and should suffice for most audio applications. You may face some challenges if you're mixing audio that uses heavy bass elements such as trap music.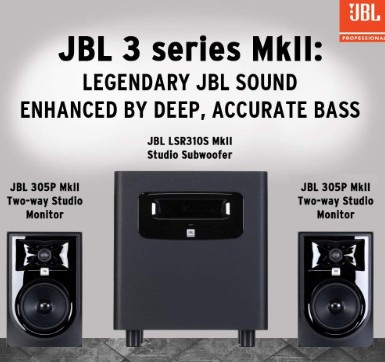 You'll not be able to hear a lot of low rumble on this and will have to rely on high-pass filters as a safety net to avoid leaving low-end rumble that you may not hear.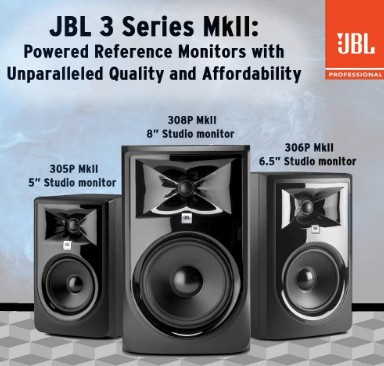 The mids are relatively clean on this speaker. There's a slight amount of coloration that most people won't notice unless they reference their mixes on flatter speakers such as the Neumann KH 120 A.
The highs are relatively flat and provide a reasonable amount of clarity when working on audio.
Pros
Light-weight and easy to transport.
Relatively flat mids and high end.
Affordable.
Cons
Bass response could be better. It's a bit boomy
Verdict: The 305P is a light-weight, general-purpose speaker that can be used for minor studio work and leisurely purposes.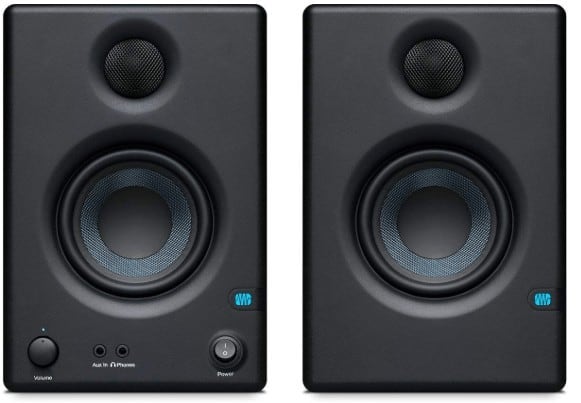 Specifications
Frequency Response – 80 Hz to 20 kHz
Crossover Frequency – 2.8 kHz
Amplifier Power – 25 W per speaker
Maximum SPL At 1 m: 100 dB (peak)
Input Impedance – 10 kOhms
Cabinet – Vinyl-laminated MDF
Dimensions (W x D x H) – 5.6 x 6.4 x 8.3" / 141 x 162 x 210 mm
Weight Per pair – 6.4 lb / 2.9 kg
Overview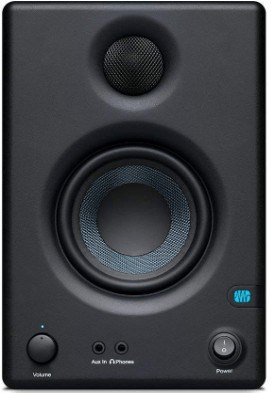 The Presonus Eris 3.5 speakers are two-way nearfield speakers with Bluetooth capability and are one of the best flat response studio monitors. A 3.5-inch woofer and a 1-inch silk-dome tweeter drive the sound in each cabinet.
RCA and 1/4-inch balanced TRS inputs are present in the rear for wired connection to the speakers. The front end has a 3.5mm aux input jack as well as a headphone jack for audio output.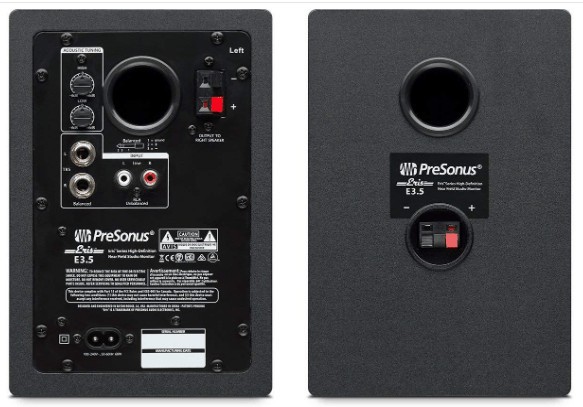 One speaker is powered and the other is passive. The passive monitor connects to the powered one via ordinary speaker cable to draw power and to receive the audio signal.
Sound quality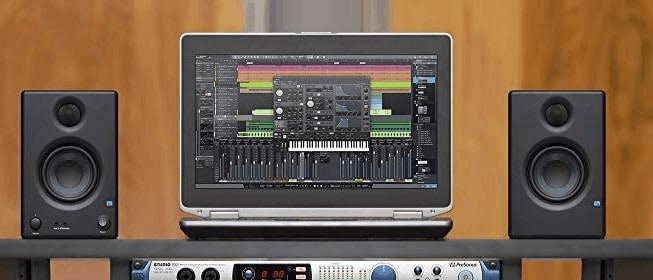 The speakers have a frequency response of 80Hz to 20kHz. They have a surprisingly great sound stage and a moderately wide sweet spot.
The bass response is a bit inaccurate and so you can't rely on these for minute bass-related tasks. That aside the overall low-end performs better than expected for speakers of this size.
The mids are relatively flat and tend to sound a little boxy with some music, but that's not the fault of the speakers. They're designed for accurate monitoring.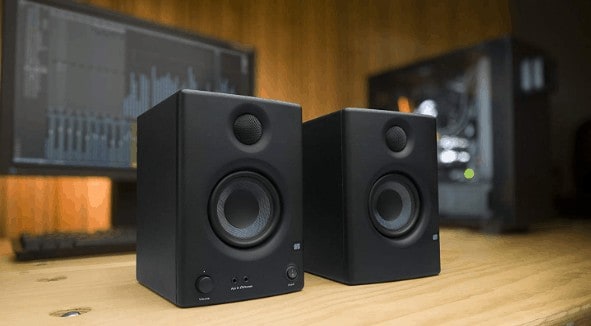 The highs are also flat and uncolored ensuring you that audio you mix on these ought to translate as expected on other sound output devices. If you feel either the low-end or highs need tuning you can use the knob at the rear of the speakers to adjust accordingly.
Pros
Multiple ways of connecting to the speakers.
Beautiful, clean physical design.
Flat, uncolored sound.
Great sound stage.
Bluetooth capability means you don't need to carry extra cables on the road.
Cons
The build quality feels cheap.
Verdict: These PreSonus Eris speakers are designed for semi-casual audio purposes. They're small and provide a flat relatively sound making them suited for some audio mixing applications.
Conclusion
It's tough to find portable speakers that give you flat, uncolored sound with good bass response. So when buying the best travel studio monitors you need to keep in mind that it's a game of compromise between physical size and sound output.
For high-precision audio, the best monitors are the Neumann KH 120 A monitors, but they come at a price. The JBL 305P MKII monitors come in at a close second.
For less precision-intensive work such as basic video editing, podcasting, and gaming the Presonus Eris 3.5, IK Multimedia iLoud, JBL104, Mackie CR3 and M-Audio AV32 speakers are well-equipped for the job.
At the end of the day, the speakers you choose will mostly be determined by the type of traveling you do and the above list is a great starting point for you to make your selection of monitors.
Hope you guys found these best travel studio monitors post helpful.