Do you need small studio monitors for your room? Do you need the best speakers for your small space?
Then this article is for you.
I'll be showing you the best small studio monitors. They're suitable for your home studio, bedroom, study, and even gaming.
Which monitors are the best for small spaces? Let's find it out.
Top 5 small studio monitors reviewed
Specifications:
Ultra-flat frequency response with phase-coherent sound
Arc self-calibration adjusts to any room
40 Hz to 24 kHz frequency response
100W 2-way bi-amped speaker with class D amplifiers
0° – 20° tilting stand for ideal positioning
Build and design
The iLoud MTM studio monitors have a unique shape when compared to most other monitors. They have a narrower width than most, which makes them look taller. To connect these monitors to your audio interface, you may use either the XLR or 1/4-inch cable. The port is made such that any of these two options will work perfectly.
If you like to tweak your sound a little, the MTM gives you a few controls. Aside from the volume knob, you have the bass and treble boost controls. They help you to adjust how much low or high frequency the speakers produce.
Sound quality and performance
First, let's talk about calibration. These IK Multimedia monitors come with a mic for room correction. All you need to do is connect the calibration microphone to the monitors.
Its function is to adjust the frequency response of the speaker to make up for your room's acoustic problems. If you record from your bedroom or home studio, this feature will benefit you a lot.
Moving on to the sound production, these monitors have a neutral, flat sound production. Unless you adjust the bass and treble by turning the knobs, the overall sound will be balanced.
Even though the monitors give you the option of having bass extension as low as 40Hz, they only maintain the 100% sound fidelity down to 60Hz. If you need bass extension below its frequency, you should probably get a subwoofer.
Pros
It has a wide soundstage that covers your room.
The room calibration feature makes it perfect for home studio arrangements.
Neutral sound production makes the monitors great for home studio mixing.
Cons
Not suitable for larger rooms.
Does not maintain sound quality below 60Hz.
Bottomline: These IK Multimedia iLoud monitors are great if your studio space is not well treated for sound. Also, the calibration is as easy as simply mounting the mic and pushing a button.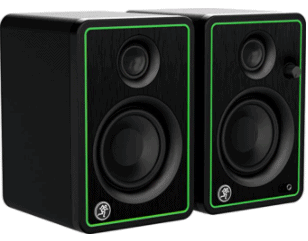 Specifications:
Professional studio-quality sound
Flexible inputs – 1/4", RCA, and Bluetooth
50 watts of clean, articulate stereo sound
All-wood cabinet provides a natural sonic character
Hookup cables included
Build and design
The Mackie CR3-XBTs are designed to look like regular bookshelf speakers. They are box-like in shape and at first glance, look like most Mackie speakers. These studio monitors give you different input sources.
For your studio recording and production, you have the ¼-inch port. For the best result, use only balanced TRS cables for this.
Also, there are the RCA and 3.5mm inputs. The RCA is useful for connecting your amp, TV, DVD or other sources that use RCA cables. The 3.5mm allows you to connect your phone, computer and other devices directly to the monitors.
Lastly, you can connect via Bluetooth. With all these options, you can use these Mackie monitors in almost any room setting.
However, if you are doing audio production, you should only connect your audio interface to the monitors via balanced TRS cables. It's essential for high-quality sound production.
Sound quality and performance
Unlike most consumer-focused bookshelf speakers, these monitors have neutral bass production. So, even if you're listening to pop or EDM, you won't have the bass overshadowing other frequencies.
The midrange also has some natural feel to it. You would appreciate it more with jazz and other acoustic music. It carries some warmth.
The treble does not have the same feel. While it doesn't get harsh at high volumes, it does not have that sparkle that we love in pop and EDM vocals and synths.
Generally speaking, only the bass frequencies are neutral, but the overall sound is solid and warm. A studio monitor, these speakers are suitable for beat making and recording.
However, I wouldn't recommend them as standalone speakers for mixing. For better mixing results, you should combine them with a pair of mixing headphones.
Pros
Can connect to any device
You can use any of the speakers as your left or right channel.
It has a neutral bass production.
Cons
The overall sound is not flat, therefore, these monitors are not recommended for mixing alone.
Bottomline: If you need studio monitors for beat making and recording, especially when you're on a tight budget, the Mackie CR-XBTs is for you.
Specifications:
Transmitter frequency: 5.2 / 5.8 GHz Dual Band
Frequency response: 10Hz ~ 23 kHz
Signal-to-noise ratio: >80dB
Audio Output Level: 2V
Dimensions (transmitter & receiver): 2.6" x 2.3" x 1.1" (66mm x 59 mm x 29 mm)
Build and design
The Samson M30 studio monitors come in a similar design to the Mackie's. The noticeable difference between them is that the Samson monitors have slightly rounded corners.
They are constructed with wooden material. The combination of 3-inch woofers ¾-inch silk dome tweeters and butyl surround ensure that these speakers sound bigger than they look.
The Samson monitors come with RCA inputs only. So, if your audio interface or other source device does not have RCA ports, you need a cable that allows you to connect to RCA. Interestingly, the speakers do not come with RCA cables.
For output, you have the 3.5mm headphones output and the subwoofer connection output. Also, to prevent the bass from reverberating off the table surface, the speaker comes with padding material which you can place under it.
Sound quality and performance
The Samson's sound is not 100% neutral, but it's not deceptive either. It doesn't have an overpowered bass and super-shiny treble of many budget bookshelf speakers.
This kind of sound production, you can conveniently use these monitors for recording and as a second set of speakers for checking your mixes. You can also use them for gaming, movies and enjoying music.
The speaker has a bass boost switch that you can use to increase the low frequencies. This can come in handy if you have a few rappers in your studio and you need to show off your beats.
Pros
A budget-friendly monitor option that gets the job done.
The speakers reach very high volumes without connecting any amps.
Cons
No ¼-inch input.
You need to buy an RCA cable separately – it doesn't come with the speaker.
Bottomline: If you need studio monitors that you can use for other stuff like gaming and movies, this is the one. Just make sure you have the right cables.
Specifications:
Enclosure Material – MDF
Mounting Points – None
Dimensions (W x H x D) – 6.7 x 11.2 x 8.7" / 17 x 28.5 x 22.2 cm
Weight – 11.7 lb / 5.3 kg
Power Consumption – 45 W
Monitor Type – Active 2-Way
Enclosure – Bass-Reflex
Power Rating – 70 W
Build and design
The Yamaha HS series is one of the most popular studio monitors and for good reason. They have served lots of audio producers in both professional and home studio arrangements.
They are larger than the Samson and Mackie monitors. You can either have them in all white or in black with a white design.
The inputs include an LR and a balanced TRS input. It has no RCA or 3.5mm for aux input. Clearly, this monitor is strictly for studio use. Also, there's no headphone output. If you need such, you have to use your audio interface or computer.
The controls on these monitors are the room control, high trim and gain knob. The room control enables you to adjust the bass response, while the high trim adjusts the treble.
Sound quality and performance
Without considering your room response, the HS5 has a neutral sound production. The bass is clean and solid, midrange is detailed and the treble is crisp.
However, I should note that these speakers were made to make up for your room deficiencies. Unlike the iLoud MTM that can calibrate itself, the HS5 frequency responses are made to sound neutral despite your room's poor treatment.
Ironically, when you place them in well-treated rooms, you'll notice some change in the bass production.
These monitors are ideal for home room studios that are not 100% treated for acoustics. For dead rooms, I don't recommend these.
Pros
Great sounding, even in untreated rooms
Reaches very loud levels without distorting.
Cons
No headphone port.
Not suitable for properly treated rooms.
Bottomline: If your recording or mixing room is not ideal in terms of acoustics, these monitors will keep your playback neutral.
Specifications:
Frequency Response – 80 Hz to 20 kHz
Crossover Frequency – 2.8 kHz
Amplifier Power – 25 W per speaker
Maximum SPL – At 1 m: 100 dB (peak)
Input Impedance – 10 kOhms
Build and design
Here is another pair of monitors that work well for small rooms. The Presonus Eris monitors come with 3.5-inch drivers each.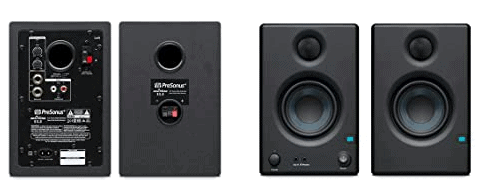 One unique feature here is the different input ports that are available. You can use the RCA, 3.5mm, the classic speaker connection or TRS ¼-inch input.
This gives you a wide range of options. However, the sound quality may change from one input to another (more on this later).
Every cable you need for all three inputs are provided in the package. The controls available include volume, bass and treble adjustment knobs.
Sound quality and performance
This speaker's lowest frequency is 80Hz. This means you'll have to get a subwoofer if you need sounds lower than that. Having said that, the bass that these monitors produce is clean and solid. It does not make the rest of the sound muddy. Also, the monitors have a wide sweet spot.
This means that even if you do not position them in a perfect triangle while mixing, you will still get a pretty accurate sound.
It's best to use the balanced TRS for your connection when doing audio production. It gives a better audio quality than the RCA option.
Pros
Great for small rooms
Wide sweet spot
Clean, Solid bass.
Cons
Bass does not go very deep.
Bottomline: If you want a pair of studio monitors that can also be your multimedia speakers, the Eris e3.5 gives you this at a budget-friendly price.
Conclusion
It's really an elite list of studio monitors, but if I had to pick a top 3, it would be Yamaha HS5, Presonus Eris 3.5" and the IK Multimedia iLoud MTM.
These 3 monitors are great for less than ideal studios. If you have an untreated room or you can't maintain the required distance from your speakers, these ones will help you to close that gap.
Lastly, my top 3 are the best options for me being a home studio producer. If you just need great sound for enjoying music or editing videos, your top 3 may be different.
Related articles: