In this post let us review the best dictation microphones.
Our Best Pick
Philips SpeechMike Premium Air Wireless Dictation USB Microphone, Push-Button
Best Value for Money
Nuance Powermic III 3 Speech Recognition Microphone Medical Edition (9 Foot Cord)
Excellent Accuracy
Blue 1967 Yeti Pro USB Condenser Microphone, Multipattern
Last update on 2023-09-21 / Affiliate links / Images from Amazon Product Advertising API
Do you spend a lot of hours typing on your PC or computer? Are you bored and tired of it?
Then you should buy a good dictation microphone that simplifies your job.
The computer is a wonderful invention that simplifies the way we work.
However, people who spend hours typing away on their PCs are prone to get exhausted and losing their inspiration.
Novelists, Ph.D. students, and other professionals spend most of their time creating interesting content on their computers.
Getting a suitable dictation microphone for dictation can help ease the working process.
Utilizing such gear not only breaks the mundane task of typing endlessly on your keyboard, but it also speeds up the writing process.
Microphones are quite useful if you sit in front of a computer all day. They're the most effective tools for converting voice into text. You can use a mic to dictate words to your PC, watch as your voice is converted to text, and immediately make any edits that are necessary.
Features to look for when buying the dictation microphones:
Noise cancellation
A good dictation mic must actively block out noise so it doesn't affect dictation.
When selecting a dictation microphone, check whether it produces a unidirectional polar pattern.
This feature helps to reduce all sounds originating from the microphone's back and sides, effectively accentuating the main sound source.
Accuracy
Another feature to consider when purchasing the dictation microphones is accuracy.
How precisely does the mic recognize your voice and translate it to the appropriate text?
If you find yourself constantly repeating your dictation, then your mic probably has a low accuracy level.
Apart from trying different mics out before settling for one, you can check the microphone sensitivity levels.
Compatibility with dictation software
There's a wide assortment of dictation (speech recognition) software available in the market.
These include Dragon Dictate, SpeechMagic SDK, Yeti Recording Software, PowerScribe, and Google's very own speech-to-text software.
The dictation microphones you choose should be compatible with most of this software. Essentially, it should work on all current versions of Windows and Mac OS.
Here are our handpicked best dictation microphones:
Design
The Blue Yeti Pro is a stylish condenser microphone that possesses 3 condenser capsules in a tri-capsule array, supporting four recording patterns.
This versatile mic is constructed with sturdy materials, making it perfect for a variety of environments. It has a rugged steel mesh grille that resists rough handling.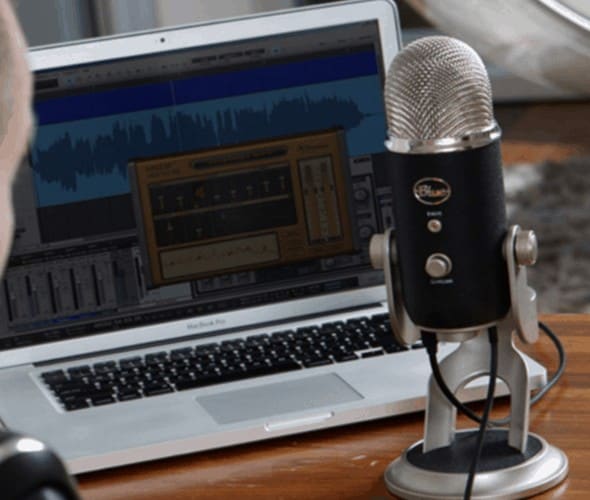 The Blue Yeti Pro has a mute and volume control button on its body. These buttons help users to adjust the sound level to the required amount, or to mute the sound altogether.
This mic supports both digital USB and analog XLR connectors. For proper operation, users are encouraged to utilize a single output cable at any given time.
Noise cancellation and accuracy
The Yeti Pro generates a 24-bit/192kHz digital resolution and combines this with an analog XLR output, yielding superior recording software.
This USB mic is plug-and-play. In addition, it provides four unique polar pattern settings: stereo, cardioid, bidirectional and omnidirectional.
These diverse modes make it the best microphone for speech recognition on Windows 10.
The Yeti Pro is compatible with Windows 7, 8.1 and 10 (as well as older versions of Windows OS). It also works on Mac OS 10.10 or higher.
This mic has an amazing signal-to-noise ratio of 114dB. Its frequency response is 15 Hz – 22 kHz. In addition, it has a sensitivity of 4.5mV/Pa which makes it a pretty accurate text to speech microphone.
Compatibility with dictation software
The Blue Yeti Pro is compatible with Audacity, Presonus Studio One, VB-Audio Voicemeeter and many other recording software in the market.
Pros:
Produces remarkable sound quality for dictation and podcasting
Easy to set up and utilize
Sturdy construction
Cons:
Doesn't work on some Mac OS versions
The USB cable is delicate
Rather expensive
Design
The Philips SMP4000 SpeechMike Air Wireless Dictation Mic is the best wireless microphone for Windows dictation. It's constructed using top-grade polymers with antimicrobial additives.
This dictation mic has an assortment of control buttons conveniently located on its surface. These include stop, pause, play, forward and rewind buttons.
This mic supports wireless 2.4 GHz connectivity with a maximum range of 16 feet (5 meters).
However, it comes with a docking station that has a USB port for foot control and a micro USB port for the data connection.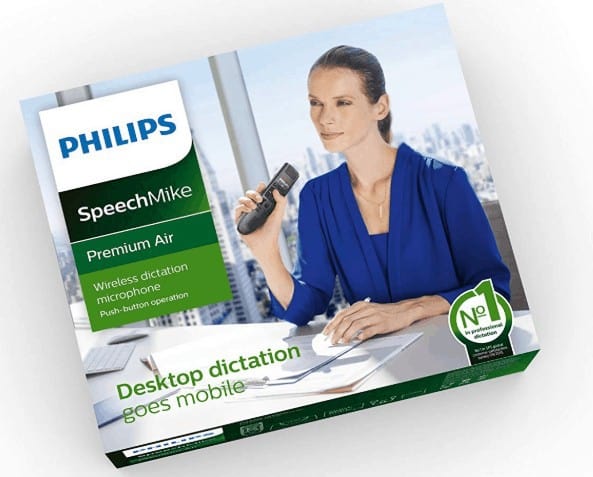 Its lithium-polymer battery takes 3 hours max to charge and supplies 24 hours of recording power on a single charge.
Noise cancellation and accuracy
The Philips SMP4000 includes a decoupled studio-grade mic with an inbuilt noise reduction filter to deliver exceptional speech recognition results.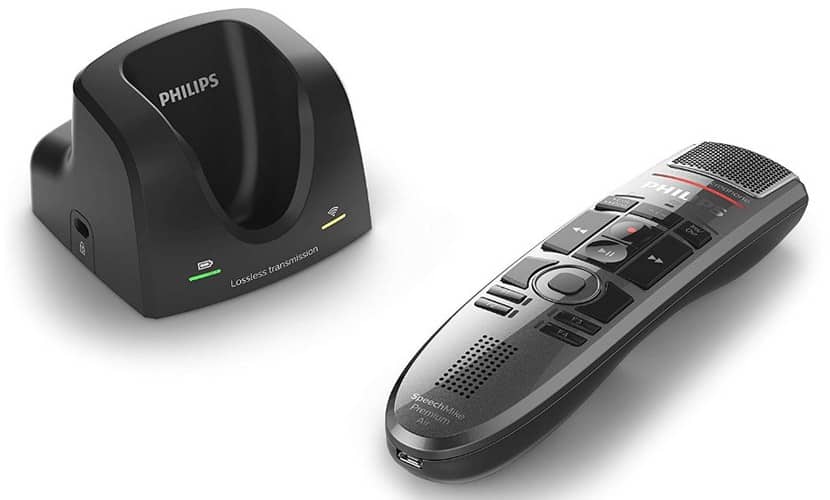 Its signal-to-noise ratio is 70 dBA. In addition, this mic has a sensitivity of -37 dBV. It has a unidirectional polar pattern, which is suitable for authors and other professionals.
The Philips SMP4000 has an integrated motion sensor that effectively mutes the mic when it's not being used. It is also engineered with a cutting-edge lossless speech technology that makes it perfect for Microsoft Word dictation.
Compatibility with dictation softwares
This dictation mic is compatible with these dictation softwares:
Nuance® Dragon Professional/Legal 12.5 and 13
Nuance Dragon Individual/Group 14 and 15 (all editions)
Dragon Medical Practice Edition 2 and 3
Mac® OS X 10.11 (El Capitan) and 10.12 (Sierra)
Pros:
Superbly accurate dictation microphone
Long-lasting battery
Supports wireless operation, enhancing mobility
Cons:
Occasionally experiences WiFi connectivity issues
Vibrates randomly
Initial set-up is complex
The Nuance PowerMic 3 is a handheld microphone featuring simplified thumb-control operation for dictating, editing, navigating, and reviewing.
Design
The Nuance Powermic III is a robust dragon microphone that is specially designed for medical transcription and Windows 10 dictation. It's constructed using hard plastic and sports an ergonomic design.
This mic has an array of buttons on its body. These include the play/stop button, forward, rewind and record button.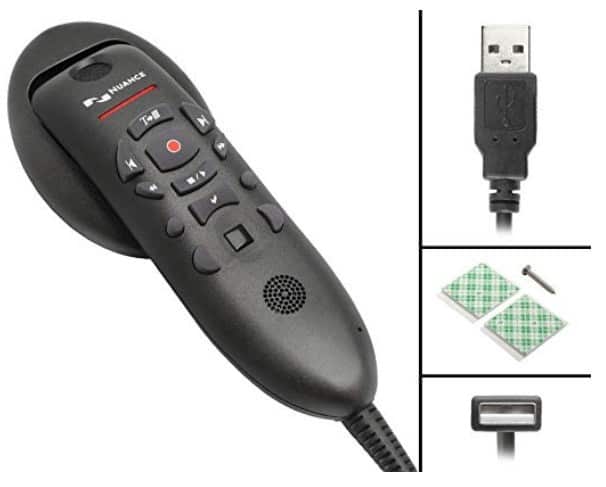 The Powermic III supports USB connectivity, making it the ideal PC microphone. It can be used together with the Dragon naturally speaking headset.
This mic merely requires a plug and play installation, making USB set-up a walk in the park.
Noise cancellation and accuracy
The Powermic III provides better recording accuracy than a conventional built-in PC mic. It has a wide frequency response ranging between 20 Hz and 16 kHz (for the mic).
Its Signal-to-Noise ratio is +70dB. In addition, this mic has a unidirectional polar pattern that focuses on the main sound source and rejects all other sounds emanating from the sides and back.

Hence, it has great noise cancellation features.
This powerful mic works well with any dictation headset. It's compatible with Windows OS version 7, 8.1 and 10.
Compatibility with dictation software
The Nuance Powermic III is compatible with this software:
Dragon Professional Individual, v15, Legal Individual, v15, Dragon Medical Practice Edition, Network Edition, Direct, and Workflow Edition
PowerScribe® 360 Reporting
SpeechMagic SDK
SpeechAnywhere Services
Pros:
Easy to set up and use
Enables faster dictation
High levels of dictation accuracy
Cons:
Relatively new and untested
Directly attached to a USB cord
Only comes in black
Read our other popular posts:
Conclusion
These three dictation microphones really stand out for their exquisite accuracy. However, each of them is unique.
The Blue Yeti Pro is ideal for a wide audience – from podcasters to novel writers – thanks to its versatile polar modes. It is compatible with both Windows and Mac OS. However, the Yeti Pro is a tad pricey.
The Philips SMP4000 is a powerful wireless mic that is extremely easy to set up and has remarkable noise cancellation properties. However, it sometimes gets Wi-Fi connectivity issues.
The Nuance Powermic III was designed to enhance the dictation accuracy and speed. It's perfect for lawyers, doctors, cops, insurance adjusters and other professionals who require constant dictation.
However, this product is wired and has rather poor plastic construction.
Overall, the Blue Yeti Pro comes on top because of its four unique polar patterns, it's high recording accuracy and its ease of use.