Are you struggling to decide which one to choose among Blue Snowball vs iCE vs Blue Yeti?
Do you want to know the subtle differences between these three?
Then stop here! You are at the right place.
Today we are gonna review Blue Snowball vs iCE vs Blue Yeti in-depth and help to decide which one is right for you.
Blue Snowball USB Microphone for PC, Mac, Gaming, Recording, Streaming, Podcasting, Condenser Mic with Cardioid and Omnidirectional Pickup Patterns, Stylish Retro Design – Brushed Aluminum
Logitech for Creators BlueSnowball iCE USB Microphone for PC, Mac, Gaming, Recording, Streaming, Podcasting, with Cardioid Condenser Mic Capsule, Adjustable Desktop Stand&USB cable, Plug&Play – Black
Blue Yeti USB Microphone for PC, Mac, Gaming, Recording, Streaming, Podcasting, Studio and Computer Condenser Mic with Blue VO!CE effects, 4 Pickup Patterns, Plug and Play – Blackout
Polar patterns
Cardioid, Figure-8, Omnidirectional, Stereo Mode
Blue Snowball USB Microphone for PC, Mac, Gaming, Recording, Streaming, Podcasting, Condenser Mic with Cardioid and Omnidirectional Pickup Patterns, Stylish Retro Design – Brushed Aluminum
Logitech for Creators BlueSnowball iCE USB Microphone for PC, Mac, Gaming, Recording, Streaming, Podcasting, with Cardioid Condenser Mic Capsule, Adjustable Desktop Stand&USB cable, Plug&Play – Black
Blue Yeti USB Microphone for PC, Mac, Gaming, Recording, Streaming, Podcasting, Studio and Computer Condenser Mic with Blue VO!CE effects, 4 Pickup Patterns, Plug and Play – Blackout
Polar patterns
Cardioid, Figure-8, Omnidirectional, Stereo Mode
Last update on 2023-09-21 / Affiliate links / Images from Amazon Product Advertising API
Overview:
Blue Snowball:
The Blue Snowball is a USB mic that was released by blue in 2005. It is the first of consumer-level microphones released by them. It has since been a great ally to YouTubers, streamers, podcasters and non-professional audio handlers in general.
The term used to describe the Snowball and its other peers is "plug and play".i.e you don't need any intermediary or audio interface. All you need is to connect the mic to your computer and off you go.
Blue Snowball iCE:
If you're just starting out in online content creation and you want to put your audio and video content out there, the Snowball iCE is a really good place to start.
Here's why:
As a beginner podcaster or YouTuber, your channel is probably not making so much money yet, since most platforms start paying when you have huge numbers.
What do you do? Simple: Get you a Snowball iCE!
Blue Yeti:
For most video streamers and YouTubers, the sound quality of the mic is very important; but also important is the aesthetic.
A podcaster or singer may not bother about how their mic looks since it's the audio that'll be heard by the audience, but to a YouTuber and other video content creators, the mic may be visible to the audience, so it's important to have a good looking one.
The Blue Yeti ticks both boxes, and it is available at a moderate price too.
Blue Snowball vs iCE vs Blue Yeti: Let's clear the smoke
Build and design
The Snowball is made of resin casing, which is essentially plastic, but a really hard one, so there's moderate protection in case of a fall. The external plastic covering creates some space for the metal grille, which extends from front to back of the microphone.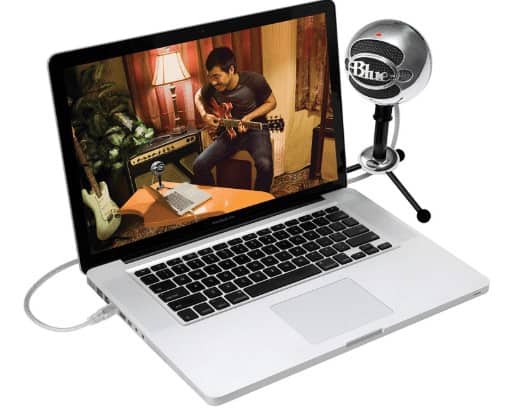 The Snowball iCE, like the Snowball, is shaped like a ball and also has a hard plastic covering with a metal grille. The USB port is located at the back.
It uses a type B cord which typically comes with the package but can easily case you lose it.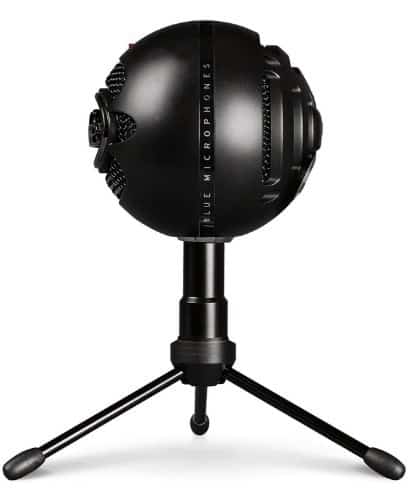 The Blue Yeti, on the other hand, is not shaped like a ball; you can easily tell that it's a mic merely by looking at it. Its whole body is made of metal, with the exception of the knob and button; obviously, it has a stronger frame than the Snowball and the iCE.
So, what kind of stands do these mics have?
The Snowball and the iCE have similar tripods, which are pretty decent but may be considered not tall enough, especially for taller users.
Each of these mics' stands has a rubber base which ensures that it's well-positioned on the table.
The Snowball's color was originally white, but five other color options have been added along the line, including bright orange, brushed aluminum, electric blue gloss black, and neon green. On the other hand, Snowball iCE gives you the option of white or black.
However, the Blue Yeti is available in a few nice colors, including the platinum, silver blue, black, lunar gray, midnight blue, satin red, slate blue, space gray, teal blue, and white. That's ten colors. If you're big on matching your microphone color with your chair cushion, there you go.
All three mic models have a 2-year warranty, which I think is good enough for a USB mic. The Snowball has a three-way switch on the back. This slider switches the mic between cardioid, omnidirectional and cardioid with a 10db pad.
Having two polar patterns to choose from is pretty cool, because the cardioid pattern will only capture what's placed directly in front of it, but the Omni pattern can receive sound from all sides. As a streamer or podcaster, this option may prove viable for round table conversations.
The Blue Yeti has a gain knob for regulating the level of input that goes in your computer. Be careful not to turn it up too much, because it's much easier to deal with low volume than clipping or distortion levels. It's better you don't record your audio "too hot".
This means, record at moderate levels so that you have enough headroom for any editing that's needed. The other switches that you'll find on the Blue Yeti are the mute switch and the polar pattern selections, giving you up to four choices.
The iCE does not have any onboard switches, knobs or sliders. Once you plug it into your computer's USB port, it's ready to go.
The Blue Yeti is the heaviest of all the three mics at 1000g. This is expected since it's all metal and the others have considerable plastic parts. The Snowball weighs 460g while the iCE weighs 768g. The 300g difference may seem inconsequential, and it may be if you're not carrying the mic around much.
Features
When you open up the Blue Snowball box, you get the mic, a 6-foot USB cable, the manual, and a tripod stand. It seems this is standard practice for the Blue brand, at least for their USB mics, because we found similar content in the Yeti and the iCE. `
Interestingly, none of these three mics need a battery for power supply. All you need to do is plug them into your computer, and you can be sure that your USB port would supply the power needed.T
It is a very convenient arrangement for this quality of the microphone since you're probably not using it with an external DAC or audio interface.
The Snowball is a condenser mic, which can be cardioid or omnidirectional, depending on what you want. The Snowball's omnidirectional however sounds more like two cardioid mics backing each other.
This means that with some critical listening you can hear some difference in sound properties as you go round the mic, even while it's an Omni setting.
The iCE is a cardioid only mic and it does its job pretty well, capturing what's right in front of it and largely ignoring other stuff.
The Blue Yeti even goes further than the Snowball; it has four polar patterns; the cardioid, omnidirectional, bi-directional and stereo picking patterns.
The bi-directional pattern only picks sound from the front and rear of the mic, with little coming in from the sides. This pattern can be quite useful for recording face-to-face conversations.
The stereo-picking pattern can be handy when you need the Blue Yeti for musical use; like when recording an instrument, and you want the stereo soundscape to be captured.
If you're using a USB mic, chances are you're connecting it directly into your computer without any interface between. Interestingly, most audio interfaces don't have USB inputs (for mics).
The point here is that compatibility is crucial. USB mics should be plug-and-play, and for smoother use, they don't need any extra drivers installed before you can use them.
As far as compatibility goes, the Snowball, Yeti, and iCE work seamlessly with both PC and MAC, for operating systems, made between 2005 and now.
Sound quality
Since these three are USB microphones and are more likely to be used in non-professional and semi-professional environments, I think it's better to compare them along those lines.
So, we'll be considering how well they handle background noise, the integrity of their polar patterns among other things.
As far as sound quality goes, the Blue Yeti is the first mic to get a THX certification of distinction. This means that the Yeti accurately represents the sound across the whole frequency spectrum.
The Yeti is quite sensitive, such that at high gain levels, it can pick up sounds that the natural ear can't.
This also means that you must be strategic with the gain control and how close you are to the mic; 4-5 inches is enough to get good proximity effect.
The Snowball iCE doesn't have a THX certification of distinction, but it is sensitive enough for your semi-pro audio needs.
However, you should get quite close to it when you want to record so that you don't have too much background sound in your recording. Don't worry about proximity effect, those frequencies are mostly rolled off anyway.
The Blue Snowball also does a pretty decent job when it comes to sensitivity. You can still make an intelligible speech recording at up to a distance of 18 inches (with some background noise of course).
As already mentioned. Blue Yeti has four options; the cardioid, omni, bi-directional and stereo pickup patterns. Although, the mic sounds differently which each of these settings, the capturing is consistent with each polar pattern.
The cardioid polar pattern captures what's right in front of the mic while rejecting off-axis sound. The other polar patterns also do their job pretty well.
The Snowball iCE only has a cardioid polar pattern, but it sounds more like a wide cardioid mic, which means there's a reduced ability to reject unwanted sound.
On the upside, if you tend to look away every now and then while recording audio, probably to check some stuff or turn a page, this may be a plus; since you'll have a wider capturing area than a simple cardioid would offer.
The Snowball also has an interesting polar pattern. Although the options available are the Cardioid and omnidirectional, the Omni option does not give the same response at all angles, as you might expect. The sound captured in front is a little brighter than what you get at the rear.
This is noticeable at most frequencies, including the ones important for speech. It sounds more like a wide cardioid in this regard.
The background noise handling mostly depends on the polar pattern chosen, but there's one factor that affects these three mics in this regard: The stands that the company supplies with these mics do not have shock mounts, so vibrations can get to the mics through the stands.
Keyboard typing or a little tap on the table can be audible because of this. Having said that, the Blue Yeti's cardioid pattern does its job nicely, rejecting most of the background noise.
Just make sure you're not more than 1.5 feet away from the mic head when recording.
For the iCE, since the cardioid pattern is more like a wide cardioid, you should expect this level of background noise rejection too. The Snowball's best background noise performance is with the cardioid pattern, as expected.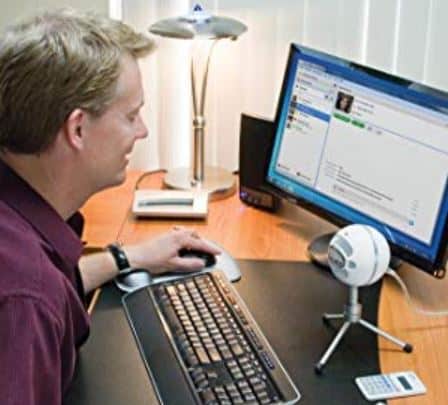 Just be careful not to have too much going on on your desk if you position your mic there while recording, it could jeopardize your audio.
Like I said earlier, the Blue Yeti represents the frequencies well, with a response of 20Hz to 20000 Hz. The Snowball and Snowball iCE have some interesting frequency response artifacts on paper, but in reality, there's only so much you can have with 16 bit/44.1kHz quality.
For the Snowball, the frequency response figures are 20Hz to 20000Hz, but without a THX certification, we had to do some verifications ourselves. Like every mic that was intended for voice use, the frequency response of the Snowball shows a presence bump.
However, the position if this bump depends on the chosen pattern. The cardioid pattern has a presence lift between 1kHz and 2kHz, while the cardioid pattern has a presence boost around 10kHz. This is similar for the iCE, as the cardioid and bidirectional settings have similar frequency responses.
The representation of these responses depends largely on the volume of the sound source, particularly for the Snowball and iCE. A bright vocal can easily become harsh with just a slight gain change.
There's a popular opinion that when the makers of a mic do not state it's maximum SPL, it's a good indication that the figures are not up to average, so they ignore the part altogether.
While this may not be true in all cases, when you consider the price range of the Snowball and the iCE, you won't be wrong if you expect a relatively low maximum SPL.
To be on the safer side, make sure you do some sound checking before you start recording. Speak into the mic at different distances and different volumes to know when your sound starts to distort.
On the other hand, the Blue Yeti has a maximum SPL of 120db; good enough for most vocal recordings. At least, you know what to expect.
Similarities
They're all USB mics
All three mics are condenser types.
Cardioid polar patterns available on all mics
2 year limited warranty
Plug and play
Differences
The iCE has the cardioid pattern only, while the Yeti and Snowball have additional options
While the Snowball and iCE have the ball shape, the Yeti is more conventionally-shaped
Unlike the iCE and the Yeti, the Snowball has no headphone jack output for monitoring.
Of all the three mics, only the Snowball has a pad switch.
Pros and cons:
Blue Snowball
Pros:
Lightweight
10db pad option for loud sources
Mute button option to pause recording easily
Cons:
No headphone output jack
Omnidirectional pattern not very consistent
Blue iCE
Pros:
Accurate midrange
Smooth sound
Inexpensive
Cons:
No shock mount
Doesn't sound bright
Blue Yeti
Pros:
Available in several colors
THX-certified distinction
Stereo pattern option works well for instruments
Cons:
Controls feel fragile
May be small for some shock mounts
Also read:
Verdict
It's time to declare the winner in this Blue Snowball vs iCE vs Blue Yeti battle. First of all, I must say I love the ball design; it's just so cute.
But before we give the design prize to the iCE and Snowball, we must remember those beautiful colors of the Yeti. I'm not sure if I've seen any mic with that many color options.
However, in terms of sound, you would agree with me that the Blue Yeti has it. But if you are on a budget and looking for Blue Yeti alternatives, then refer my review.
Although, if we were to put the price into consideration, the Snowball iCE represents value for money.
In conclusion, I think if you're an entry-level creator or producer, the Snowball can be a good mic to start with; it's inexpensive and it doesn't scream "rookie".
If you're doing musical demos though, I'd recommend the Yeti for just one reason, it's stereo pickup mode.