Affiliate disclosure: In full transparency – some of the links on this website are affiliate links, if you use them to make a purchase we will earn a commission at no additional cost for you (none whatsoever!). Will this be a problem? This is how we manage to create free content for you. Please know that your trust is so important for us. If we recommend anything, it is always because we believe it is worth exploring. And, buy me a coffee ☕️
In this blog post, let me review some of the best vocal harmonizer pedals.
A harmonizer is a device that samples the audio input and automatically creates multiple time stretched versions at different pitches and combines them all to an audio output.
Everything happens in real time. You hear this piece of equipment on the radio all the time.
Every time you hear extremely close vocal harmonies that sound "too perfect" you are experiencing the harmonizer in action.
There are also many times where it is at work where it is not obvious.
Harmonizers can be used to thicken, detune, and add effects to an instrument, and can create very unusual effects from any audio material.
There are different types of harmonizers that have been developed for different things. Guitarists often have a harmonizer in their equipment, often as an effect pedal.
In fact, they are made to make simple octaves or perfect fifths over a guitar solo.
How to use?

Types of effects

Setup
The good thing about many harmonizers today is the presets. Even if you know little about music, you can hook up your microphone and turn the dial until you find something really cool.
Ideally, however, you need to know the key (root note and scale) in which your music is located, such as: For example, the key of C# major, A minor or Beethoven's favorite, E flat minor.
Once you set the key, the harmonizer knows which note you are singing or playing, and creates harmonies that match the key. If set it up in the key of A minor and sing an "A", it could produce harmonies in C and E.
You can configure the presets in many ways.
You can have all the voices in unison, giving you a very dense vocal sound, or you can specify intervals, such as: For example, a voice with 2 semitones, voices two with 7 semitones, and a voice 3 with 5 semitones.
Or you can specify the chord of the moment and the harmonizer will produce voices based on the chord.
The main effect, of course, are the harmonies. A typical application is to record the chorus tracks through the harmonizer and lay this track under the main vocal.
An interesting feature is the "gender shifter" as well as pitch shifting. You can really make your voice sounding very deep or really high. Of course, it can do Darth Vader and Munchkins effects. With gender features, you can add more masculinity or femininity to your voice.
Another effect that can be easily achieved is thickening, doubling (or triple and quadruple), detuning. That not only sounds good on vocals, but on another instrument as well.
Many of the harmonizers have effects like delay and reverb. If desired, you can simply use the pedal and ignore the rest, so that when you live and work, there is no reverb hiccups as the preset changes and you can hit the footswitch and jump from harmonies into straight vocals
There are many types of harmonizers, and you should pay attention to the different details to get what suits your existing equipment.
For example, if you want to get one without a mic preamp or need to use different preamp, make sure the device has line inputs and outputs with the necessary connections. Note that some may only have one set of XLR, TRS, TS or RCA connections.
For use with an analog mixer, the harmonizer is used in inserts or in a typical effects send/return FX configuration. Using sends and returns may be better if your sends can be set to "pre-fader" where you can avoid the original source and hear only the effected signal.
With inserts, you may need to devote an additional channel. Harmonizers can only have one mono input and the output is usually stereo, so you need an extra channel.
Review of the best harmonizer pedals today
The BOSS VE-8 Acoustic Singer has all the processing power you need for your voice and guitar, so you can travel easily.
You can play the rhythms and play them on the 80-second looper, add intelligent vocal harmonies and create new textures like vocal distortion and guitar octaves for dynamic stage performances.
You can then send pre-mixed or independent signals to your PA and acoustic amp through two stereo outputs.
Although the BOSS VE-8 is perfect for the stage because of its simple design, the direct DAW recording via USB and an additional audio input for your phone make this pedal a key element for studio or practice room applications.
The BOSS VE-8 gives you full control over the sound of your voice from the stage. A professional phantom powered microphone preamp provides a reliable interface for your SM 58 or stage condenser.
Integrated reverb to hard edge electronic effects give you the classic or modern sound you desire. And the ability to actually create harmonies on the fly is great for sweetening the choruses.
VE-8 tracks the chords you play and automatically creates the right harmony with the simple touch of a switch, without the need for music training or adjustments.
Of course, there are modes of fixed and hybrid harmony for more stringent recording applications.
The convenience of piezo pickups under the saddles does not come without price. Many acoustic players will agree that these devices do not always capture the unplugged sound of their instruments.
Improved VE-8 Acoustic Resonance helps to restore part of the natural body of the plugged-in guitar.
A notch filter helps to eliminate feedback before it starts. Effects like reverb, chorus, and delay add space and consistency to your accompaniment, and a built-in tuner keeps you sounding best as possible between songs.
The integrated looper of the BOSS VE-8 allows you to experience rhythms, melodies, leads and chord shapes in practice. Then bring these ideas to the stage and astonish your audience.

You can drum or beatbox a rhythm, play chords over it, or play a chord structure and play leads and sing over it. The BOSS VE-8 brings an exciting musical accompaniment to the solo stage.
An excellent 3-button design makes the VE-8 the first choice for low light stages. The direct recording over USB sends the high-quality sound of the BOSS VE-8 directly to the DAW without the need for an interface.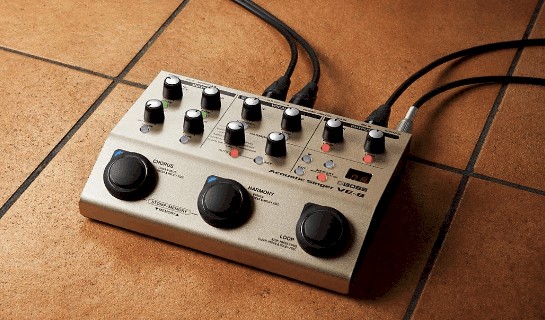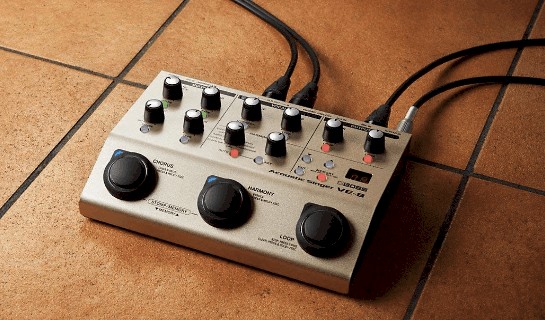 And a 1/8-inch stereo input for your music player allows you to learn the covers in practice or to play with your studio material on the stage.


The TC Helicon VoiceTone Harmony-G XT is one of the best harmonizers available on the market, with many useful features, you can focus on your performance and help you add vocal effects while performing a musical piece.
This vocal harmonizer produces wonderful natural sounds by simply listening to your guitar or your voice.
It has revolutionary effects and the numerous harmonies such as reverb, pitch correction, echo, toggling, doubling fx, tone control and even A/B switching between the effects.
With Harmony-G XT you can work hard. The best feature TC Helicon VoiceTone Harmony-G XT is that it doesn't require any kinds pre-programming, special guitar pickups or vast musical knowledge.
Simply plug it in and select the option or the bass interval that best suits your needs.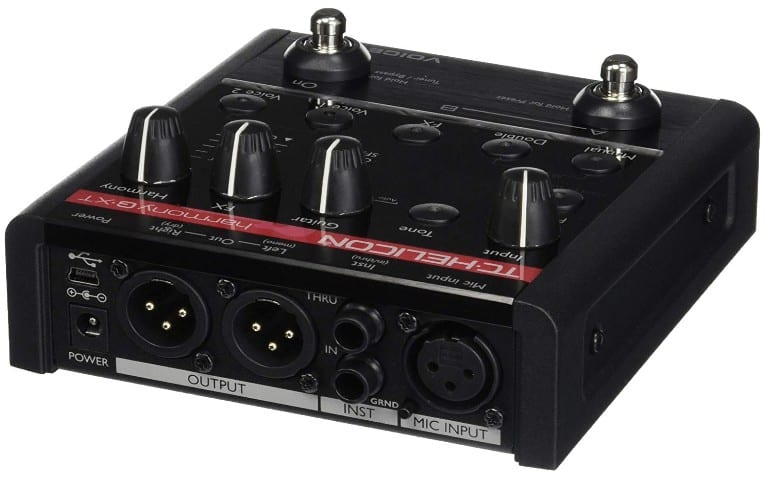 You can also use many harmonies without a guitar, just simply by adjusting the key and the scale. In addition, the TC Helicon VoiceTone Harmony-G XT is developed with four overdub double effects that will provide you two additional pieces doubling voices.
You can also simply switch from one FX to another with the A/B switch or simply use the bypass to activate the guitar tuner.
Other features include a high-quality microphone preamp that can be used with Mic Control. This device is an extremely inexpensive way to improve and modify your voice.
This piece of equipment rightfully compliments your singing and gives you endless possibilities.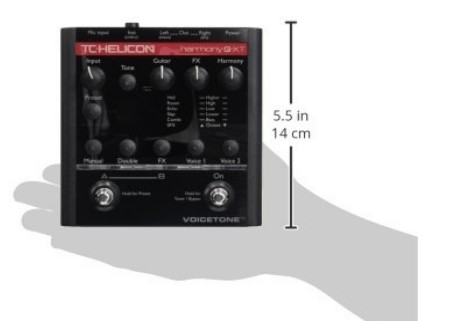 Especially suitable for solo performances, this vocal harmonizer pedal will add your musicality and will have an excellent sound for the audience. This could be the best deal for your money.


The Harmony Singer is an amazing vocal processing, no bigger than a guitar stomp box, but it excellently enhances the vocal component of your performance.
If you're electric, electro-acoustic, professional, or practicing, your voice presentation will look like your band has just increased by a few backup singers and an experienced engineer.
This compact all-in-one pedal features Vocal Harmony, Tone, and Reverb. You can use up to two harmony voices guided by the guitar via the In/Thru connection.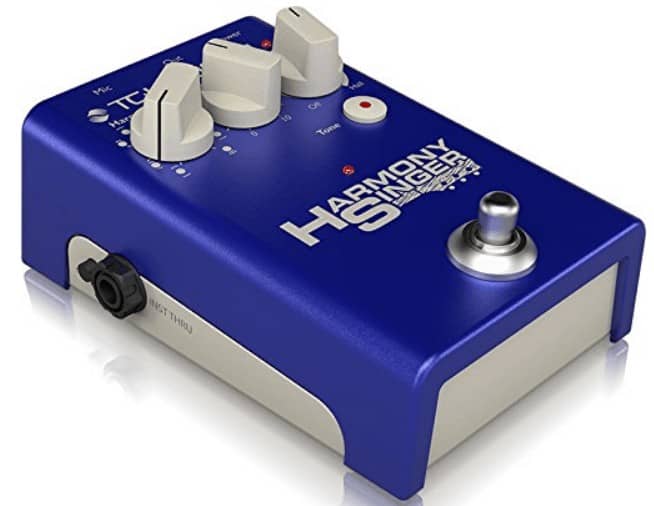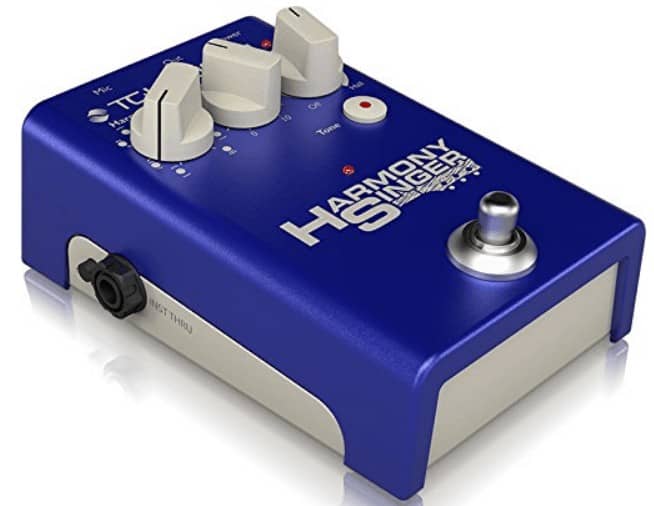 The adaptive sound "softens" the overall quality of the voice and three high-quality Reverb styles with adjustable level.
Under the bonnet of Harmony Singer 2 is a collection of audio high-end processors optimized for perfection.
Fluid dynamics, silky top, equalizer presets and built-in de-esser automatically adjust to the tone and dynamic range of your vocals, so you can play better even with an average PA.
Harmony Singer 2 analyzes the chords of your guitar so that when you activate the pedal, the backup harmony is in tune and on time.
With this being so easy, you'll find yourself trying harmony in songs you've never thought of before.
TC Helicon, a subsidiary of TC Electronic, is known in the pro-audio community for the quality of its reverb algorithms and the Harmony Singer is coming directly from this line.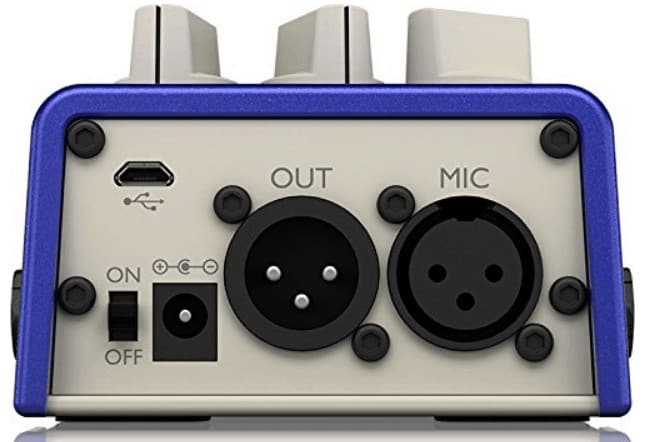 The Room, Club, and Hall styles are designed to please your voice. So go ahead and do your best, your audience will love it.
Of course, you do not want to announce your next song or speak to the audience with Reverb.
By pressing and hold the Harmony On/Off button, you switch to conversation mode, where the voice is still processed by the tone, but the Reverb and Harmony effects are disabled.
If you've ever connected a microphone to your PA, you know how to connect the Harmony Singer. Microphone to Harmony Singer and Harmony Singer to PA. Nice and simple.
Your guitar connects in the same way as you connect other stomp box effects, the only thing to know is that, it likes to be the first in the chain.


A wise choice for singers and musicians playing guitars. The Boss VE-2 combines urban sounds with simple operations to provide a complete solution for singers.
This device is portable and battery powered so you can create sophisticated studio quality sounds in a variety of entertainment venues.
From street performances to concerts and professional studios to home practices, this device offers smart support.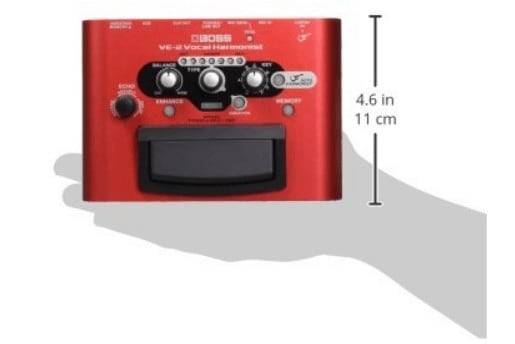 It helps you create harmonized vocals by automatically tracking the chords played on a preset key, connected guitar, or a combination of both.
Users can choose between one of three modes of operation to create balanced harmonies and in real time in any key.
It includes an exclusive Auto Harmony feature that inevitably detects the chords played on the connected guitar, creating seamless harmonies.
It's equipped with a dedicated control panel knob that allows solo singers to manually adjust the key of the song and create soothing harmonies.
It also comes with Hybrid Mode, which effectively creates harmonies on manual key setting and guitar input.
This is especially useful for songs where there are transitions of guitar parts between lead and rhythm playing. In addition, there are twenty four kinds of harmony to choose from. You can quickly select the key manually or connect your guitar to use the Auto Harmonist mode.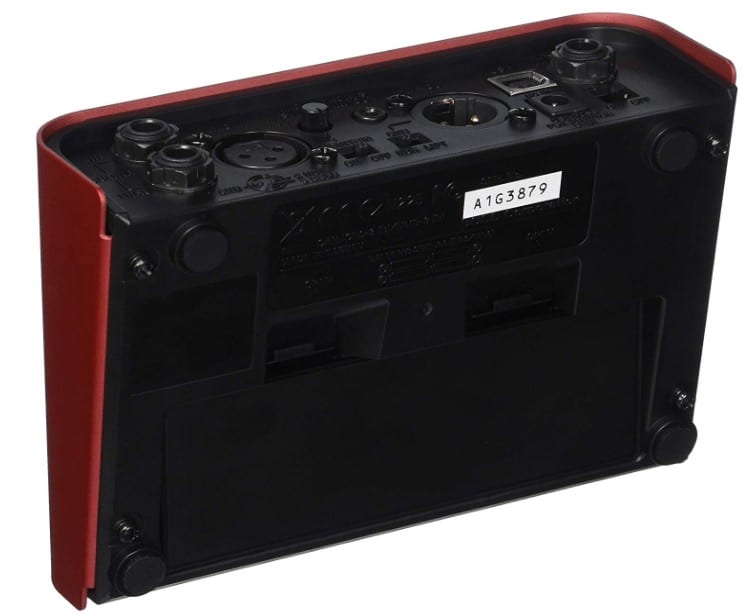 Boss VE-2 has an easy-to-use interface and is a simple solution for singers who are not familiar with processing effects.
It also has simple dial-up delay and reverb options with a single knob operation. It has enhanced function control dynamics, which ensure a fine pitch correction while singing.
Other features include three memories for storing your favorite settings, an XLR microphone input with phantom power and much more. This Boss VE-2 vocal harmonizer pedal works efficiently with four AA batteries or a PSA series power supply.


To experience and reproduce sophisticated and high-quality sounds, you can choose Digitech VLFX. This new generation voice processor helps you create studio quality sound effects.
This device is especially effective when performing on stage as it provides professional quality effects. It has more than 65 vocal effects that give the vocalists the best voice enhancements.
It's engineered with options like dbx compression, Lexicon reverb, harmony, modulation, delay, pitch/FX, distortion/filter and reverb and automatic feedback suppression to improve performance.

It also has 15 useful processors and 12-band feedback suppressors that make it a smart choice.
For a silky and smooth voice effect, the Digitech VLFX features gold channel processing and seven excellent built-in effects.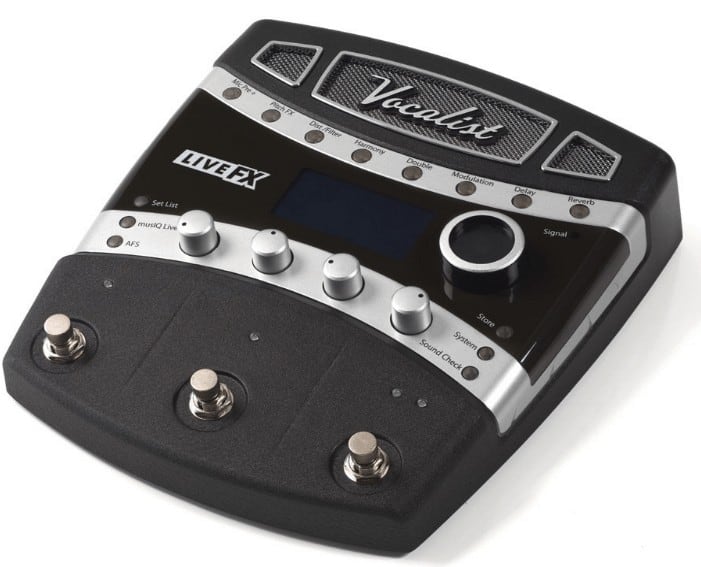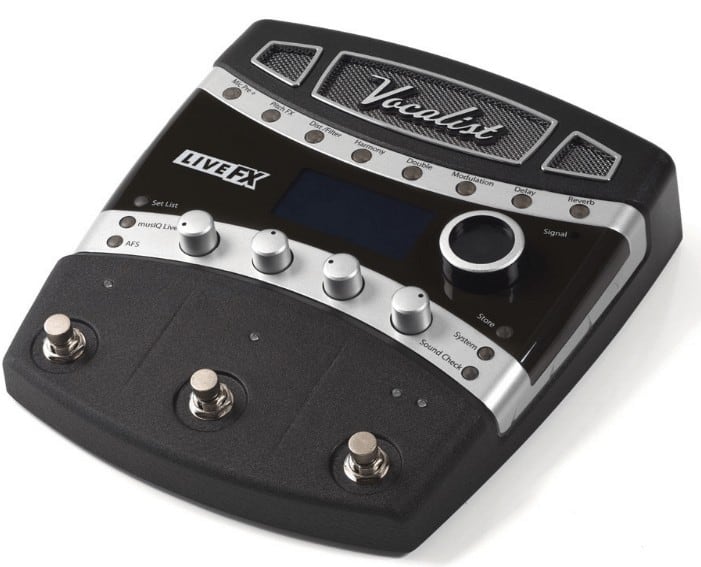 The thing with the Digitech VLFX is that it has easy-to-use features and a headphone output for easy monitoring for personal practice.


Also read:The 5 Best Acoustic Simulator Pedals – 2019 Edition
Bottomline
Using a vocal harmonizer pedals is fun and will push your creativity in a very good way. And let's face it, it's the only way to achieve the effect of the Queen's Bohemian Rhapsody in a small club environment and still sounding huge.
There is a lot to choose from on the market today, but not all are going to make to the best harmonizer pedal lists.
Other pedals that deserve to be mentioned and are known for their good quality are: Electro-Harmonix Voice Box Harmony Machine and TC Helicon VoiceLive 3.
It's for you to decide because all the candidates too are good, so there's a chance it's a tough one.
Hi, I'm Jennifer I'm a passionate singer and an audiophile from Detroit, MI. 
I'm on a mission to help music creators to create fine music that help them position uniquely in the saturated music space.
Follow my blog for regular content :-)