Affiliate disclosure: In full transparency – some of the links on this website are affiliate links, if you use them to make a purchase we will earn a commission at no additional cost for you (none whatsoever!). Will this be a problem? This is how we manage to create free content for you. Please know that your trust is so important for us. If we recommend anything, it is always because we believe it is worth exploring. And, buy me a coffee ☕️
Many people adore carbon fiber guitars because they are adorable, light, beautifully designed and strong.
Also, because they are great for travelling. But since there are numerous types in the guitar market, choosing the right carbon fiber guitar can be confusing if you don't have prior guitar knowledge.
The purpose of this article is to show the best carbon guitar brands and the remarkable features that make them stand out.
Just like its name suggests, a carbon fiber guitar is made up of carbon fiber. This is what distinguishes it from the traditional guitar which is made from tonewood.
Carbon fiber guitars are a great invention because they can withstand humid conditions. They sound better, louder and are waterproof and water-resistant, unlike traditional guitars.
Let us help you find the best carbon fiber guitar.
Top 4 Carbon Fiber Guitars Reviewed
Specifications:
Item Size— 36.89*12.72*4.65 inches
Weights— 3.7 pounds
Fretboard Material— HPL
Bridge Material— HPL
Tuning machine head— 21:1 ratio Alumium Alloy
Strings— Elixir Nanoweb 012
If you're looking for a high-quality carbon fiber guitar at an affordable price get the LAVA ME 2 Carbon Fiber Guitar. And this doesn't compromise its quality and performance.
Unlike other guitars, the LAVA ME 2 guitar is small and comes with 18 frets on the neck.
It weighs about 3.7 pounds. This is why it's great for traveling folks who like to enjoy great quality music on the road. Its size and weight also make it the perfect match for people who love small guitars, especially children.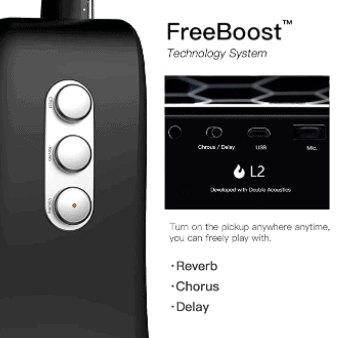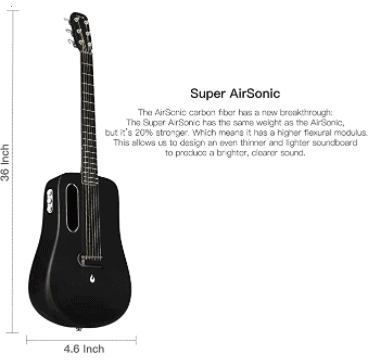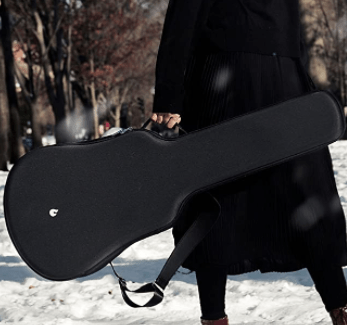 It has amazing pickup technology and you must charge it first to play. Thereafter you can play for 10 hours straight without amplification and 20 hours with amplification.
This guitar stands out from other guitars because it has three inbuilt special effects like reverb delay and chorus, thus giving you a high-quality sound.
Pros
It's light in weight
It has quality sound
It has a balanced tone
It's great for traveling
It comes with various effects
Cons
Exclusive to use their effects
Bottomline: A great guitar for travelers and all music enthusiasts who want to achieve high quality and bright sound.
Specifications:
Neck Material Type Mahogany

Fretboard Material Type Composite Paper
Guitar Pickup Configuration Piezoelectric
String Material Type Steel
Hand Orientation Right
The Klos Black Carbon Fiber Guitar body is made up of carbon fiber and its fretboard of black cherrywood.
Unlike the LAVA ME 2, the KLOS BLACK has a detachable neck. This makes it easier to pack the guitar in a bag and also to carry it. This is why it's perfect for traveling musicians who are always on the go. Hence its other name The KLOS travel guitar.

You can play it anywhere and anytime. It's an electric acoustic guitar and can be played with or without an amplifier on stage.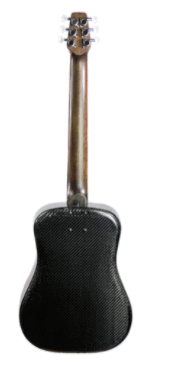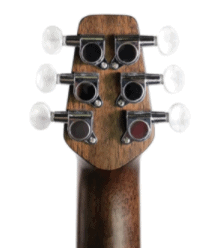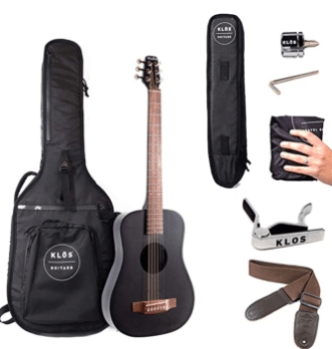 KLOS guitar produces high-quality acoustic sounds and is built to withstand adverse temperature conditions.
This guitar is lightweight, compact, easy to grab and a good fit for beginners. It's durable and inexpensive. But it's not fully scaled.
Pros
It's lightweight
Great for beginners as it's easy to play
It has a detachable neck
It can withstand high temperatures.
It's durable and compact
Cons
It lacks a pickguard
You must tune every time you detach the neck
It's quite expensive
You bust be careful while detaching the neck
Bottomline: KLOS is a great guitar for musicians on the go. Also, for beginners due to its qualities and features.
Specifications:
Body Material AirSonicTM Carbon Fiber Composited

Neck Material Type HPL
Fretboard Material Type HPL
Guitar Pickup Configuration L2 PRO
String Material Type Phosphor Bronze
Hand Orientation Right
LAVA ME PRO is an upgrade to the LAVA ME 2 Carbon Fiber Guitars. This guitar was mainly built for stage performances because of its powerful inbuilt preamp system.
Imagine going on tour without your pedalboard.

Well, LAVA ME PRO has made that possible. It comes with inbuilt effects like reverb delay and chorus.
It's tightly packed, compact, and produces a standout tone. It was built with the thought in mind to give you professional performance.
LAVA ME PRO is an acoustic and electric guitar meaning you can use it with or without an amplifier. Its battery life is 10 hours if you're using an amplifier and 20 hours if you're not using an amplifier.
It's light and great for travelling and for musicians who perform on the go. It's great for beginners and professionals who adore high-quality sound. Plus their L2 pickup technology is excellent.
Pros
It's light in weight
It withstands adverse weather conditions
It's great for both beginners and professional
It's great for stage performance
It produces a well-balanced sound
Cons
Effects are exclusive
It's pretty expensive
Bottomline: LAVA ME PRO 41 Inch Caron is a great fit for beginners and professionals who want high-quality sound in their stage performances.
Specifications:
Neck Material Type Carbon Fiber

Fretboard Material Type Carbon Fiber
Guitar Pickup Configuration Piezoelectric
String Material Type Phosphor Bronze
Hand Orientation Right
The Journey Instruments Carbon Fiber Travel guitar is a wedged-shaped guitar that uses a fast-release joint to connect the body and the neck. This trait makes it easier to pack in a bag for traveling purposes and for on-the-go performances.
What's more?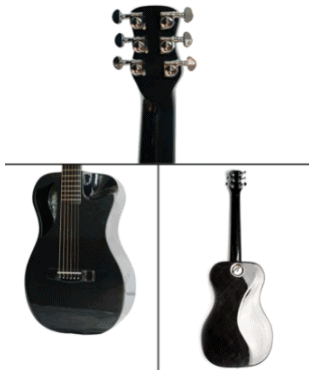 It can fit in the airline's overhead compartment once you dismantle the neck from the body. And it comes with a gig bag.
This guitar produces a professional balanced acoustic sound thanks to its 20 frets.
Both the body and neck are made out of carbon fiber.

It's durable and compact and withstands humid conditions.
Unlike other traditional guitars, the Journey Instruments guitar is slick, has an order ultra look and is light.
You can use it with a Public address system, an amplifier, or a recording console.
Pros
It's light in weight
It's durable
It's compact
It produces a professional sound and high volume
It's detachable
Cons
It doesn't come with a pickguard
Bottomline: The Journey Instruments carbon guitar is great for an artist looking for a professional sound on stage, and likes to travel and play gigs on the go.
What factors to look at when buying a carbon fiber guitar?
Size and shape of the body
Check if your hand fits the fretboard and you move around with ease.
Acoustic or electric guitar
Determine whether you need an electric or an acoustic guitar. If you're a performer, get an electric. But if you're a beginner looking to learn guitar at home you can do well with an acoustic.
Strings
Make up your mind if you need a classical or nylon string guitar
Price
Another thing to consider is the price. The guitar you want to buy should be within your price range (something you can afford)
Durability and travelling
Before buying a guitar check if it's durable and is suitable for travelling especially if you like to perform on the go.
Materials
Lastly, determine if you want a guitar made of completely carbon fiber. Or one that has some made up of traditional wood.
Conclusion
Carbon fiber guitars are taking over the industry. Although they are fairly new in the game they causing major waves. They are amazing for travelling, reliable, durable and have a balanced tone.
Here's our verdict. The best Carbon Fiber Guitar is the Journey instrument. It's durable and great for musicians on the go. Although It's quite expensive, it's worth the price.
The second best is the Lava Me PRO. It's light, durable, and excellent for stage performances and high-quality sound.
Third, is the KLOS Black Carbon Fibre. It's easy to play, great for beginners, and produces a high-quality balanced tone. Despite its high price, it's worth it.
There you have 4 best Carbon Fiber Guitars Reviewed and A short Buying Guide.
Hi, I'm Jennifer I'm a passionate singer and an audiophile from Detroit, MI. 
I'm on a mission to help music creators to create fine music that help them position uniquely in the saturated music space.
Follow my blog for regular content :-)