Today's music producers are usually looking for a deep but very precise bass sound.
If you're recording a pop track in the studio, the producer will probably ask you to go even deeper than low E.
Or if you're soloing over the jazz chord progression, you'll probably need to go even higher than high G.
So, the solution might be a 6-string bass. Don't be afraid to go with more than four strings. After all, it's about how good you play, not how many strings you play.
Once your brain memorizes the patterns you play throughout the whole neck of the 6-string bass, you'll see that the whole new world is opening for you.
In this article I will try to give you basic information about entry level and professional 6-string basses. I'll tell you how well these basses are made, what materials have been used, which pickups, electronics, etc.
Are you still with me? Let's look at the top 5 6-string basses on the market.
Top 5 6-string bass guitars reviewed
Specifications:
Body Material Basswood
Back Material Type Basswood
Neck Material Type Maple
Fretboard Material Type Rosewood
Guitar Pickup Configuration Dean Design
Hand Orientation Right
Guitar Bridge System Tune-O-Matic
Number of Strings
This bass is made in China but for the entry-level bass, it provides a very good quality in build, design, and sound.
Build and design

The design of the bass has both the traditional and the modern touch. The body of the bass is made of tonewood which is a great, cheaper replacement for mahogany and very lightweight. You can also find a more expensive model of the bass that has a mahogany body.

The neck is C-shaped, with a bolt-on construction. It is made of maple with rosewood or walnut fingerboard. This combination gives a slightly darker but very punchy sound.
The 34-inch scale of the bass means you're not going to struggle with the dimension of the instrument.
You can choose between different top combinations such as natural finish, black paint, etc. The bass is equipped with two DMT Design humbucker pickups, volume/tone/blend controls, and nice quality High-Mass bridge.
Audio and performance

Equipped with two humbuckers, Dean Edge has a very high output gain. Lows are very nice and defined. If you choose the rosewood fingerboard, you'll get nice and punchy mids with almost growling upper mids and highs.
This bass definitely sounds like a much more expensive bass. For the entry-level bass, you get an amazing, very defined sound. Its volume/tone/blend controls give you a variety of different sounds, from very Jaco-ish, bridge pickup sound to powerful, low-driven rock sound.
The only problem could be cheap but made of plastic material. This can sometimes cause the fret buzz but experiment with the strings' height to solve this problem.
Pros:
Great price for the quality
Two humbuckers and a huge variety of pickup controls
A blend between modern and classic design
Cons:
Plastic nut
No switch between humbucker and single-coil mode
Could be 35 inches for better sounding 6th string
Bottomline: Dean Edge is a great entry-level bass for beginners, but also for some professionals. Two humbuckers will give a powerful, modern sound mostly used in rock and heavy metal music. Since the bass is pretty lightweight it is also great for long-duration gigs.
Specifications:
Item Dimensions LxWxH – 52 x 19 x 4.25 inches
Top Material Type – Mahogany/Babinga
Back Material Type – Mahogany/Babinga
String Material Type – Alloy Steel
Operation Mode – Electric
Number of Strings – 6
Stiletto Studio is a beautiful, modern-designed bass, made in South Korea at a very affordable price.
Build and design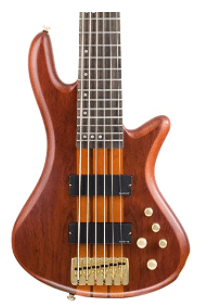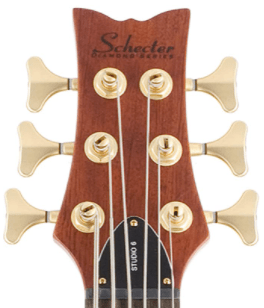 The body of the bass is made of mahogany, with bubinga centre which is also quite popular body wood.
With its neck-through construction, this bass delivers a lot of sustain. The 35 inches scale guarantees a very deep, focused, and defined 6th string.
You can choose between a multi-laminated maple or walnut neck. The fingerboard is made of rosewood with 24 jumbo frets. Mahogany, maple, and rosewood are some of the most popular wood combinations for bass guitars.
The bass comes with gold or black hardware and has a Diamond custom bridge and Grover tuners.
Audio and performance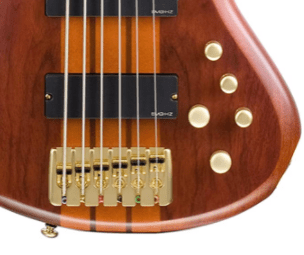 Stiletto is equipped with two EMG – HZ pickups which is incredible for this price. Controls are volume/blend with 3-band active equalizer. These pickups have very high output gain and sound ultra-modern.
The bass also has a very modern design, great construction, but this wood combination, and his 35 inches neck, can be very heavy. You will definitely be impressed by its 6th string.

The back of the bass has a battery compartment for two 9-volt batteries, which means that the electronics of the bass are powered by 18 volts.
This compartment has two screws which is not an ideal option, you'll need to have a screwdriver in your case or gig bag.
Pros:
It comes at an affordable price
Comes with an active equalizer
Cons:
This bass guitar is heavy
Battery compartment with screws
Bottomline: If you are looking for quality-built 6-string bass with modern sound and design, this is a bass for you.
The bass has active electronics so you won't need an active preamp to cut through the mix both in the studio or live gigs. Use this bass in almost every genre, from pop, rock to heavy metal.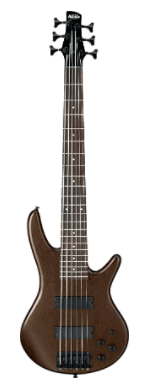 Specifications:
Item Dimensions LxWxH – 44 x 13 x 2.3 inches
Top Material Type – Maple
Back Material Type – Maple
String Material Type – Nickel
Item Weight – 8 Pounds
Number of Strings – 6
This is a famous, entry-level 6-string bass from renowned Japanese manufacturer Ibanez. However, due to the manufacturer's desire to reduce the production costs, this bass is made in China.
Built and design
The design of the bass is a typical Ibanez style design that most of the bass players love. This design has great ergonomics with almost no neck dive.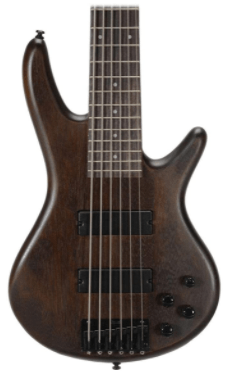 The Bolt-on construction of the bass is made of mahogany or poplar body and maple neck, which is a classic combination. The fretboard is made of jatoba wood, which is obviously a cheaper replacement for rosewood.
The neck is very slim, typical for Ibanez basses, and very fast. This wood combination makes this bass very light-weight. Due to the thickness of the neck, I wouldn't recommend heavier strings gauge.
String spacing is 16.5mm which makes this bass very playable and comfortable. This spacing especially shines if you're soloing on this bass.
Audio and performance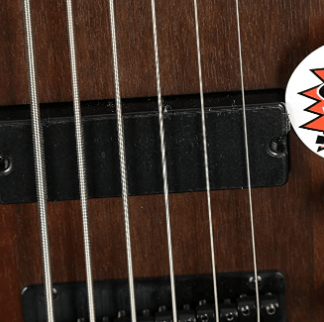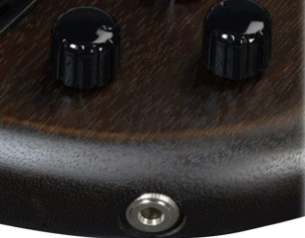 GSR206 is equipped with two Dynamix H passive pickups. It has active electronics with only one pot named Phat II EQ. Use this pot to boost the bass frequencies and give more output signal.
Ibanez obviously wanted to cut the production costs even more and make this bass more affordable. They put the Phat II knob instead of active 3-band equalizer (bass, mid, treble).


The other three pots are bridge and neck pickup volume, plus tone control pot. This is a classical "jazz bass" combination. Use the tone control pot as an equalizer to roll off the high end frequencies. It will give you a nice, smooth but punchy sound if you're soloing over a jazz tune.
Pros:
Ibanez built quality
It is light-weight
Super slim and fast neck
Cons:
No active 3-band EQ
Less details in design
Bottomline: If you're looking for a very versatile, light-weight, entry-level bass from a renowned manufacturer, go with the GSR206.
SoundGear line is now more than 30 years in production and Ibanez knows how to make very affordable but great basses. Use this bass in-studio and live performances of almost every music genre.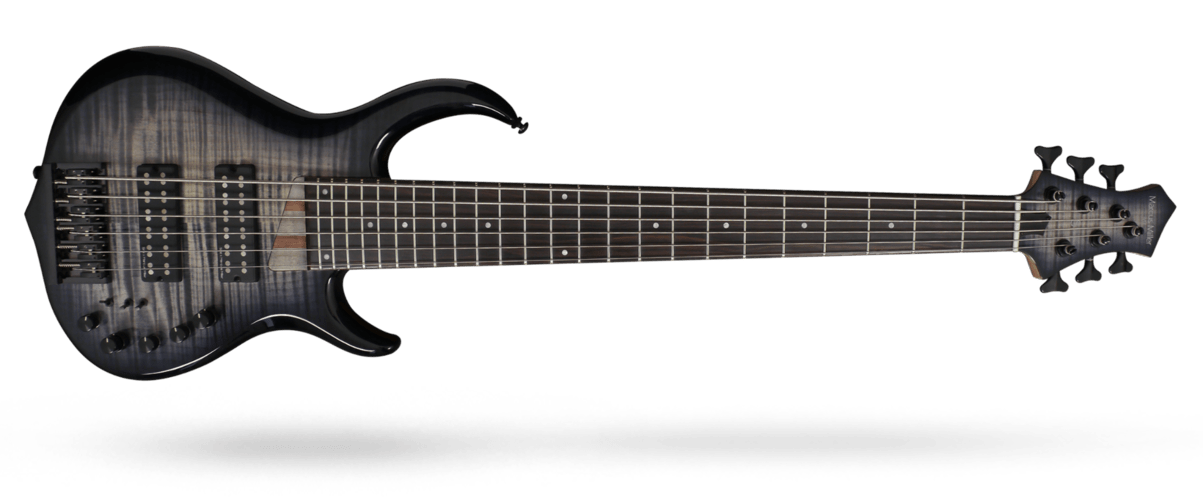 Specifications:
Knobs: Modern Black Aluminum
Body Material: Alder + Solid Flame Maple Wood
Body Shape: Modern Bass Style
Bridge: Marcus Miller Heavy Mass Custom
Tuning Gear: Sire Diecasting Gear
Hardware Finish: Black
Pickguard: None
Few years ago, company Sire hired famous bass player Marcus Miller to help them make bass that has signature Marcus' sound but for an affordable price.
And what they have made is a series of great sounding and very good instruments for a very affordable price. These basses have been the best buy instruments lately.
Built and design
M7-6 has a very modern, high end design with all the components needed for the production of the great instrument. Besides its quality hardware, electronic and wood parts, the bass is very well constructed.
The body of the bass is made of alder wood with a beautiful flamed maple top. The maple neck has a bolt-on construction with 24 medium frets. The fingerboard is made of ebony which gives a bass a very punchy and clear sound.
The sound color of ebony is in the middle of rosewood and maple, not too bright like maple and not too dark like rosewood.
Ebony is a very hard wood which makes it perfect for fretless fingerboards.
Since the 6-string basses have much more string tension, Sire made a 5-piece maple neck that improves neck stability. This construction, and its 35 inches length, guarantees you a great sounding 6th string with super deep sound and great articulation.
Audio and performance
Even without an amplifier, this bass sounds great due to its quality construction and wood combination. When you plug it in the amplifier, the bass really shines like some of the most expensive, boutique basses.
Two Marcus Miller pure humbucker pickups will give you very modern, fat low-end sound with clear, growling mids. You can also switch between active and passive electronic modes.
The electronics are great, ultra modern sounding Marcus Heritage 3, powered by two 9-volt batteries. These electronics have plenty of different options which guarantees you'll find your own sound that easily cuts through every mix and music genre.
Controls are: volume/ton (dual pot), pickup blend, treble, middle/mid frequency (dual pot, frequency response from 80Hz-2000Hz) and bass.
There are also three switch controls:
Active/passive switch (which is great if you prefer active or passive sound, but also switch to passive mode if you run out of batteries in the middle of the gig).
Bridge pickup humbucker to single coil switch
Neck pickup humbucker to single coil switch
Pros:
Great, modern sound and design
Great construction quality
A lot of sound options
Cons:
Bottomline: Marcus Miller basses are made in Indonesia and that makes them very affordable. With this bass in your hands, you will immediately catch the attention of every producer and musician.
If you want a great-sounding, professional instrument but you don't want to spend money on a boutique instrument, go with the M7-6 bass.
Specifications:
6-string electric bass
35" extra long scale length (889 mm)
Alder body
Rosewood fingerboard with oval inlays
Active 3-band EQ
Yamaha 6-saddle bridge made of brass
Yamaha die-cast tuners
Yamaha first introduced their TRB series during the 80s as one of the first manufacturers that started producing 6-string basses. With a lot of different wood options, colors, and finishes, and Yamaha's craftsmanship experience, this bass has been one of the most played basses in the history of 6-string basses.
Built and design
This bass has a laminated maple or alder body with a beautiful, flamed, or quilted maple top. The body itself seems to be a little bit too big but the 35 inches neck sits perfectly to it.
The 5-piece neck is made of maple and has a bolt-on construction with a 24 frets fingerboard made of rosewood. A lot of maple on this bass gives it a very clear, bright, and crispy sound. The fingerboard has beautiful mother-of-pearl oval inlays.
Inside the neck you will find double truss rods that will counter even the heaviest gauges of the strings.
The bridge is very massive and well constructed, made of brass or copper, depending on the model you're looking for.
With its modern, yet legendary design, this bass really looks like a monster, but also plays like a monster.
Audio and performance
TRB1006 is equipped with two Hum-cancelling Alnico humbuckers. These pickups deliver a fair amount of very defined low end but plenty of silky high end.
Yamaha's authentic 3-band equalizer (bass, middle, treble) gives this bass a very specific sound. This sound is widely recognized in the bass community and most professional bass players have a lot of respect for this sound.
The other two pots are master volume and pickup balancer. These active electronics are very easy to use. Even when the small amount of the selected frequency is dialed, the sound changes a lot but in a very musical way.
Pros:
Great design and craftsmanship
Easy to use EQ setup
Best wood combination
Cons:
Bottomline: This is one of the most played basses in the jazz/fusion bass community. With its very affordable price, this bass gives a lot of different sound options.

One of the bass classics that stands out on the market for more than 40 years now. The price of the bass can vary depending on the country of the original production (Japan, Taiwan, Indonesia).
Conclusion
If you're looking for you first 6-string bass you have to ask yourself a few questions:
What kind of music do you want to play with the instrument?
What is your budget?
Are you going to practice only, play gigs or use the bass for studio recordings?
Don't forget that the bass should be the instrument that has to deliver all of your creative ideas. It should become an integrated part of your music language and your personality.
Choosing the right instrument will help you raise your playing level even higher. It doesn't matter how many strings you're playing, your knowledge is something that other musicians and producers will value. But if you feel you need a 6-string bass to express your ideas, don't be afraid to go for it!