There is no other best friend to bassists than the 'best bass compression pedal.' It is like an assistant during your live shows that can make a great impact.
Our Best Pick
Xotic SP Compressor
Best Value for Money
Jim Dunlop Dyna Comp Guitar Effects Pedal
Best Pedal for Guitars
TC Electronic SPECTRACOMP BASS COMPRESSOR Ultra-Compact Multiband Compression Pedal for Bass with Built-In TonePrint Technology
Last update on 2023-09-29 / Affiliate links / Images from Amazon Product Advertising API
If you do not wish to engage in a Loudness War and intend to enhance the sound performance of your bass guitar legitimately, then you must select the best bass compressor pedal that lasts longer and delivers unmatched functionality!
If you still have doubts regarding the functionality of bass compressor pedals, own then you must read this!
In a one-liner, a compressor pedal evens out your playing sound, especially when you are playing too loud and unruly.
The signal processing function of the compressor diminishes the volume of loud sounds, while amplifies quiet tones by compressing the dynamic range.
It not just makes a sound more stable but also removes out the high overtones to the surface. The best thing is you can even get rid of the nasty spikes that may occur if you are unable to play a note correctly.
If you are a bassist, then the bass compressor pedal must be an essential element for all your live performances or studio recordings as it can be used in all sorts of songs, genres and live performances.
Best bass compressor pedals for the price
Just like any other product, you would find many sorts of bass compressor pedals, each having pros and cons.
The key here is that you must select a compressor pedal that best meets your requirement and does not make your bass sound similar to a plastic synthesizer.
To make the task of selecting the best compressor pedal, we have identified the seven best bass compressor pedals, and so we present a streamlined and concise review of them.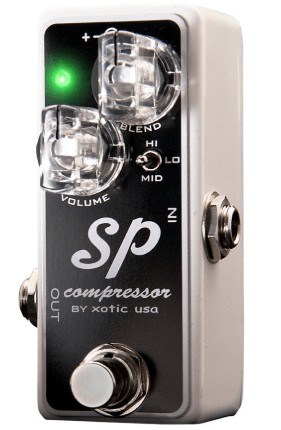 The Xotic SP Compressor Pedal is designed and manufactured by Xotic, a California-based company that specializes in creating vintage sounds and effects for guitars.
Their hearty promise is to manufacture great products that sound exquisite and provide inspiration to artists.
Upon the first glance, the Xotic SP Compressor Pedal looks pretty attractive. Its versatile housing stands out distinctly. Unlike most compressors that adorn too many controls, the Xotic SP has two knobs: one for blend and another for volume. This makes it extremely easy to operate.
Conventionally, people use compressor pedals to achieve a clean, well-sounding bass. This particular compressor plays well with distortion and overdrive pedals to produce impressive lead tones that sound crunchy and polished. The Xotic SP utilizes a strong bypass filter to remove any traces of signal interference that might exist.
Another impressive feature of this cheap bass compressor is its super flexibility. This compressor comes with a dry bend knob that can be amped to +15dB, providing that oomph that all bassists require from time to time.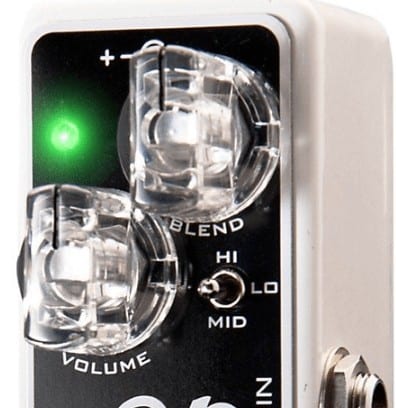 It also has an internal dip toggle that can be switched between HI, MID, and LO. The reliability of this compressor pedal is simply unmatched.
The tone quality of this compressor by Xotic is superb. It features an assortment of compressor tones that include modern, subtle and even vintage. You can conveniently utilize it with other pedals for optimum sound quality.
It certainly provides an impressive bang for your buck. This compressor weighs a mere 13.6 ounces (0.385 Kgs), making it quite lightweight.
The Xotic SP easily fits into any traveling case – you can carry it with you when touring. In addition, this compressor is compact and can either be used with a 9V battery or an AC adaptor.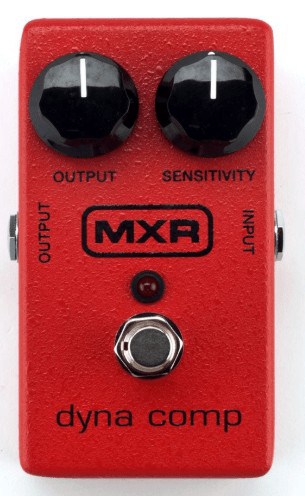 The MXR M102 Dyna, a product of MXR, adorns a variety of outstanding features that every bassist desires. Whether it's to add ample sustain or to simply tighten your signal, this compressor provides all the essential functions that you'd expect from a compressor pedal – plus more.
This best budget compressor has two main knobs: sensitivity and output. The former knob is used to adjust compression ratio whereas the output knob controls volume.
This device also has a footswitch that's located below the two knobs. There are two ports labeled INPUT and OUTPUT on either side of the MXR M102 compressor.
This device is powered by a single battery (9V). Alternatively, you can utilize the DC BrickTM power supply or any 9-Volt AC power adapter.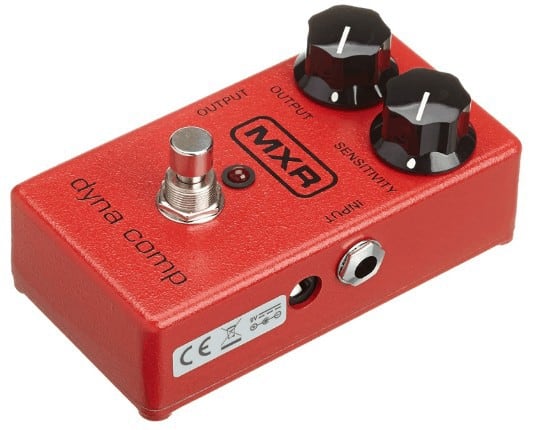 The MXR M102 also boasts of achieving Nashville Studio standards, which is an extremely high level of excellence. To increase signal compression, the sensitivity knob ought to be rotated clockwise until you achieve the desired sensitivity level.
Maximum compression level for this device is 36dB whereas the noise floor is 95dBV, so you can fine-tune the signal to achieve a clean, distortion-free bass.
This pedal bass compressor weighs 1.15 pounds (0.522 Kgs), making it remarkably lightweight. It also has a compact design, meaning you can easily include it inside your travelling case without any hassle.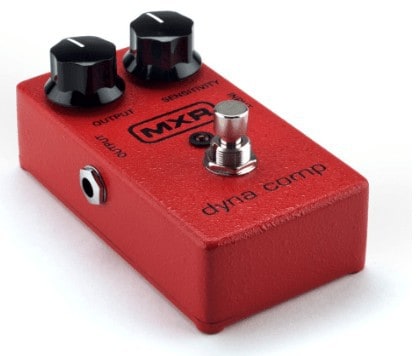 The MXR M102 produces the ultimate classic sound that works perfectly with single-coil pickups. It's a good bass compressor that delivers a clean boost, compressing your guitar effects or amplifying them as needed.
Compressor pedals are meant to be straightforward and user-friendly. This pedal costs under $100 and contains a few basic controls that are easy to use, making it ideal for any enthusiastic bassist.
The MXR Dyna's body is colored red, but the two knobs are black. The sheer simplicity of this compressor pedal makes it a favorite among many, earning it many positive reviews.
The KBASS compressor pedal is a completely new compressor from Robert Keeley that is particularly crafted for bass players.
As per the literature provided with it, the Keeley Bassist uses a unique IC chip – THAT Corporation 4320.
It is a strong fidelity integrated circuit that offers the electronics is otherwise found in studio grade compressor, compact enough to fit into a stomp box.
The pedal is covered in a strong metal stomp box with black matte finish and appealing graphics. It comes with control knobs for adjusting the compression, gain, threshold and a singular 'on' and 'off' button.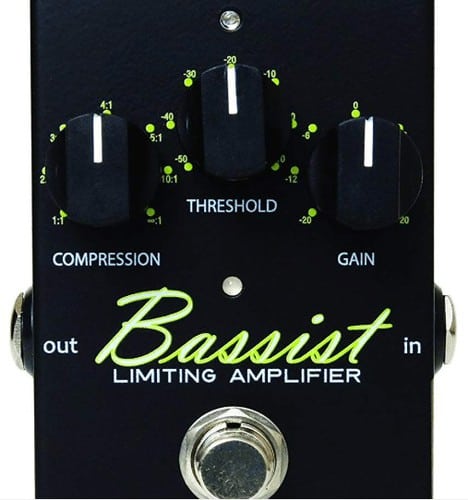 The compressor receives power by a 9-volt battery and can be adjusted from 1:1 to infinite compression levels. With a threshold controller, it is possible to set the compression using your ears and eyes.
By altering the threshold knob counterclockwise, you would avail an excellent support at the lower levels.
The LED indicator offers more convenience and turns green to red when shifting to the compression phase. With the gain knob, it is possible to adjust the level of output.
It can be used to reimburse for reduction of compression or transformed higher as a great boost.
It is a very simple to use this pedal that can deliver outstanding results if you experience the annoying spikes in the volume that move along with the bass, specifically with brighter strings.
If you set the bass accurately, then the limiter function would keep you from overusing the speaker cabinet to distortion or damage.
You can also use it to give a boost to the sound by just turning the gain up above the unity setting.
Although the pedal does not add a noticeable tonal coloration, unwanted sustain, and loss of low end, it focuses mainly on tuning the unwanted volume spikes, and that can make a big difference.
It is a powerful product that can be one of the best additions to bass players who are looking to tune the transients without affecting the natural tone and character of the bass.
If we talk about the cost then you would be glad to know that it is not as expensive as you must be thinking and if you truly want something that can work for you, then you must go for it!
It is immaculate to avail a unique tone from a powerful pedal with just a single knob.
It is an amazing three band compressor that delivers brilliant compression! The pedal is compact and fits ideally even on the smallest pedalboards.
The single knob does the entire job, and so it is very convenient to use. Since the size is small, so you must not expect a LED display, but an exclusive design comes at great affordability.
If you think what more the SpectraComp Bass compressor pedal can do, then you would be glad to know about the TC Electronics TonePrint feature.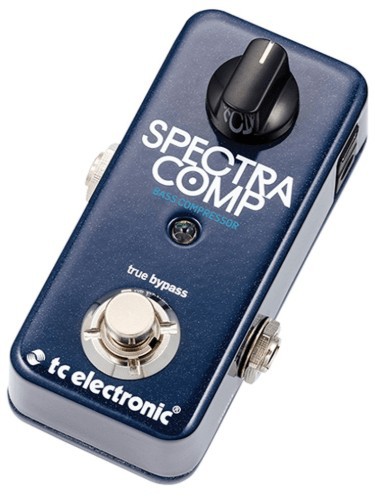 With this exclusive feature, you can download innumerable types of sounds and store them for later use.
So if you favor modern technology and wish to avail a compressor with powerful performance, then you must go for it as you can get it at great affordability.
If sophistication with slight customization is what you need, then the TLC bass compressor from Aguilar can be a perfect choice!.
This compressor comes with four distinct controls that are user-friendly, and that can help shaping the overall signal structure efficiently.
It is an excellent bass compressor pedal for live performances as it allows you to make variations fast and avail adequate results.
Although there is no LED tracker that would allow you to identify the volume of gain reduction during a live show, the Aguilar works really well with lower frequencies. You can, therefore, expects great results even if you are using a 5-string bass.
You can combine the pedal with another Aguilar compressor pedal, the Tone Hammer, and expect excellent results.
Purchasing both these pedals can be quite expensive, and if you wish to have an active bass, then you can rely on just the TLC Bass compressor.
It is a brilliant pedal you wish to play numerous genres and cover an extensive assortment of bands!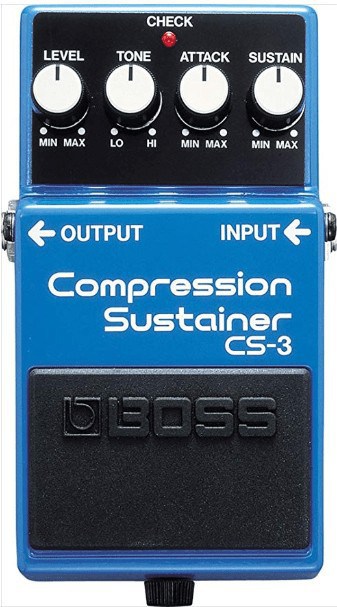 With so many sound features, Boss CS – 3 bass compressor pedal has attained a trustworthy reputation that delivers top-level to mid-range items at an affordable and fair price.
With powerful components, reliable build quality and a sound worth for players of each and every level, this compressor pedal deliver an extraordinary and unmatched performance.
The Boss CS-3 comes with immaculate features covered in a metal casing. It is easy to use, practical, and solid as a tank and has an attractive appearance.
The compressor is a mono device with a single input and one output, a LED status indicator and a big off/on the switch on the front. The tone is regulated solely with four control knobs in the front.
Alright.
It is not just a bass compression pedal but a powerful sustain device, enabling you to introduce a range of tones.
The one valuable feature of this pedal compressor is the sustain effects that are potentially underrated among the guitar players, particularly who are new in this field.
They are potentially subtle and do not introduce any rapid changes in your sound, but actually, create a stellar difference.With a total weight of 1 pound, it comprises a a9V battery and a standard power adapter.
The compressor pedal comes with four control knobs. The first is the 'Level' that regulates the volume of the effect that gets inserted into the audio output.
The more you enhance it, the more compression effect and less clean tone of guitar you will get.
The second knob is 'Tone' that regulates the scope of tones, which gets influenced by the effect. You can adjust it by sonic frequencies.
The fourth knob is 'Attack' that adjusts the power of attack of your plucking or picking. If you wish to play articulation to gain more prominence in the mix, then you can avail it with this knob.
The last knob is 'Sustain' with which you can adjust the length of the notes. Increasing this one would result in an augment in the entire signal tone.
The compressor delivers an unmatched performance as it reduces all loud frequencies and signals while giving a boost to the lower notes.
It is a versatile piece that delivers fine-tuned shape and excellent versatility to shape any sort of guitar playing. While there are some minor limitations but those can be fixed conveniently with a CS 3 noise gate pedal.
Also read: 5 Best Bass Synth Pedals – Our Picks for 2019
A monster machine, truly excellent and undoubtedly one of the best, this bass compressor pedal would never let you down!
It is one of the most popular bass compressors in the town, and there are numerous reasons supporting this fact.
A perfect blend of high-quality audio, varying range of controls, durability, long-lasting service and affordability, there is no single thing that you would not find in this model.
Despite being infused with so many exceptional features, the amazing thing about the pedal is that it is very easy-to-use and claims to have intuitive controls.
This M87 pedal is based on the Constant Headroom Technology, which is a circuit offering additional headroom by generating 18-volts from a singular 9-volt battery or external source of power.
With so many exceptional features, listing any disadvantage or limitation of this bass compressor pedal is very difficult.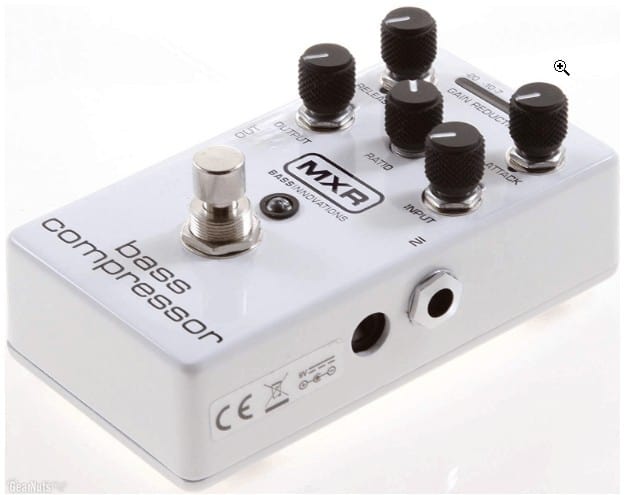 The M87 offers a perfect blend of each element that you can expect from a compressor pedal, except one thing – the warmth, which you might get from other units that are not a very big deal.
The EBS Multi Comp True Dual Band Compressor Pedal is from the Swedish bass manufacturers that have introduced this item to prepare transparent sounding bass compression easy to accomplish.
While definitely, it is a simple compressor stomp – box, it delivers a couple of unique features.
The very first feature is the dual-band compressor mode that makes it an intelligent piece all in all.
The second feature is equally amazing and is the potential to be powered through the input jack from a 9V phantom supply that is offered from the bass amps prepared by EBS and few other entities.
With this feature, you do not require any additional batteries or an external supply.
The build quality of this product is a striking feature that cannot be ignored. With a neat construction, you can avail switches and knobs that are unique and do not showcase a feeling of fragility.
The pedal comes in a painted metal case, which is weighty and solid enough that it lasts long even when stomping hard. This is something special and supported by the non-slip foam linked to the underside.
Now, next, we talk about the control and sound of the pedal. The controls are easy to use and simple. The pedal comes with metal on and comp/limit dial that makes it convenient to set the ratio.
Also, there is an additional make-up gain dial, which is further supported by a switch between these two knobs to choose from the various modes of operation to use.
The very first mode is 'Normal' that delivers simple and one-band compression functionality.
The second mode is 'MB,' which is a dual band option that allows setting the pedal apart from most of the similar options.
The third and final mode is 'Tubesim' that comes with an additional harmonics, to prepare a subtle and valve-like effect.
The pedal does not hold any specific input level, and you would need to depend on the volume control of your bass, or the level of output from any previous pedals.
The one limitation of this pedal is that it does not offer the ease to release or attack the control. Although it would have increased the price, then it is expected from one of the best pedals in town.
Also, the pedal does not support any user-adjustable threshold on the outside of the box, but if you would open the metal case, then you would see two trim – pots that enable you to regulate the threshold of the high and low bands of the MB more efficiently.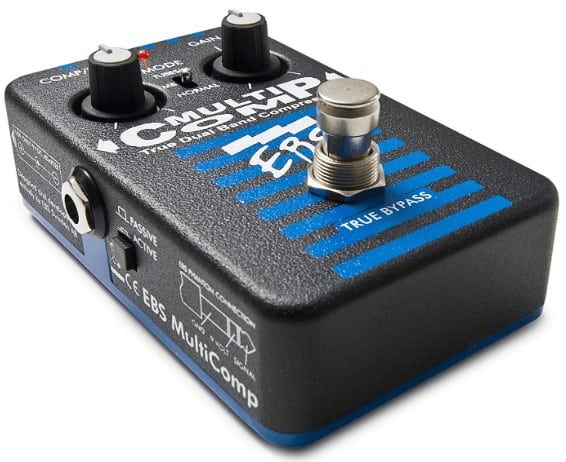 This is amazing and adds to the versatility of the pedal.
The simple compressor mode is excellent and acts swiftly to pin down wayward twangs and adds a pleasing thickness to the bass.
The Limit/Comp settings give a nice effect, but if you want to increase the ratio further then, you will experience the release in a much sophisticated way.
For a much natural sound, you can switch to the MB mode. At this mode, you can play higher-frequency picking, thumb-slapping, plectrum-clacking or string-twanging without causing any effect to the warmer bass.
As a result, you would experience an enhanced natural, well-regulated and rich sound.
EBS Multicomp is an exceedingly useful, natural bass sound compressor pedal, specifically in the dual-band mode. While there are few limitations, you can still confidently use it on the stage as a front-end compressor.
The Electro – Harmonix Bass preacher compressor is a powerful guitar compressor that makes it a favorite among the bassists.
The two knobs and three-way switch enables you to efficiently and swiftly transform the tone in one go. It is an exclusive pedal that works well for both guitar and bass, especially if you prefer the down-tune of 7+ string guitars.
It is an outstanding pedal for loud, fast, metal-esque riffs and pick users and delivers excellent stability when playing slap-bass.
The compressor is excellent for fast runs and forceful styles. If you are among those who play a lot with open strings, play genres such as Stoner Rock, Doom Metal or Drop-D tuning, then this pedal can offer you with excellent sustainability.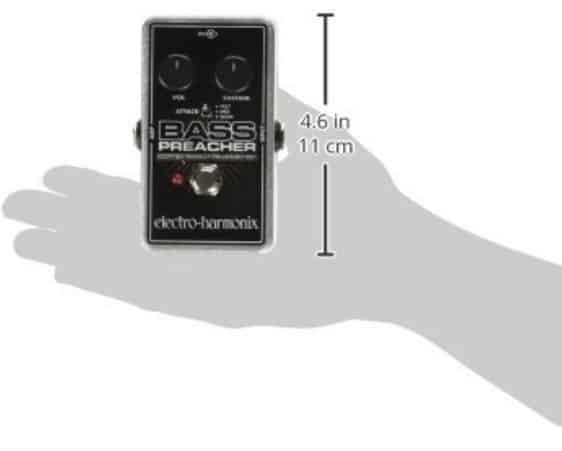 Another thing that makes this pedal truly fantastic is that it is highly affordable. It is a unique piece that does an incredible job and is a true value for its price.
While you can expect amazing results if you are playing low notes, there might be slight discrepancies if you are playing the high-end notes.
While the A string and E string would deliver amazing results, the sound might be slight tiny with the G string.
At such price, this pedal gives you the convenience of usage and a unique tone.
Bottomline
Every musician has its own unique style of playing sound. No matter what you style is, a bass compressor pedal can make a huge difference in the tone.
When making a selection, look for a versatile compressor that offers ease of use and can cater your various needs. Ultimately, you must be able to avail optimal results from your pedal!
We have already mentioned the best bass compressor pedals. If you still have any confusion then go for a virtual check of these models and get one that best suits your style of playing the sound!