As an electric guitar player there may come a time when you want to have an acoustic guitar section in your song.
If you only have an electric guitar lying around this could prove challenging since playing it in an acoustic style just doesn't return the same result.
Luckily there's a solution to this. You can buy yourself an acoustic guitar simulator pedal which can give you a sound that is damn close to the real thing.
The Boss AC-3 is hands down the best pedal you can get for this task. You'll be hard pressed to find another pedal that comes close to its performance and for years it has been the gold standard of acoustic simulator pedals.
In this article we will discuss the five best acoustic guitar simulator pedals your money can buy.
Budget, design and sound quality have all been taken into consideration, so you should be able to pick at least one pedal from this list that will get the job done.
What are the advantages of using a simulator pedal?
Pedals are usually small enough to fit in your hand and can be easily popped into a bag when travelling. This means you don't have to carry around a full-sized acoustic guitar, making pedals a convenient choice for traveling gigs
A pedal is generally cheaper than a real acoustic guitar, meaning you can save some money.
Pedals can be tuned or swapped around to give you different tones that suit your particular need. So having one guitar and a pedal (or multiple pedals) can allow you to get the most out of a single guitar.
Pedals can help you craft a unique sound of your own that is sort of half way between electric and acoustic.
Best acoustic simulator pedals – handpicked for you
Features:
It offers four different simulation modes (standard, jumbo, piezoelectric and enhanced).
It has two output slots.
It has a built-in reverb.
It can be powered by a 9V battery or an AC adaptor.
Overview:
The Boss AC-3 is one of the most popular acoustic simulator pedals and for good reason. It has a warm, clean sound and can be easily adjusted to suit virtually any situation thanks to the four simulation modes.
It's the closest you can get to an authentic acoustic guitar sound, which is what you're trying to achieve after all.
The unit has some nice controls to adjust the top and body so that you can tweak the tone with precision.
One particularly nice touch is the built-in digital reverb which allows you to add the effect to the signal without the need to connect an external effects processor. It's basically like getting two pedals in one unit.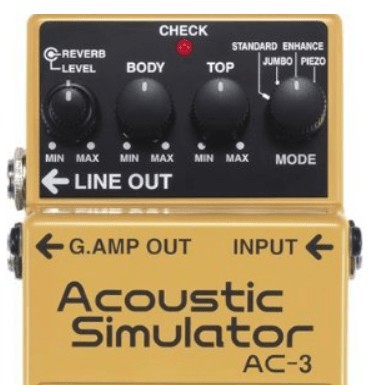 The design of the unit is like that of a typical Boss pedal. It has a clean, functional design with no glitz and glam to it. It's built for heavy use and should be able to withstand quite a bit of bashing on stage.
The multiple outs enable you to hook up the Boss AC-3 to multiple effects processors and pedals. If you wish it can be used as a bypass for quick switching between sounds.
The pedal is generally noise-free. However, when you connect it to another pedal or amplifier and turn it up really loud it produces a slight hiss which can be annoying, so that can be rather annoying.
But ideally you shouldn't be cranking it up to such levels to begin with. It's better to tinker with the gain on some of the other units in the signal chain that do no introduce artifacts.
The fact that you can power up the unit using a 9V battery is another nice thing about this pedal. Sometimes you have to play your guitar in an environment where you don't have the luxury of an AC power supply.
A battery comes in handy at that time. However, it's recommended to use the AC adaptor when possible as you never know when a battery might misbehave.
Pros:
It's durable due to its metallic casing.
It has multiple outputs which allow you to switch effects quickly.
The onboard reverb means a less cumbersome setup since you don't have to connect the pedal to another effects unit in order to add reverb.
The four simulation modes make it suited for practically any situation.
Cons:
It generates a hiss when turned up really loud on an amplifier.
It's slightly more expensive than other pedals in its class.
Features:
It has true bypass.
Three simulation modes (piezo, standard and jumbo).
Full metal casing.
Overview:
The Mooer MAC1 is a phenomenal pedal for its size. It's extremely compact and lightweight which makes it really easy to transport. The three simulation modes on the pedal allow you to experiment with the sound, making it quite versatile.
Despite its small size the MAC1 has body and top controls which enable you to adjust the low and high end frequencies of the signal.
The conveniently placed style switch allows you to quickly and easily flip between the three simulation modes. The pedal is able to produce some nice, deep lows as well as a bright, sharp sound depending on how you tweak it.
Take note that this pedal will not magically transform your electric guitar into an acoustic guitar. But what it does excel at is in adding a cleaner, more precise and articulate tone to your guitar, which depending on several factors, can pass for an acoustic guitar.
Just like the Boss AC-3 this unit is relatively noise-free until you crank up the volume dial to the maximum setting.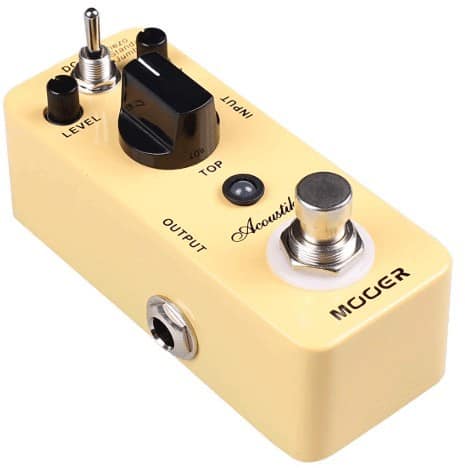 One thing to take note of on this pedal is the sensitivity of the volume knob. Minor adjustments can result in large volume changes, so you have to be extra careful when using it otherwise you may throw things out of whack.
The all metal casing of the MAC1 makes it quite sturdy and solid enough to undergo a sizeable amount of abuse on stage, but not too much. It's also quite affordable and an overall good choice if you're on a tight budget.
Pros:
It's a relatively inexpensive pedal.
Very compact and light making it super easy to carry around.
It produces great quality sound.
It easy to use due to the simple controls on the body.
Cons:
It produces a hiss when turned up loud.
There's no built-in reverb.
Also read: The Only 7 Best Vocal Harmonizer Pedals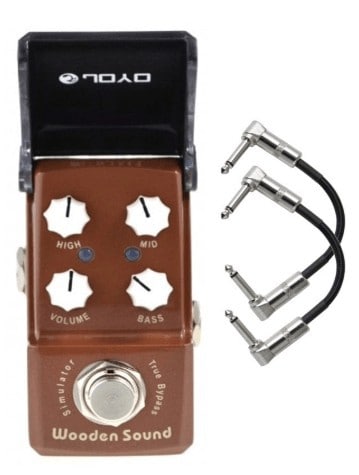 Features:
It has true bypass
It has controls for adjusting the lows, mids and highs.
It has one simulation mode.
Overview:
The Joyo Ironman JF-323 is a tiny acoustic guitar simulator that you could easily mistake for a toy. But despite its size it performs the task for which it's designed very well. The unit is built to emulate the sound of a wooden guitar.
The design is clean and pleasant to look at. One nice touch is the cover over the controls. This helps to prevent you (or others) from accidentally changing your settings once you've dialed them in, which is a common occurrence in a busy stage setting.
Legend has it that the opening and closing motion of the controller cover resembles Ironman's helmet, hence the name.
Most guitar pedals within this range have only two controls – low and high. But the Ironman has an added control for the mid-range which means you can tweak your sound a little bit more than your typical pedal.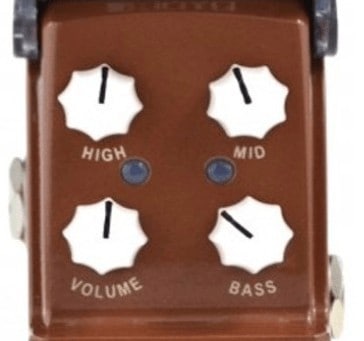 The pedal has a good bass response and bright highs to give your guitar an open, balanced tone. The only real gripe with the Ironman is that it has no space for batteries so you're restricted to using it with an adaptor, which is kind of inconvenient for such a small pedal.
It has only one simulation mode so this is the type of pedal you use for a very specific purpose. It also means that your customization options are limited, so you have to be aware of that prior to getting one.
However, those are relatively small issues and if there's on things that can be said about the Ironman JF-323 it's that it's designed to do one specific job and it performs it rather well.
Pros:
Very compact design.
Clean design with a cover over the controls to prevent accidental changes.
Has good bass response.
Affordable.
Cons:
No space for batteries.
It only has one simulation mode.
Features:
It has three simulation modes (standard, piezo and jumbo).
Compact design.
All metal casing.
It has true bypass.
Overview:
The Aroma AAS-3 is probably the least known pedal mentioned in this article. However, just because it's not as popular as the others doesn't mean it performs poorly.
The metallic casing makes it nice and sturdy enough to be stomped on repeatedly without any issues. It's a tiny device that can easily fit in your pocket for easy transportation. It almost looks like a child's toy because of its minute size.
This pedal has true bypass which works exceptionally well. Connecting it to other gear doesn't generate any noticeable artifacts unless it's cranked up too loud when connected to something like a compressor or an amplifier.
So just make sure you watch your levels when using it. This could be an issue for first time users or those who are not too familiar with pedals and guitar gear in general. Signal noise is relatively common issue.
The Aroma AAS-3 is a great pedal if you want to get your feet wet in the world of acoustic guitar simulators but you're kind of afraid. It's an affordable piece of gear which can produce pretty solid results depending on your guitar, playing style and the way you tweak it.
The piezo simulation mode in particular is the cleanest sounding preset on this pedal when compared to the jumbo and standard modes.
The jumbo mode is better than the standard mode and with the right amount of tweaking it can produce a pretty decent emulation of an acoustic guitar.
The bass response on this is a little thin and if it's cranked up too loud it starts to get into distortion territory, which is not particularly a desired effect.
However, do not be afraid to experiment. You may get the pedal for emulating and acoustic guitar and end up creating completely new, unique style. Making music is largely about experimenting after all.
This is not the most powerful performer on this list but it's definitely a good device, especially for home use and for very small gigs where producing an authentic acoustic guitar sound may not that big of a deal.
You could always hook it up to off-board effects processors, EQs, reverb, etc in order to tweak it a bit further.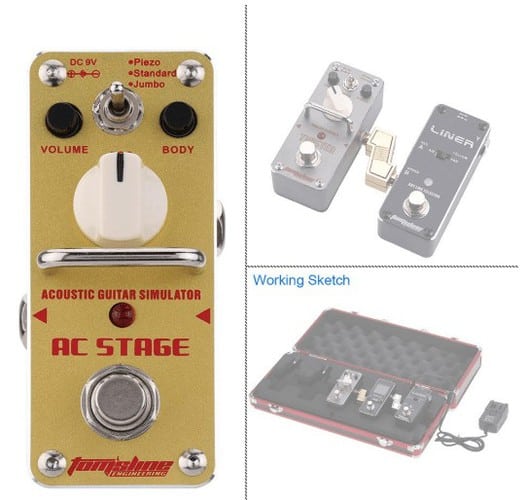 If you're working with a very low budget then this is the pedal that you should get.
If you don't have a physical amp, reverb units, etc you can always opt to hook up the device to your audio interface and use a virtual amp simulator such as IK Multimedia AmpliTube, Native Instruments Guitar Rig, Line 6 POD Farm or Bias FX Pro.
Most of those programs have free/trial versions so you can use them to tune up your Aroma AAS-3 until you get a sound that's as close to authentic as possible.
Pros:
It's an affordable device.
It's encased in an all metal design which is robust and durable.
The volume, top and body control are accurate.
It produces good sound considering its relatively low price.
Cons:
It generates noise when cranked up too loud.
It's not recommended for professional players. But should work well for home use.
Features:
It has true bypass.
It has three simulation styles (jumbo, dreadnought and piezo).
It has a zinc alloy outer casing.
Overview:
The Hotone TPSWOOD is a heavy duty unit thanks to its zinc alloy body which provides it with considerable sturdiness.
It has a rather drab, vintage look which might be pleasing to people that have thing for that aesthetic. The see-through "top" button is a bit of a novelty but it doesn't really add much to the look of the device.
The pedal is built to emulate a classic wooden guitar sound, which it does it does very well.
This makes it a great pedal for use in houses of worship such as chapels, as well as any scenario that requires soft tones that only a wooden guitar is capable of producing.
Unlike some other guitar pedals the Hotone TPSWOOD produces no noticeable hum or hiss even when connected to an amplifier and turned up quite loud.
The volume, top and body knobs enable you to fine tune the sound of the guitar. As is expected you can connect the TPSWOOD to other pedals and effects units to tweak the sound even further.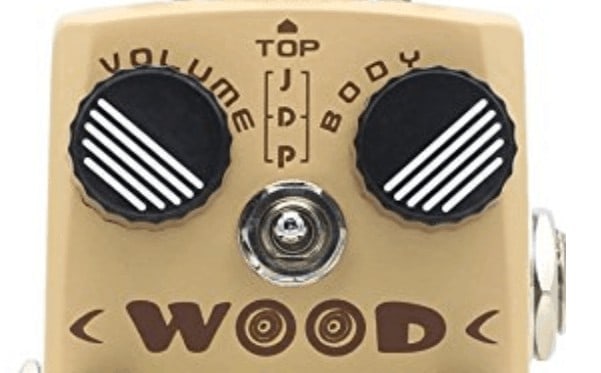 The tonal shaping capabilities on this pedal are rather sensitive when compared to many other pedals of its kind. The tones are warm and bright.
The pedal doesn't have a built-in reverb, so you have to rely on other effects processors for that. It also doesn't have a battery slot for powering it up without an adaptor cable, which can be an inconvenience if power is an issue in your setup.
Other than that it's a unique pedal that does a very specific job very well. It is quite possibly the best pedal for producing that vintage, wooden guitar sound.
Pros:
It does a great job emulating a wooden guitar sound.
Virtually no hiss or hum when connected to an amplifier and cranked up.
Brilliant build-quality.
Compact design.
Cons:
You can't use internal batteries to power it up.
No built-in reverb.
Conclusion
Acoustic simulation pedals cannot completely replace a real acoustic guitar, but some can come pretty darn close.
The sound that a pedal outputs also largely depends on the way you play your guitar, so skill is something you cannot dismiss.
If you have several electric guitars it's a good idea to test out all your instruments on a pedal before coming to a conclusion because different guitars produces different results.
You should also remember that every effects unit, amp, etc that you put in your guitar's signal chain affects the final output. So pick your processing units carefully.
With sufficient tweaking of your pedal and enough practice you should be able to create a sound that is close enough to the real deal that people might not be able to tell that it's not an actual acoustic guitar.
That is the ultimate goal of acoustic simulator pedals.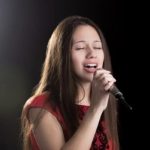 Hi, I'm Jennifer I'm a passionate singer and an audiophile from Detroit, MI. 
I'm on a mission to help music creators to create fine music that help them position uniquely in the saturated music space.
Follow my blog for regular content :-)