Does the name Firefly Guitars ring a bell? Well, if you are a guitar geek or a guitar player, then it surely a must-have.
So let's say you want to get one for yourself but you're not being able to find one anywhere. That will leave you wondering – what happened to Firefly guitars?
Fret not, as we are here with some answers that will make you happy.
Here's our take on Firefly guitars:
Basic info on Firefly guitars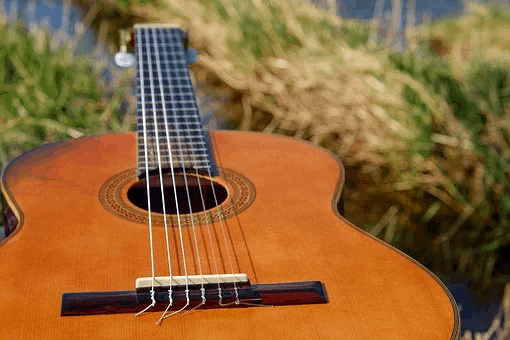 Firefly Guitars are mostly considered to be one of the cheaper and beginner-class guitars. So what makes them such a hyped guitar brand in the market?
The greatness of a guitar is determined by the quality of materials used, the depth in its tonal quality, and of course, the all-embracing craftsmanship of the guitar. And lastly, the price of the guitar.
However, Firefly Guitars have been successful in bridging this gap. These guitars are made of quality materials that can achieve the desired build and tone and costing very cheap at the same time.
Nevertheless, some of the other factors bring down the image of Firefly Guitars to a fairly beginner-level and average guitar.
But there are some qualities of Firefly Guitars that make them stand out. These guitars have created a benchmark with their set necks that feel extremely great in the hand.
Firefly Guitars have an admirable build quality as well. It can withstand minor knocks and dings without causing any damage to the body of the guitar.
Paintwork is another major reason behind the popularity of Firefly Guitars. These guitars come in colours like gold with sparkles and deep blue with gradients of blue.
What happened to Firefly Guitars?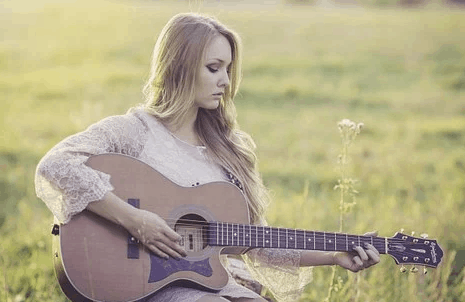 Without wasting any more time, let us come to the burning question – what actually happened with Firefly Guitars?
What can't you find Firefly Guitars anymore?
To clear the air, Firefly Guitars did not go out of business and they are still manufacturing instruments. It is simply hard to get your hands on one of them.
A lot of this particular situation has got to do with the crazy popularity of the brand worldwide. Additionally, they manufacture limited instruments in one run. As a result, their guitars are sold out instantly as soon as they are put up for sale.
Let's dig a little deeper and know some more about Firefly Guitars:
Who makes firefly guitars?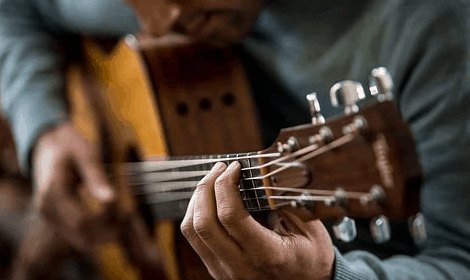 Given the fact that Firefly guitars are so popular, you might be curious as to who makes these amazing instruments, right?
Well it seems like Firefly Guitars is an independent brand. It is assumed they have a mass production unit for their guitars based in China.
Once the production line closes and the guitars are ready to be released in the market, they sell them via third-party vendors. Amazon is the most ideal e-commerce site for buying Firefly Guitars.
But as far as the concerned question arises as to who makes Firefly Guitars, there is no such information about any actual brand backing them.
Other than Amazon, there is one other website where you can find Firefly guitars. It is Guitar Gardens. This website is an exclusive distributor of Firefly guitars. Therefore, one can presume that Guitar Gardens is the real company that manufactures Firefly guitars.
But then again, it's just a guess game. And maybe we will never know.
Why choose a Firefly guitar today?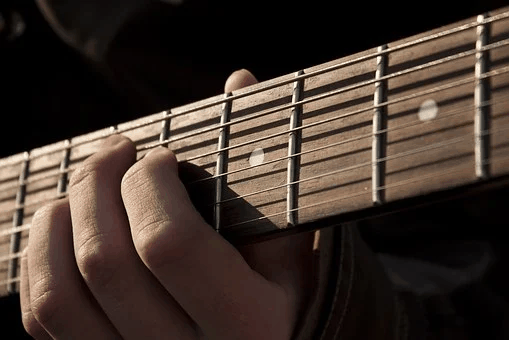 Over the past few years, Firefly guitars swooped into the world of audio instruments and rattled the guitar community. These top-quality low-budget electric guitars gained a lot of popularity within a short period of time.
One of the main reasons to choose a Firefly guitar today is that they are budget-friendly clones of some of the most popular guitars in the world.
For instance, the Firefly FF338 generated a lot of buzz and brought the brand under the limelight.
Why, you ask?
Because it is the exact replica of the infamous Gibson ES 335.
When you get such a surprisingly awesome quality at such a low price, it is very likely you will always go ahead and get yourself a Firefly guitar.
Firefly guitar will amaze you with its aesthetics, sound quality and build quality beyond limits.
Let's take the Firefly FF-338 for example. Say you do not have the budget to invest in a high-costing guitar like the Gibson ES 335. What do you do? Do you give up on such an amazing guitar? Well, partially yes. But there's a solution.
What if we tell you that you'll get a guitar with the exact same looks, design and almost similar tonal quality for a much lesser price?
Yes, that is what Firefly FF-338 brings to the table. It is the exact copy of Gibson ES 335.
All the exquisite features, starting from the Pearloid dot inlay, a rosewood fingerboard, and the aluminium ABR-1 bridge available in a black, cherry or sunburst finish.
It goes without saying that if you are hardcore guitar lover and want to play something so similar as the legendary Gibson, you will always like to choose a Firefly guitar.
Firefly guitar alternatives to try
As soon as you sit down and start researching more about Firefly guitars, the FF-338 will become your instant favourite.
But it won't be that easy for you to get your hands on one of them. The limited supply of Firefly guitar by the manufacturers is the main reason for them being out of stock for most part of the year.
No one can say for sure when the next shipment of Firefly guitars is going to be available on Amazon. And even if they are available, you will need sheer luck to buy one as they are sold out within days.
So if you do not manage to get the Firefly FF-338, lucky for you there are other worthy alternatives that you must check out.
Here they are: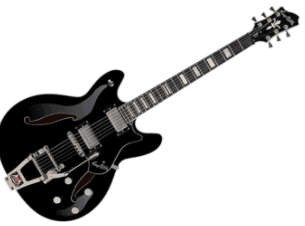 Featuring maple from top to back, the Hagstrom Tremar is an exceptionally beautiful guitar. The body of the guitar is full of natural details that add to its charisma.
The glossy finish with flashy bright dark tones is simply gorgeous.
The sound is distributed by the contoured flame shape. It is equipped with custom pickups for a meaty delivery. The thinner necks makes the guitar incredibly easy to play.
You can be assured to get a consistent sound from this guitar, thanks to its resin-based fingerboard with pearl block position marks.
Hagstrom Tremar has been designed to provide a great level of stability to the player. It does weigh a bit more than the usual electric guitar but a good leather strap should take the load off and support the weight.
Also, the guitar comes with nickel strings along with the box, so you can rock and roll as soon as you unbox this beauty.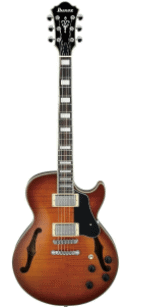 Ibanez is one of the loved brands in the guitar community around the world. And the Ibanez Artcore AGS73FM lives up to the expectation as well.
Even though the guitar is shaped in a slightly different way, the flamed look is still maintained to make it sound really good.
AGS73FM features the classic elite pickups that are known for their uniform distribution of a strong sustain. Its tonal quality for plucked notes will surely impress you.
The side and back of the guitar is made from maple that pairs perfectly with the walnut fingerboard. Both of these team up to provide warm sounds.
The slightly heavier weight of this guitar does not come in the way of its versatility at all. The fret may buzz at the beginning but it can be easily fixed by a simple neck adjustment.
Also, you might find the neck to be larger than usual but you'll get habituated with it once you play it for a couple of sessions.
Unlike the flame body, the Epiphone ES-339 features a double-cutaway body that makes it look very similar to the Firefly FF-338.
The maple finish of the guitar has a top lamination. If you pay a little extra, you will get a mahogany neck that has unmatched string action.
This Epiphone guitar feels really comfortable in the hand in spite of its 12 pound weight. Everything from its fit to finish is right on. Get a hard case to accommodate the guitars weight and design if you have plans on doing some gigs.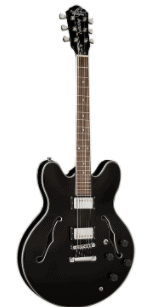 Presumably the closest possible alternative to the Firefly FF-338, the Oscar Schmidt OE30 features a fairly identical design as the Gibson ES-335 at an affordable price.
This semi-hollow body guitar is highlighted by its maple body, rosewood fingerboard and mahogany neck. Just like the 60's Gibson Les Paul, the relatively thin neck feels excellent.
For such a price range, the OE30 has an impressive build quality and you will hardly find an imperfection in its finish.
The higher frets can have some rough edges but that can be overlooked given the price tag on this guitar.
Coming to its sound, the pickups are not that hot. Although, you will like the sound clarity. The pickup does a fine job around the low to mid gain. The OE30 is capable of handling high gain music given the fact that you don't mind cranking up the amp.
When compared to the Firefly FF-338, it is a bit costlier but it does guarantee you full value for money.
Talking about Gibson ES-355 clones, the Grote 335 is the only other guitar that has a similar price like the Firefly FF-338.
If you cannot get your hands on the FF-338, you can always go with its fairly decent alternative. The guitar features a semi-hollow body design with rosewood fingerboard and maple neck.
The Grote 335 has a near flawless and stunning finish with no noticeable imperfections whatsoever.
One of the low points of this guitar is its pickups. It also keeps low in terms of output, which is why this guitar is preferred for cleaner tones. Yes, as the name suggests, the Grote 335 is made for jazz.
Clarity is another issue that you will face. The sound profile is rather muddy. In case you are thinking of getting this guitar, it is highly recommended that you change the pickups as soon as you get it.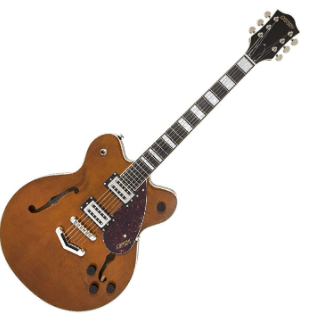 You might be surprised to know that the Gretsch G2622 is indeed superior to the Firefly FF-338 in many aspects. But of course, it is costlier as well. In fact, it is thrice the price of the Firefly.
The guitar comes with a laminated maple body and Laurel fingerboard. It features a nato thin "U" neck profile.
The Streamliner has a solid build quality, no finishing issues and zero buzzing problems. The action is pretty low from the beginning.
Coming to its sound, this guitar houses some great pickups. The responsiveness and clarity of the stock pickups is worth mentioning.
One can easily identify the Gretsch G2622 as an intermediate level guitar and a dependable alternative to the Firefly FF-338.
Where can you buy Firefly guitars?
Given the fact that Firefly guitars are very rare and quite hard to get your hands on, you might be curious what the hype is all about.
In that case, there are few places where you are likely to find Firefly guitars. But keep in mind that they are completely sold out within days after being restocked. So you will have to keep a constant eye out. Here are the sites:
1. Amazon
Amazon has by far been the primary retailer for Firefly guitars. Going by the size of Amazon's inventory, this place is your best shot to buy a Firefly guitar. It is rather difficult to find the popular models like FF338, FFTH and FFLP. Meanwhile, the solid body guitar – FFDCS – that is rather unpopular is often in stock.
2. Guitars Garden
Although it is being speculated Guitars Garden is the official website for Firefly guitars, it is the only online retailer other than Amazon to sell Firefly guitars. This website only sells Firefly guitars and are almost out of stock. But since not many people know about Guitar Gardens and go for Amazon instead, you can always keep checking this site to stay one step ahead.
3. Reverb
Say you want to skip the waiting process and get a Firefly guitar at once, Reverb is your best option to get one. You will usually find some of the Firefly guitars on stock at almost all times. But remember that the price on Reverb can be a little more than other websites. That is one reason why Reverb is not preferred by most buyers as the entire point of buying Firefly guitars is its low price.
Conclusion
Are you trying to learn guitar? And you don't want to spend a fortune on buying one yet you don't want to compromise on quality?
Firefly Guitars is the answer to your dilemma. Now that you have a chunk of information on Firefly guitars, you can make an informed decision. You can either wait and get one for yourself or choose the best alternative.
We hope we were able to grab your attention on what happened to Firefly guitars. So you better go and check online right now. Who knows, maybe they are back in stock?