A guitar effect software is a great tool if you want to improve the sound, tone and texture of your guitar and amp.
Today, there are numerous guitar effects softwares at your disposal.
But choosing the right software is a challenge to many because with many options comes the burden of making the right decision.
Guitar effects softwares has evolved over the years. Today high-quality softwares is available at affordable prices.
And they offer value for your hard-earned bucks.
Don't worry if you're green and you don't know what guitar software to get today.
In this guide, we have put the 7 best free and budget-friendly guitar software that will give you the amazing tone you desire.
Top 7 Guitar effects software reviewed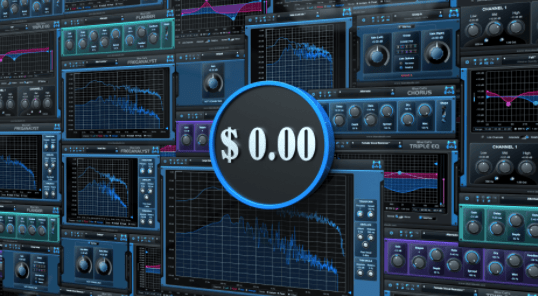 Don't spend your hard-earned bucks on guitar software yet because the Blue Carts pack is free.
Yeah.
The whole bundle is free.
[The Blue Cats pack comes with high-end modulation effects, a guitar amp simulator, a single and dual-channel analyzer, a unique midi controllable suite, and a professional spectrum analyzer. ]
These effects are compatible with Mac and Windows. They give you cool vintage sound for free. Where else would you get that?
Here are my favourite plugins in this bundle.
Blue Carts Flanger. I add this effect to my guitars whenever I want that 70s 80s alien-like feel.
Blue Carts Free Amp. This is a free guitar simulation plugin. It offers three amps to choose from. The clean version, classic drive and modern drive. I love this plugin because it gives me a wide range of guitar tones and clean vintage sounds.
This plugin is an amazing compliment to the electric guitar.
Blue Cat is latency-free.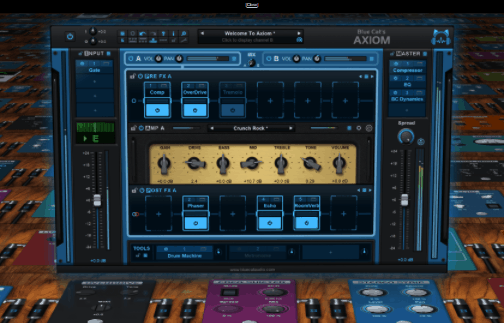 If you have a few bucks to spend, get Blue Cats Axiom for $199 only. Blue Cart Axiom is an upgrade and premium compared to the free pack bundle.
This is a multi-effects processor and simulation. It's powerfully designed for guitars and bass.
Blue Crats Axiom works like a charm.
This plugin gives you the real amp effect. You can use them as a post, pre effects or both.
Also, they give you the freedom to build your own presets on the intuitive and easy to use amp editor.
Or grab an amp model from their ready to use hundred presets.
[Blue carts Axiom comes with a brick wall limiter, a high precision tuner and more effects slots. Also, 70 effects and 32 plugin slots. These effects include reverb and delay and destructor for your pedals and amp simulations. ]
Plus, it hosts third-party plugins.
Blue Cart Axiom has no latency issues.
Biax FX 2 ($99) – Great for both acoustic and electric guitar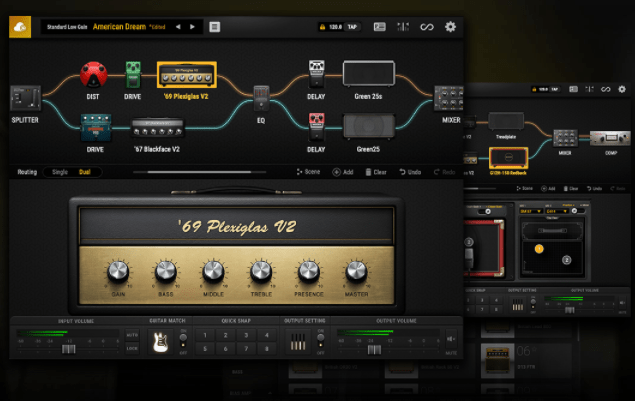 Biax Fx 2 is a great fit for producers during their studio sessions and performers during live stage performances.
This Plugin is a one-stop software. Meaning you can use it for all your guitar needs.
Biax Fx 2 comes with numerous pedals thus giving you the freedom to create the tone you want.
If you're looking for an intuitive and easy to use guitar plugin, you've hit the jackpot.
Biax FX 2 gives you access to the dynamic damp engine which gives you access to 100 well-designed amp models. Thus you get a clean, modern and classic sound.
Biax Fx 2 is great for both acoustic and electric guitar.
Here is why I adore Biax FX 2.
Music Match
Have you been in a scenario where you don't like the tone and sound of the pedal you're using?
Imagine if you had the power to change that into any tone, sound or guitar of your choice.
Well, Biax FX 2 and Music Match have made that possible. And it comes with 18 options to pick from.
Reverb Solo – Best guitar effects software for pc
Reverb Solo is a free plugin by Reverb.com and Acon Digital. This plugin has a beautiful layout. It's intuitive and easy to use and only comes with two knobs.
The knob in the centre helps you set up the length and tone of your reverb.
The horizontal knob helps you set the dry and wet levels of your reverb.
Reverb solo is compatible with Windows and Mac.
This plugin is my go-to guitar reverb because I love how it gives my guitars a great sense of space.
Although it doesn't come with a ton of presents, it still has more to offer as a free plugin.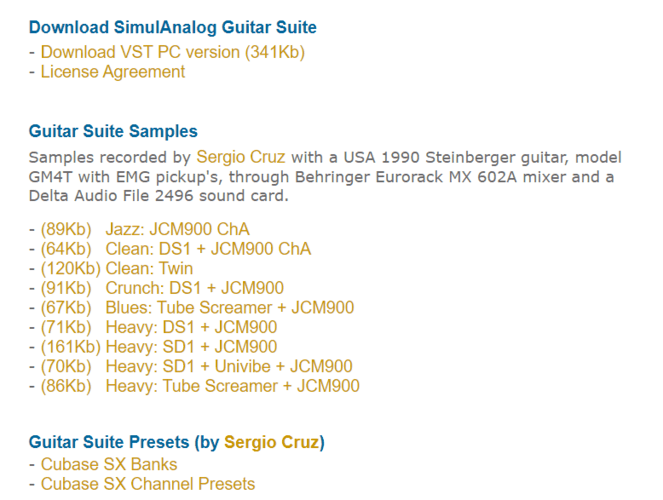 Another great free plugin pack for guitarists in the SimulAnalog Guitar Suite.
Although aesthetics isn't its strong suit, it looks vintage.
But don't let the look fool you. For a free plugin, this pack has more to offer.
SimulAnalog contains amplifiers and precision processors. The pack comes with two overdrive plugins, a distortion stompbox plugin, a phaser, a modulation plugin and two guitar amplifiers. These plugins offer a clear and beautiful tone.
[The best thing about this pack is the precision by which these plugins emulate and maintain the simulation of the original sound. This plugin is compatible with Mac and Windows. But is only available in 32 bits ]
TSE R47 – Best guitar pedal vst
TSE R47 is a great software if you're looking for a heavy tone or sound. This plugin offers amazing pedals for free.
It emulates the Proco Rat. The TSE R47 is my go-to plugin whenever I want to distort my guitars (like hell). Sometimes I use it on bass and vocals as well.
You can never go wrong with this plugin.
[The best thing about this software is that you can visit their website and listen to some samples. If you love them, download it. ]
The amazing pedal gives you the famous 70s guitar sound. It's great if you want to achieve a clean distorted sound. This plugin is intuitive and easy to use.
This plugin has great tone control.
Metallica artists Kirk Harmet and James Hertfield are well known for using this plugin. Try it for free here.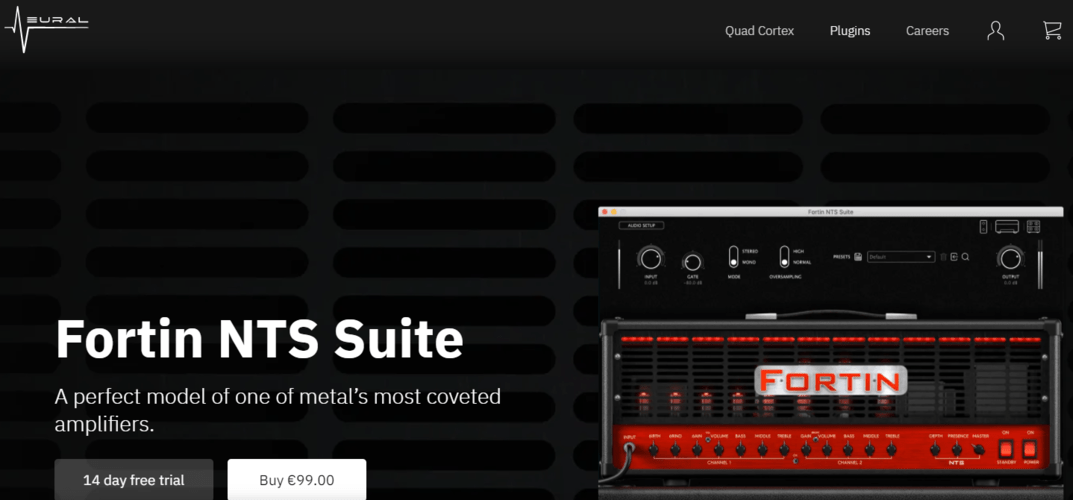 Another great guitar pedal to achieve a great heavy sound is the Fortin NTS Suite.
Fortin NTS suite is the best plugin for metal musicians.
This plugin is a tone and gain monster. Its dynamic characteristics are amazing. They replicate the dual-channel perfectly.
Fortin NTS took the guitar plugin to the next level.
This plugin comes with a cabinet of three pedals. The Grind, Zuul and Hex Drive pedal.
The single knob is easy to use. This plugin is intuitive and it's sleek. Fortin NTS suite aims to give you the traditional warm pedal feel in your mix.
Conclusion
If you're looking for the perfect guitar effects, whether one shop or a bundle, try the plugins mentioned in this article.
They are good for both electric and acoustic guitars.
Here are our top 3 picks.
If you don't have money to buy a premium plugin, we recommend the Blue Cats free pack. It gives you high-quality effects to explore for free.
If you are on a budget we recommend Blue Cats Axiom. It has a great multi-effects processor, simulation, and emulation.
Lastly, we recommend Fortin NTS Suite, if you're trying to achieve a vintage heavy metal sound for $100.
I hope this simple guide was helpful. I hope this Guitar effects plugin helps you achieve the tone and sound you're looking for.
Let us know which one you liked and you'll try first
Recommended read: 6 Best Music Genre Finder Websites to Check Genres of any Song