What are the best Sony Lavalier Mics?
Lav mics have a distinct advantage; they give the speaker freedom of expression since they are not handheld. Sony has some of the best lav mics in the market today. In this article, I will explore different Sony lapel microphones and give you a guide when looking for one.
Here are the 7 best Sony lavalier mics
The ECM-LV1 is a compact lav mic that picks sound in stereo. When clipped in the right position, listeners can notice when a speaker looks to the right or left, just from the audio.
You can use this mic with a smartphone, camera, computer, or voice recorder; just make sure the device has a 3.5mm jack.
Additionally, this lav mic needs very little power to work. It can be powered by your smartphone, camera, or another device through the 3.5mm audio cable.
No need for batteries or phantom power. The small size of the mic also means that it can work for any speaker. A windscreen is included to prevent wind noise from the speaker's movement or breath noise while speaking.
This unit is a combination of a wireless transmitter, receiver, and a lav mic. The transmitter and receiver connect to each other through UHF. You can establish the connection in seconds by using the automatic channel selection feature.
You need AA batteries to power the receiver and transmitter. However, if you have a Sony M1 adapter, you can power the transmitter without cables using the show mount.
The Sony UWP-D is power efficient. If you use rechargeable AA batteries, you can charge them by connecting the transmitter or receiver. With a full charge, you can use this unit for up to 6 hours.
With Sony UWP-D, you can have your speaker several feet from the camera and still get clear audio.
Sony ECM77B is an electret condenser lav mic that is useful for professional audio needs. It is an omnidirectional mic that captures the voice naturally with correct placement.
This mic uses an XLR connector, which means it is not compatible with all cameras. Also, you can't connect it directly to your smartphone.
The sound quality is as good as what you get on TV. The ECM77B is a great option if the speaker is not moving around a lot. For highly mobile speakers, you may add a bodypack transmitter.
Also, the speaker's breath noise or sudden movements will not cause problems because the mic comes with a windscreen.
This super-compact lav mic comes with a 3.5mm connector. This makes it compatible with smartphones, headphones, amps, computers, and transmitters with 3.5mm inputs.
If you have a transmitter for wireless audio, the ECMV1BMP is a good mic to add. It is small and light, and it doesn't add to the weight of the carry-on transmitter.
It's an omnidirectional mic, so it tends to capture background noise. However, with good placement, you will get clear audio from the speaker.
For outdoor recording, this mic comes with a windscreen. It prevents wind noise from ruining the audio. Also, this mic is convenient to use since it doesn't need any other power source aside from the connected device – no batteries or charging is needed.
The ECM-CS3 is called Sony Business Microphone because it's great for both online and offline meetings.
It's also good for recording while using a camera. Because of its 3.5mm connection, it is compatible with smartphones, DSLRs, and even GoPros(with the right adapter).
It is compact, very light, and clips on clothing easily. Also, it's a stereo mic, so the voice sounds more natural if you're in a room. However, if it's too noisy, the mic may capture it as well.
The frequency response is suited to voice. 50 Hz to 15 kHz is not a very wide range, but it ensures that background noise outside those frequencies is not picked.
Like the ECM77B, Sony ECM-88B is an electret condenser lavalier mic. It comes with an XLR connector. This is important because it determines which cameras and recording devices would be compatible with the mic. The ECM-88B can't be connected directly to your smartphone, since phones don't have XLR.
This condenser mic's sound quality is superior to the smaller mics on this list. It's what you expect to hear when watching the news.
It has a flat frequency response with a natural tone. The mic needs 2 AA batteries as the power source. If your amp, mixer, or camera has phantom power, it can also power the mic.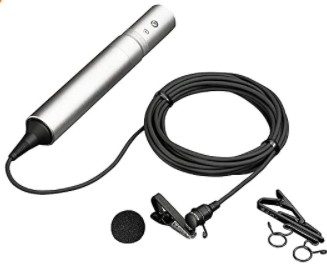 Sony ECM-44B is another wired lapel mic with XLR output. You can connect it to cameras, transmitters, or voice recorders that have XLR inputs.
XLR lav mics are expected to have great audio quality, and the ECM-44B performs up to expectation. The overall sound is smooth, with a little brightness. This is good for capturing speech because it gives more clarity to the sound.
Power for this mic is supplied by a single AA battery. You can also drive the mic using phantom power from your camera, mixer, amp, or voice recorder.
Also read:
Wrap up
I have reviewed 7 Sony lavalier microphones in this article.
My top 3 picks are Sony UWP-D (UWP-D21/14), ECM77B, and ECMV1BMP.
The UWP-D is great for wireless use and makes it more convenient to record videos where the speaker is a little far away. ECM77B is my pick for top-quality audio that's good enough for TV production.
Lastly, the ECMV1BMP is my choice for super-compact mic use. Also, it can be added to any transmitter-receiver combination without adding much weight.