Considering that Rode Videomic/Pro/Go mics all have a significant number of flaws that make them not your best option for your video recordings today.
Let's look at the best 5 mic alternatives to the Rode (Videomic/Pro/Go) and learn why.
In the reviews, we will be mentioning their features and benefits, so you can make a wise decision according to your own needs.
Why look for Rode VideoMic/Pro/Go alternatives?
The reality is that all these three Rode mics have some disadvantages that you really need to be aware of.
Let's look at it one by one.
Rode VideoMic
The Rode VideoMic does not have an easy USB connection to plug it into the computer. If you do podcasts or use similar production set-ups, it may be an inconvenience.
It does not have the cleanest audio recording, better audio quality can be expected out of it.
The battery is located in a place that may not be that easy to access with the Rycote, as it gets on the way. The battery is hard to open if your hands are sweaty as well.
The connection cable is extremely short, making it hard to connect depending on your set-up.
Rode VideoMic Pro
The polar pattern makes the Rode VideoMic Pro pick up unwanted noise behind the mic, making it have an excessive amount of sensitivity where you don't need it.
Battery life issues were reported in a significant way. This can really affect your video production to run smoothly.
It's made out of thin plastic, so you better take really good care of it to avoid any damage.
Rode VideoMic Go
Rode VideoMic Go has serious interference problems due to the audio adaptor. Close Wifi signals are picked up by the mic making many recordings unusable.
Popping, clicking, and hissing noises due to a variety of reasons. Cable connections, Bluetooth signals, and other types of unwanted noises are all amplified in your recordings.
When it comes to compatibility, this mic doesn't support a good number of cameras. This is a potential issue you need to be aware of.
Top 5 Rode Videomic/Pro/Go alternatives reviewed
Specifications:
Transmitter frequency: 5.2 / 5.8 GHz Dual Band
Frequency response: 10Hz ~ 23 kHz
Signal-to-noise ratio: >80dB
Audio Output Level: 2V
Dimensions (transmitter & receiver): 2.6" x 2.3" x 1.1" (66mm x 59 mm x 29 mm)
Sound quality

The VideoMic NTG sounds really incredible, thanks to its highly directional supercardioid pattern. With this polar pattern, you can capture the audio from all directions.
It has covered perforated in soundholes along its length, this allows recordings to be uncolored and accurate. VideoMic NTG setup is very similar to Rode Video Mic.
The mic definitely has a proximity effect, recordings are full of warmth and depth when booming at around 18''.
Features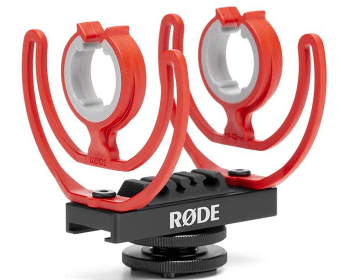 This mic is designed to make things easy, you can use it as a desktop USB mic if you are into Voice-Overs or live streaming.
[The mic automatically detects whether an input is TRRS or TRS and adjusts, eliminating the need for adaptor cables, cool, isn't it? This will save you a few bucks in accessories. ]
The Rycote Lyre Shockmount will keep your audio as clean as it can get, it will reduce all the low-end rumble.
Built to last! constructed with aerospace-grade aluminum, so you can trust that it will resist your travels and frequent use perfectly.
Bottomline: We highly recommend VideoMic NTG for documentary filmmaking and narrative occasions.
What do we like?
The USB / Rechargeable Lithium-ion Battery will last about 30 hours of use time.
Audio fidelity is very accurate because of its construction.
What we don't like?
It may not be compatible with some cameras or devices.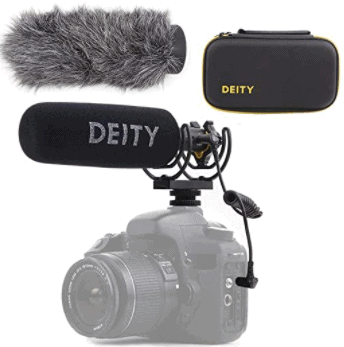 Specifications:
Polar pattern: Super Cardioid
Maximum SPL: 130 dB SPL (@1kHz, 1% THD into 1KΩ)
Frequency Range: 50Hz-20kHz
Low-cut Filter(LCF): 75Hz/150Hz
Signal/noise: max. 84dB @-24dB sensitivity(re 1V/Pa@1kHz)
Battery Life: >50Hrs
Battery capacity: 320mAh
Sound quality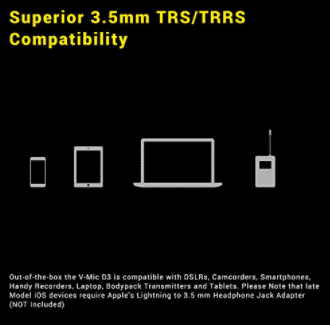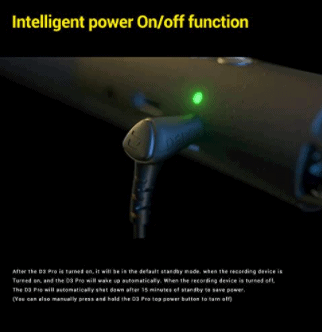 With its super-cardioid polar pattern and frequency range of 20hz – 20hz, this mic will provide you with a really good broadcast audio quality.
The audio recordings will be clean and clear thanks to the low noise circuitry and low distortion ( THD < 0.1% ). There are also no interference issues that will ruin your audio cleanness, which is the case with the Rode Go.
The mic's sensitivity ( -35db re 1V/Pa @1KHZ) will definitely make a great improvement compared to any camera internal mic, and when compared to the Rode VideoMic you will notice a much better definition as well.
Features
This mic uses a single AAA battery for power, it's really cool that it has a standby mode when the camera or device is not active or on.
[The batter life is about 50 hours, so this is a great feature to avoid you carrying unnecessary items to your productions. ]
Very lightWeight mic! (48.6g), making it a perfect mic to carry around.
What do we like?
The installation can be incredibly easy with the 3.5mm cable and the screw mount.
What we don't Like:
The power button at the back of the microphone it's a little stiff.
Bottomline: I recommend Deity D3 Pro for interview shoots in the outdoors or remote locations.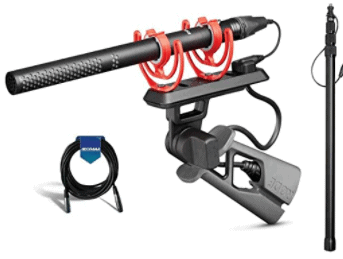 Specifications:
Acoustic Principle: Pressure gradient electret condenser
Polar Pattern: Supercardioid
Frequency Range: 20Hz – 20kHz
Battery Life: 30+ hours
Output Connection: 3.5mm auto-sensing USB-C
Bit Depth: 24-bit
Sound quality
With its supercardioid polar pattern and frequency response of 100Hz-20kHz (±3dB), this mic will record any audio source naturally and uncolored.
Something that will allow your video recordings to be faithful in the audio realm.
[Whether mounted on a video camera, boom pole or pistol grip, the NTG5's audio quality will be consistent under challenging conditions.

The sound of rain or wind will not interfere with a good audio recording, this is a great thing! Isn't it?]
The mic has a "Self Noise" of (10dB SPL A-weighted), allowing you to capture only the audio source you intend to record. Nobody wants other noises right?
Features
The connection to this Mic is via an XLR cable. So some compatibility issues may arise if your setup requires a different kind of cable.
It uses Phantom power, so make sure you can supply this power to the mic on your set-up.
It has an amazingly lightweight aluminum body, it weighs 2.68 ounces, making it super convenient for boom operators.
A good set of accessories are included to get a perfect recording right from the start, you'll find a WS10 deluxe windshield and a PG2-R pistol grip inside the box!
What do we like?
It captures very clean audio recordings.
What we don't like?
It only operates with phantom power by an XLR cable.
Bottomline: Outside recordings where weather conditions need to be considered. It's resistant to humidity, wet conditions, and very cold weather.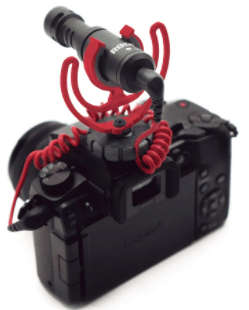 Specifications:
Polar Pattern: Cardioid
Address Type: End
Frequency Range: 100Hz – 20kHz
Maximum SPL: 140dB SPL (@ 1kHz, 1% THD into 1KΩ load)
Sensitivity: -33.0dB re 1 Volt/Pascal (22.00mV @ 94 dB SPL) +/- 2 dB @ 1kHz
Equivalent Noise Level (A-weighted): 20dB-A
Weight: 42gm
Sound quality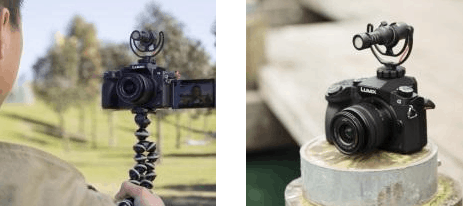 It incorporates a high-quality cardioid condenser microphone capsule that will make your audio recordings of great quality.
Compared to the Rode VideoMic/Pro/Go, VideoMicro will offer you the same audio quality at a cheaper price.
The mic will capture with more focus what is right in front of it, eliminating other unwanted sounds or noises that are off-axis.
This means that with good placement of the mic, you can obtain great audio purity in your recording.
This is really important since background noises are so hard to edit, eliminate, or fix.
Its frequency range of 100Hz-20kHz and signal-to-noise ratio of 75dB (A-weighted), will significantly improve the audio quality compared to internal mics.
Features
[The VideoMicro includes a Rycote Lyre Shockmount allowing you to reduce
noises caused by impacts, vibrations, and other possible hardware sounds.
Also, it comes with a Ws9 Windshield, this is good because having wind noises in your audio recordings will totally ruin your takes. ]
A SC2 3.5mm TRS patch cable included, Make sure you check what cable you need for your set-up, as you may need to buy another accessory cable not provided.
The mic is powered by 3-volt (minimum) camera plug-in power, this is a great feature because you don't need any batteries to operate it.
What do we like?
The price, its audio quality for the price make it probably the best option in this budget range.
Focused axis sensitivity, so you are not focusing on unwanted sounds.
Its windshield is extraordinary for the price.
What we don't like?
The included cable is not of great quality, it definitely could be better.
You may need to buy extra cables to connect it with your gear.
Bottomline: Any kind of indoor recordings, weddings, podcasts, interviews, tutorials, live streamings, or family events.

Specifications:
Acoustic Principle: Pressure gradient electret condenser
Polar Pattern: Supercardioid
Frequency Range: 20Hz – 20kHz
Battery Life: 30+ hours
Output Connection: 3.5mm auto-sensing USB-C
Bit Depth: 24-bit
Sound quality
With its heart-shaped single-point pickup, this mic will reduce the capture of surrounding noises, this is a great thing because you want to exclude all noise and sounds that are not desired.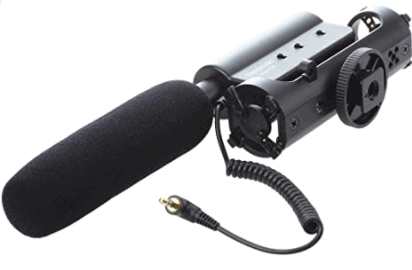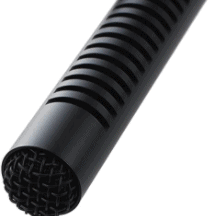 The mic has a cardioid polar pattern, you want this because it increases the fidelity of what the audio captured when compared to internal mics cameras have.
With its frequency response of 50Hz-16KHz, you can record the entire frequency range of your audio source. This is beneficial as audio frequencies that are not captured will end up reducing the audio quality overall.
Its furry windshield system is highly effective to maintain the audio quality protected from moving air when recording outdoors.
Features
The TAKSTAR SGC-598 has a shake-proof sturdy structure that is very effective for shielding any electromagnetic interference and decreasing mechanical noise, vibrations, and clicks of the camera.
It operates with one 1.5V AA battery. This is great if you don't like charging batteries or connecting via cables.
What do we like?
The quality/price relationship makes it a very beneficial option if you don't want or can spend a lot.
What we don't like?
The cable is attached to the microphone, this means that if that cable breaks or gets damaged it will become an issue.
Bottomline: Great for a beginner on a tight budget, recommendable for short films or podcasts.
Conclusion
So now that you have a good overview of the best 5 Rode Videomic/Pro/Go alternatives.
You probably came to the conclusion that the interference problem with the Rode Go is too big issue for you to want to dance with it. We wouldn't buy gear knowing that we will surely have issues with it, do we?
So a good alternative for that one is the NTG5, it's quiet as it can be and the self-noise of it is one of the lowest you can find.
Plus, you won't have any problems with popping sounds because of the NTG5's better engineering.
You can move away from the bad quality battery problems of the Rode VideoMic Pro with a mic like the Deity D3 Pro. All you need to think about is having a AAA battery.
All these 5 mics will provide you a really good alternative, recording the audio signal much more defined, clear, and problem-free.
With it, you can work for about 50 hours and rely on the stand-by function if you are not active on your camera.
Read Also: How to Earrape Mic? (Discord, Zoom) – Don't Miss this Guide