Do you want to enjoy your movies privately with quality sound?
Then you need headphones that are perfect for movies. There are literally hundreds of options to consider when you need headphones. So, how do you select the one that fits your movie taste?
In this article, I explore 9 different headphones options. I'm sure you'll find one that's perfect for you on this list.
So, which headphones are good for watching movies while on the move?
Which ones are the best TV headphones?
Let's find out.
Top 9 headphones for watching movies reviewed
Specifications:
Foldable Yes
Driver Type Dynamic
Number of Drivers 1, per Earpiece
Driver Size 1.57" / 40 mm
Diaphragm Aluminum-Coated
Magnet Type Neodymium
Voice Coil Copper-Clad Aluminum Wire
Active Noise Cancellation Yes
Fit and comfort
These headphones are one of the most comfortable ones you'll find today. They combine premium comfort with a lightweight design. The leather earpads make your movie-watching sessions a joy. Also because they're so light, you can't even feel much pressure on your ears.
Unlike some other headphones, the earcups don't swivel to lay flat on your chest. For users that wear glasses, the headband and earpads do not press the frames against your head. if you're going on long flights, the Sony WH-1000XM4 is an awesome companion.
Sound quality and performance
These Sony Bluetooth headphones have high-quality active noise cancellation. It can block out every other sound from your environment if you want. This noise reduction technology enhances the audio quality by eliminating all levels of noise.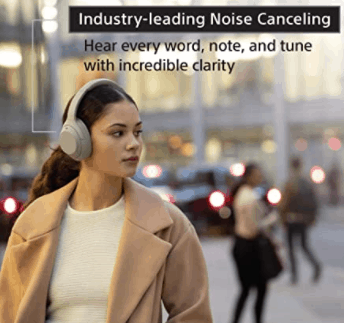 Also if you need to hear some background sound while watching a movie, the headset can adjust to allow some sound in.
Sony went for a balanced and warm sound with these headphones. So, expect to hear something close to what the movie producer intended. R
umbles, explosion sounds, gunshots, dialogue, and even movie ambient sound all sound natural. No noticeable enhancement of any frequencies.
This pair of headphones give you 30 hours of battery life when you enable ANC. It adds another 8 hours if ANC is disabled. That's more than a whole day of movie marathons.
Bottomline: The Sony WF-1000XM4 gives you maximum comfort, long battery life, and convenience all in one. If you love a balanced sound production, then these are for you.
Specifications:
Supported profi­les: Headset, HFP, A2DP, AVRCP
Audio codec support: FastStream, SBC
Operating range: Class 2, up to 30 ft / 10m
Operating time: up to 40 hours playtime and 20 days standby time
Driver size: 40mm; Impedance: 32 ohm;
Frequency response: 20Hz-20KHz
Fit and Comfort
Like the Philips headphones, these wireless headsets come with a transmitter. This increases the operating distance significantly. If you're watching a movie in a large room, you can sit farther away from the TV with these headphones.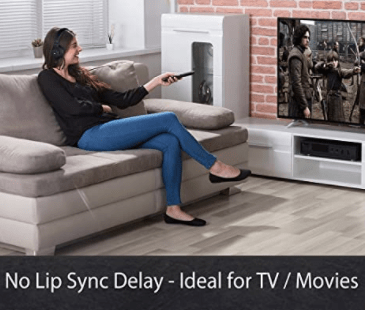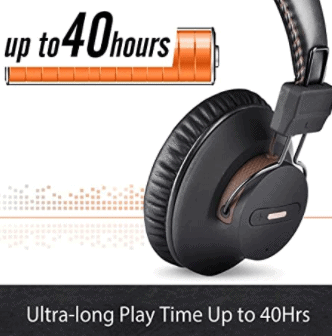 The earcups are soft and well padded. With these, you can keep watching movies for several hours without feeling uneasy. Also, the headset weighs just 180 grams. You can be sure it won't weigh you down after a few hours.
The transmitter allows you to connect the headphones to any TV. It works with 3.5mm, RCA, and even optical audio.
Sound quality and performance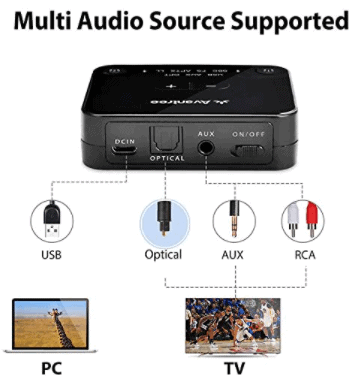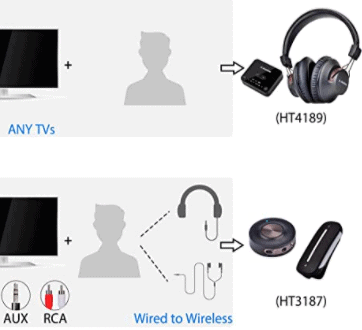 These Avantree Bluetooth headphones give you audio quality with solid and crisp sounds. Dialogues, ambiance, and even explosion sounds are clearly heard who these cans.
Also, the battery lasts for 40 hours. That's a lot. And if you're not using the headphones for a while, it can stay on standby mode for up to 20 days.
The Bluetooth connection covers a range of 100 feet or 30 meters. You must use the transmitter to achieve this.
Additionally, you can use the transmitter alone for any of your other devices. Likewise, you can choose to use the headphones without the transmitter. However, you will have just 10 meters range.
Lastly, you can share the experience with a friend or family member. The deal link feature allows you to connect two pairs of Bluetooth headphones to the transmitter.
Bottomline: These headphones give you enough freedom, battery life, clear sounds and you can connect two headphones at a time. It's just so perfect for movies.
Specifications:
Bluetooth Protocols: HFP/HSP/A2DP/AVRCP
Diameter driver unit: 50mm
Magnet Type: Neodymium
Impedance:32Ω
Playtime: ≥30H
Charging Time:≈3H
Stand-by Time:≥500H
Effective transmission range:≥10m
Fit and comfort
These OneOdio Bluetooth headphones come with earpads that are made of protein leather. They are quite comfy when you put them on. They may warm up a little after many hours but it doesn't get overly inconvenient.
In terms of freedom, the headphones allow you to sit comfortably without worrying about cables since it's wireless. However, the Bluetooth connection gives you only 10 meters distance between the headphones and device. Anything more and you'll start noticing breaks in connection.
Sound quality and performance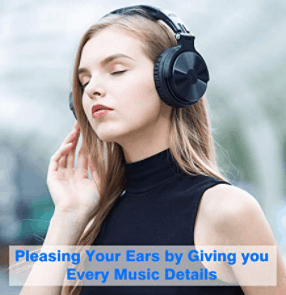 The OneOdio Bluetooth headphones have a bass-first approach to sound. The bass boost makes explosive movie sounds a lot stronger. Of course, the flip side is that you may not hear the light chatter under such big sounds.
However, it also works just as well for movies without those heavy sounds. If it's just the dialogue without explosions, then everything is crisp and clear.
The batteries are the best features of these headphones. They can keep going for 80 hours.
You could watch a whole 5 seasons of Game of Thrones before these batteries run out! And it gets better. The Bluetooth headphones take just 3 hours to charge the batteries fully.
Though the OneOdio headphones do not have active noise cancellation, the earcup design helps you to keep down the levels of noise and enjoy your movie.
Bottomline: If you want the longest battery life you can get from Bluetooth headphones, this headset is perfect for you.
Specifications:
Transmitter frequency: 5.2 / 5.8 GHz Dual Band
Frequency response: 10Hz ~ 23 kHz
Signal-to-noise ratio: >80dB
Audio Output Level: 2V
Dimensions (transmitter & receiver): 2.6" x 2.3" x 1.1" (66mm x 59 mm x 29 mm)
Fit and comfort
The ATH-M50X is a pair of wired headphones that feels super-comfy when you wear them. Because the headphones have a plastic build, they feel light on the head. You can wear them for several hours without feeling like they're heavy.

Also, the earcups and headband are padded with soft material that acts as an excellent cushion for your head. The headphones don't clamp too hard on your head. However, on very hot days, you may need to take them off occasionally to let your ears breathe.
The earcups swivel to lay flat on your chest if you place the headset on your neck. It's a convenient way to wear headphones when you're not using them.
Sound quality and performance

The Audio-Technica ATH-M50X's sound is close to a neutral production, although it's not totally flat. These headphones have a slight enhancement on the bass part of the sound. It's just a little lift that does not take any detail out of the midrange and treble.
Your movie sounds will have a little emphasis on explosions, gunshots, and other thrilling sound effects. Dialogues will also come out audibly. In essence, most of what you'll hear will be very close to what the movie producers intended. No excessive sound coloration.
Bottomline: If you're not into sounds with lots of bass, you will love these ATH-M50x headphones' balanced response.
Specifications:
Driver Size 1.57" / 40 mm
Diaphragm PET-Coated
Magnet Type Neodymium
Impedance 32 Ohms
Active Noise Cancellation No
Controls/Microphone Location Earpiece (Side Unspecified)
Fit and comfort
These Sony wireless headphones are made for movie marathons. The earpads are super comfy and well padded. Also, the headband is adjustable in a way that makes the headphones fit anyone.
The Bluetooth headphones are not the lightest you'll find, but it's not so heavy either. At 276 grams, you can use it for a few hours without feeling the weight.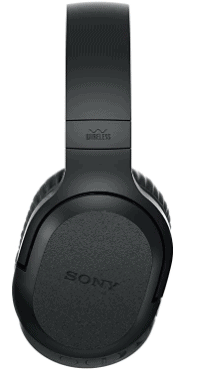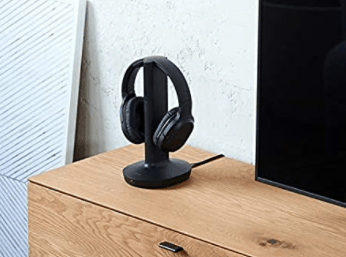 What makes the Sony RF400 most convenient is the amount of freedom it gives. With the transmitter that comes with it, you can get up to 150 feet between the headset and your TV. That's 45 meters.
You can enjoy your movies in a large living room even if you're seated far away from the TV.
Sound quality and performance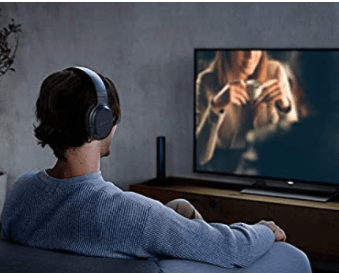 These headphones have deep bass and crisp treble. You will certainly feel the effect of movie explosions and sound effects. If you only need the dialogue from your movies, you can enable Voice mode. It reduces the bass and puts more emphasis on speech.
When the headset is on a full charge, it can give you up to 20 hours of playback. That's almost a whole day of binge-watching your favorite series. However, it takes 7 hours to charge these cans full. You may have to plug them in for the whole night to get a full battery.
Bottomline: Though these Sony headphones are not suited for mobile use, they perform excellently when used indoors.
Specifications:
Type: 3.5 mm Wired
Buit-in Microphone: No
Speaker size: 40mm
Frequency range: 20Hz~20kHz
Sensitivity: 97±3DB
Impedance: 32±15%
Cable length (fully extended) : 5m±0.1m
Fit and comfort
The HF039s are wired headphones that stand out because of their long cable. The cord is 16.4 feet long, but because it's coiled, you can only stretch it 10 feet.
For headphones, even 10 feet is one of the longest cable lengths you can get. A cable like this allows you to sit away from the TV or laptop screen while you enjoy your movie.
Aside from having a long cable, these headphones are very light. Weighing just 155 grams, you will barely feel the weight after several hours of use. Also, the headphones come with clips that hold the cord to your shirt or collar.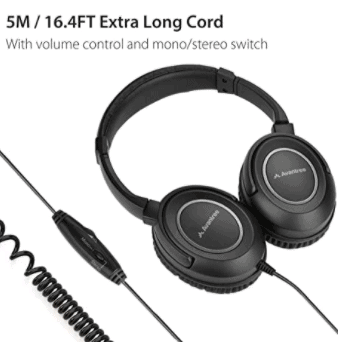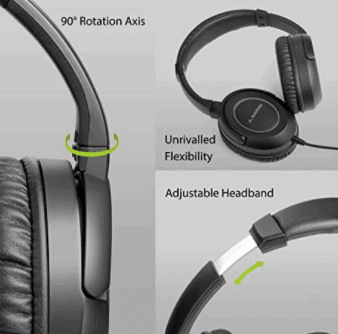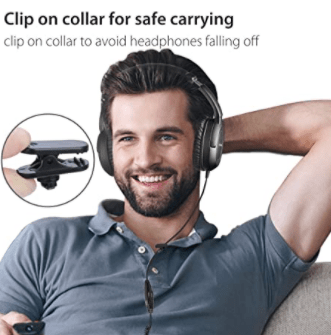 If you need to turn up the volume in the middle of the movie, there's a volume control on one of the earcups for that.
That's not all. The Avantree headset's earcups are well padded to give you a comfortable experience. Even after hours, these cans don't get warm inside. Because they are lightweight, they don't press on your ears so much.
Sound quality and performance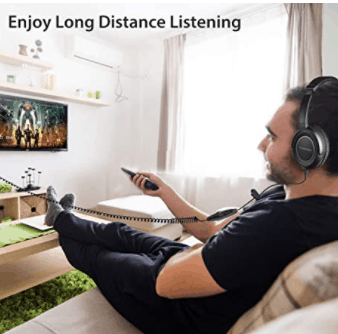 With a frequency response of 20Hz to 20kHz, you can be sure to hear everything from your movie. The dialogues are crisp and clear. Also, the gunshots and explosion sounds are not overwhelming.
Whether you're watching movies on your phone, computer, or TV, these headphones give you enough volume. Also, since they're low impedance headphones, they need only a little power to drive the gain.
Bottomline: These headphones have the longest non-detachable cable length you'll find today. If you want maximum distance with a wired headset, this is the answer.
Specifications:
Impedance: 32Ω
S/N: ≥100dB
Frequency: 20Hz-20kHz
Noise Cancellation Level: 32db
Power supply: Lithium battery or Micro USB cable
Function spec: Bluetooth, Aptx, Microphone, AUX, Active Noise Cancelling
Fit and comfort
The COWIN E8 headphones look and feel bulky. They are built with both plastic and metal parts. The best parts of these headphones are the earpads.
They are thick and plush, making it so easy to wear them for long hours. However, after some time, you may begin to feel the weight.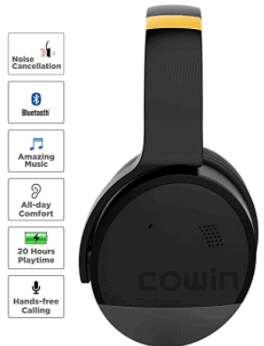 This is partly due to the metal headband at the top. They are wireless headphones so the batteries add some weight too.
The headband adjusts to fit your head size. Also, the earcups swivel o lay flat on your chest when you wear the Bluetooth headset on your neck.
Sound quality and performance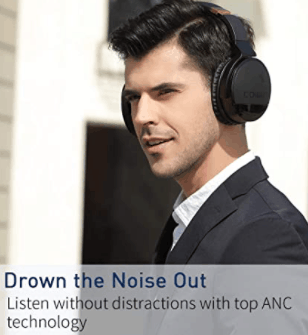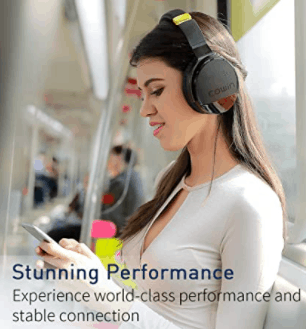 The Cowin E8 is a bass-heavy Bluetooth headset. The frequency response has some heft in the bass to low-mid. This gives more emphasis to explosive sounds and rumbling movie sounds over dialogue.
The reduced treble contributes more to this audio quality. If you love very explosive sound effects this might just be the one for you.
These Bluetooth headphones also have active noise cancellation. This helps to get rid of background noise from outside the headphones. If you're watching movies on a plane, you won't hear the engine rumbling. The same goes for bus and train rides.
Also, the battery life for the Cowin E8 Bluetooth headphones is 20 hours. That's enough for binge-watching several episodes of any show.
Bottomline: If you like the banging explosive sound and noise cancellation, you should consider Cowin E8 headphones.
Specifications:
Effective Range: 30m
Speaker Diameter: 40m
Frequency range: 8-40,000Hz (when wired)
Operating time: 20 Hrs
Base station LED indicator feature
Optical Cable Included
3.5mm headphone jack
Fit and comfort
These wireless headphones make TV watching a breeze. The earpads are made of velour cushions.
This material keeps the headphones comfortable on your head without getting warm even after several hours. The headband has a hammock padding that cushions the top of your head and fits automatically.
Also, the Philips Wireless Headphones feel light on your head. it will be a long time before you start feeling any meaningful weight on your head.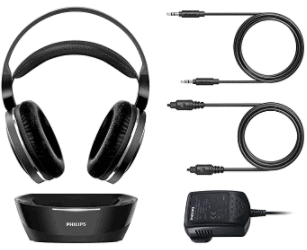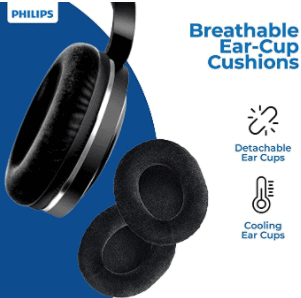 With the wireless connection, you can sit up to 30 meters or 98 feet away from your TV or other devices. This makes it perfect for large rooms.
Sound quality and performance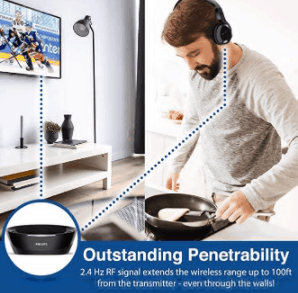 These headphones give you an audio quality with solid bass and crisp treble. Making both explosion sounds and dialogues have a resounding effect.
The wireless connection does not delay your movie audio at all. It uses a transmitter to connect the headphones to your TV, so you won't have any compatibility issues.
If you want to eliminate background noise, you can simply enable the active noise cancellation feature. When the headphones are fully charged, you can get up to 20 hours of playback out of them.
Bottomline: If you watch movies on your TV in a large room, these headphones will make it a super comfortable experience.
Specifications:
Active Noise Cancellation Yes
Design Over-Ear (Circumaural)
Controls/Microphone Location Earpiece (Side Unspecified)
Foldable Yes
Audio Connector to Source 1/8" / 3.5 mm
Cable Length 47.2" / 119.9 cm
Charging Port Micro-USB
Fit and comfort
These Bose Bluetooth headphones do not come cheap, but they are worth every penny. They come with super comfortable earpads that fit snugly on your ears.
You can wear them for several hours while binge-watching your favorite sitcom. If you love to watch movies on your phone or tablet while on long flights, then these are for you.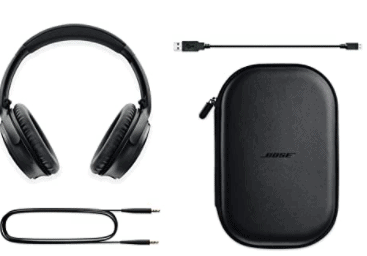 Even with the active noise canceling and batteries for a wireless connection, they still feel light on your head.
The NFC pairing option makes the headset even easier to use. If your device has NFC, you simply need to tap the headphones with it to pair them up.
Sound quality and performance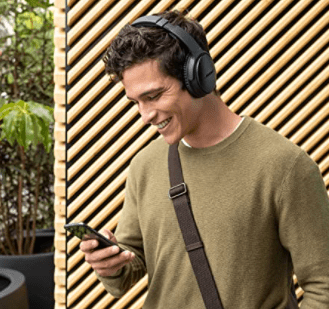 These Bose Bluetooth headphones perform well across all movie genres because the sound is well-balanced. The bass is solid but clean.
So, if you hear any loud explosion sounds in a movie, that's what the producers intended. The headphones do not enhance any of the movie sounds.
The active noise cancellation helps to silent all external sound – perfect for use on flights. With ANC, you can get up to 20 hours from these headphones.
That's about a whole day. If you need to use these headphones with your TV, then you may need a transmitter unless your TV is Bluetooth compatible.
Bottomline: These Bluetooth headphones are perfect for movie lovers who are always on the move. You can enjoy all-day entertainment anywhere from your mobile device.
Also read: Best Bluetooth Headsets For Truckers With Noise-Canceling Mic
Conclusion
All these 9 headphones will surely give you a great movie experience. But if I had to pick my best 3, they would be Sony WF 1000XM4, Avantree HT4189, and OneOdio Wireless Headphones.
I like the Sony because it has all the special stuff like ANC and it has over 30 hours of battery life. The Avantree gives 40 hours and comes with a transmitter that improves its compatibility.
The OneOdio headphones batteries last for 80 hours. That alone is impressive enough to make me pick them.
Of course, each of the headphones has its unique sounds, but every one of them will give you an enjoyable experience.