We'll have different voices. Some of us were born with a deep voice. Others were born with loud high pitched tiny voices.
However, Nothing is impossible under the sun. If you don't have a deeper voice, and it's your genuine desire to speak or sing with a deep voice on the mic, worry not because we have a solution for you.
Do you want a deep voice because you host a daily podcast? And you want to grab the attention of your audience with the command in your voice.
Or you're a singer, and you want that gentle, deep vocal. Or you're a gamer looking to enhance your voice?
In this article, we will show 9 ways to make your voice deeper on the mic.
9 Ways to make your voice deeper On Mic
There are many ways to make your voice deep on a microphone. Some are a quick fix and will get you a deep voice as soon as possible. But others take time.
When you apply them, you see results in the long-term. Some involve technology, while others are natural. Here are the solutions we discuss in these articles.
Use a pop filter.
Get close to the mic.
Use mobile apps and Softwares.
Use voice deepening microphones.
Work out
Buy a pitch transposer
Invest in a shotgun microphone.
Speak slowly in the mic.
Deepen your voice naturally.
Use a pop filter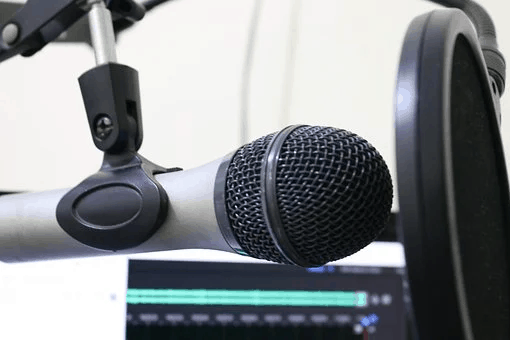 The first step towards making your voice deeper while talking or singing on a microphone is getting a pop filter.
As its name suggests, a pop filter shields and filters unwanted noise like pop sounds from your microphone. Such sounds interfere with the quality of your voice when you sing or talk. Examples of plosives are Ps and Bs.
Installing a pop filter eliminates plosives and breaths. Or any sounds from your body or air in the room. Thus, your vocal keeps its clarity and deepness when you sing or talk in your deep voice.
Get closer to the mic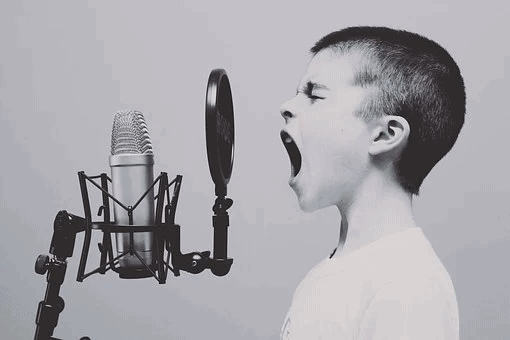 A simple way to get a deep voice is by moving closer to your microphone when you sing or talk.
But what's the science behind this trick?
Let me explain.
When a car that's playing loud music is further away, you only hear mid and high frequencies from the song. And you hear the bass frequencies when it's near. Have you ever noticed this?
And then bass disappears again as soon as it gets further away from you. Experts call this the proximity effect.
This is a similar scenario when you record into a mic.
When you stand further from your microphone, the microphone only picks the louder, high pitch frequencies of your voice.
Therefore, if you want a deep voice, move closer to the mic so that it picks your deep voice, bass, and baritone. Try standing within 2-12 inches from the microphone for a deeper voice.
Use mobile apps
Today there are many mobile apps you can use to make your voice deeper. Thanks to new technology.
The best thing about mobile apps is you can take things a step further and make your voice attractive by their inbuilt special effect, like reverb.
Mobile apps are an excellent choice if you want to deepen your voice using the mic on your phone. They built their algorithm to analyze your voice and transform it into whatever you want.
If you use android, get apps like Android rock voice changer, Baviux voice changer, Voice changer by handy tools studio, Voice FX, and Vocular. Or Voloco if you're an iPhone user.
Fortunately, there is a software version for your PC. For instance, you can download Voloco for PC and deepen your voice on your laptop.
If you're a recording artist, use Antares autotune or waves tune to deepen your voice.
In addition, you can use these mobile apps to learn how to speak and sing with a deeper voice.
Use voice deepening mics
With voice deepening mics, getting a condenser microphone will do the trick.
But here's a tip.
Instead of getting the regular condenser microphone, get a darker microphone that focuses more on mid-range and lower frequencies than high frequencies. Or a vintage one like the dark ribbons.
Furthermore, some dynamic microphones can also help make your voice deeper on the mic.
But you must invest in a high-quality microphone that will pick the full range of your voice, unlike some cheap microphones that tend to pick more on high frequencies thus making your voice bright.
Get a microphone that's more sensitive on the lower frequencies. Before you buy a microphone, conduct research and find what suits you best. Some good condenser mic companies to check out are slate digital. Their VMS ML microphone series is outstanding. Or AKGs C214.
Work out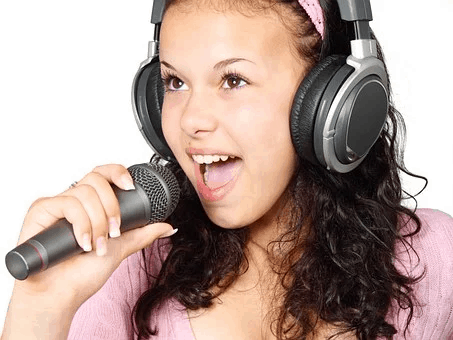 One natural way to make your voice deeper on the microphone is through a regular working out.
But how does it work, you may ask?
Working out increases your testosterone levels, no matter your gender. The increase in testosterone helps you develop a deeper voice.
However, this method might take a while. You should be patient and use other quick methods as you wait to develop a deep voice.
Pitch transposer
Another fascinating way to make your voice deeper on the mic is by using a pitch transposer, which is also called a harmonizer. You can use them to alter a high-pitched voice into a deep voice. For example, you can transpose your voice down 12 semitones (down an octave).
Also, they come with software you can use to adjust your settings and fine-tune your deep voice.
To use a pitch transposer, you must have a high-quality microphone. For this reason, you must be willing to stretch your budget to get them as they are pretty expensive.
Invest in a shotgun microphone
Unlike other types of microphones, a shotgun microphone is unidirectional.
What does this mean?
A shotgun microphone only records from one direction, the front. Furthermore, it doesn't pick other sounds unless it's coming from the front.
To get the most out of a shotgun microphone, place it in front of you. Let the microphone be congruent with your mouth.
And stand a few feet away so you can use the proximity effect as discussed earlier. Standing a foot away reduces the plosives that interfere with the quality of your voice.
Examples of shotgun mics include AKGs C747 v11, Shure VP89L, and my favorite Audio-Technica AT897.
Speak slowly on the mic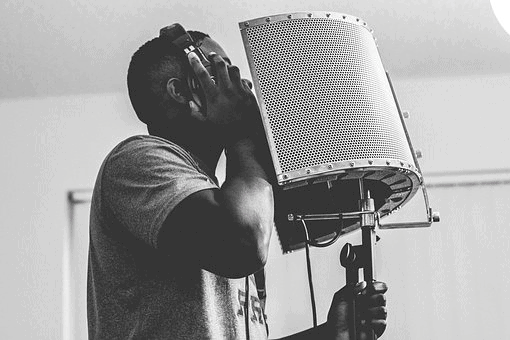 Read Also: How to Earrape Mic? (Discord, Zoom) – Don't Miss this Guide
Do you want to develop a deeper voice while grabbing your audience's attention during your podcast? Well, slow down when you speak.
When you speak faster, you talk in a high pitch. And you don't want that. Right?
Speaking slowly also improves your attenuation and pronunciation.
Before investing in expensive gear: try speaking slowly on your mic and see if you get results. You can practice by yourself until you get it right. After which, you can apply it to your singing, podcasts, or speeches.
Deepen your voice naturally
So let's say you've tried the methods discussed above, but you still have that high-pitched voice when you speak or sing on a microphone.
What do you do?
Here, you must learn how to deepen your voice naturally. You can achieve this by hiring a coach.
But if you're on a tight budget, don't fret. There are many free materials online, especially on YouTube. You can learn how to speak and sing in a deep voice online.
Here's the best part.
Once you develop a deep voice naturally, you will save money you could have spent buying expensive equipment.
Conclusion
There you have it: 9 incredible ways to make your voice deeper on the mic. If you need that deep voice urgently, apply the most available options like mobile apps or pop filters. Or get a shotgun mic.
But if you have some time in your hands, try to slow down, workout, and use natural methods to deepen your voice.
Read our other popular posts: