Affiliate disclosure: In full transparency – some of the links on this website are affiliate links, if you use them to make a purchase we will earn a commission at no additional cost for you (none whatsoever!). Will this be a problem? This is how we manage to create free content for you. Please know that your trust is so important for us. If we recommend anything, it is always because we believe it is worth exploring. And, buy me a coffee ☕️
What is the best USB mic for gamers and streamers?
The Blue Yeti and HyperX QuadCast are two of the most popular microphones among podcasters, voice-over artists, streamers, gamers, and other content creators.
Both microphones have similar features, including multiple polar patterns, headphone monitoring, and USB connectivity.
However, are there any differences?
Which one is better, the Blue Yeti or the HyperX QuadCast?
Which one is more suited to your unique use case, the QuadCast or the Yeti?
We'll find out in this article.
Blue Yeti vs HyperX QuadCast: Features Compared
Build and design
The Blue Yeti has a solid build. Its whole frame is made of metal. The only plastic parts are the knobs and the joint between the mic and its base.
The base is padded with rubber material to prevent the mic from sliding easily on the table.
The rubber pads may seem insignificant, but they make a lot of difference for gamers and streamers.
If you accidentally knock it with your hand while moving your mouse. It doesn't slide off its position.
It's a USB mic, which means you don't need any external audio interface or soundcard to make it work. Just plug it into your computer and you're good to go. The same goes for the HyperX QuadCast.
However, in contrast to the "cute" design of the Yeti, the QuadCast has a bold appearance.
Its colors are black and red, so it's going to stand out in your videos if it appears.
Such a design will work well for gamers, but some other streamers may find it distracting.
To add to the bold look, a red light turns on then the mic is in use. If you're not a fan of such side attractions, you should set up the mic to not appear in your videos.
Sound quality and performance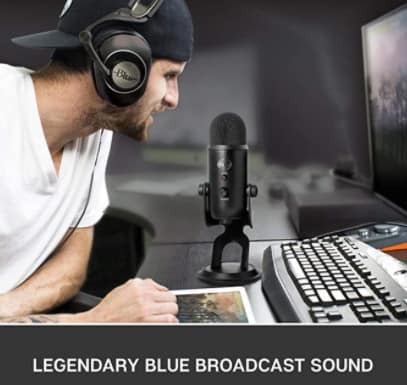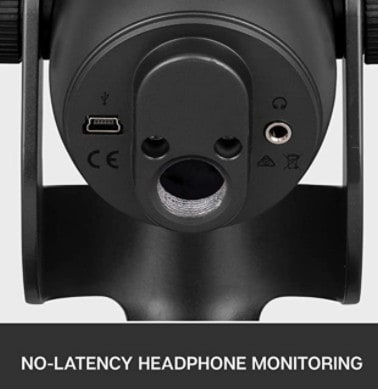 Looking at the specs, both mics seem very similar. However, they sound so different from each other.
The Blue Yeti has a balanced sound and frequency response. It has a THX certification that testifies to its excellence in reproducing every frequency in its range.
This means that regardless of your voice type, the Yeti will reproduce it accurately.
On the other hand, QuadCast has a sound signature that favors speech.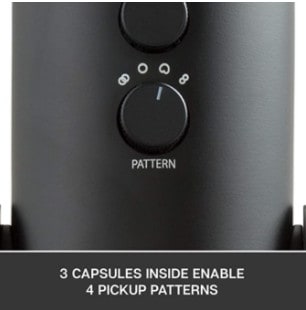 Sure, this means that speech clarity won't be a problem. However, it also means that people with deep voices may have their voices come out a little lighter or thinner.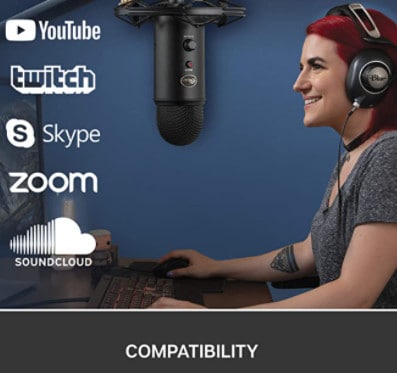 Both microphones have similar pickup patterns. You can choose between 4 different polar patterns – the cardioid, omnidirectional, bi-directional, and stereo patterns.
The cardioid polar pattern is popular among streamers, podcasters, and voice-over artists – pretty much anyone who needs to record one person at a time.
The cardioid pattern captures audio from directly in front of the microphone, only picking little from other angles.
The omnidirectional polar pattern records from all directions around the mic.
It is useful when you are recording a group at once, like in a roundtable podcast recording. To get a clean recording with this pattern, you must control the background noise.
The bi-directional and stereo patterns are similar. Both polar patterns capture sound from two directions.
Bi-directional captures from the front and rear while the stereo pattern captures from the left and right.
The bidirectional pattern works for recording two different speakers or singers at once, with both of them sitting or standing opposite each other.
The stereo pattern is useful for recording instruments like the acoustic guitar, to give a more realistic feel.
If you're looking to get a microphone for musical use, the Blue Yeti will do a better job because it produces low, mid, and high frequencies without favoring one part over another.
The QuadCast favors the high mids and treble, so your guitar recording might sound a little too bright.
Features
The Blue Yeti controls comprise just two knobs. One of the knobs controls the headphone monitoring volume while the other is for selecting your preferred pickup pattern.
The headphone monitoring gives you a latency-free option to hear what the microphone is capturing.
All you need to do is connect your headphones or earbuds via the 3.5mm port on the underside of the mic. The knob only controls the monitoring volume, and not what goes into your computer.
The QuadCast has just one control knob, and it's for choosing the polar pattern.
Even though it has a headphone jack for monitoring, you can't control the monitoring gain. Any volume control has to come from your recording software. However, it has the tap-to-mute function.
To mute the mic, you simply need to tap it on the top. Once muted, the red led light goes off.
It's pretty cool for live streamers if you need to say something off the record. But you can't ignore the importance of having a headphone monitoring volume control knob.
Another distinguishing feature in both mics is the shock mount. Though the Blue Yeti comes with a rubber-padded base, it has no shock mount.
This means that if you manage to knock the mic, the sound will get into your recording. The QuadCast does not have this issue because it comes with a shock mount that absorbs such hits.
Similarities and differences of Blue Yeti vs HyperX QuadCast
Similarities
Both mics give you the freedom of choosing from four different polar patterns.
The Blue Yeti and HyperX QuadCast both have zero-latency headphone monitoring. In both cases, you connect via the 3.5mm ports.
In both mic boxes, you have accessories that enable you to do a desktop setup. However, if you need to set up a boom stand, you'll need to purchase other accessories.
Both mics are excellent choices for gamers, streamers, and vloggers.
They are both USB mics, so there's no need for any additional hardware or software to set them up. They are plug-and-play mics.
Differences
The Blue Yeti has two knobs-the polar pattern selector and the headphone monitoring volume knob. On the other hand, the QuadCast has just one – to select the polar pattern. It has no volume knob.
The HyperX QuadCast comes with a shock mount to prevent vibrations from getting into the mic. This is lacking in the Yeti. The Blue Yeti only has rubber padding at the base to prevent it from sliding off.
While the Blue Yeti has a balanced frequency response, the QuadCast sound production favors speech clarity and enhances the high mids and treble.
Unlike the QuadCast that is more suited to speech purposes, the Yeti is suitable for musical uses too.
Pros and cons
Blue Yeti
Pros
Balanced frequency response makes it suitable for recording a wide range of sources.
It comes in multiple colors, so you can choose one that fits your aesthetic.
It requires no technical expertise to set up. Simply plug it in and it starts working.
Cons
It's quite sensitive, so accidental bumps may get into your recording.
You can't use the mic with a preamp for better sound since it's a USB mic.
Pros
The solid shock mount prevents vibrations from getting into your recordings.
The sound is optimized for speech clarity. It focuses on your voice even if your room is not too quiet.
The touch mute function allows you to easily stop the mic from recording, and the indicator always lets you know the mic's status.
Cons
There are no different color choices, only the red and black design is available.
There is no headphone monitoring gain control on the mic, you can only control it from your recording software.
This mic is not suitable for musical use.
Conclusion
These mics have their differences and similarities, and each one has it's the best use case. The HyperX QuadCast fits many different use cases – it's perfect for streaming, gaming, vlogging, podcasting, and other speech-based projects.
The Blue Yeti is also perfect in all the cases where the QuadCast works. However, it's equally good for recording vocals and musical instruments. Herein lies the difference. If you want an accurate representation of the recorded material, then the Yeti is for you.
Hi, I'm Jennifer I'm a passionate singer and an audiophile from Detroit, MI. 
I'm on a mission to help music creators to create fine music that help them position uniquely in the saturated music space.
Follow my blog for regular content :-)