Today in this post I am going to review the best mics for Sony RX100 VII that have excellent audio.
Sony RX100 VII is a compact camera that gives high-quality images and videos. Like with a lot of cameras, audio quality is an issue to deal with.
Videographer's Best Choice
Rode VideoMicro Compact On-Camera Microphone with Rycote Lyre Shock Mount, Auxiliary, Black
Stereo Mic With Excellent Audio
Sony ECMXYST1M Stereo Microphone (Black)
Highly Affordable
Rode SmartLav+ Lavalier Microphone for Smartphones
Last update on 2023-09-21 / Affiliate links / Images from Amazon Product Advertising API
However, this camera has another issue: it has no shock mount to accommodate on-camera microphones. This means that your options are limited in terms of audio.
This article shows you the practical solutions to this. Here are the 5 best external mics that work well with Sony RX100 VII.
Our top external mics for Sony RX100 VII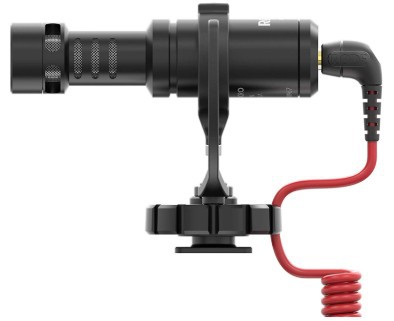 Specifications
Polar pattern: Cardioid
Frequency range: 100Hz – 20kHz
Maximum SPL: 140dB SPL (@ 1kHz, 1% THD into 1KΩ load)
Sensitivity: -33.0dB re 1 Volt/Pascal (22.00mV @ 94 dB SPL) +/- 2 dB @ 1kHz
Equivalent noise level (A-weighted): 20dB-A
Weight: 42gm
Output: minijack/3.5mm output
Dimensions: 21mmH x 21mmW x 80mmD
Weight: 42gm (1.5oz)
Overview
Rode VideoMicro is a popular mic choice among vloggers and other content creators.
It's a shotgun mic with a cardioid pickup pattern. The only possible connection with this mic to your camera is the 3.5mm cable that runs from the mic to the audio input port on the RX100 VII.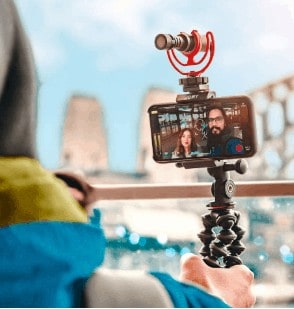 Its outer frame is resistant to corrosion by sunlight, which makes the mic a good choice for outdoor recording.
This mic comes with a shoe mount that you can use to mount it on cameras, but the RX100 VII does not have a shoe mount on top of it.
Hence, you'll need a grip that has a cold shoe mount bracket. This way, you can place the camera as well as the mic conveniently.
Additionally, this mic uses no batteries. All its power comes from your camera. Although it may cause your camera charge to run out faster, it does not consume a lot of power.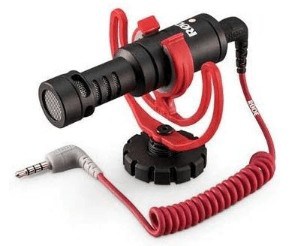 As soon as you connect your camera to the mic with the 3.5mm cable, it begins to work. The mic is not heavy, but the arrangement may turn out to be bulky when added to the camera.
Sound quality
Rode VideoMicro has a frequency response of 100Hz to 20kHz. This means that you won't have the lowest bass sounds from your environment.
If you're recording speech, it's good for eliminating low-frequency background noise. The mic comes with a dead cat windshield in the package.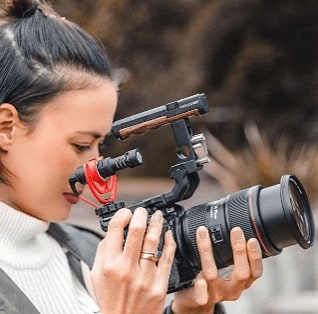 It keeps wind noise from messing up your audio when you're outdoors. To a large extent, the VideoMicro rejects background noise. This is mostly due to its cardioid pickup pattern.
This is a good mic, but it may be too bulky for some uses. Saramonic sr-xm1 is a more compact option.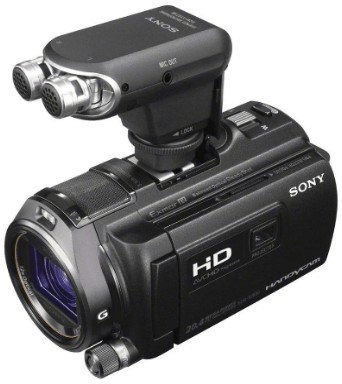 Specifications:
Dimension (Approx.): W 74.2 mm x H 62.3 mm x D 37 mm
Weight (Approx.): 100 g (3.6 oz)
Shoe Type: Multi-interface shoe
Power supply from the main unit: Multi-interface shoe
Power supply: Plugin Power
Type: Electret condensor microphone
Mode; Stereo
Directivity: Uni-directional
Frequency response: 70Hz to 20000Hz
Overview
The Sony ECMXYST1M is a stereo mic that captures sound over a wide soundstage.
It has a 3.5mm port with which it connects to the RX100 VII. The mic also gives you some level of control with the low cut switch.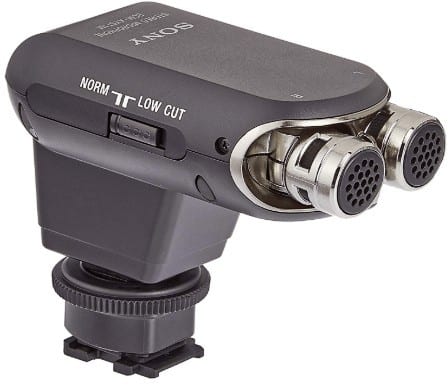 You can eliminate low-frequency rumble by flipping the switch to "low cut". This mic is also good for outdoor recording. The stereo mic mode can give a better ambient sound production.
The camera requires no phantom power. The power needed is supplied through the 3.5mm audio port. In other words, it's your camera that provides the power needed for the mic to work.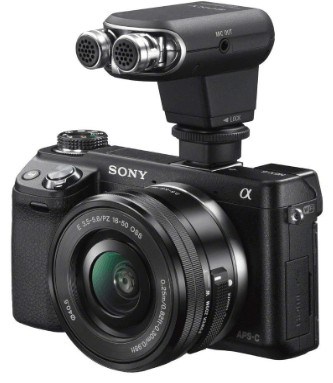 The mic weighs 100grams. While this is quite light on average, it's a bit on the bulky side when you consider the size of the camera. Also, since the camera does not have a shoe mount, the size of the grip used will add to the whole thing.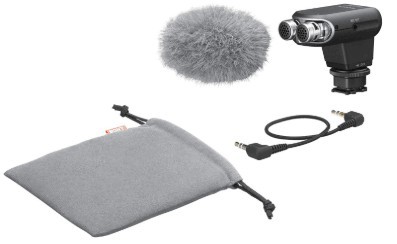 Speaking of grips, the only way to have your mic on the camera if you're using the RX100 VII is by using a grip with a shoe mount. Once you get that sorted, the connection through the 3.5mm port is the easiest thing in the world.
Sound quality
This Sony mic has a reasonably wide frequency range; 70Hz to 20kHz. Added this to the fact that it is a stereo mic, and you have a pretty good field recording device on your hands.
You can expand the soundstage of the recording by tilting the mic heads at a 120-degree angle. This will be effective at recording conversations involving multiple people in a wide space.
On the other hand, this also means more ambient sound and less directionality.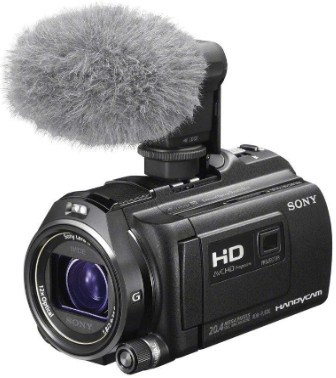 This mic's self-noise is noticeable. You can hear it in some recordings. If you're recording outdoors, don't forget to add the dead cat on top of it. It prevents wind noise from ruining things.
Since this mic uses power from your camera, it may cause your batteries to drain more quickly. Others such as the Rode Videomic Pro use batteries on their own.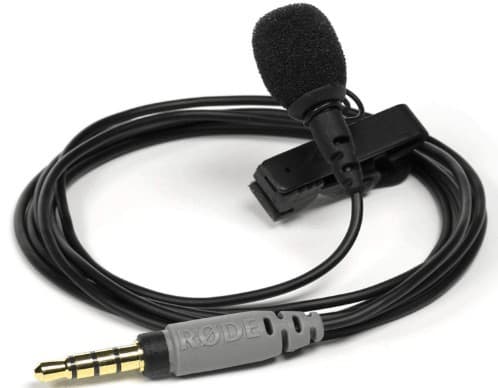 Specifications:
Polar Pattern: Omnidirectional
Frequency range: 60Hz – 18kHz
Output impedance: 3Ω
Maximum SPL: 110dB SPL (@ 1kHz, 1% THD into 1KΩ load)
Maximum output level: 189.0mV
Sensitivity: -35.0dB re 1 Volt/Pascal (17.80mV @ 94 dB SPL) +/- 2 dB @ 1kHz
Equivalent noise level (A-weighted): 27dB-A
Weight: 6.00gm
Dimensions: 1180.00mmH x 4.50mmW x 4.50mmD
Overview
Rode Smartlav+ is an omnidirectional condenser lavalier mic.
As expected it has quite a small frame and as a result, there are no controls on it. If it's well-positioned, it can work well both indoors and outdoors.
To connect this mic to your RX100 VII, you simply need to plug the 3.5mm cable from the mic into the audio port on the camera.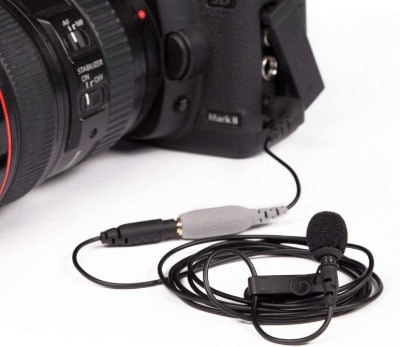 Once connected, the camera begins to record sound from the mic alongside the video.
It's not just sound that passes through the cable to the camera, power also passes through. Smartlav+ does not use batteries, so its power comes from the camera via the 3.5mm cable.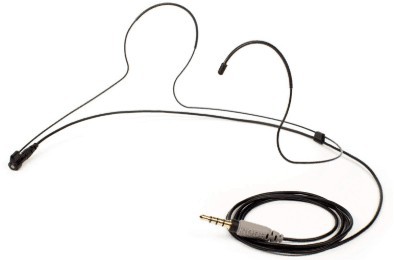 Smartlav+, it's very light; weighing just 4.1 grams.
Sound quality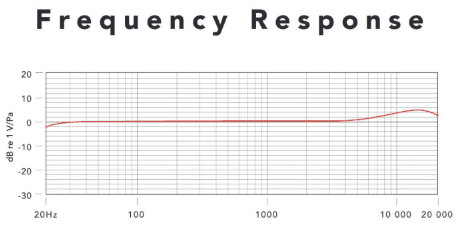 Rode Smartlav+ has a frequency range of 20Hz to 20kHz. This is quite wide and captures every part of a person's voice.
Also, it has an equivalent noise of 27db. While this could have gone lower, it's still not a dealbreaker.
The mic has a relatively flat response, with only a very slight lift in the high frequencies. It's an omnidirectional mic, so it should pick sounds from all angles. However, the negative effects of that can be well reduced with correct placement.
There's a windshield that comes with the mic to prevent wind noise from affecting the speech clarity. Also, bass buildup from the proximity effect is not a problem.

Specifications:
Type: Unidirectional Electret Condenser
Connector: 1/8" (3.5mm)TRS
Frequency Response: 75Hz to 15kHz
Signal/Noise: 58dB SPL
Sensitivity: -38dB +/-, 0dB=1V/Pa 1kHz
Weight: 21g(0.74oz.)
Overview
If you frequently check out camera stuff on Youtube, I bet you've seen a Saramonic mic ad at least once.
The SR-XM1 is a small-size microphone that fits the profile of the RX100 VII perfectly.
It needs no shoe mount to stay on the camera. All you need to do is plug it in through the 3.5mm audio port on the camera and you're good to go.
It's not only mini-sized, but it's also super lightweight. While connected to the camera, its 21grams of weight does not affect your handling.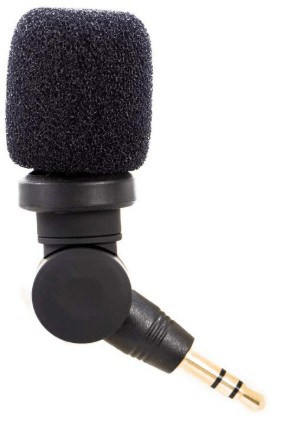 It also has a swivel joint that allows you to direct the mic to where the sound is coming from. This simple feature gives a huge advantage. You can capture sound from a direction that your camera is not facing. This is practically impossible with a lot of high ends on-camera mics
Sound quality
This mic is only good if you're recording speech. The frequency range of 35Hz to 15kHz is wide enough to make speech crisp and clear.

While this mic can work well outdoors, it is more suited to a controlled indoor environment. This is because any loud sound will sound distorted.
The maximum SPL of 74db means that sudden loud sounds in the environment will sound harsh and glitchy.
The SR-XM1 rejects most sounds that are not directed to. This helps it to capture speech well for vloggers.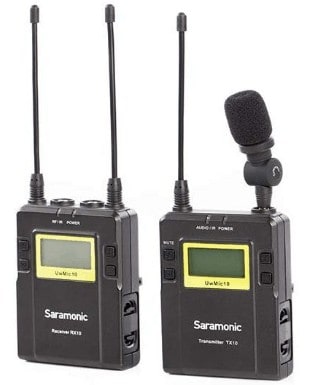 Just get the placement well and you're good to go. However, if the max SPL is too low for your outdoor recording, Rode VideoMicro may serve you better.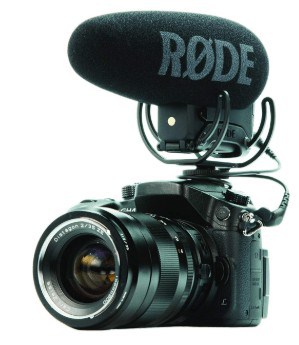 Specifications:
Polar Pattern: Supercardioid
Frequency Range: 20Hz – 20kHz (selected HPF @75Hz/150Hz)
Output Impedance: 200Ω
Maximum Output Level: 7.7dBu (@ 1kHz, 1% THD into 1KΩ load)
Power Options: Inbuilt rechargeable battery, USB bus-powered, AA
Rode Videomic Pro+ is the only mic with a super-cardioid pickup pattern on this list. This condenser shotgun mic will serve you well if you have a wide range of stuff that you record.
The good thing is it has a few controls that help you to tune its performance for the immediate need. It has a high pass filter that cuts out some very low frequencies.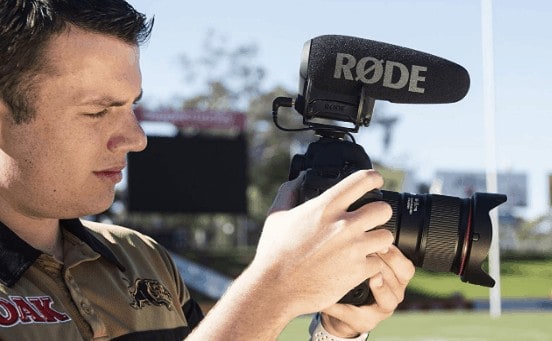 If you're recording speech and you don't really care for the low end, you can engage this high pass filter to eliminate low-frequency noise.
It also has a 20db gain control that can increase or decrease the mic's sensitivity, depending on how loud the sound source is.
To use this mic with the Sony RX100VII, you need a grip with a shock mount. This grip will hold the camera as well as the mic. Of course, this makes the whole package a lot bulkier, considering the mic already weighs 122grams.
Sound quality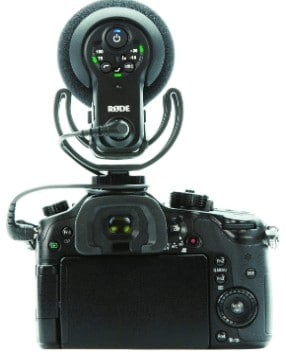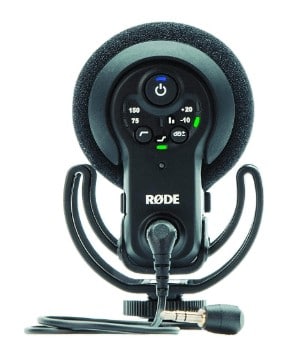 This mic has the qualities of a high-end on-camera mic. A frequency range of 20 Hz to 20kHz and low self-noise combine to give quality sound.
This mic also has excellent rejection of unwanted sound. However, this means that you must get your angles right so that you won't be recording off-axis sound.
It also comes with a windshield which makes it easier to record clear sound outdoors. The only issue a lot of RX100VII users may have here is the size of this mic. Videomic Pro+ is a smaller option that delivers high-quality sound.
Read our other popular posts:
Conclusion
Now, you can use the RX100VII without worrying about your sound quality. If you can get a grip, there are good options for you.
If you don't want the extra weight, there are equally good options here. Just pick one that suits your needs better and enjoy your video making.