Today in this post, I am going to review the best mics for Nikon D5300 with excellent audio quality.
Nikon D5300 is one of the most popular cameras out there. However, its internal microphone performance leaves much to be desired.
Excellent Noise Rejection
Rode VideoMic Pro+ Camera-Mount Shotgun Microphone,Black
Best Value for Money
RØDE Auxiliary VideoMic GO Lightweight On-camera Shotgun Microphone for Filmmaking, Content Creation and Location Recording
Best Mic for Outdoor Recording
Shure VP83F LensHopper Camera-Mounted Condenser Shotgun Microphone with Integrated Digital Flash Recording - Windscreen, Superior RF Immunity, Backlit LCD, 5-Position Joystick, Rycote Lyre Shock Mount
Best Value for Money
RØDE Auxiliary VideoMic GO Lightweight On-camera Shotgun Microphone for Filmmaking, Content Creation and Location Recording
Last update on 2023-12-08 / Affiliate links / Images from Amazon Product Advertising API
The built-in camera can sound good in some instances e.g. indoors when the environment is quiet. Even when you have that, a slight hand movement can cause the mic to capture vibrations.
What is the solution?
The solution is to use external mics. Now, which external mics are good for the D5300? This article explores the viable options and helps you make a good choice.
#
Product
Type and polar pattern
Frequency response
Battery requirements
Amazon product page
1
Rode VideoMic Pro+ –

Videographer's favorite choice

Shotgun condenser mic
Super-cardioid
20Hz to 20kHz
2 x AA batteries

Check price

2
Shure VP83F –

Best for outdoors

Condenser mic
Super-cardioid
50Hz to 20 kHz
1 AA battery

Check price

3
Rode VideoMic GO –

Best value

Directional mic
Supercardioid
100Hz to 16000Hz
Battery not needed

Check price

4
Comica CVM-V30 LITE –

Excellent off-axis rejection

Shotgun condenser mic
Super-cardioid
40Hz to 20000Hz
Powered by camera

Check price

5
Movo VXR10 –

Super compatible

Shotgun mic
cardioid
35Hz to 18kHz
Battery not needed

Check price
Our top external mics for Nikon D5300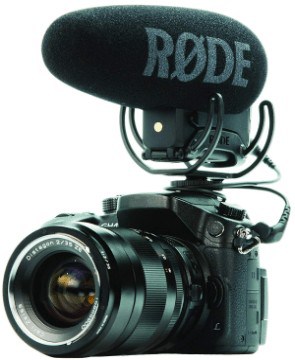 Rode Videomic Pro+ is a condenser on-camera shotgun mic. This mic is one of your best options for vlogging or YouTubing. Although it's a little large compared to others on this list, it gives you more options.
At the rear of the microphone are the controls. The low cut switch allows you to remove some very low frequencies from the sound being captured. Low-frequency background noise can be a real pain while recording.
This is because positioning the mic can prevent high-frequency ambient noise, but the low-frequency ones will get captured anyway. A low cut filter completely removes those low-frequency ambient sounds from your recording.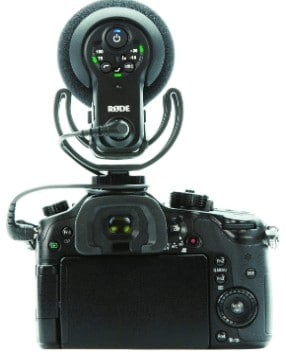 Another control found at the mic's rear is the gain control switch. You can use this to select recording levels. It gives you a boost or pad of up to 20db. This allows you to adjust the gain depending on the loudness of the sound source.
The shock mount on the Videomic Pro+ will slide into the Nikon D5300's shoe mount. If the mic is properly placed, movement and vibrations will not disturb your recording.
The connection of the mic to the D5300 is via the 3.5mm audio input. Videomic Pro+ comes with the 3.5mm audio cable needed for this.
Sound quality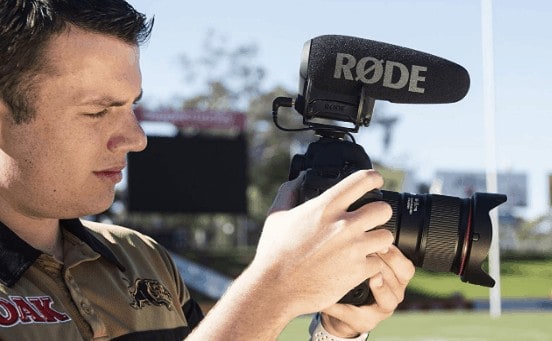 In general, this mic has top quality sound, especially if you're recording conversations with it. The frequency response of 20Hz to 20kHz captures pretty much everything you can hear with your natural ears.
However, once you engage the low cut switch, it does not capture the very low frequencies. Additionally, Videomic Pro has low self-noise. You would appreciate this more when recording at high gain.
Being a super-cardioid mic, it picks up only sound that is directly in front of it. Its pickup area is even narrower than the cardioid. The only ambient sounds that can rove stubborn are the ones in low frequency. You can fix this by engaging the low cut filter.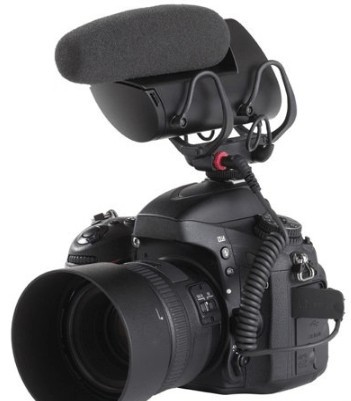 Shure VP83F LensHopper is quite similar to Videomic Pro in design. You can be sure that your recording will be free of vibrations that result from moving the camera around.
The Rycote Lyre shock mount on the LensHopper makes sure of this. This shock mount not only helps you to place the mic on the camera, but it also holds the mic firmly so that your recording is not disturbed by your movement.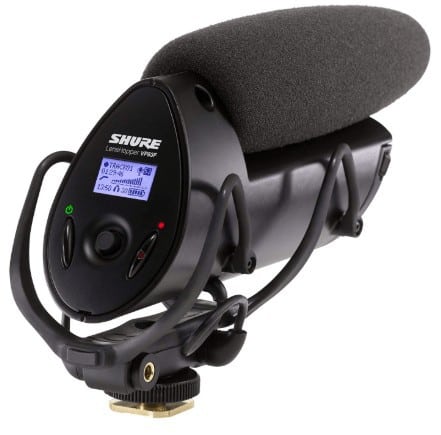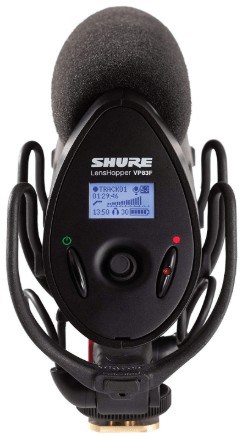 To hook up the VP83F to your camera, all you need to do is use the mic's shock mount and connect it to the D5300's shoe mount. For the audio connection, use the 3.5mm cable that has been provided.
VP83F has a nice LED screen at the rear with which you can see your options as you navigate the controls. This is the major difference between the mic.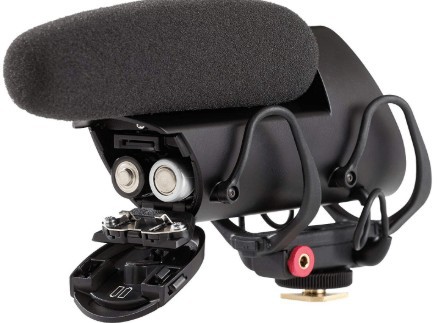 You have a wide range of options with this mic. Aside from the on/off switch, you can apply low cut filters, 20db boost, 10db pad. This makes the mic useful both outdoors and indoors.
Sound quality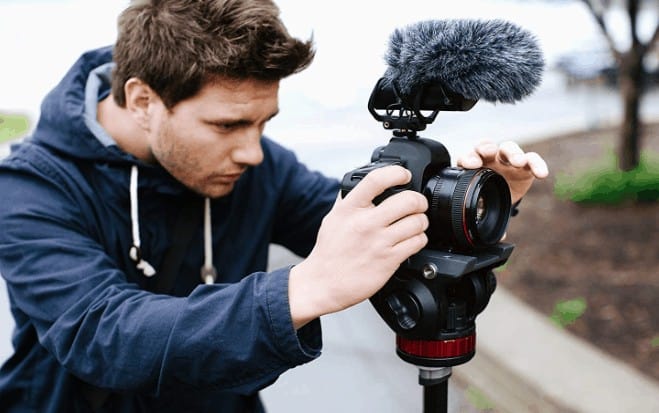 VP83's frequency response range is 50 Hz to 20 kHz. This range is good enough for recording purposes.
Of course, some other mics reach lower frequencies, but 50 Hz for a lower frequency boundary helps you to eliminate any possibility of having background noise lower than that.
If speech is your focus while recording video, you really do not need anything lower than 50Hz. It's also a super-cardioid mic, which means it mostly captures the sound right in front of it, so it gives you less noise to worry about.
Even without the low cut, the VP83F has a frequency range of 50Hz to 20kHz. If you're trying to capture a conversation, this range is good enough. You may still apply the low cut as needed.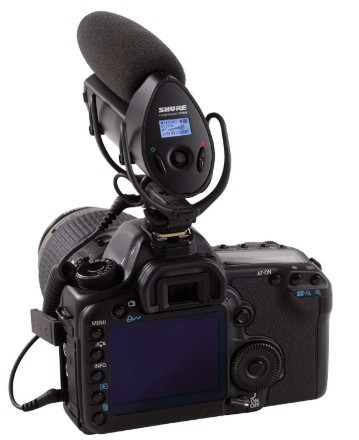 The LensHopper also has a very good rejection of unwanted sound. All you need to do is direct the mic to where the subject is.
This is another similarity that this mic has with Videomic Pro+ is a super-cardioid pickup pattern. This pattern generally has the best off-axis rejection of all.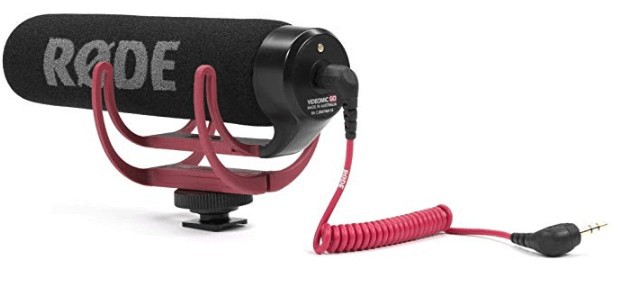 This is the most compact of all the mics on this list. If you want the minimal extra load on your camera, Videomic GO is the go-to mic for you.
It weighs just 73 ounces. Even with the size, holding it stable is not a problem. The integrated Lyre shock mount holds the mic in place while you're moving the D5300 around.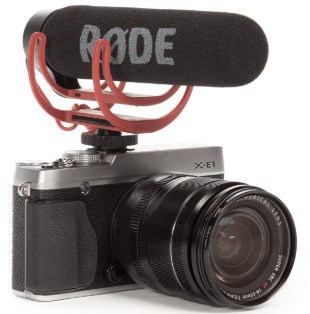 Videomic Go has no built-in controls on it. There are no buttons or knobs to adjust the mic settings. This is expected considering the mic's size.
While the integrated Lyre shock mount helps the mic to sit comfortably on the D5300, the 3.5m cable enables it to connect to the camera and record audio. Simply plug the Rode Videomic GO to your D5300 via the 3.5mm port and you're good to go.
This mic draws the power it needs from your camera via the 3.5mm audio port. It shouldn't drain your batteries too soon though; it doesn't consume so much power.
Sound quality
Rode Videomic GO has a frequency range of 100Hz to 16000Hz. Remember that there's no filter or any other forms of control, so what you see is what you get.
If you're recording speech mainly, the range can work well for you, although it's usually best if it can start from 80Hz.
Also, this mic can record some loud sources, at least up to 120db. This means you can record a band playing at a concert or rehearsals without having distortions.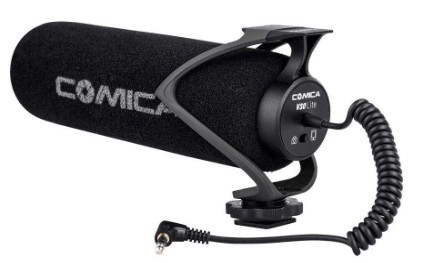 Comica CVM-V30 Lite has a plastic frame, but it still manages to feel solid. It's also quite light, so if you need a mic that you can carry around easily with your D5300, you should consider CVM-V30. Of course, it's not as light as Rode Videomic GO but it's still pretty mobile.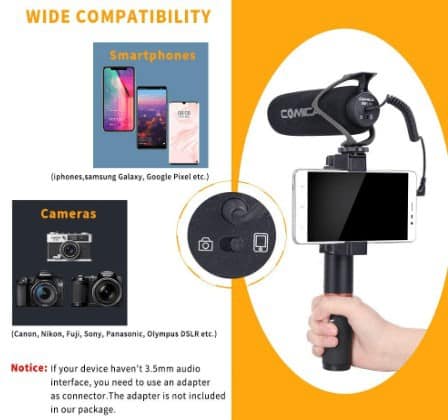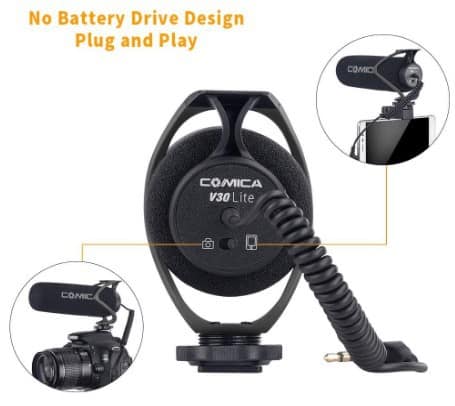 It's not surprising that it's usually advertised for use with smartphones. It doesn't need any batteries to work. It gets power from your camera. Don't worry it won't drain your camera battery in minutes. It's a low power mic.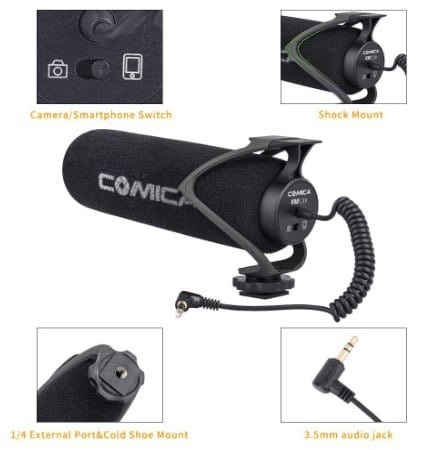 The shock mount that comes with the CVM-V30 is efficient. It allows reasonable movement without ruining your recording. This shock mount is what you'll use in placing the mic on your Nikon D5300.
For connection, use the supplied 3.5mm cable. You don't need any extra settings. Once you connect the mic and camera, it starts working.
Sound quality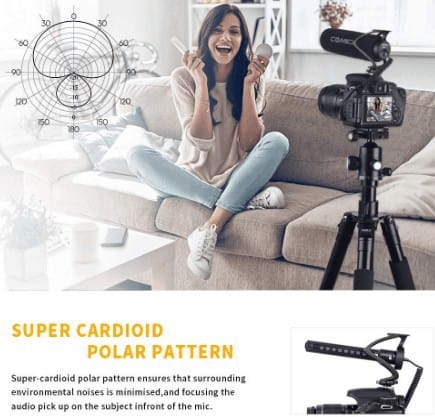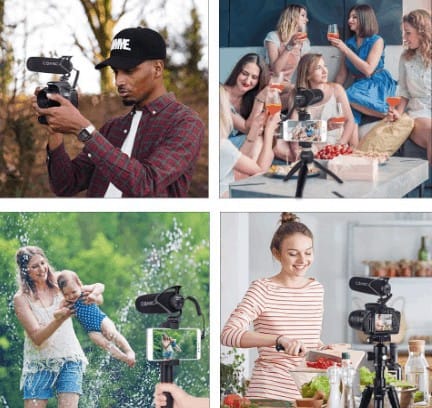 In terms of sound quality, this mic holds its own among other on-camera mics. Its 40Hz to 20000Hz frequency range enables you to record speech or activities while capturing all the useful frequencies.
You can also record some moderately loud sources. This Comica mic is right at home filming a concert.
Also, its rejection of the axis sound is top-notch. Just make sure you position the mic correctly and you'll hear the subjects' voices clear, while other unwanted sounds are minimized.
MovoVXR10 gives you a super convenient option in using external audio for your D5300.
If you need a no-hassle mic that you just need to plug in and start working, this is the mic for you.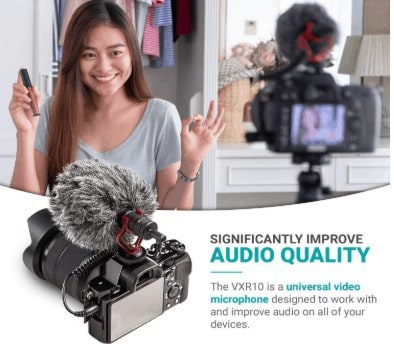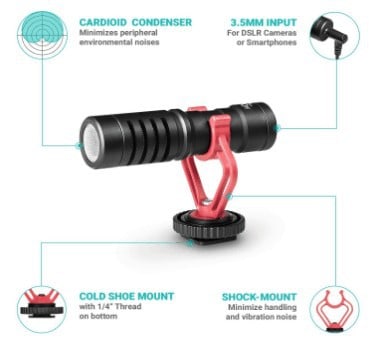 It's a shotgun condenser microphone that is light enough to be used with a phone; so you can imagine that using it with a D5300 will be a real breeze.
The mic's shoe mount enables you to position it on the D5300's hot shoe. To connect for audio, use a 3,5mm cable that runs from the mic to the corresponding port on the camera.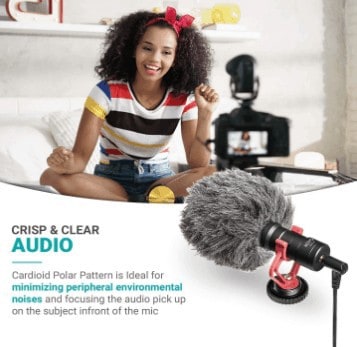 It comes with a windshield to reduce wind noise during outdoor recording. The windshield does its job to some extent, but it could be better altogether. On windy days, you can still hear the gusts in recordings.
Sound quality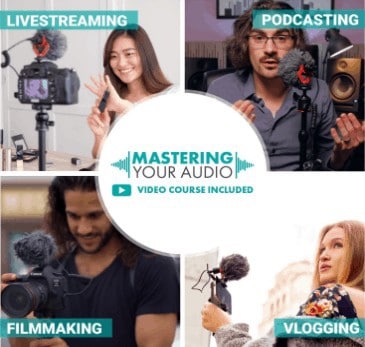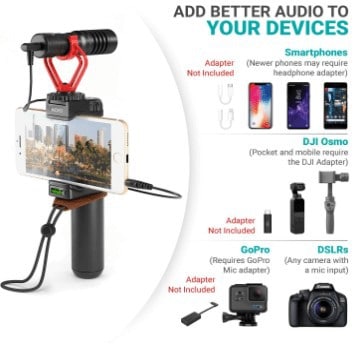 This mic is quite sensitive and picks sound really well, especially when it is directed at the sound.
This Movo mic has a cardioid polar pattern that helps it to capture sounds in front of it while rejecting others. It does this quite well, though not as perfect as Videomic Pro and VP83F.
Its frequency range of 35Hz to 18kHz pretty much picks up most things you would want to capture. However, beware of low-frequency rumble.
Since the mic doesn't have a low cut filter, you may have to do that in post. If you have a lot of trouble with low-end background noise go for mics with low cut filters like VP83F.
Read our other popular posts:
Conclusion
If you wish to improve the audio of your recording with your D5300, I believe you now know the best mic to use with Nikon D5300.
One more thing, when these mics are connected, the audio from the mic automatically replaces the audio recorded by the camera's built-in camera. So, you really don't need any post-editing to align the audio and video.