Today in this post, I am going to review the best mics for Sony a7iii with excellent sound quality.
Sony a7iii is a popular mirrorless camera that gives crisp, clear images. Like most cameras, the internal microphone of Sony a7iii does not give the quality we need for audio.
My Favorite Mic for Sony a7iii
Rode VideoMic Pro+ Compact Directional On-Camera Shotgun Condenser Microphone
Best Value For Money
Rode VideoMicro Compact On-Camera Microphone with Rycote Lyre Shock Mount
Long Battery Life [Good For Outdoors]
Rode RodeLink FM Digital Wireless Filmmaker System
Last update on 2020-09-30 / Affiliate links / Updated prices and images from Amazon Product Advertising API
So, we need to go with external mics.
Generally, it's pretty easy to connect an external mic to the a7iii because of its audio ports.
However, there are more options you have, because of the multi shoe mount. This article explores 5 of the best external mic options you can use while recording with the Sony a7iii.
#
Product
Connectivity options
Battery
Amazon product page

1
Rode VideoMicro –

Best for outdoor recording

Shoe mount with 3.5mm jack

Not needed

Check price

2
Excellent noise rejection
Shoe mount with 3.5mm jack

9-volt AA batteries

3
Rode RodeLink FM
wireless Kit – Excellent battery life

Receiver to the shoe mount

2 x AA batteries

Check price

4

Have great audio with two mics

XLR input ports of the mic and adapter

Not needed

Check price

5

Best wireless mic with excellent Compatability

Fix receiver to the shoe mount

Transmitter – 1 AAA battery

Check price
Our best mics for Sony a7iii with excellent audio
Specifications:
Polar pattern: Cardioid
Frequency range: 100Hz – 20kHz
Maximum SPL: 140dB SPL (@ 1kHz, 1% THD into 1KΩ load)
Sensitivity: -33.0dB re 1 Volt/Pascal (22.00mV @ 94 dB SPL) +/- 2 dB @ 1kHz
Equivalent noise level (A-weighted): 20dB-A
Weight: 42gm
Output: minijack/3.5mm output
Dimensions: 21mmH x 21mmW x 80mmD
Weight: 42gm (1.5oz)
Overview
Rode VideoMicro is the go-to shotgun mic for videographers who want pro-level sound with compact equipment. The VideoMicro has a suspension shock mount system that prevents vibration and camera movement from causing the disturbance.
The placement and connection is also quite easy; simply place the mic on the camera using the shoe mount on the a7iii and connect via the 3.5mm audio port provided.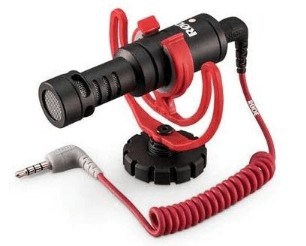 With VideoMicro, you need no extra effort to start capturing your sound. This mic does not need phantom power to work, all the power it needs can be supplied through the 3.5mm cable. It also won't place too much pressure on your camera's battery.
This is one the best Rode shotgun mics that most of the professional videographers use to record high-quality audio with DSLR. If you often use your iPhones for video recording, then check out my post on the best lav mics for iPhone.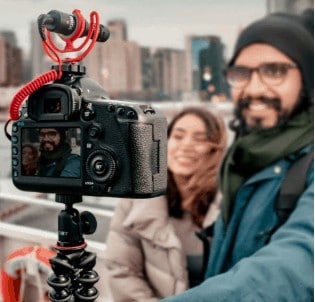 Rode VideoMicro is good for outdoor use, and it has no risk of corrosion or rust due to sunlight or moisture. For wind noise, it comes with a deadcat windshield that helps you to protect against wind gusts.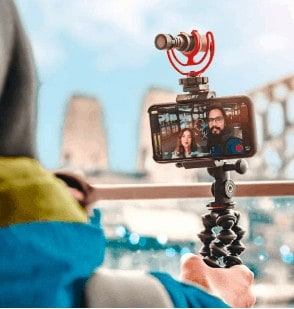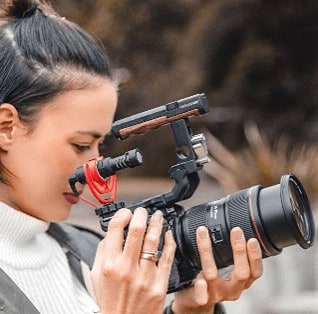 Sound quality
Although you can use the VideoMicro in various situations, it is more suited for speech recording. Its frequency range is 100Hz to 20000Hz. This response range covers all you need to capture human voices clearly.
This mic is also quite efficient at rejecting background noise.
It has a cardioid polar pattern that basically ignores anything that's not directly in front of it. This may not be a good choice if you need ambient sound, but it's super effective if you're recording speech.

If you need some ambient sound, you can go for the Sony XLR-K2M Adaptor Kit with Microphone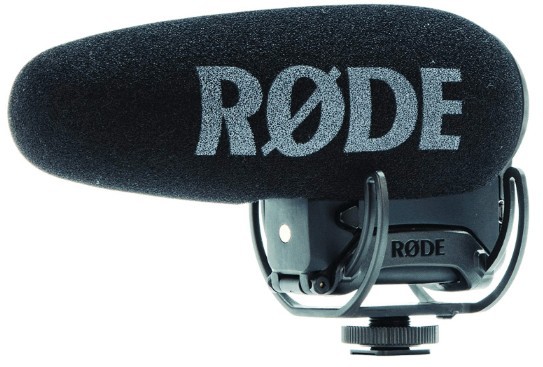 Specifications
Polar Pattern: Supercardioid
Frequency Range: 20Hz – 20kHz (selected HPF @75Hz/150Hz)
Output Impedance: 200Ω
Maximum Output Level: 7.7dBu (@ 1kHz, 1% THD into 1KΩ load)
Power Options: Inbuilt rechargeable battery, USB bus-powered, AA
Controls available: High pass filter, gain knob
Overview
Rode VideoMic Pro+ is bigger and heavier than VideoMicro, but it is also more versatile. This condenser shotgun mic gives you high-quality audio recording with a few hands-on control options.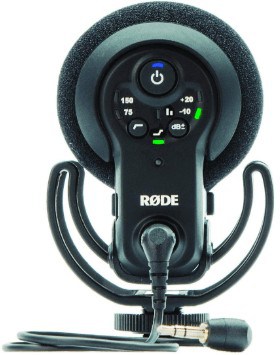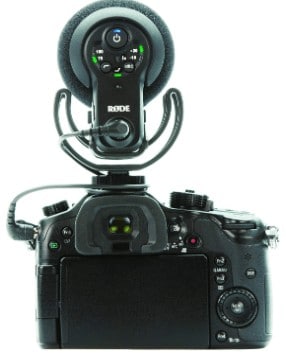 Some of these controls include the high pass filter. This helps you to eliminate some very low frequencies from your recording. This is an effective way of reducing background noise.
By engaging the high pass filter, you are essentially removing any unwanted sounds below the stated frequency. If you're recording speech, this will not affect the quality because human voices generally do not get that low.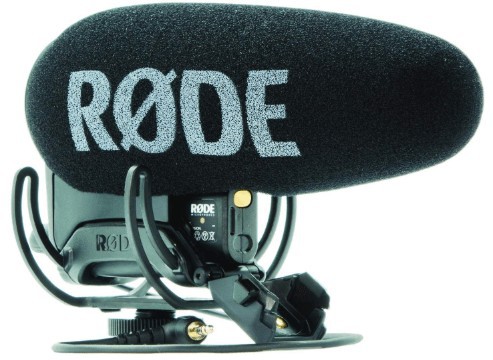 It also has a gain control that you can use to control the level of sound captured by the mic. The mic does this by adjusting its sensitivity. This means that higher gain results in higher background noise too.
How to connect Rode VideoMic Pro+ to a7iii?
For connecting Rode VideoMic Pro+ to the a7iii, simply fix the mic on to the camera's shock mount and connect via the 3.5mm port. The power needed is provided by 9-volt AA batteries. This means no extra load on your camera batteries.
You may consider adding a grip to this because the VideoMic Pro+ will make your setup a little bulky. A grip or tripod will help keep the balance.
Sound quality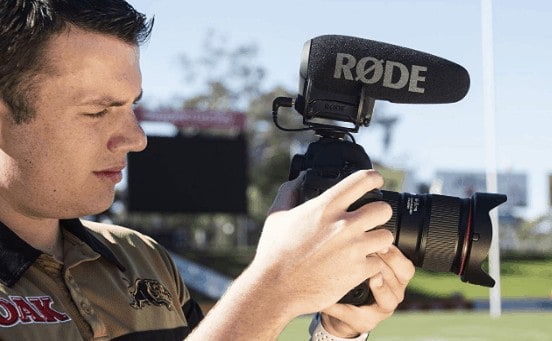 This mic has low self-noise. This means that you can record at the higher gain and have minimal or zero hiss coming from the mic itself.
It also has a frequency range of 20Hz to 20kHz. This range will pretty much record anything provided you have not engaged the high pass filter. If the high pass filter is engaged, the range reduces.
This mic only captures what's right in front of it. It even does this better than the VideoMicro. Its supercardioid pickup pattern makes it harder for off-axis sound to find its way in.
This is good for outdoor shooting if you're recording speech. It will, however, be ineffective for any sort of field recording.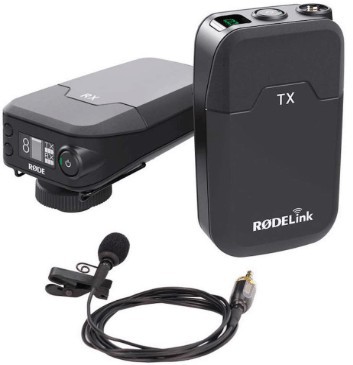 Specifications:
Polar pattern: Omni-directional
Output impedance: 3k Ω Typical
Frequency range: 20Hz – 20kHz
Maximum SPL: 110 dB SPL (@ 1kHz, 1% THD into 1Ω load)
Sensitivity: -33.5db re 1 Volt/Pascal (21.00mV @ 94 dB SPL) +/- 2dB @ 1kHz
Signal to noise ratio: 67 dB
Equivalent noise (A-weighted): 27 dB Typical
Dynamic range: 83 dB Typical
Overview
This mic comes with three parts; the lavalier mic, a transmitter, and a receiver.
While this may sound like a lot to deal with, it actually offers more ease after you set it up.
One of the major advantages of a wireless lav mic is that you can take long shots of yourself while recording clear audio of your speech.
With the a7iii on a tripod, you can walk away from the camera for up to 100 meters. The prospects sound juicy, but the RodeLink is not without its flaws too.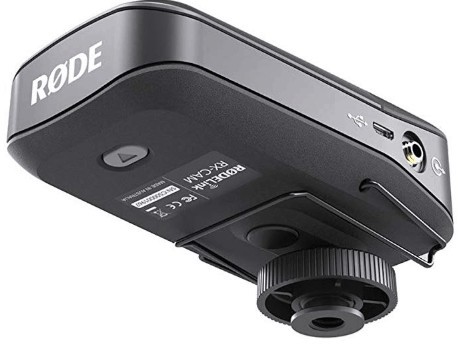 Using this mic, you should be extra careful. The build does not feel very solid. Also, after fixing the receiver to the shoe mount, you should move the camera carefully. The receiver tends to rotate at times.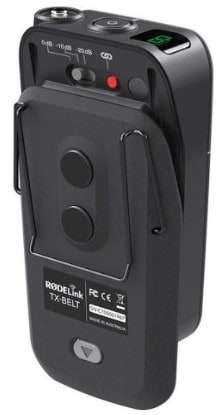 The transmitter and receiver have long battery life and can be powered via AA batteries. You'll need two for each of them.
Sound quality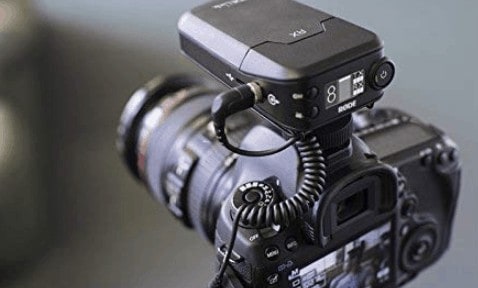 This system records audio at 24bit 44.1kHz quality. All things considered, this gives high-quality sound for video recording.
Also, the mic sound is optimized for clear speech. This is expected since it's a lav mic. However, even though the speech is clear it lacks some low mid warmth. It's a small price to pay for the clarity you get.
This is one of my favorite lav mics I use with DSLR cameras.
Specifications
Input connections: 2 x XLR 3-pin
Output connection: Multi-Interface Shoe
XLR adapter: PC / PC + ABS / Fe
Operating temperature: 32 to 104°F / (0 to 40°C)
Storage temperature: -4 to 140°F / -20 to 60°C
Dimensions: Microphone (Diam. x L): 0.83 x 6.38″ / 21 x 162 mm (excluding windscreen and cord)
Weight [microphone]: 4.3 oz / 121.5 g
The Sony XLR-K2M adapter kit with microphone is possibly the most versatile option on this list.
Taking a first look at it, you may be wondering why all the knobs on one mic. It also looks a bit bulky.
However, it's an external mic arrangement that can make your recording even better.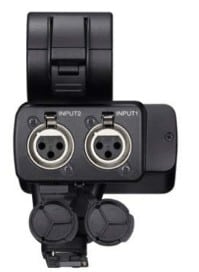 The two XLR input ports of the mic are the point where your mic will be plugged in. The mic that comes with the adapter and is also of standard quality.
This adapter connects to your a7iii via the multi shoe mount. The multi shoe mount serves as the placement port and the audio connection port at the same time. You can connect up to two mics to this mic adapter.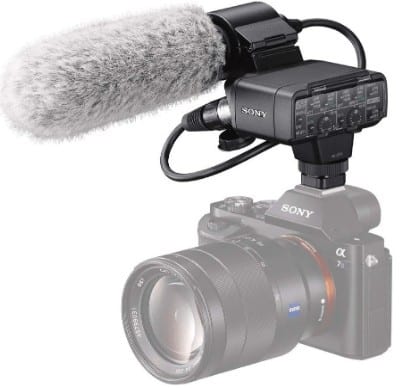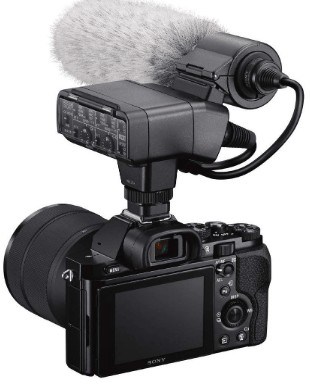 The mic added is a good shotgun mic that captures and records clean and crisp speech.
It doesn't record a lot of bass frequencies because it doesn't have a wide enough range to do that. This will help your recordings to be clearer. Your audio will be free of low-frequency noise.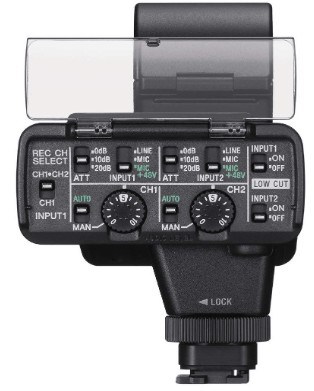 Wind noise can be a slight issue here, especially when you're recording outdoors. Even with the windshield that comes with the mic, the wind sound can be heard in some recordings.
Also, if your mic requires phantom power, you can use it with this adapter. The adapter can power it quite well, although you'll need to charge your camera more often.
If you need more than one mic to have quality audio, you should consider this option.
This mic doesn't need any batteries. It takes power from the camera itself.
Specifications:
Compatibility [Receiver]: Sony cameras and camcorders with a multi-interface shoe
Capsule: Monaural electret condenser
Pick-up Pattern: Non-directional
Frequency response: 300 Hz to 9 kHz
Wireless interface: Bluetooth – interoperability with other Bluetooth products is not guaranteed
Wireless range: Up to 100′ / 30 m – depends on conditions
Weight: Transmitter: 0.7 oz / 19 g, receiver: 0.6 oz / 17 g
Overview
Most wireless lav mics are compact, but the remaining parts of the set up really aren't. To set them up you would usually need a transmitter and receiver.
The Sony ECM W1M Wireless Microphone has proved that you can have a wireless lav mic with the whole package as small as ever.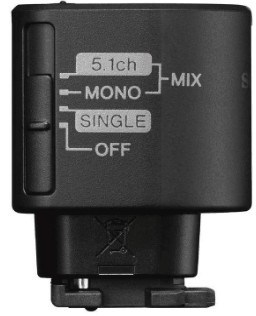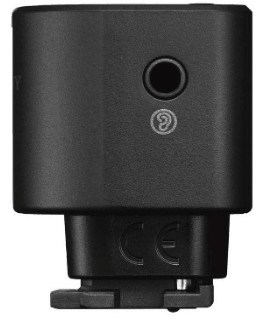 The package consists of the lav mic and a receiver that is smaller than the mic itself. The mic connects to the receiver via Bluetooth.
The receiver's connection to the camera is made possible by the multi shoe mount. When it is properly placed, the multi shoe mount does both the job of holding the receiver and transmitting the audio signal to the camera. No extra mic cable is needed.
Sound quality
Concrete figures were not given by Sony on the sound capabilities of this mic. However, from use, it is obvious that the mic is designed for speech.
Well, what else would you use a lav mic to record?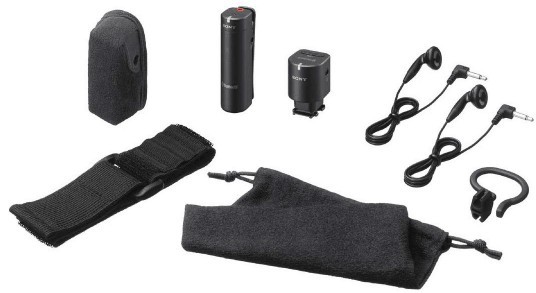 If the subject is too close to the camera (less than one meter), there can be some interference thereby causing unpleasant sound.
So, it is best to stay at least 1m away from the camera while recording. The Bluetooth connection is solid for up to 100m.
Read our other popular posts:
Conclusion
I hope this list of the best mics for Sony a7iii has certainly helped you in finding the best one as per your needs.
Sony a7iii gives a wide range of options in terms of mic connections and allows a lot of different sorts of mics to use.
By now, I bet you're now more aware of the options you have when shopping for mics to work with your a7iii. Keep making great memories!
Hi, I'm Jennifer I'm a passionate singer and an audiophile from Detroit, MI. 
I'm on a mission to help music creators to create fine music that help them position uniquely in the saturated music space.
Follow my blog for regular content :-)