Today in this post I am going to review the best shotgun mics under $100 for DSLR.
Our Best Pick
Rode VideoMic Pro+ Camera-Mount Shotgun Microphone
Best Value for Money
RØDE Auxiliary VideoMic GO Lightweight On-camera Shotgun Microphone for Filmmaking, Content Creation and Location Recording
Last update on 2023-09-21 / Affiliate links / Images from Amazon Product Advertising API
Now that we all know that DSLR in-built mics suck, and external mics it's the way to go, let's find out the real differences between what it's offered.
Maybe you don't know what shotgun mic is best for your DSLR video needs, do you? Here we will show you the features, benefits, and downsides of the top five ones. Stick around!
| | | | | |
| --- | --- | --- | --- | --- |
| | | | | |
| | | | Inbuilt rechargeable battery, USB bus-powered, AA | |
| | | | | |
| | | | 1.5V AA battery, 1 AA batteries required. | |
| | | | | |
| | | | | |
Are you an amateur or hobbyist? We can help you choose your first shotgun mic that will significantly improve the audio quality of your DSLR Videos.
Or, If you are a video pro looking for alternatives for a shotgun mic that you already have, then you want to know what each model can offer you, and for what is best for, right?
We understand that not everybody can afford expensive technology.
So in this article, we will cover the best alternatives under $100 to help you decide the shotgun mic that is right for you within this particular budget zone.
Top 5 DSLR shotgun mics under $100 reviewed
Specifications:
Polar Pattern: Supercardioid
Frequency Range: 20Hz – 20kHz (selected HPF @75Hz/150Hz)
Output Impedance: 200Ω
Maximum Output Level: 7.7dBu (@ 1kHz, 1% THD into 1KΩ load)
Power Options: Inbuilt rechargeable battery, USB bus-powered, AA
This nice microphone has a great overall performance considering the accessible price for most of us.
Your DSLR audio recording quality with this mic will improve considerably because of its ability to capture with greater focus only the desired sounds in your recording.
Sound quality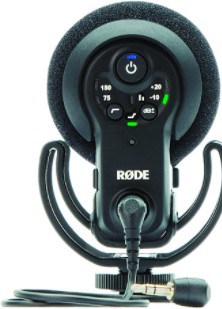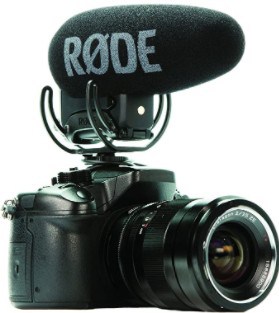 The VideoMicro incorporates a high-quality condenser microphone capsule for great quality audio recordings, this will allow you to capture with greater clarity and purity your audio source.
It reduces distracting peripheral sounds and captures the audio in front of the mic with more focus.
It eliminates unwanted noise around you that may interfere with the cleanness of your DSLR recording right from the start. Recording your own voice in front of the VideoMicro can be a good example of this.
This will allow the frequencies not to be all mixed up with unwanted background sounds (inharmonic frequencies mostly) in your recordings.
This is great because your audio source will sound more natural, clean and clear.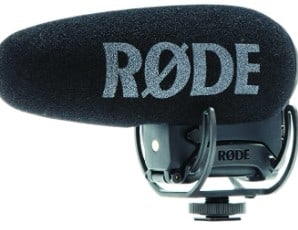 You really want a frequency spectrum that is clean and clear right from the start, because it will save you time and efforts trying to improve the audio quality in post production stages.
In some situations, it may be preferred to use a boom pole with Zoom recorders to achieve the best results, just know that these are of course not included in the box.
What it does include in the box is the WS9 synthetic wind screen with foam inner cell if you must record outdoors.
However, know that the most natural sound out of this mic can be obtained when recording in an indoor environment.
For those guys recording a lot of interviews or tutorial videos, This is a great DSLR shotgun mic for you.
Features
The mic is powered by camera plug-in power (min 3V), so this avoids the fact of needing batteries, being more cost effective, easier and more eco-friendly.
It's compact size and lightweight (only 80mm (3') long and 42gm (1.5oz)) make it really easy to maneuver and work within any conditions.
It comes with a shoe mount featuring a Rycote Lyre shock-mount that features a suspension structure composed of rugged thermoplastic.
This is good because it is more effective to minimize unwanted vibrations compared to traditional elastic suspensions.
Specifications:
Polar Pattern: Supercardioid
Address Type: End
Frequency Range: 100Hz – 16kHz
Maximum SPL: 120dBSPL
Weight: 73.00g
Dimensions: 79.00mmH x 73.00mmW x 167.00mmD
Output: 3.5mm / Minijack
This other shotgun microphone by Rode is a little higher in price compared to the last mic we just reviewed. (Rode VideoMicro).
Sound quality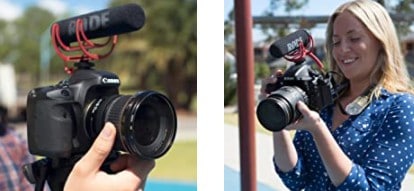 The sound quality is very acceptable, being the fact that is almost in the limit of our $100 budget range.
True fact is, we don't necessarily find an impressive improvement in sound quality compared to other mics of the same kind and of lesser value in the market.
It captures the audio source in a clear way, and that is what we all want in the first place, right?
Just like the VideoMicro comes with an integrated Rycote Lyre shock-mount to isolate the microphone from bumps that could ruin your takes or interfere with the precious sound of your takes.
Features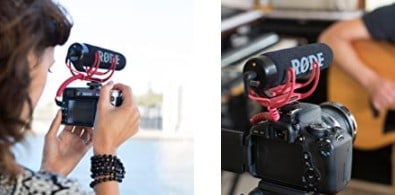 No need for batteries, so something less to worry about, and very convenient in terms of the power source.
The windshield is included and an integrated cold-shoe mount with 3/8" thread, so you don't need to buy extra accessories for it unless you really want to.

It's constructed from a single piece of hard-wearing thermoplastic to make this mic very resistant (rugged reinforced ABS construction) and lightweight (only 73g). We all love compact designs that are light and strong!
Note
Something you must know! – there is an issue with an interference problem that has to do with the mic picking up Wi-Fi and Bluetooth signals from nearby devices.

Yes, this can be a problem that you don't want to deal with right from the beginning…

As VideoMic Go users, we may find different ways to fix or minimize this issue, but if you are thinking of buying a mic, this is something to keep in mind.

We already have enough gear we have to troubleshoot right? Yes, we do.
Specifications:
Sensitivity: -32dB±3dB(0dB=1V/Pa at 1KHz)
Sensitivity Tone Up: +10dB
Bass Filter: 60Hz 10dB/octave
Output Impedance: 2000Ω±30%
Power Requirement: 1.5V AA battery
Net Weight: 160g
This mic was released in 2012 by Takstar, after these years it's still a good shotgun mic option.
Good choice for those DSLR users who want to spend little money and yet step out of the "crappy sound quality zone" of internal mics.
Sound quality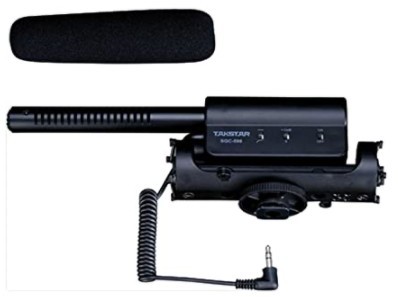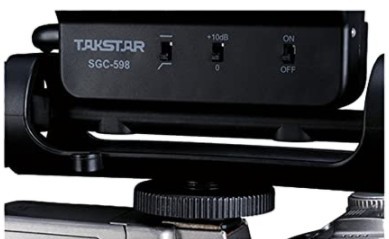 The sound quality is very respectable, using a high-sensitivity condenser, for sure the TAKSTAR SGC-598 enhances the audio clarity of the recording.
With its Heart-shaped single-point pickup features, it can effectively reduce the noise of the surrounding environment to be picked up.
Since all of us are planning on using it with a DSLR, be informed that you will need to go into your audio settings and turn down the on-board audio amplifier.
Seems they don't play well with external microphones and tend to amplify ambient sounds.
If you set that to about 20-35% it will get rid of any hissing sounds. (also turn on the +10dB switch). This will make the surrounding noise be less present in your recording.
The best uses we see for this mic are occasions like interviews, video-tutorials, fitness lessons, online classes and other recordings where there is a relatively good amount of "control" over the ambience and surroundings.
Features
To reduce the mechanical noise of the camera and other vibration noise it was made with a shock-resistant structural design.
You'll need this in case you accidentally touch or move something that can result in an unwanted noise or sound captured by the mic. Yes, I know we are all very careful, right? But the truth is that this happens to all of us quite often.
One of the downsides is that it requires one AA battery to function, this is not a major thing, but when it comes to keeping things simple and convenient, it may be something you want to avoid.
Specifications:
Polar Pattern: Cardioid
Frequency Response: 35 Hz to 18 kHz, +/-3dB
Sensitivity: -42dB +/- 1dB/0dB=1V/Pa, 1kHz
Signal to Noise Ratio: 76dB
Power Requirements: No Battery Required
Dimensions (LxD): 0.86 x 3.2" (2.2 x 8.1cm)
Weight: 3 oz (86g)
This mic can be very versatile if you want to have an external mic that can do almost anything for a very low price.
You can get this one for a very reasonable price online and you can even find it in different colors in case you are among those who like your artefacts to look special and fun.
Why not have a mic that looks great and special right!?
Sound quality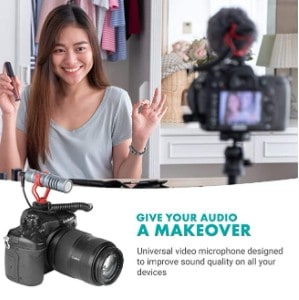 This one is a universal video microphone designed to significantly improve DSLR audio quality recordings compared to built-in mics, Yes!, the difference is evident!
The Movo VXR10 can work great if you are shooting DSLR fitness videos for your Instagram or Youtube accounts, or maybe you are a musician who likes to show to the world your new songs or jams without sounding bad because of the internal mic's audio quality.
Features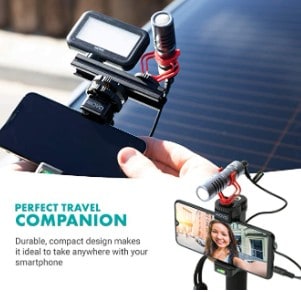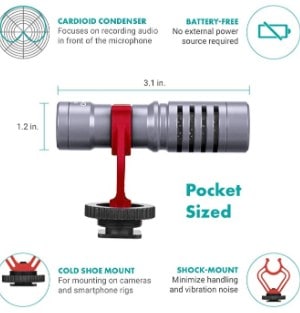 It's constructed entirely from aluminum and has a very lightweight design (1.8 oz).
With a cardioid polar pattern and a frequency response of 35Hz to 18kHz, =/-3dB, this mic will allow you to get the job done in a really efficient and convenient way.
The compatibility of this mic is really a plus and something to consider when deciding on what mic you will spend your money.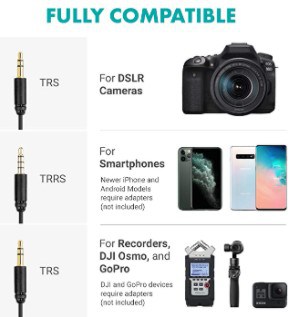 You can use it with DSLR Cameras, Camcorder, Audio Recorder, Smartphones, Tablets or Laptops, this fact makes it one of the go-to mics for a great number of us that need to upload video content in a practical and easy way. Can't get easier than that!
It comes with a windscreen and a shock-mount just like most shotgun mics available, so you are ready to record outside.
Efficiently, It does not require batteries to operate, so keep those for the remote of your TV my friend.
Specifications:
Polar pattern: Cardioid
Frequency Response: 35-18KHz +/-3dB
Sensitivity: -42dB +/- 1dB / 0dB=1V/Pa, 1kHz
Signal to Noise Ratio: 76dB SPL
Plug: 3.5mm TRS and TRRS connector
Dimensions: Φ22*81mm
Net Weight: 86g/0.19 lb
The brand BOYA has released this mic that we find very complete in terms of its features and overall sound quality.
Have you ever broken unintentionally gear that you were in love with? Relax, the Boya by-MM1 is hard as a rock, with its metal construction, it is built to resist anything.
Maybe something to keep in mind for DSLR users shooting soccer games behind the goal!
We can mention Its competitive price since this is another DSLR shotgun mic that most people can afford and avoid us from breaking the pig saver.
Sound quality

It has a condenser transducer and cardioid polar pattern, that will respond effectively to achieve a great quality recording, I believe that this mic will make a lot of you very pleased and happy, it is worth giving it a try!
Just like any mic it will require a little bit of your time to achieve the best results in your set up, but once you learn how it responds.
It surely does not lack any good feature a mic like this and within this budget zone must have.
Features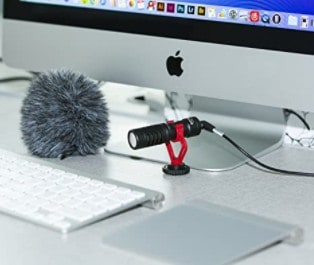 With rugged metal construction, you can rest assured that this mic will resist the exposition to frequent use, unintentional hits, and other consequences of traveling to different recording locations.
Among the top features we find it's compatibility to use with smartphones, DSLR cameras, Consumer Camcorders and PCs.
It comes with one 3.5mm audio output cable, one 3.5mm to TRS audio Output Cable, and one 3.55 to TRRS audio Output cable included, so you are covered to connect it with pretty much any device!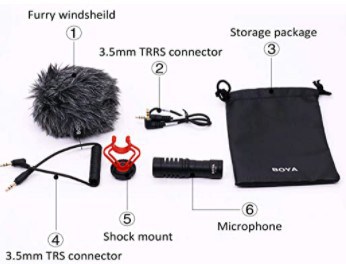 Also Included in the box is a high-quality carrying bag that will allow you to keep it safe while taking it from place to place or storing it at home for long periods of time.
We find this product highly recommended to those of you searching for a directional mic that does not need batteries and can be really portable and easy to operate.
Because of its features it will allow you to accomplish most tasks in a good and successful manner.
We recommend this DSLR shotgun mic for all of you guys shooting in sports, music, and social events.
Conclusion
We learned that without spending a lot of money you can achieve a great level of improvement in your video's audio quality, so that makes buying one of these totally worth it! But which one, right?!
I would always incline to the mics that don't require batteries, so the AKSTAR sgc 598 would end its race right there, then… because of the Interference issues reported and its higher price in comparison with the other 4 mics reviewed, I would exclude the Røde VideoMic GO.
Concluding, I believe that the Røde VideoMicro, Movo VXR10 Universal Video Microphone and the Boya by-MM1 On Camera mic, are the best 3 selections that you can get for under $100. All three with great compatibility, sound quality, and features.
Read Also: How to Earrape Mic? (Discord, Zoom) – Don't Miss this Guide