Affiliate disclosure: In full transparency – some of the links on this website are affiliate links, if you use them to make a purchase we will earn a commission at no additional cost for you (none whatsoever!). Will this be a problem? This is how we manage to create free content for you. Please know that your trust is so important for us. If we recommend anything, it is always because we believe it is worth exploring. And, buy me a coffee ☕️
Do you need the best microphone for field recording?
[amazon table="20755″]
In this post, we have come up with the 3 best field recording microphones. Field recording is basically like any other form of audio recording; the goals are the same.
You want the microphone to capture sound accurately from the source, and the recording gear should document all of this completely. The process and some other fine details may be different, but the goal is the same.
However, I also believe that field recording requires more technical ability than other forms of recording.
[amazon table="15900″]
This is because, here you're recording the sound as it is, so you need to capture the moment without getting in the way.
This can be hard sometimes, especially when you use high-end microphones and recorders. Something as basic as breathing a little too loudly or wearing the wrong clothes can ruin your recording.
Since field recording has all these peculiarities, it goes without saying that some microphones are better for the job than others. That's why you need this article.
What type of mics is best for field recording?
It is important to note here that there is no single microphone category named field recording microphones. All field recording microphones fall under different types, and the way the mics work will depend on what type of mic it is, and how you use it.
The types of mics that are most commonly used for field recordings are stereo mics, m/s mics, and condenser mics. If there's any similarity in the operations of these mic types, it's in how much sound they can capture.
Stereo mics and m/s mics are made to capture a wider soundscape, much like the natural human ears, while condenser microphones can handle more dynamism in sound than dynamic mics.
If your budget allows it, do not stick to just one mic, or just one mic type. All these categories have unique characteristics that make them very good for field recording.
What to look for when buying field recording microphones?
Portability
It goes without saying that if you want to do field recording, you must carry equipment to the location. Since you'll be moving around a lot, you should use recording gear that will make moving easier without compromising quality.
This is why you should go for lighter mics. If all you have is an iPhone and you want to do field recording, you can simply go for iPhone mics that connect to your phone with ease and are super portable.
Directionality
If you're going to record your environment, you should do in such a way that anyone who hears the recorded audio can tell where each sound is coming from in the soundstage.
It makes your field recording much more realistic. To achieve this, you need microphones that will capture the soundscape accurately.
That's why you need stereo microphones to do this. Stereo microphones capture sound in a similar way to how we hear them.
They use their left and right channels to capture the full soundstage. If you use stereo mics, expect your files to be larger, since what you're recording is essentially two sets of audio at the same time.
You can use regular shotgun mics to achieve this too. But remember to be very precise with their placement. You can place two shotgun mics such that they act as the left and right channels respectively.
There are good shotgun mics available form the brand Rode. You can get the ones that will do your job.
Mic type
For field recording, you are advised to go for condenser mics. They do a much better job of comprehensive capturing than dynamic microphones.
Also, you can use stereo mics as I stated earlier. Another type of mic that you can use to full advantage is the m/s type mic.
The mid-side mics do a good job of capturing a wide soundscape. It's basically two mics in one.

There's one cardioid mic that faces the source or subject directly, while the other is a figure-8 mic, positioned horizontally such that it makes 90 degrees with the cardioid mic capturing the ambiance from the two sides.
It goes without saying that lavalier mics are a no-no for field recording; the reason is quite obvious.
Here are our top 3 best field recording microphones:
Build and design
The Zoom H4n Pro is a handheld recorder with enough capability for field recording. The x-y type microphone on the top makes sure of this.
You can adjust the mic angle between 90 degrees and 120 degrees to have a wider soundscape. With these two capsules, nothing will escape this mic.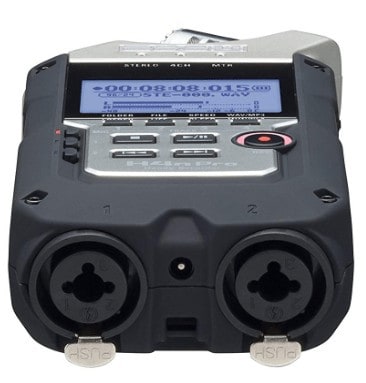 Since field recording is typically done outdoors, the H4n Pro will serve you week because its display is optimized to be quite visible even in the sun. Also, you can connect two other mics to this recorder via the XLR/TRS ports at the bottom.
Just in case your external mic is extra sensitive, zoom helps you by adding an extra 1db headroom. There are a number of impressive features that this mic has, but I think the best thing is that you can use record through all of these channels at the same time.
Sound quality

The Zoom H4n Pro can record in a high-resolution lossless format. This is important during field recording because unlike speech, low-quality audio can compromise the sound so that natural sounds do not sound so natural anymore.
Of course good quality audio must take some memory space. The recorder can support up to 32GB SD card, so no worries.
With a maximum SPL of 140db, you can record loud sources up close. You can record a huge thunder boom without having any distortions.
Pros
Can record very loud sound without problems
Can record 4 tracks at once.
Cons
Navigating the menu can be a bit clumsy.
Bottomline
The H4n Pro is a handy recorder that you can use if you won't be out for too long. As long as the batteries are on, you have no problems.
Build and design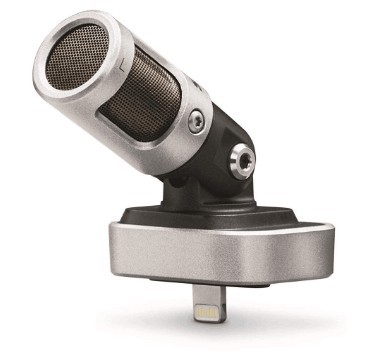 If you want to do field recording and all you have is your iPhone, the MV88 is for you. As expected, the mic is quite small, and due to its size, one may easily dismiss it as no big deal. That would be a wrong assumption because of this mic packs so much in its small frame.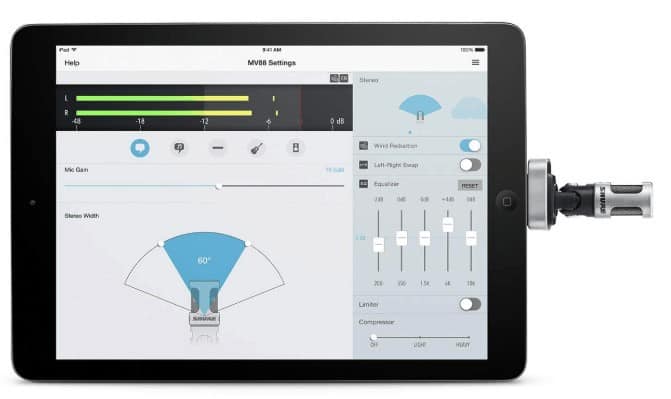 The mic capsules are of the m/s kind. It's basically two capsules in one mic. One capsule is cardioid and captures the sound in front of the mic, while the other is a bi-directional or figure-8 mic type. It captures the ambiance by receiving sound on either side.
Before you record with this mic, always ensure that your phone is fully charged, and your battery is in good condition. This is because the Shure MV88 connects to your iPhone via the lightning port. This means that you can't charge your iPhone while using it.
Sound quality
The stereo field of this mic qualifies it to be on this list, but we know that it's not all you need in a field recording microphone. The MV88 has a frequency response of 20Hz to 20kHz. It does a good job of representing these frequencies while maintaining a crisp sound.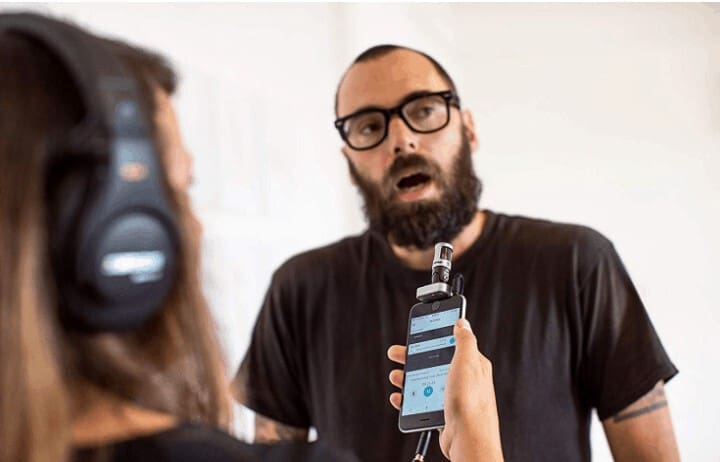 This mic's frequency response is optimized for speech, but it still does a good field recording job. The only issue you may have is monitoring. The MV88 does not have a monitoring jack output. You'll need to use Bluetooth headphones for this.
Pros
Versatile mic; can be useful in various recording situations.
The in-built app is quite hands-on and has numerous functions.
Cons
Mic turns only 90 degrees, to turn it further, you need to unplug it.
There's some latency in the monitoring.
Bottomline
The MV88 is quite portable and mobile. It will serve you well, provided you get the placement right.
Build and design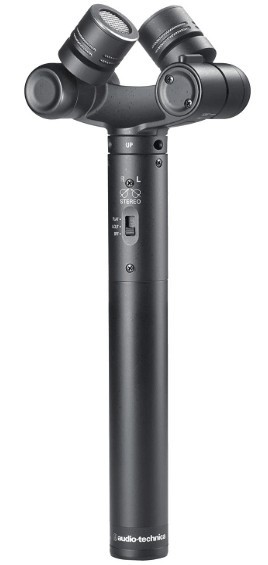 The AT2022 is a stereo condenser mic. It's basically two mics in one because it allows you to record two channels at once. The two channels are the right and left channels.
In essence, the AT2022 captures sound for both human ears. This results in a more natural recording. This is why the mic can be used for field recording.
It has a low-frequency roll-off switch that enables you to cut off some low-frequency extremes.

This can be useful when the subject you're recording is quite close. This way, you can prevent bass build-up due to proximity effect. Also, you should use this mic with a windscreen to prevent wind noise from ruining your recording.
Sound quality
AT2022 has a frequency response of 20Hz to 20KHZ, with some lift around 5KHz. This presence lift is about 5.5db, which can be considered high, by normal mic standards. However, in the context of field recording, this bump is not so audible.
Also, this mic has a maximum SPL of 122db. This means that it can record moderately loud sources. Loud thunder boom may induce distortion or peaking. One thing that the AT2022 does excellently is the stereo field representation. It's just so accurate and natural.
Pros
Accurate stereo field representation
Limits rumbling noise with bass roll-off switch
Cons
Maximum SPL is average; field recording mic needs high SPL.
Bottomline
The AT2022 does a good job of field recording, but be careful with very loud sources.
Conclusion
This is all about the best field recording mics. Like every other audio recording process, in field recording, the mic you use is very important.
It's even more important in field recording because there is no room factor to affect your recording.
Everything rises and falls on the mic. We have selected three different kinds of microphones for this task. Hope you find it easier to choose now.
Hi, I'm Jennifer I'm a passionate singer and an audiophile from Detroit, MI. 
I'm on a mission to help music creators to create fine music that help them position uniquely in the saturated music space.
Follow my blog for regular content :-)