Today in this post I am going to review the best Marshall speakers with excellent sound quality.
My Best Wireless Bluetooth Speaker
Marshall Stanmore II Bluetooth Speaker, Brown
Best Budget Wireless Home Speakers
Marshall Acton II Wireless Wi-Fi Multi-Room Smart Speaker with Amazon Alexa Built-In, Black - NEW
Best Bluetooth Speakers for TV
Marshall Woburn II Wireless Bluetooth Speaker Black, - New
Best Budget Wireless Home Speakers
Marshall Acton II Wireless Wi-Fi Multi-Room Smart Speaker with Amazon Alexa Built-In, Black - NEW
Last update on 2023-12-08 / Affiliate links / Images from Amazon Product Advertising API
Marshall is famous for its guitar amps, but they have decided to move forward into the speaker niche.
There is a long lineup of speakers in the Marshall family, and they all have certain unique features that are common to them.
The main benefit you'll get from marshall speakers is the long battery life. With at least 20 hours of playback time, you already have something better than even the best Harman Kardon speaker can give you.
While there are a lot of Marshall speakers out there, this article brings you the best of them all, to help you make the best choice.
Here are the best Marshall speakers you'll find today:
Specifications
Bluetooth: 5.0
Wireless range: 30' / 10 m
Supported audio codecs: aptX
AC Input Power: 100 to 240 VAC, 50 / 60 Hz
Physical placement & mounting options: tabletop/bookshelf
Dimensions: 13.8 x 7.7 x 7.3" / 350 x 195 x 185 mm
Weight: 10.2 lb / 4.7 kg
Frequency response: 50 Hz to 20 kHz
Wired connectivity: 1 x 2RCA input, 1 x 1/8" / 3.5 mm input
Build and design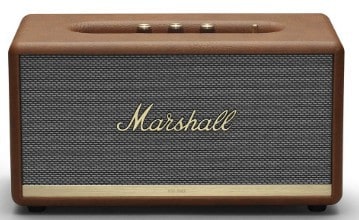 Though Marshall is famous for its guitar amps and its classic design, they have decided to go with this vintage look with their speakers also.
The body of the Stanmore II is covered in leather material and the grille feels like it's made of cloth. It's not soft though, and it will take some beating before the grille gets damaged. The aluminum and touch of gold add some class to the overall look of the speaker.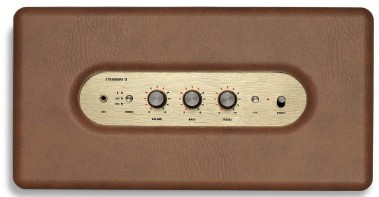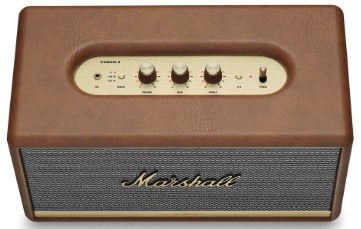 The Stanmore II offers you a wide range of options in terms of connection. You can choose to either go wireless or stick to wired connections.
There is a 3.5mm port and an RCA port to make wired connections easy. If you prefer wireless, the Bluetooth mode is available.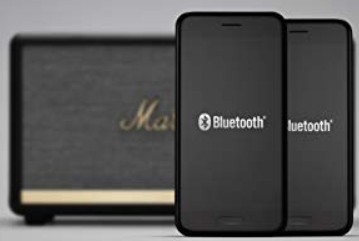 With the Bluetooth connection, you can connect your phone to the speaker and still have freedom of movement, unlike if you used a wired connection.
Sound quality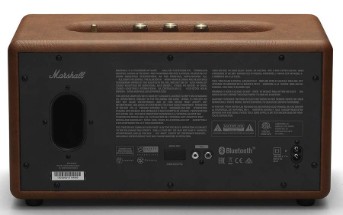 Stanmore II has three drivers; two twitter drivers for high-frequency sound and one woofer for the bass.
While the speaker can belt out high frequencies up to 20000Hz, its low-frequency production does not go below 50Hz.
These numbers say a lot, but they don't tell the whole story. Even though the bass does not go below 50Hz, its production is quite powerful. It packs a lot of punch without muddying the midrange. This is good news for hip hop and EDM lovers since they always want banging bass.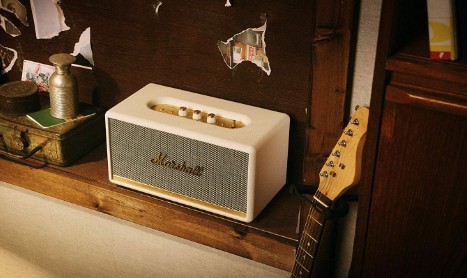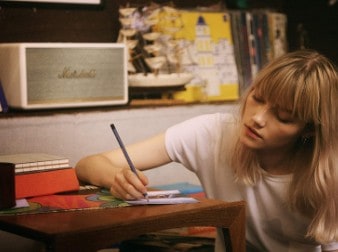 The high mids and high frequencies also sound good, but can easily sound a bit harsh. Thankfully, you can control that by turning down the treble knob on the speaker to prevent this.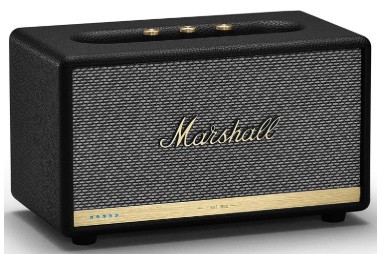 Specifications:
Bluetooth 5.0
Wireless Range 30' / 10 m
Placement & Mounting Options Tabletop/Bookshelf
Dimensions 10.2 x 6.3 x 5.9" / 260 x 160 x 150 mm
Weight 4.5 lb / 2.9 kg
AC Input Power 100 to 240 VAC, 50 / 60 Hz
Frequency Response 50 Hz to 20 kHz
Wired Connectivity 1 x 1/8" / 3.5 mm input
Build and design
Apparently, Marshall has stuck with its amp design for almost all its speakers. Like the Stanmore, Action II has the classy look, covered with leather material and fitted with a grille made of tweed material.
Even though it's a familiar design, it still maintains that vintage, classy look we know Marshall for.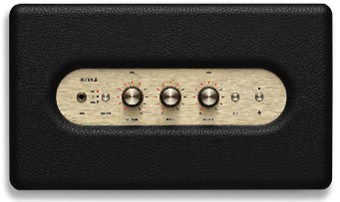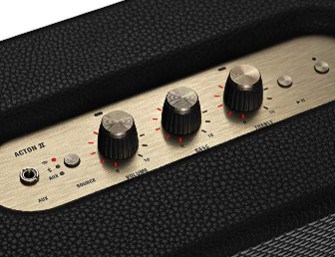 Despite having Bluetooth 5.0 connectivity as its main connection option, Action II gives you the alternative of using the 3.5mm aux input. This means that you have a wired connection option.
With the built-in Alexa, amazon's voice assistant you can play music, listen to news, weather and so on by simply issuing voice commands. You can also activate and control other Alexa enabled devices from Acton II.
The controls are on the top panel of the speaker. The power switch, play/pause button and the control that switches between Bluetooth and aux for the input.
Sound quality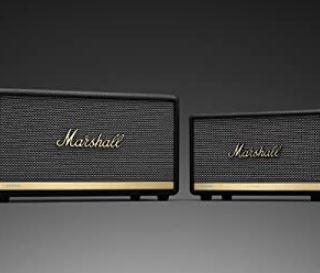 The speaker has its own amps – class D amplifiers that power the drivers. There are two tweeters and one woofer. The tweeters' amp is 15-watt each and the woofer amp is a 30-watt class D amp.
I won't describe the bass coming from these speakers as punchy as such – it's really not. However, the whole sound is quite full and it gives a complete experience, rather than emphasize one part of the frequency spectrum.
If you listen to jazz or classical music, you would prefer a more balanced sound and that's exactly what this speaker gives you.
With a frequency range of 50Hz to 20000Hz, it brings the best out of all the represented frequencies.
The highs belt out without harshness. Also, if you turn up the volume, there's no distortion. Although, as the volume nears the maximum, there's some reduction in the bass. This speaker is best for parties.
Specifications
Bluetooth: 5.0
Wireless range: 30' / 10 m
Supported audio codecs: aptX
AC Input Power: 100 to 240 VAC, 50 / 60 Hz
Placement & mounting options: Tabletop/Bookshelf
Dimensions: 15.8 x 12.2 x 7.9" / 400 x 310 x 200 mm
Weight: 18.9 lb/8.6 kg
Build and design
Here is another wireless speaker from Marshall with the signature look: leather sides and top with the front covered in the grille. This time, it's a grey fabric that was used.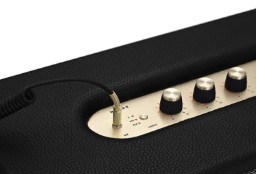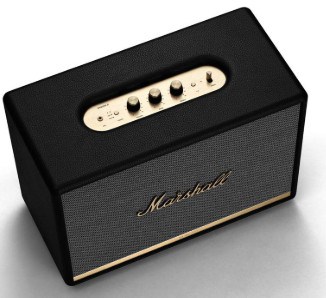 The controls are right at the top, easily accessible. These controls enable you to adjust the playback volume, switch the speaker on/off and adjust the bass and treble levels of the speaker.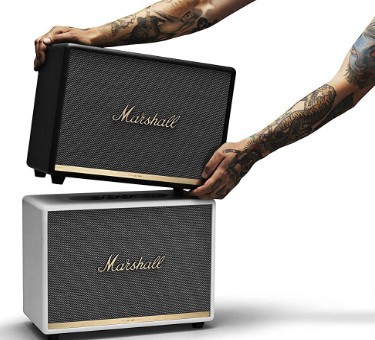 Marshall prefers to give you some alternatives even when the major feature is the wireless connection. You can use the 3.5mm port or RCA ports if your device is not Bluetooth enabled.
The Bluetooth 5.0 connection is quite strong, reaching up to 10 meters. What's more?
You can even connect two devices to the speaker at the same time; your phone and laptop can be connected so you don't miss a thing. If you're watching a movie on your laptop, you can also have your phone connected to hear all your notifications loud and clear.
Sound quality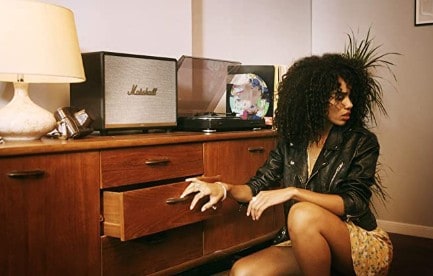 This speaker is an upgrade on both Stanmore and Action.
It has four drivers – two 5.25-inch subwoofers and two tweeters. This is what you'll find in some of the best bookshelf speakers. As expected, the sound is louder than that of the other two previously mentioned speakers.
With two woofers, we expect a lot of bass and that's exactly what we get with the Woburn II.
There's a lot of boom and punch in the low frequencies. If you're not into the bassy sound that much, you can turn down the bass knob to control it. Trap music lovers would enjoy this sound on sustained bass notes and 808s a lot. The mids and high are also decently produced, but they do not enjoy as much drive as the bass.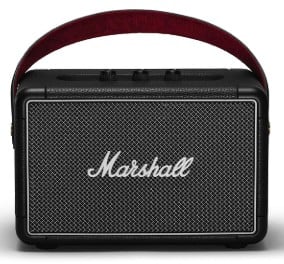 Specifications:
Bluetooth: 5.0
Supported audio codecs: aptX
Wireless range: 30' / 9.1 m
Radio tuner: None
Inputs: 1 x 1/8" / 3.5 mm Stereo (Audio)
Outputs: None
IP rating: IPX2
Dimensions (W x H x D): 9.57 x 6.38 x 5.51" / 243 x 162 x 140 mm
Weight: 5.5 lb / 2.49 kg
Build and design
In terms of build, there's little or no difference between Kilburn and Kilburn II.
The frame is covered with leather and has plastic caps in the four corners. These caps prevent tearing at the corners, especially when you place them on the floor and they get dragged once in a while.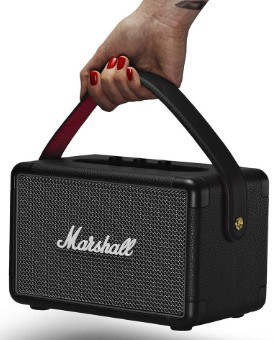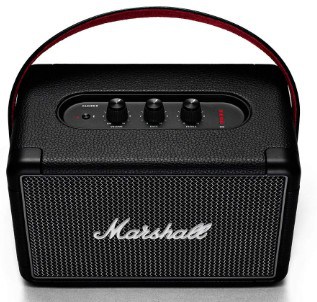 The Bluetooth connection is quite strong, giving you up to 10 meters of Bluetooth 5.0 connectivity. The connection is strong and does not lag when you're playing audio or video from your device.
The knobs at the top are for controlling the bass, treble and overall volume of the speaker. If you want more or less bass, you have the power to make it happen.
Additionally, you can connect up to two devices to the speaker at the same time. This feature is dubbed the multi-host functionality and it gives room for music from different sources.
The battery life is a unique feature of Kilburn II. It takes about two and a half hours to charge this speaker and when it's fully charged, it can keep playing for up to 20 hours. That's quite a long time.
Sound quality
Kilburn II delivers a complete sound, thoroughly representing the frequency range of 52Hz to 20kHz.
While the sub-bass region is not "banging" as such, it gives enough energy to make your music pop.
The multi-directional sound feature ensures that you get the same quality of sound whether you're in front or behind the speaker. This is useful at parties where the speaker is placed in the middle of the room.
The bass is rich and punchy, plus it doesn't distort even if you turn the bass knob all the way up. This rich tone shows itself again in the lower midrange.
The high frequency is also very good; it's crisp and has just enough brightness to prevent the sound from being harsh.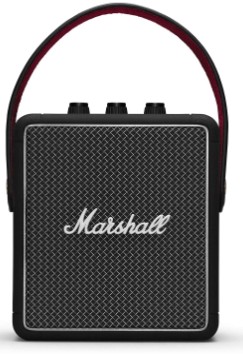 Specifications:
Bluetooth: 5.0
Wireless range: 30' / 9.1 m
Radio tuner: None
Inputs: 1 x USB Type-C (Power)
Outputs: None
IP Rating IPX4
Dimensions (W x H x D) 6.34 x 7.09 x 2.76" / 161 x 180 x 70 mm
Weight 3 lb / 1.4 kg
Build and design
Marshall has taken a step aside from leather bodies and tweed grilles here. Stockwell II has a frame that's covered with silicon material.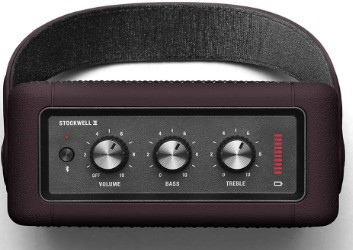 It feels a little like leather though, but it's not. This time, the grille is metallic, which is obviously stronger and more durable than tweed used for Action and Stanmore.
The Stockwell II is water-resistant. Its IPX4 waterproof rating shows that it can take rain and splashes without problems. It won't survive a dive in the pool though.
Bluetooth 5.0 is the wireless package chosen for this speaker. When connected, your connection stays strong for 10 meters between your connected device and the speaker.
If your device has no Bluetooth compatibility, you can use the 3.5mm port for a wired connection.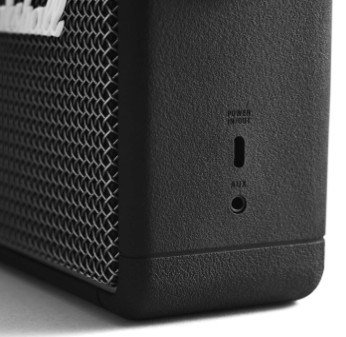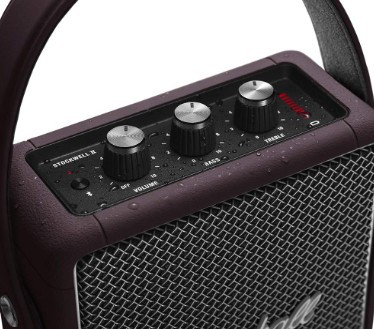 The battery lasts for up to 20 hours at a moderate volume. If you crank the volume to maximum, we're looking at 12 hours max.
Sound quality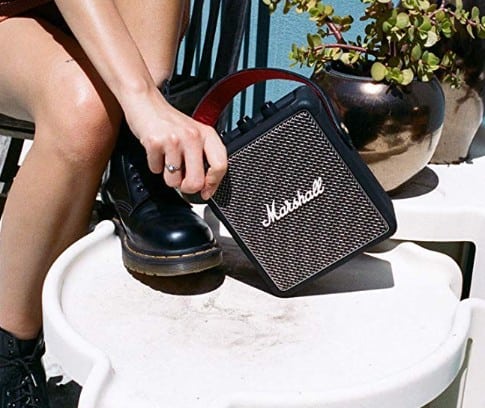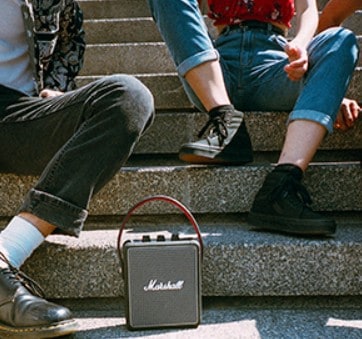 A 100mm woofer drives the bass while two 20mm dome tweeters handle the highs. The bass production is improved by the presence of bass radiators.
Without touching any knobs or adjusting any sound, the speaker sounds like it has a smile shape EQ built-in.
The mid is a little less in volume and energy than the bass and highs. If you need more mid, use the knobs provided to cut down on the bass and highs.
Having said that, the bass is quite punchy. Hip hop and EDM feel very energetic when coming through the speaker.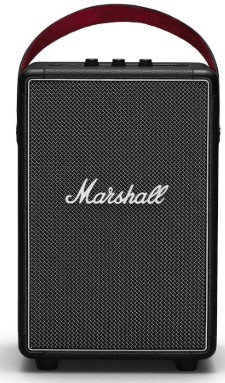 Specifications:
Top panel controls: Bluetooth button, power/volume knob, bass knob, treble knob, battery indicator
Wireless connectivity: 3.5 mm input
Weight: 4.9 kg, 10.8 lb
Water resistance: IPX2
Battery: Built-in, rechargeable Li-ion battery
Battery life: 20+ hours
Frequency response: 40-20,000 Hz
Build and design
The build quality of this speaker follows Stockwell 2 and Kilburn II. The leather material covers the sides and the top is protected by plastic pads at the corners.
Though these pads are plastic, they are rugged enough to give the protection needed. The major difference is the orientation.
It's IPX2 rated. This means that only accidental splashes can prove harmless. Too much exposure to water is still harmful.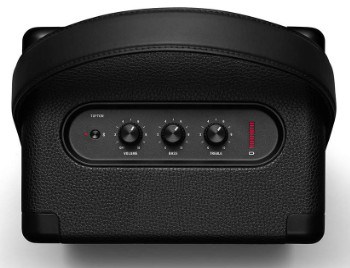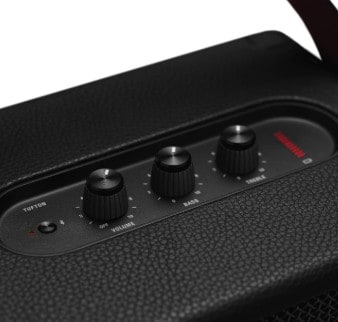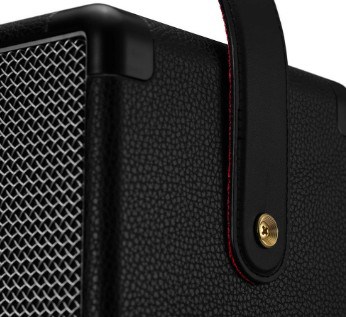 While Stockwell and Kilburn stand horizontally, Tufton stands vertical. It has a leather handle that you can use to carry it around.
The speaker is light enough to be carried around, but if you're going for a long walk, you may need to switch from one hand to the other at intervals.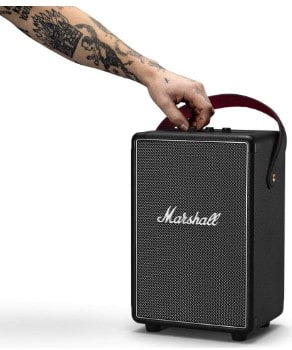 The Bluetooth connection has the multi-host functionality that allows you to connect up to two devices to the speaker at once. The Bluetooth allows a distance of up to 30 feet from your device to the speaker.
Like other Marshall speakers in its class, the Tufton portable has a battery life of 20 hours, that's almost a full day of playback without the power going out.
Sound quality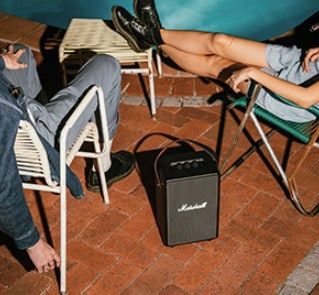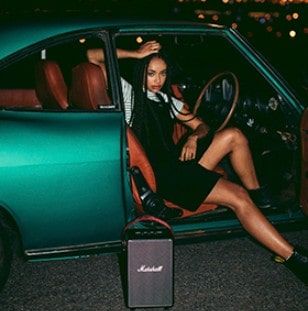 Like Woburn II, Tufton has four drivers. However, the configuration is different. While Woburn has two woofers and two tweeters, Tufton is driven by one 40W woofer, two 15W full-range drivers and one 10-watt tweeter.
Either you're in front of the speaker or behind it, you still get impressive sound because Tufton employs a three-way design for multidirectional sound.
With the lower frequencies reaching 40Hz, you'll expect Tufton to give the deepest bass of the lot.
A frequency of 40Hz is the lowest that you can have even if you're using the speakers from the best brands like KEF or Edifier, provided there's no separate subwoofer. The bass is definitely remarkable. It's deep and punchy, packing a lot of energy.
While the bass gives us so much joy, the high frequencies may become harsh, especially when you turn up the volume to the max. As for the mids, you will only really appreciate it at low volumes. With loud music, the bass and highs swallow up the mids.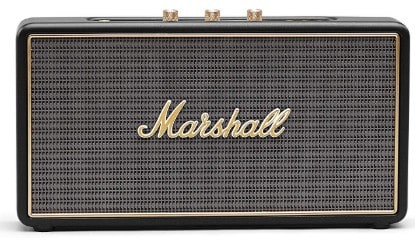 Specifications:
Driver: 4x 2.25" / 57.15 mm
Frequency response: 50 Hz – 20 kHz
Bluetooth: v4.0, range: Up to 32.81' (10 m)
Music streaming: Yes, time: 25 hours
Microphone: Yes
Input/output: 1x 1/8" (3.5 mm) Mini
1x USB charging
Battery type: Internal rechargeable lithium-ion, 2200 mAh
Dimensions: 10.24 x 5.51 x 1.61" / 260 x 140 x 41 mm (WxHxD)
Weight: 2.65 lb / 1.2 kg
Build and design
In my opinion, the older Stockwell looks better than the newer one. It looks more classic. They're actually built with similar materials, but Stockwell has a gold lining that makes it look better.
There are three control knobs on the top that enable you to adjust bass, treble, and volume of your sound.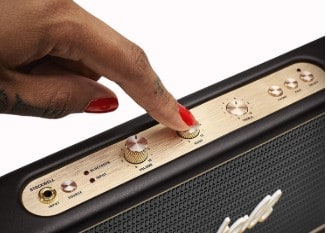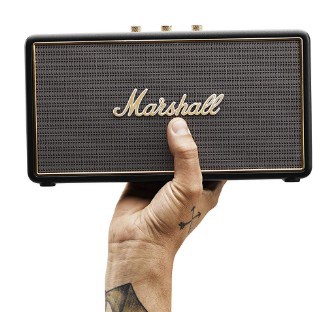 Primarily, Bluetooth connection is the preferred method, but there's a wired alternative. You can connect your device via the 3.5mm port. The wireless connection works up to a distance of 30 feet.
The battery life of this speaker is the longest of all speakers on this list. With a full charge, you have up to 25 hours of playback time. That's quite amazing for a Bluetooth speaker.
Sound quality

The sound profile of the Stockwell is a bit lacking in bass. Of course, we don't expect earth-moving bass sound from a speaker of this size, but it could be better.
The mids and highs are excellent though. The sound is pristine and has clarity and brightness. If your favorite music is not full of bass sound, you will enjoy this speaker.
Read our other popular posts:
Conclusion
So this is all about the best Marshall speakers.
Stockwell II, Woburn II, and Tufton are my best three picks of the lot. This is because they offer more portability with their batteries. In terms of sound quality, most of the speakers aren't so far from each other.
Marshall speakers have a common uniqueness in design and battery life.
At the same time, each of them has a feature that differentiates them from others.
Remember to always check whether the speaker you're choosing uses batteries or it works by direct connection to the power outlet.
Also, these speakers are not waterproof, so avoid using them in the rain or close to the pool.