Are you a bass lover looking for a good pair of best Edifier bookshelf speakers?
Then stop here.
Best Powered Bookshelf Speakers
Edifier S2000pro Powered Bluetooth Bookshelf Speakers - Near-Field Active Studio Monitor Speaker with Wireless and Optical Input
Affordable Speaker With Optical Input
Edifier R1700BT Bluetooth Bookshelf Speakers - Active Near-Field Studio Monitors - Powered Speakers 2.0 Setup Wooden Enclosure - 66w RMS
Best Wireless Bookshelf Speakers
Edifier R2000DB Powered Bluetooth Bookshelf Speakers - Near-Field Studio Monitors - Optical Input - 120 Watts RMS - Wood
Best Powered Bookshelf Speakers
Edifier S2000pro Powered Bluetooth Bookshelf Speakers - Near-Field Active Studio Monitor Speaker with Wireless and Optical Input
Affordable Speaker With Optical Input
Edifier R1700BT Bluetooth Bookshelf Speakers - Active Near-Field Studio Monitors - Powered Speakers 2.0 Setup Wooden Enclosure - 66w RMS
Last update on 2023-12-08 / Affiliate links / Images from Amazon Product Advertising API
Edifier has manufactured a wide range of bookshelf speakers, such that regardless of your personal taste you would find a pair that suits you.
However, making a choice can be a bit difficult especially if you don't know much about the products. This article lists the best Edifier bookshelf speakers that you can consider while making your choice.
Here are the 5 best Edifier speakers for bass lovers:
Edifier S2000 Pro –
Excellent speakers with optical input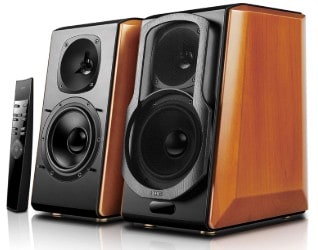 Specifications:
Speaker type: Near-field 2-way speaker
Signal to noise ratio: ≥94dB(A)
Noise level: ≤25dB(A)
Frequency response: 48Hz~20KHz
Tweeter unit: Planar diaphragm tweeters
MIidrange or bass unit: 5.5 inches (148mm)
Dimension: 8" x 13.5" x 10.5" (WxHxD)
Connection cable: 5M/16.4FT
Total power output: L/R (treble) = 12W+12W RMS: | L/R (mid-range and bass): 50W + 50W
Design and build
Here we have a pair of Edifier bookshelf speakers that are actually made out of wood; not just coated with a wooden finish or wood vinyl.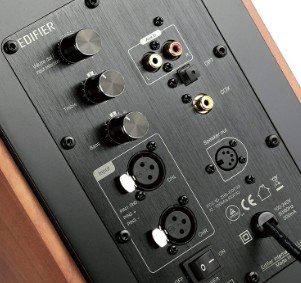 The veneer material used for the frame looks and feels quite solid. There are a number of options through which the connection can be made, but primarily S2000 Pro uses RCA ports.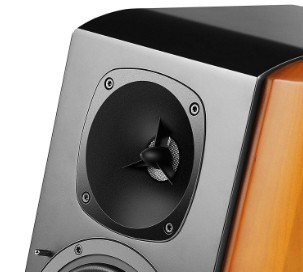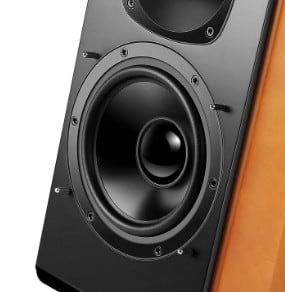 If your source device has no RCA, you can use the 3.5mm port, optical/coax or the XLR port.
Your connectivity possibilities are expanded with the Bluetooth option. This lets you play music from your phone while walking around the house with it. You don't have to leave your phone very close to the speakers; that's a limitation faced by a wired connection.
Sound quality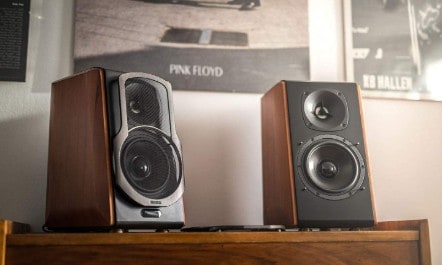 The bass drive comes from a 5.5-inch woofer. It's balanced out by the planar diaphragm tweeter. The woofer size enables the bass response to reach as low as 48Hz. It has the deepest bass of all the Edifier speakers on this list.
It doesn't just have a deeper low frequency on paper, it really sounds deeper.
Moving up, the vocals and instruments in the mid are well heard and wide open.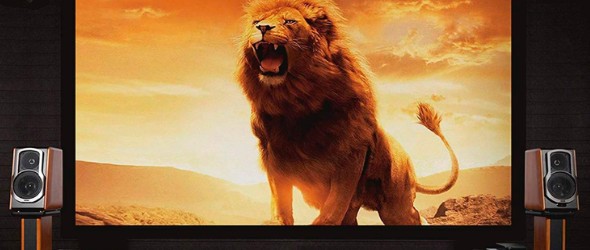 The high frequencies are not left out too, they produce the detail needed without going overboard with sibilances and harshness.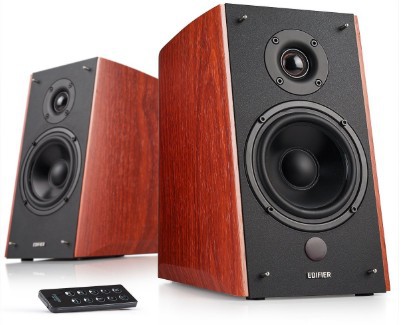 Specifications:
Type: 2-way near field speakers
Wired connections available: 3.5mm and RCA options
Total power output: RMS 24W × 2 + 36 W × 2
SNR: ≥85dBA
Frequency response: 55Hz-20KHz(±3db)
Channel separation: ≥45dB
Dimension: 9.5in x 11.25in x 7.5in (WxHxD)
Connection cable: 5M/16.4FT
Design and build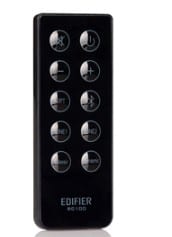 Once again grilles are optional with this design, and I would surely prefer to use speakers without the grilles.
They look better without it, and it's fun to watch the woofer vibrate when those bass sounds are booming.
The build material of R2000DB is MDF, but it doesn't look like it on the outside. The piano lacquer finish adds a touch of class to the speakers' outlook.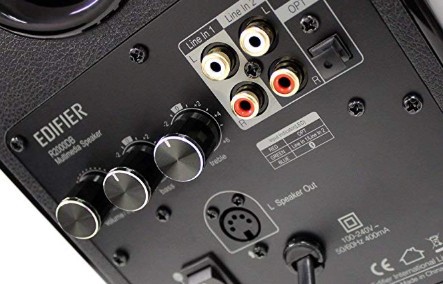 There are multiple options to connect any device. Surely, your gadget must be compatible one way or the other. For the wired options, you have 3.5mm and RCA options. You also have optical input for your TV, DVD/Blu-Ray and gaming consoles, thus working as a Bose wave alternative for you.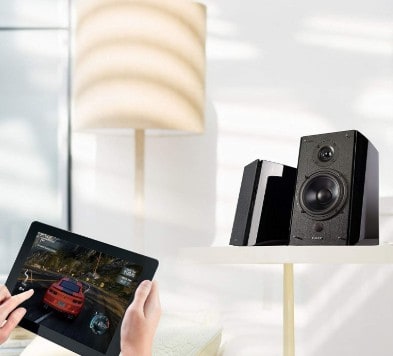 Having all these ports means that you don't lose any audio quality regardless of your audio source. It helps you eliminate the need for adapters.
Lastly, you have the Bluetooth option for wireless connection. This expands your connection possibilities to phones that have no headphone port.
Sound quality
A 5-inch alloy woofer and 25mm silk dome tweeter combine to give a full sound.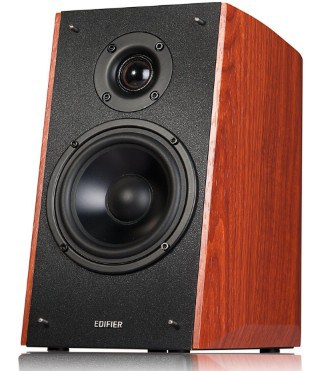 The frequency range is 55Hz to 20kHz. To enjoy good production from these speakers, make sure you don't turn the volume knob all the way up.
If you do, your music will sound distorted with harsh high frequencies. Keep the volume knob at a reasonable level.
The bass is not enhanced as such, but it does have some amount of energy. Thanks to the flat bass, the mid is crisp and clear. For bassheads, you may need an extra subwoofer for your bass needs.
The highs are a little bright, but they're mostly well behaved at moderate volumes. These speakers are good for playing music while working. You can even use them as an extra pair of speakers in the studio.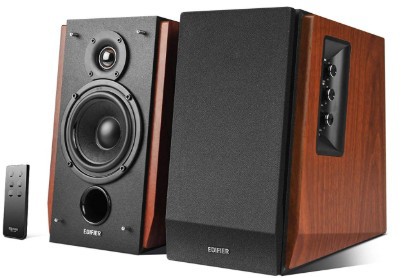 Specifications;
Type: 2-way active speakers
Audio system nominal output power (Total) 66 Wat
Ports available: RCA ports, 3.5mm audio port
Power: batteries not needed, powers from the outlet
Frequency response 30 – 20000 Hz
Total harmonic distortion – 0.5%
Connectivity technology: wired, wireless
Controls: bass, treble, volume
Design and build
These bookshelf speakers have composite plastic interior covered by the wooden finish. This is unlike most others like the R1280DB or R1280T that have MDF as their main component.
Even though the R1700BTs are made of plastic, the acoustics are great and the finish ensures it doesn't look like it's plastic.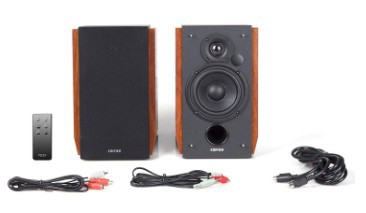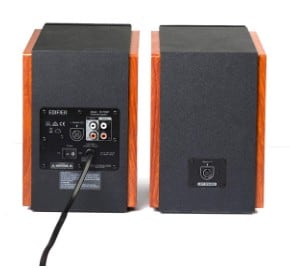 They are typically packaged with a mesh grill for protection, but most people end up taking them off because they look better without them.
There are two ports present here; the RCA ports and a 3.5mm audio port. The RCA ports are for connecting to the source device like your TV or DVD player. The 3.5mm port is for headphones, although you can use it for another speaker that has 3.5mm input.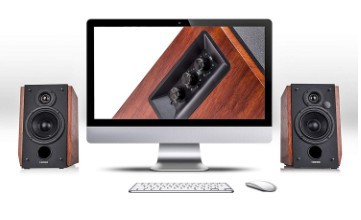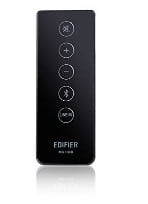 Aside from the wired options, the R1700BTs can also work with Bluetooth connection. This is obviously a more convenient option. These speakers sound better than Bluetooth speakers or the floor standing speakers used for the large rooms.
Like R1280DB and a host of other Edifier bookshelf speakers, the R1700BTs don't use batteries. They're only powered by direct plugging into power outlets.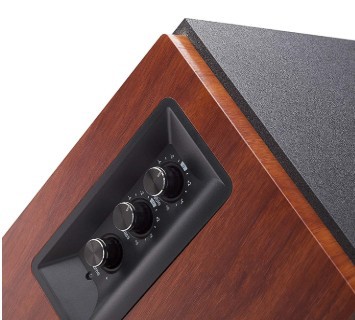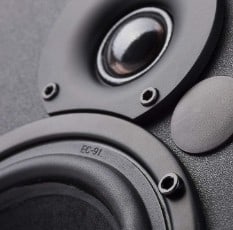 Sound quality
Edifier sticks with their 2-way driver design in these speakers too. A 4-inch woofer drives the bass and mids while a ¾-inch silk dome tweeter does the treble job.
The mid and high frequencies show a lot of clarity. Hi-hats and cymbals have that sheen that makes them sparkle.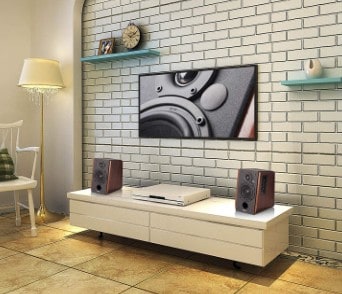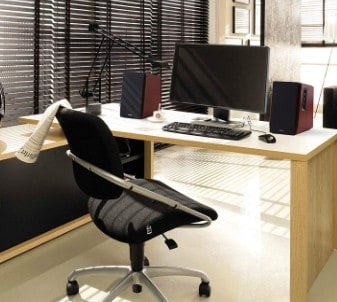 The mid also has enough warmth to make vocals and other midrange elements have more body.
The plaudits stop at the midrange for these speakers though, because the bass does not sound as good.
These speakers are good for office use if you have a room for yourself. The bass does not disturb the person in the next room.
To be fair, we can't really expect so much low-end definition and energy with 4-inch woofers. You will enjoy your hip hop and EDM with these speakers, but you'll wish it had just a little more room for that bass.
Edifier R1280DB –
Best bookshelf speaker under $200
Specifications:
Material made: MDF + solid wood
Type: 2-way active speaker
Connection options avaialble: RCA, optical cable and Bluetooth
Batteries: Not present, need to power from the outlet
Portability: poor
Frequency range: 55Hz to 20kHz
Remote control available – yes
Dimension per speaker: 5.75in x 9.5in x 7in
Drivers: Bass driver: 4 inches (116mm), Trebel driver: Φ13 mm silk dome
Design and build
The frame of these speakers is made from a combination of MDF and solid wood. This ensures that these Edifier R1280DB speakers are highly durable.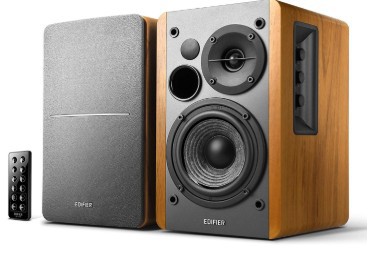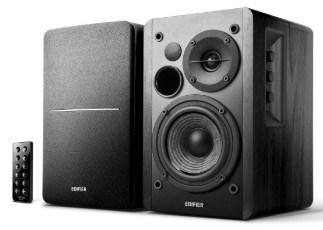 The solid wood is used for the panels while MDF covers the frame in the form of housing.
The grille in front of the speakers are added for protection, but they are removable. If you feel that the speakers look better without the grilles, you can always take them off.
The Edifier R1280DB is a 2-way speaker. This means that your sound comes from the tweeter and woofer.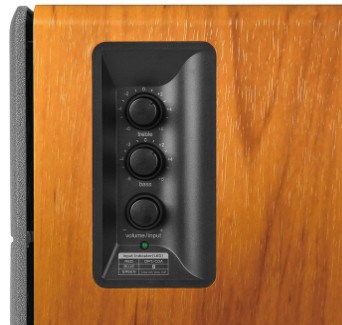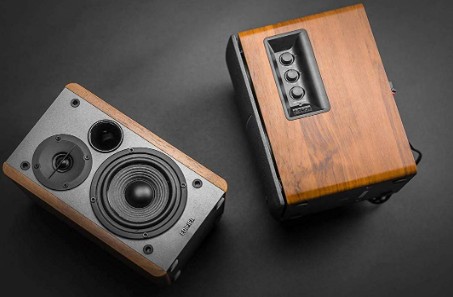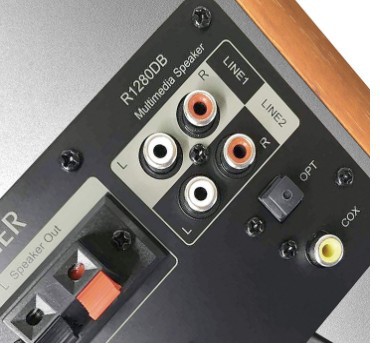 There are three different connection options present in these speakers; you can connect your audio source via RCA, optical cable or via Bluetooth. These are the best computer speakers that work with optical input.
The included remote enables you to adjust parameters without getting close to the speakers. You can adjust the volume and change the input source with the remote.
These speakers are not so large, but they are not so small either. You can't easily carry them out for a picnic or to the beach.
You can only power the speakers by direct connection to a power outlet. There are no batteries.
Sound quality
This is a 2-way speaker with a 4-inch paper cone woofer for the mid and bass production while treble is handled by a 13mm (½-inch) silk dome tweeter.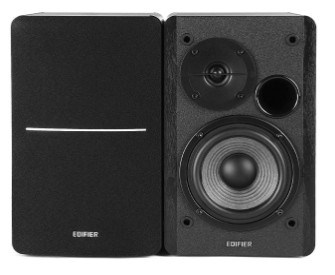 There is no sub-bass production from these speakers since the frequency range falls between 55Hz to 20kHz.
However, the bass production it gives is quite good, although it's not something bassheads would fancy so much.
The bass here is good enough to help you enjoy your movies with an immersive experience. With the remote, you can easily be in control while watching it on TV.
The mids and highs are clearly defined and elements in those ranges are clearly heard without any harshness. If you turn the volume all the way up, you'll hear some distortion in your music, especially in the bass sounds.
Edifier R1280T –
Best audiophile speakers under $100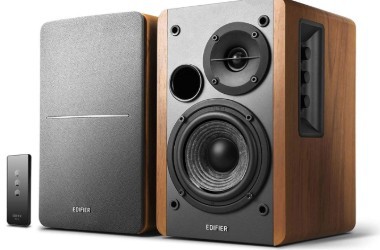 Specifications:
Detachable grilles: Yes
System Components: 2 speakers
Amplification type: active
Crossover channel Qty: 2-way
Frequency Response: 75 – 18000 Hz
Signal-To-Noise Ratio: 85 dB
Connectivity technology: wired
Controls: bass, treble, volume
Amp required – No
Design and build
The R1280Ts are box-shaped speakers that have an attractive wood finish look. It's just a "look" because the actual frame is made of MDF and coated with vinyl. It works since you're really not expected to carry the speakers around so much.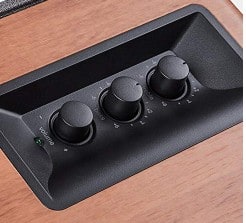 These bookshelf speakers only offer you RCA inputs. So, if your music source has none, you may need to use an adapter.
To adjust the sound production to your taste, there are bass and treble knobs on the right speaker. This speaker also has the power button and volume knob. For easier control, a remote has been added. You can adjust some features without moving close to the speakers.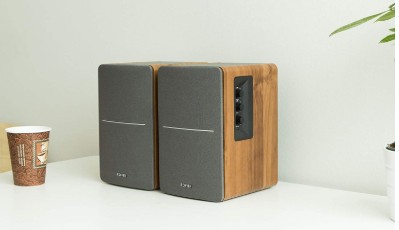 These are active speakers, so, you need to plug them into a power outlet before they can work. Also, no extra amp is needed; just the plug-in power source can drive them both.
Sound quality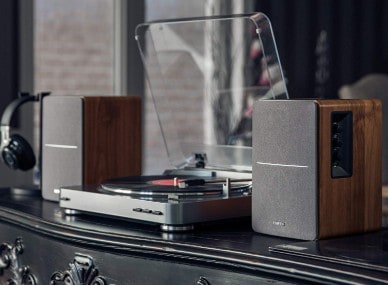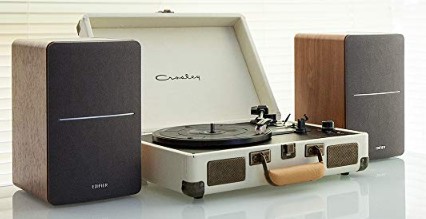 For each speaker, you have a 4-inch woofer and a 13mm silk dome tweeter.
You can place these speakers with the rear close to the wall too because the bass reflex port is in front.
Compared to the R1280DBs, these bookshelf speakers have a rather narrower frequency range of 75Hz to 18kHz. What this means is that you won't get the very low bass tones or the airiness that comes with the higher frequencies.
Having said that, there's still a considerable amount of bass response here. However, it's the kind of bass you hear rather than feel – bassheads would relate well to this.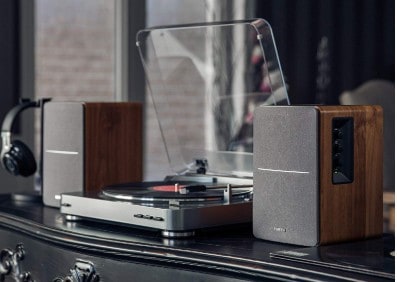 These Edifier speakers are perfect for playing music in a small to medium-sized room. You can place them on your table or on your shelf; they do not take much space at all.
The advantage of the neutral bass is a clearer mid that is free of muddiness. The highs are also bright enough without adding any harshness.
Read our other popular posts:
Conclusion
Of the five Edifier bookshelf speakers listed, I would pick S2000 Pro, R2000DB, and R1700BT as my top three.
R2000DB and R1700BT both have wireless connection capability. This gives a wider range of usefulness to the speakers.
R2000DB has a better bass response than the other speakers here. Its deeper bass makes most music sound more energetic coming from it.