Are you looking to buy Gecko Kalimba? Do you want to know its honest review?
Product
Gecko Kalimba
Material used
Wood – Polished Mahogany
Keys – Steel
Waterproof
No
Output
1/4 inch jack
Sound quality
Warm and soothing sound
Amazon product page

Check price
Gecko Kalimba is a 17 key thumb piano from a manufacturer with a lot of pedigree.
In some cultures, the thumb piano has just five keys. Thumb pianos like this can be found in some parts of West Africa.
How does the Gecko kalimba rank among its peers?
Is it worth the price placed on it?
Who is the Gecko kalimba best for?
These are some questions that I answer in this article.
Let's get started with the Gecko Kalimba review.
Gecko Kalimba review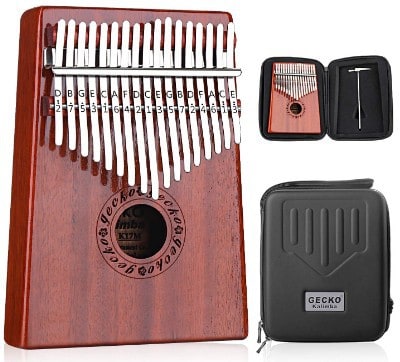 Build and design
Gecko Kalimba is made of polished mahogany. This wood has both functional and aesthetic benefits. Mahogany is considered in woodwork as one of the strong wood types.
This Kalimba does not require a lot of force or pressure to play. This means that even less tough wood can be used for it. So, using Mahogany makes it even stronger than it needs to be.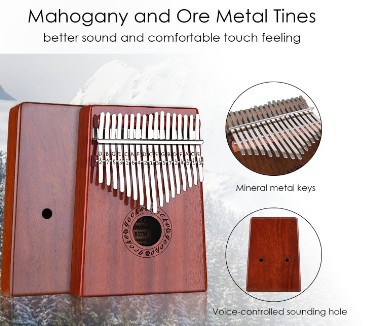 Aside from strength and durability, Mahogany has a unique aesthetic appeal. When polished, it looks even more beautiful. Lastly, using mahogany has a way of making each Kalimba unique in sound.
The grain pattern of each mahogany tree used is different. This causes a slight difference in the sound and outlook of each thumb piano.
The keys or "tongues" as they are sometimes called are made of steel. They're coated such that it's almost impossible for them to rust.
Also, the keys are curved downwards. This makes it easy to play songs faster without having your thumbs stuck. Also, it's easier for players to play the kalimba with longer nails.
The soundhole is located in the center of the soundbox. The hole's circumference is engraved with decorative patterns.
On the rear side of the Gecko thumb piano, you'll find two more holes. They're smaller than the hole in the front. These holes enable you to create vibrato notes.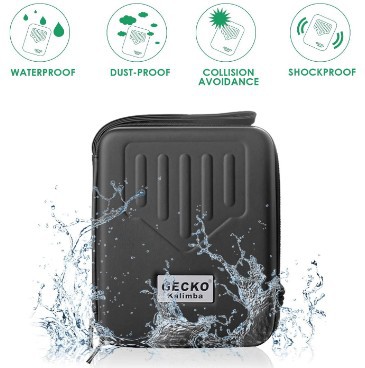 The package comes with a hardback rubber case. This case is waterproof especially when zipped tight. This can be useful when you need to carry your Kalimba around. Also, if you intend to go to the beach with your Gecko thumb piano, the case will come in handy.
Note that it's just the case that is waterproof, not the kalimba itself. Mahogany or any other wooden product is not typically waterproof. The steel parts can withstand moisture though.
Also, the wood polish used on the Mahogany may not prevent Gecko Kalimba from scratches, especially if you drop the Kalimba a lot. This is another reason why the case is important. It's better to keep the instrument inside the case when it's not in use.
The kalimba is typically a fragile instrument. It could go out of tune with just a drop. So, you must handle it carefully. This applies to all kalimba brands.
Sound quality and performance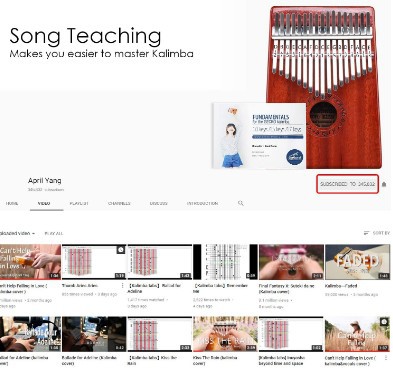 The keys on the Gecko kalimba give a warm and soothing sound. By placing your fingers over the two holes at the rear you can create a vibrato effect.
Although all notes can give this effect, some notes respond better than others. The midrange notes are more resonant, thus give a more noticeable vibrato.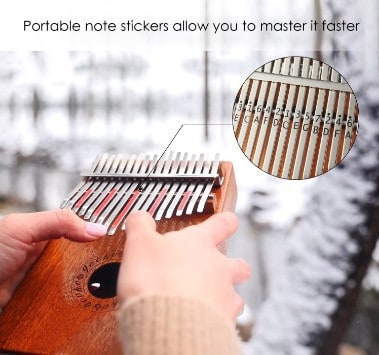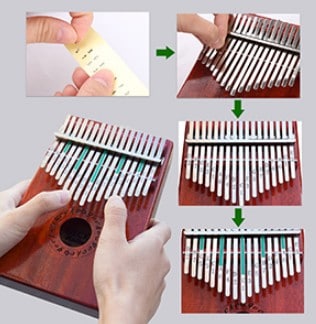 Read Also: River Flows In You (Yiruma) – Easy Piano Notes With Letters
There's another really cool effect you can have with the Gecko kalimba; it's the "wah-wah" effect. You would know what it sounds like if you're familiar with electric guitars.


If you aren't, place your finger on the soundhole in front of the kalimba after playing a note.

Repeatedly removing your thumb and placing it back on the soundhole will give the wah-wah effect. You can get super creative with these techniques and combine the wah-wah and vibrato techniques.
Now, let's talk about tuning. Gecko kalimba's default tuning is in the key of C.
Sometimes, you may need to adjust this tuning. You could be looking to change the tuning key or you may just want to adjust one or two notes.
This kalimba can easily get out of tune. Detuning can happen if the kalimba drops or one of the keys gets caught. Even without any accidents, a kalimba will eventually get out of tune due to repeated playing.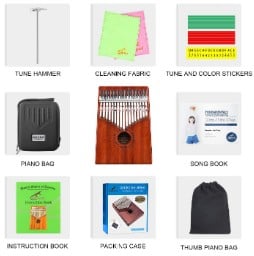 You can tune the Gecko kalimba by using the tuning hammer added. Just tap the keys lightly and the pitch will begin to shift. For more accurate results, use a tuning app or hardware tuner.
Applications
You can use the kalimba to entertain people at parties, other gatherings and also can give as gifts.
It's a soothing instrument that works well either in a band or as a solo instrument. It can also be an instrument that kids can use to play music. It's quite handy and needs no plugging in or extra amplification.
Conclusion
So, is Gecko kalimba the best thumb piano?
Well, it's certainly one of the best.
If you play the kalimba in front of crowds, Gecko has some Kalimbas with ¼-inch jack outputs that can connect straight to a mixer.
I hope you guys found this Geck Kalima review helpful.