Skullcandy Indy Evo pairing can be a headache when connecting to your device. This problem is even more frustrating when you don't know how to tackle it properly. But don't worry, I've got your back.
In this guide, I'll walk you through 6 step-by-step solutions to Skullcandy Indy Evo Not pairing together. Enough chatter, let's dive into the details!
Skullcandy Indy Evo Pairing: A 6-Step Connecting Guide
Connecting your new earbuds to the phone is the first step to enjoying your new Skullcandy Indy Evo. Don't worry; pairing them is straightforward as long as you follow these 6 simple steps:
Step 1: Open the charging case and make sure both earbuds have the red light on.
Step 2: Pluck out both earbuds at the same time – this tells them to start searching for a Bluetooth device automatically. Only the left bud will flash red and blue, indicating that it is searching for a new device.
Step 3: Now, on your phone, head to the Bluetooth settings and look for "Indy Evo" to show up on the available devices list.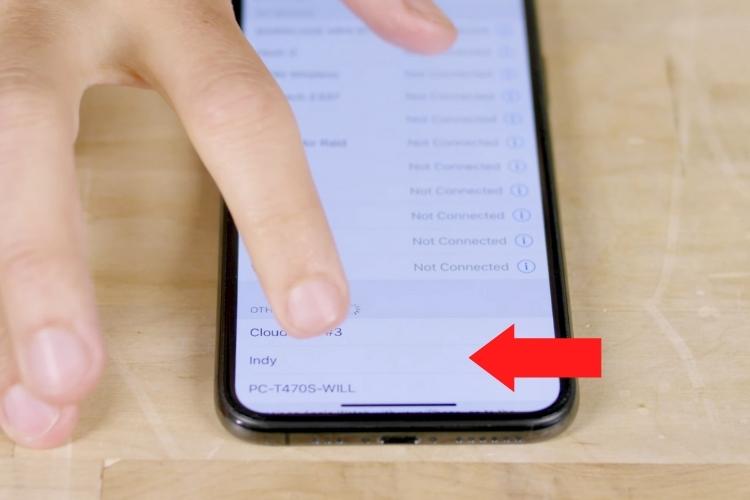 Step 4: Tap "Indy Evo" from the list to start pairing mode.
Step 5: Your phone will confirm pairing by sending a prompt. Click "Pair" or "OK" to finish the pairing process.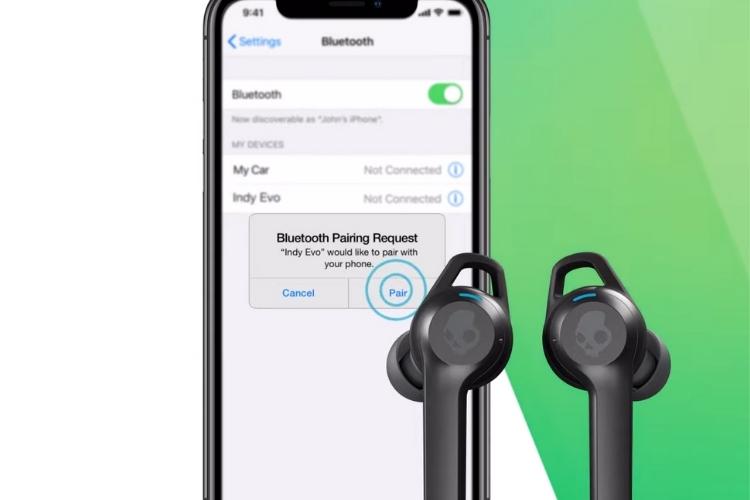 Step 6: Check for the LEDs on the earbuds to turn blue, letting you know the pairing has been completed.
Watch this quick video to get visual help on the pairing process.
I checked the above method personally and it allowed me to connect my Skullcandy hassle-free. But also I know cases from some users' earbuds have trouble connecting. What should you do in this case? Continue reading below for detailed help.
Skullcandy Indy Evo Not Pairing Together – 6 Steps to Tackle This Problem
If your Indy Evo buds run into a problem where it is not connecting with the audio source, there could be various reasons behind it. To identify these unusual pairing troublemakers, let's get your tunes rocking in truly wireless earbuds with the help of these 6 recommendations, given below:
1. Get Your Earbuds Back in Stereo Mode
Solo and stereo modes are 2 features of Indy Evo:
With solo mode, you can use both buds separately at the same time – rather than in a typical master-slave relationship. So only one ear bud will work.
On the other hand, with a stereo setup, both buds operate together.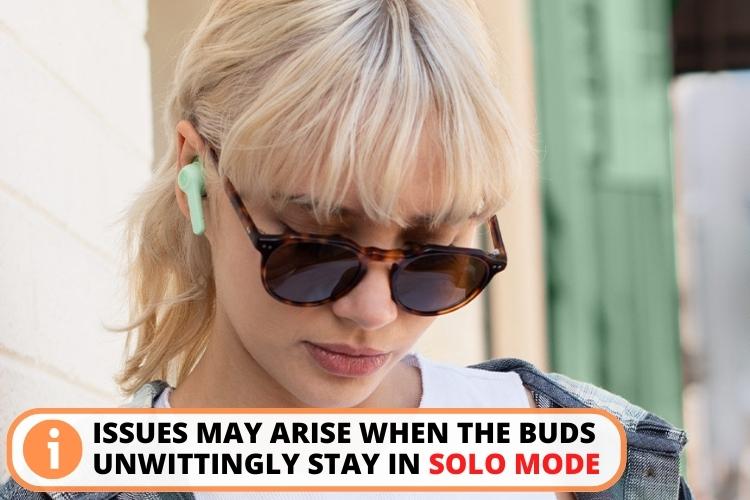 However, due to some bugs, the buds may stay in solo mode, even when you don't want this. Note that this issue usually occurs with only the left earbud, as the right side receives the audio signals at full strength.
Solution
Solo mode is an issue that many people face. I suffered from it when I was hiking at Grand Teton National Park, Wyoming. Luckily, the following 4 steps helped me to deal with solo mode:
Step 1: Remove the earbuds from your paired Bluetooth device list.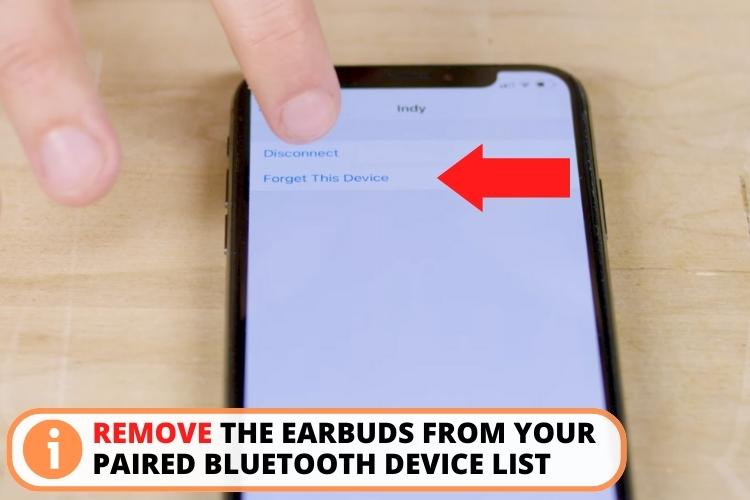 Step 2: Place the earbuds back in the charging case and close the lid.
Step 3: Now open the case and remove both earbuds together. They will re-pair with each other automatically once out of the case.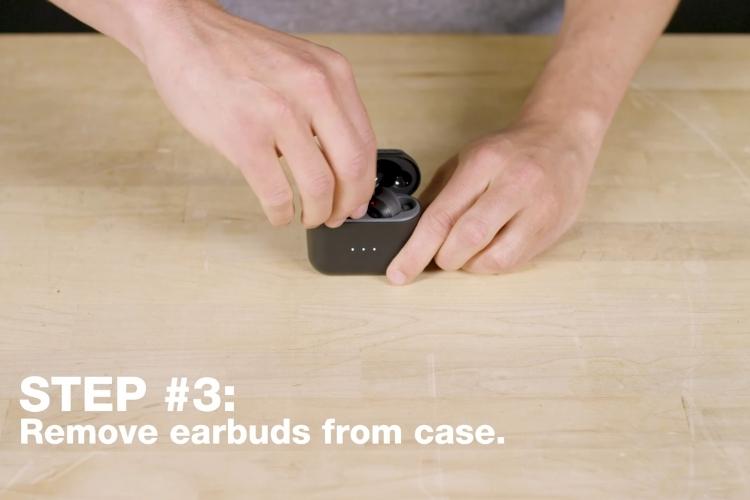 Step 4: You should now see two connected Indy Evo in your Bluetooth settings instead of one.
If the solo mode issue is still there, you can try resetting your bud as the method given below.
2. Power Up Both Earbuds and Case
If your earbuds don't pair together, the issue could be as simple as having a lower battery. Skullcandy Indy EVO earbuds have this mechanism that their LED start blinking red after every 5 seconds when the light is low. Moreover, it will also play a prompt "Battery low."
Solution
Follow these tips to get know-how on charging your earbuds:
The Indy Evo only takes about 1 hour to recharge from empty to 100% fully.
The charging case can also take around 2 hours to complete one power cycle.
Double-check that you've seated the earbuds correctly in the charging ports.
Don't forget to look for signs of any debris in the charging ports.
Once both the earbuds and the charging case have a full battery, try pairing again by removing the buds together from the charged case. This should allow them to reconnect in stereo mode.
3. Reboot Your Earbuds
Sometimes, the earbuds just need a fresh start to fix pairing issues. Restarting them essentially resets their wireless connection, clearing up any minor glitches disrupting the stereo pairing.
Moreover, a quick reboot refreshes the system and memory. This allows the Bluetooth connection to get back on track so the two buds can re-establish their link.
Solution
To reset your Indy Evo earbuds, you have to manually power off. Follow these steps:
Step 1: Press and hold the power button on each earbud for 6 seconds until they turn off.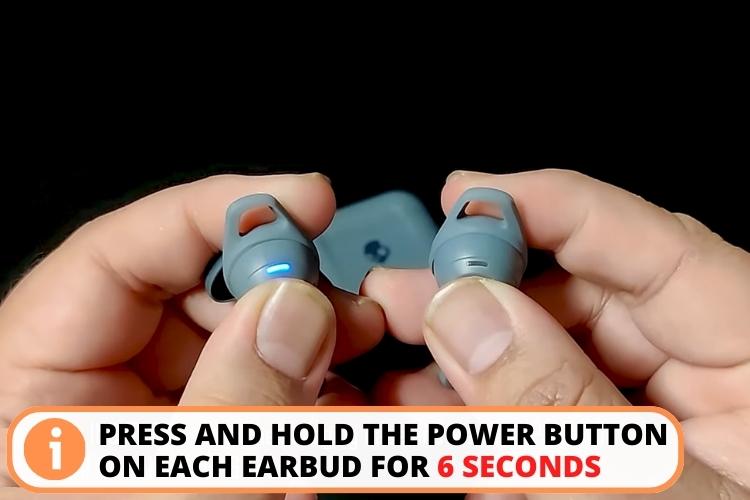 Step 2: Next, press and hold the power button on each earbud again for more than 6 seconds to turn them back on.
Step 3: Finally, place both earbuds in the charging case, then remove them. This will allow them to re-pair with each other.
4. Update Your Earbuds to the Latest Firmware
In many cases, outdated firmware can create pairing challenges in your Indy Evo earbuds. New versions often contain bug fixes, performance improvements, and compatibility updates. Installing the latest update ensures your earbuds have access to all the newest features and wireless connection capabilities.
Solution
Here's how to update your earbuds: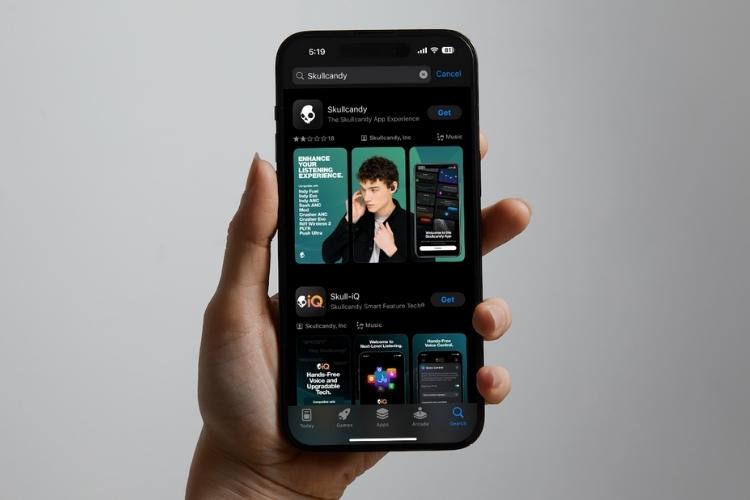 Step 2: Open the app and check the notifications tab for firmware update alerts.
Step 3: If an update is available, tap to download it directly to your earbuds via Bluetooth.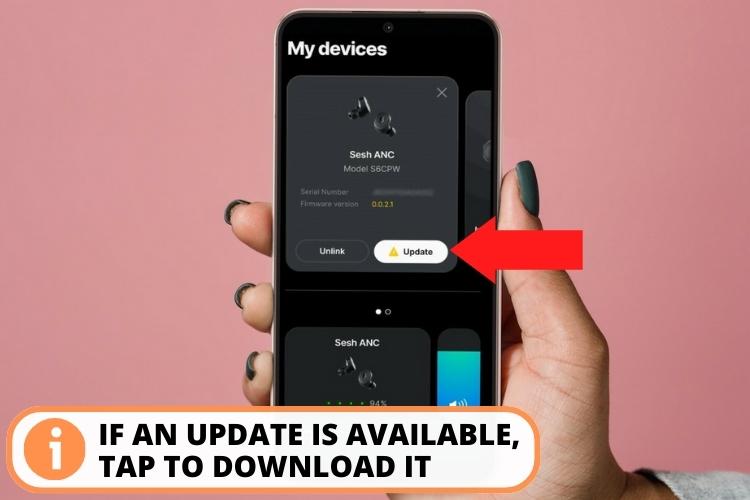 Step 4: Once the installation is complete, your Skullcandy Indy Evo earbuds will be running the most optimized software possible.
Note: If you cannot update your firmware, put the buds in the case and try again. Moreover, cleaning the data of the mobile app can also help.
5. Restore Your Earbuds to Factory Settings
If you've tried all the basic troubleshooting tips, but your Indy earbuds still won't pair, it may be time for a factory reset. This restores the earbuds to their original settings, erasing any problematic pairings or glitches.
As a matter of fact, resetting is one of the best solutions for your buds to tackle software issues. However, remember that this process may remove all the previous pairing settings. Therefore, you may have to set up everything from the beginning.
Solution
Enlisted below are the steps to reset your Skullcandy Indy Evo earbuds. Let's have a look:
Step 1: Place both earbuds in the charging case and unpair them from your device's Bluetooth menu.
Step 2: Turn off Bluetooth on your device.
Step 3: Remove the right earbud. Press and hold the central touch button for more than 10 seconds. Place it back in the case. A red light will automatically power on, indicating that the bud has been reset.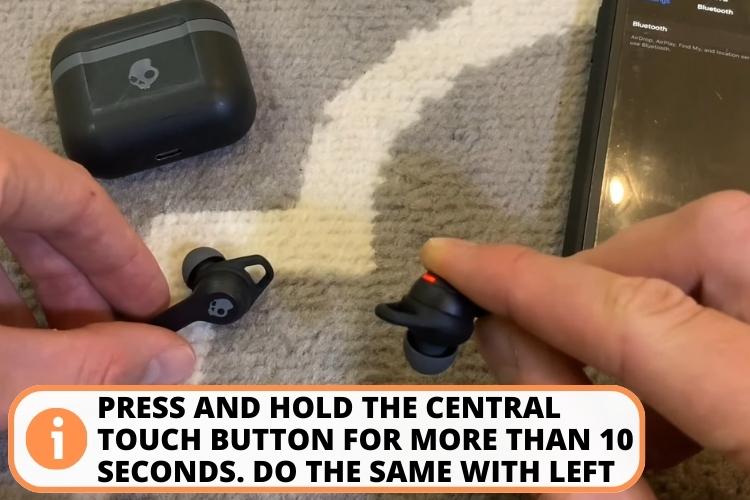 Step 4: Repeat the same with the left earbud – tap and hold the center of the bud for more than 10 seconds. Place it back in the case. A red light will also turn on the left bud, indicating that it is also reset.
Step 5: Take both earbuds out at the same time. This will sync the buds together with no prior pairings. A blue LED light on both buds and a tone will confirm this step.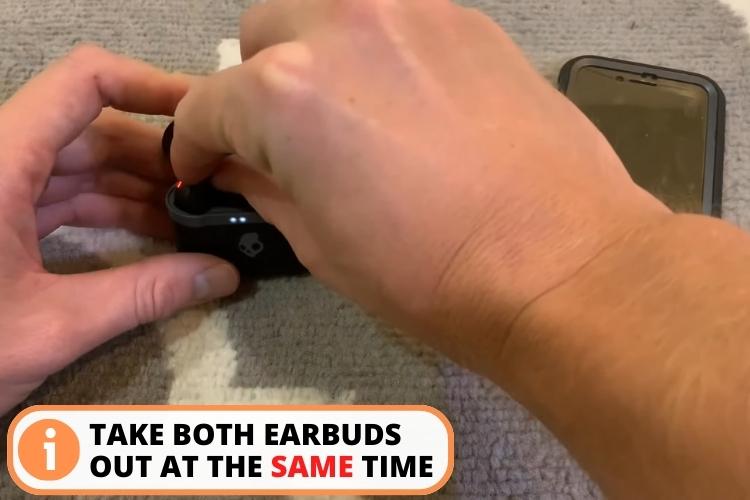 Step 6: Next, the LED on the left earbud will start flashing. You'll also hear a voice saying, "Pairing." It's time to connect and pair the buds with your earphones.
Step 7: Turn on your Bluetooth and look for "Indy Evo" in the settings. Click on the name of the buds, select "Pair," and tap "OK." Once the buds are connected to your device, you'll hear a voice saying, "Connected." Now, both earpieces have been successfully paired.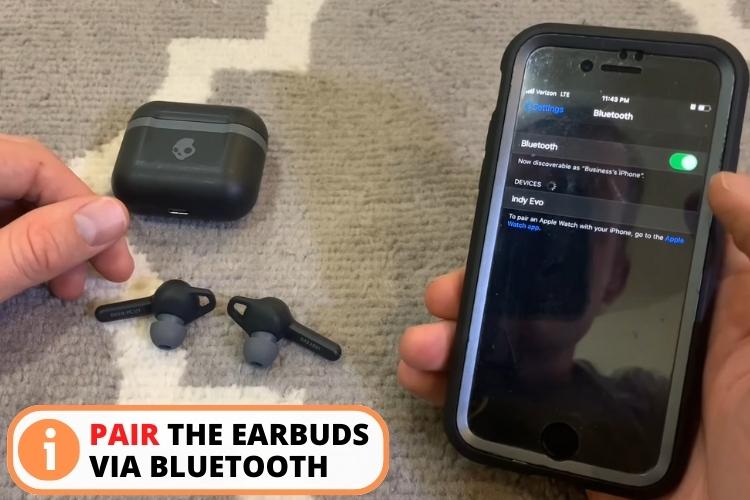 Pro note: The above steps (3 & 4) are the most important ones, as they will reset your buds. If you don't spot any red lights, repeat the process 3 times. If there is still no red LED, your earbuds have encountered some hardware issues.
Have a look at this video guide to learn how to reset your Indy Evo earbud.
6. Get One-on-One Help from Skullcandy Support
After trying all the troubleshooting steps, your Indy earbuds still won't pair properly; it may be time to call reinforcements or Skullcandy customer support. The following are some channels to get help from the company: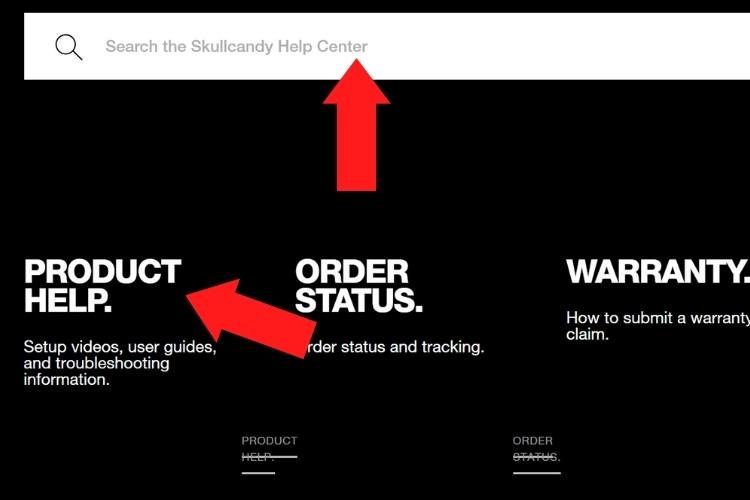 You can directly go to their website and find troubleshooting guides, warranty information, and return policies.
If you want personalized help, you can directly post your complaint to their forum.
My Recommendations
If you face a software glitch that can't be treated or a hardware problem that makes your buds useless, it's time to treat yourself to a new wireless headphone device. Below is a comprehensive list of earbuds that I have tried and can perfectly replace your Indy Evo earbuds:
Skullcandy Indy Fuel: Only $20-$30 dollars expensive but offers 3 EQ sound modes and wireless charging.
Honor Choice Earbuds X5: Almost half of the original price, 35 hours of battery life, and the latest Bluetooth 5.3 connectivity.
SoundPEATS Air4 Wireless Earbuds: Almost similar pricing, bass-boosted audio, enhanced calling with 6 mics, and a low latency.
FAQs
How do I put my Skullcandy Indy Evo in pairing mode?
To put your Skullcandy Indy Evo in pairing mode, you need to remove the buds from the charging case. It will automatically start searching for nearby devices. Open your phone's Bluetooth settings and click on the Indy earbuds to pair. 
Why is my left Skullcandy earbud not connecting?
If the left Skullcandy earbud is not connecting, it's likely in solo mode. Put the right bud in the case, close the lid, reopen the case, and remove both buds to re-pair in stereo. If it doesn't help, try resetting the buds.
Why are my Indy Evo not pairing with each other?
Your Indy Evo not pairing because of low battery, Bluetooth not enabled on your device, interference, or the buds not being in pairing mode.
How do you get both Indy Evo earbuds together?
To use both wireless earbuds together, ensure they are both turned on and in sync mode. Place them back in the charging case until you see a red light. Remove the buds simultaneously so they connect. They will show a confirmation message in the form of a simultaneously flash blue light.
Conclusion
Let's revise the solutions to Skullcandy Indy Evo Pairing problems. If you only hear a voice from one side of the bud, unpair both, place them in the case, and remove them together. On the other hand, if there is no voice at all, ensure that the buds are connected to the device.
Meanwhile, if the buds don't connect, confirm it has ample charge. Try resetting the earbuds or upgrading the firmware to ensure no glitches.
If nothing is working, your last resort is Skullcandy customer support. Nonetheless, maintaining your unit properly and cleaning it regularly can prevent connection issues.