Do you make trap music? If yes, then you're probably on the lookout for the dopest 808 sounds right now.
Well, the search never ends. That's why you need a VST that gives you 808 kick without the added stress of searching.
Having said that, here are our 5 best 808 VSTs in 2020.
Top 5 808 VSTs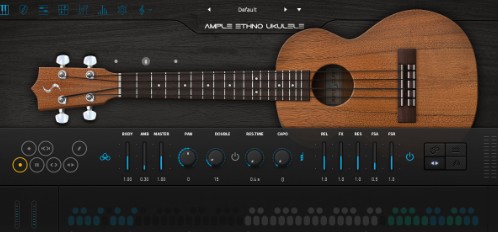 Key features:
Dedicated 10-track mixer with individual processing, volume control and pan for each drum sound
Dual delay and reverb units loaded with custom built Impulse Responses
Master processing section including multi-track Tape machine, compression and master EQ modules
Swap and browse the same presets and patterns between both Revolution-808 and Revolution-909
Additional Ableton Live Drum Rack and NI Maschine 2.0 presets included
Overview
MKII is quite a successful attempt to recreate the analog drum machines sound. The TR 808 and TR909, in particular, are the drum machines emulated in this version.
Even though the interface gives you as much freedom and speed of a software drum machine, it still retains the look and feel of hardware gear.
This plugin gives you so much freedom to create, with 2500 samples and lots of variations.
If you play the same sound thrice, you can be sure it will play slightly different variations of the same sound. This makes the recorded drums sound more natural. To use this plugin, your computer must have a RAM of at least 2GB. It is compatible with both PC and MAC.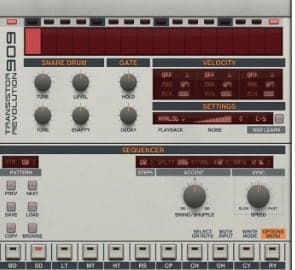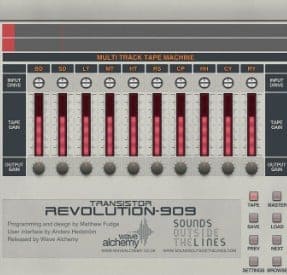 This plugin only works via Kontakt 5 or later. If you have Kontakt, you can use the MKII as a standalone instrument or use it within your DAW.
MKII has a 10-channel mixer for tweaking some parameters on the drum sounds. It gives you more control, even before you reach the mixing stage.
This drum machine gives you a lot more than kicks; it has several snares, clap, and another trap and hip hop preset that you'll love.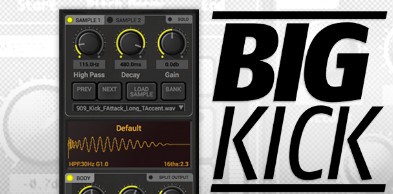 Key features:
Combines synthesis for flexibility and samples for extra-character
Flexible: Replicates most electronic kick drum sounds – with creative options to help you create the sounds of the future
Big library: Factory library includes >300 attack types and 110 presets
Tuned kick drums. Set the pitch to match your bass-line, or play the pitch of the kick drum with your MIDI keyboard
Use your own samples: Easily integrates with your existing sample libraries
Easy-to-use: Easier to use than any previous kick drum design tool. No complex envelopes to set – just sensible knobs for instant results
Overview
Do you prefer to have full control in the creation of your preferred kick sound?
If yes, then BigKick is for you.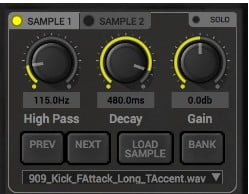 As its name implies, BigKick enables you to take a kick sample, put it in the plugin and make it bigger.
Rather than spend endless hours looking for the perfect kick, you can simply drag a kick sample, drop it in BigKick, and use the parameters available to make a kick of your choice. It's available for both Windows and Mac operating systems.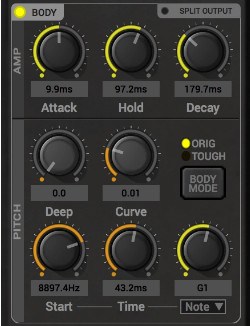 BigKick makes your job pretty easy. You simply need to drag the sample and drop it in the plugin.
When you're satisfied with your kick sound, you can export it for use in your DAW. All you need to do is simply drag it again from the plugin into the appropriate space on the main project. The knobs are responsive and you get instant interactive results.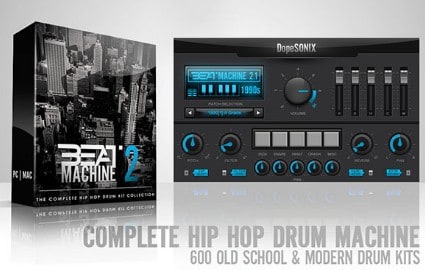 Key features:
600 Brand new pre-mixed quality drum kits that cover the entire spectrum of Hip Hop
300 Stereo & 300 Multi-Out Kits
1200+ dope drum samples included, already EQ'ed and treated for instant use
30 years of Hip Hop drums in one unit inc Boombap, East Coast, West Coast, Trap and more!
50 Brand new Hip Hop MIDI drum patterns included
Easy stereo or more flexible sub-mix output options
Separate kick, snare, hi-hat & percussion volume, and pan controls
Built-in flexible pitch and drive controls
Includes a built-in analog style reverb
NEW Five drum pads for tablet and touchscreen users
Overview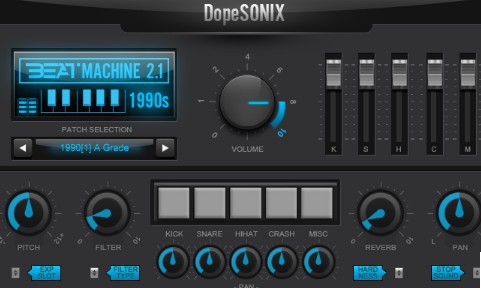 Beat machine 2 is a drum plugin that makes beatmakers and producers job much easier.
Rather than looking for different drum sounds all over the place, Beat Machine 2 is one drum engine that gives you all the components of a standard hip hop drum kit at a go. Additionally, the plugin is compatible with both Windows and Mac operating systems.
The samples in this drum VST include drum sounds from up to 30 years ago, but we're looking at 808s here. The 808 sounds you need are in the 2010s section. This is the part where more recent kits are.
There are 100 presets dedicated to these modern trap samples.
What's more?
You have good control over your sounds. The kick, snare, and other parts of the kit can be adjusted separately. The best part is that it works well with low-performance computers. With just 1 GB RAM, you can load up this VST into your DAW.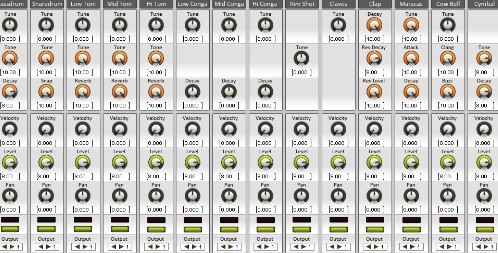 Features:
Roland TR-808 emulation
Full schematics for each voice
More parameters and a greater range than their hardware predecessor
Overview
TS-808 is a free software emulation of the legendary Roland TR-808 hardware drum machine.
Like some other drum machines on this list, TS-808 gives you the full drum kit. However, it has a wider range of percussion selection.
You can have up to four different congas. This gives room for expression when you want to fuse other world music styles into your trap or EDM song.
It's a free plugin, and it's only available for PCs. Mac users can't use this, unfortunately. Nevertheless, it's still one of the best plugins for FL Studio.
Each drum part has its own knobs with which you can sculpt the sounds to your taste. These controls may seem like a lot, but you can easily learn each of them by experimenting.
You can also route each drum part to a different channel on the mixer. TS-808 is surely one of the best free TR-808 software emulators you'll find.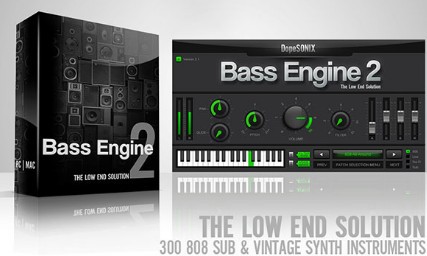 Features:
300 Hip Hop bass instruments including 808's, Sub Bass, Vintage Bass and more
Treated with a Drawmer 1961 Dual Vacuum Tube Equaliser for warmth and punch
Built-in pitch, pan, glide and volume controls
Built-in flexible ADSR controls
Mono, Poly and Legato modes.
Soft, Normal and Hard velocity modes.
Ultra-low CPU usage [perfect if you own a laptop/tablet / low spec PC/MAC]
Ultra-fast patch loading [flick through patches in lightening quick times]
Program your basslines manually or use a MIDI/USB controller/keyboard/MPD
Overview
Bass Engine 2 is a more modern version of its predecessor, Bass Engine. It adds 808s and other upgrades.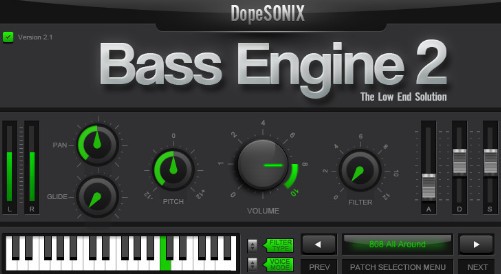 Essentially, it's a comprehensive bass vst plugin that has 808 bass as one of its features.
If you need that sub-bass energy in your production, this is exactly the place to go. Whether you're using PC or MAC, Bass Engine 2 will work perfectly on your computer.
You should know that this VST is not an 808 kick engine, but a bass engine. For full effect in your trap songs, you can add your energy pumping kick to any of the bass presets here.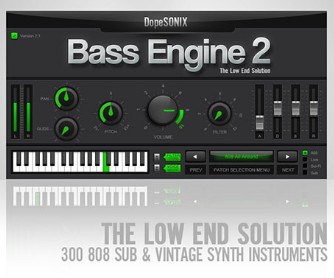 For 808 bass sound only, you have 150 presets to select a sound from. While some of these presets are single bass sounds, others are layers of interesting bass and even pad presets. These presets can be a good place to start searching for a good combo.
This isn't just an 808 bass machine like any other. It gives the convenience and speed of digital audio, with the added analog flavor. The sound is passed through a vacuum tube EQ emulator to give it that natural, warm sound.
Conclusion
All of the 808 VSTs on this list do their job pretty well.
However, if I have to pick a top 3, I would choose Beat machine 2, BigKick and Transistor Revolution MK II.
I have picked these 3 drum plugins because of the ease in operating them and their availability across platforms.
Bass Engine 2 didn't make it because it's mainly a bass plugin, which makes it not as versatile as the others.
Read Also: 7 Best Melodyne Alternatives (Free & Paid Included)