Affiliate disclosure: In full transparency – some of the links on this website are affiliate links, if you use them to make a purchase we will earn a commission at no additional cost for you (none whatsoever!). Will this be a problem? This is how we manage to create free content for you. Please know that your trust is so important for us. If we recommend anything, it is always because we believe it is worth exploring. And, buy me a coffee ☕️
When it comes to choosing wireless earbuds that are available in the market, there are plenty of them to choose from.
That too, in the recent few years, the quest for best wireless earbuds has been started in the consumer market.
In 2017, leading earbuds manufacturer Treblab unveiled Treblab J1. It has gained great popularity since its release and has been a good selling product on Amazon.
Unlike wireless earbuds like Jaybird, Treblab earbuds are easy on your pocket.
Have a look at the specifications of these earbuds:
Specifications:
Dimensions- 1.1 x 0.78 x 0.55 in
Weight- 0.56 ounces
Frequency response: 20Hz-20kHz
Playing time: up to 8 hours
Water resistance: IPX6
First off, let us know why you need wireless earbuds. Unlike over ear headphones, these earbuds are very light and can be easily portable.
With these earbuds, you also don't have to mess up with tangling of wires as these come with a short wire with an earbud on each end.
They are just an easy to use and wear earbuds that'll accompany you wherever you go.
Treblab previous is well known for its XR500, RF100, and XR100. However, the one I'm reviewing in this post is the J1 model is released after the above three were released. Indeed great improvements have been done to the newer J1 version of their earbuds.
In this review let's look at the earbuds, how it performs well when compared to the other competitor earbuds.
We'll also look at the sound quality, comfort and other features that these earbuds have got to offer.
Treblab J1 : Here is my honest review!
What's in the box?
The packaging is pretty compact. The package includes a good looking traveler case, with a nice red and black color scheme. The case is pretty durable and is a hard case.
You also have some paper work and they've also included the USB cable for charging.
You also get some ear tips of different sizes. The fins are also included in the hard case. These multiple ear-tips, along with memory foam ensures that you always find a perfect fit.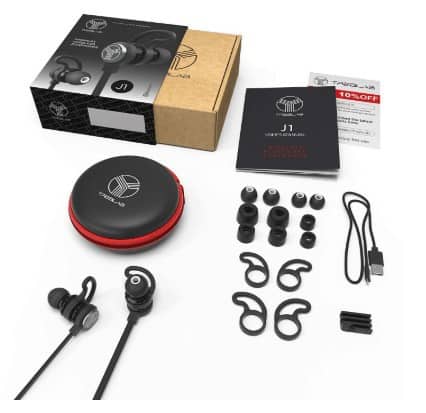 Design and build:
The design of the Treblab J1 is minimal. The drivers are tiny and contribute to the small size of the earbuds.
The housing on the drivers are with brush metal and feels very premium. It compliments excellently with your iPhone or any other mobile due to the metallic finish.
The drivers come with ear-fins attached to keep earbuds in place.
The earbuds fit greatly into your ears. When running or commuting you can easily swing your head back and forth without causing the buds to fall out due to the pulling of the wires.
The cable also contains the inline USB. Along with it, it also has the volume and multifunction button for controlling the volume and answering the calls and play/pause music.
Once you switch on the earbuds, the Bluetooth visibility is on. You just need to pair it with your device. The earbuds come with Bluetooth 4.1 out of the box. The Bluetooth works up to 30ft to stay connected.
The earbuds come with rechargeable lithium-ion battery. The battery life is around 8 hours on a single charge and takes 2 hours to fully charge.
They last for a week for my daily workouts. However, you do also need to note that the battery life may vary by around 2 hours depending upon the volume at which you are listening to and also the distance of the smartphone from your Bluetooth earbuds.
For most users, yes getting 7-8 hours off a single charge won't be a challenge at all.
These are IPX6 water resistant, so you need not to worry about rain and sweat ruining the longevity of the earbuds.
Back of the earbuds are magnetic, so that the buds can be attached back to back for easy storage in the case.
These Treblab J1 comes with extraordinary features.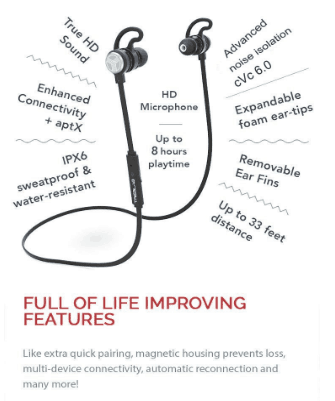 Sound quality
You may be wondering what these earbuds with very tiny drivers have got to offer you. The earbuds are very sensitive, the sound gets really high for outdoor use.
The volume is really loud, and you most of the time use the earbuds at 75% of the volume level it offers. This is all due to the low impedance these earbuds come with.
The bass is decent, not bass-head class, but it can definitely satisfy any bass head's desire after some EQ tweaking. The mids and highs won't suffer due to the bass and it's not that strong
The mids and highs are great and clear. The clarity of the sound and the bass level of these earbuds are perfectly balanced.
Due to the relatively balanced frequency response, these earbuds can be used for listening to any music genres like rap, hip hop, classical and much more.
If you are worried about sound quality due to the fact that these are wireless earbuds, they do come with apt-X anchoring technology to deliver CD like audio quality wirelessly over Bluetooth.
Noise isolation: These are not noise canceling earbuds. But they do isolate a good amount of noise. This is all due to the foam ear tips that offer a good seal between your ear canal and the buds. The sound also tends to not leak to the surroundings so much.
Mic sound quality: As I said earlier the earbuds also come with an inline mic that pretty decent. The phone conversation turns out to be very crisp with no distortion.
Contrary to other similar earbuds in this range, the sound quality of the mic is outstanding for conversations.
Comfort and durability
The earbuds offer great comfort and fit in really well and stay in place even while running or working out.
The package also comes with various ear tips of different sizes and also the driver has wings attached to it so that earbuds have a secure fit.
The included memory foam earbuds offer a great quality and also a great noise isolation.
These Treblab J1 earbuds have magnets at the back of them so that you can fix the two buds together and put it up in the hard case that's provided.
Being a wireless earbud, these don't come with a long cord. The only wire is there to communicate between two of the earbuds. When you attach these two buds via magnets, there's no way that the wire can tangle provided it's short.
There's nothing to complain about comfort whatsoever. With 8 hours of battery life, you can wear these on for hours.
The durability of the earbuds is excellent. As I said earlier the earbuds come with IPX6 ratings and is sweat/water resistant.
You can go out play in rain and workout dripping wet, without worrying about the earbuds at all.
Some downsides
The volume of the sound is really loud with lower levels. When you cross some safe volume limit, the beep indicating it is quite harsh.
For tracking forward and backward these are no buttons included in the cable. So to skip songs, you need to pull out the smartphone.
Sound quality is great, but nothing audiophile. An average Joe doesn't witness any difference, so don't worry if you are a casual listener.
Final words
Considering the cheap price at which these are selling at, I was surprised seeing the sound quality of these earbuds.
If you are looking for the same quality is bigger brands like Sony or Jaybird, you would have to shell out double the amount for the brand.
But the Treblab being a quite established headphones brand has managed to deliver an outstanding audio quality at the fraction of the price of the big brand earbuds with their J1 earbuds.
You really can't go wrong with these earbuds.
Hi, I'm Jennifer I'm a passionate singer and an audiophile from Detroit, MI. 
I'm on a mission to help music creators to create fine music that help them position uniquely in the saturated music space.
Follow my blog for regular content :-)