Do you know how many different types of microphones are there? And how to choose the perfect microphone type for you? Well, if you are stuck with these questions, don't worry. I've come up with a detailed discussion on types of microphones and their optimal use. So, let's dive deep into the matter!
Quick Answer
If you are concerned about microphone types and their diversity, then mark that microphones vary according to the diaphragm size, polar patterns, and transducers.
Microphones are of six types based on polar patterns: Cardioid, Omnidirectional, Hyper-Cardioid, Figure-8, Shotgun, and Multi-pattern.
Microphones are of three types based on transducer: Ribbon, Condenser, and Dynamic mics.
Microphones are of three types based on diaphragm size: small diaphragm, medium diaphragm, and large diaphragm mics.
There are other popular microphone types, like wireless mics and USB microphones. Continue reading to learn about each type in broad detail. At the end, I've also added a buying guide for your convenience. So, let's get started!
What are Microphones? How do They Work?
Microphones are devices that convert sound waves into electrical signals. These devices are widely used in film and music industry. A microphone works the following way: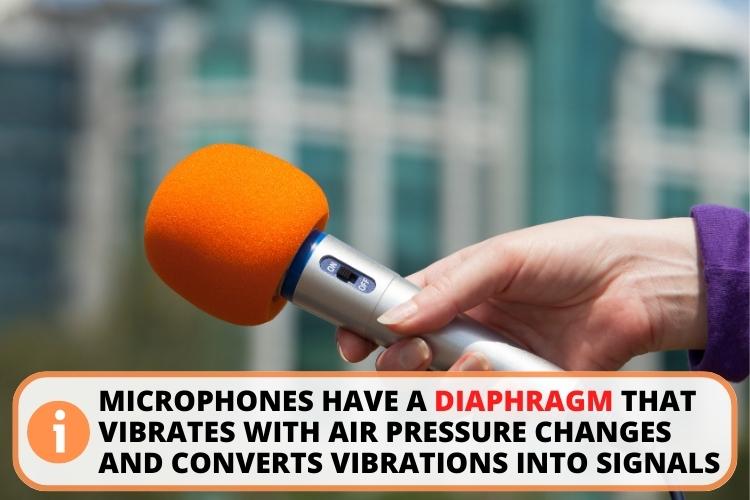 Every microphone has a thin metal named a diaphragm that captures air pressure changes and vibrates.
Then the vibrations are transformed into signals.
The signals can be amplified to a maximum level with various instruments.
3 Major Types of Microphones
We all know how diverse the microphone industry has become. However, there are mainly three types of microphones in the market based on transducer. Let me first explore them one by one!
1. Dynamic Microphones
Dynamic microphones are flexible devices with moving coil diaphragms designed to capture high sound waves. A dynamic microphone provides impressive sound quality and a reliable audio interface.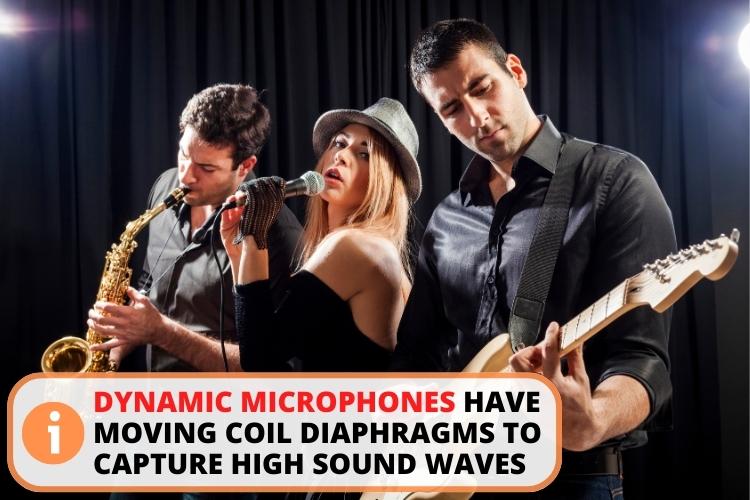 These durable devices can be utilized in a number of scenarios:
A dynamic mic is best for live music performances and broadcasting.
They work pretty well with guitar amps and bass.
They are optimal as drum kits and sometimes for vocal recordings.
You don't need phantom power in dynamic mics.
Usually, there is little to no noise distortion in this microphone.
2. Ribbon Microphones
Ribbon microphones are also known as ribbon velocity microphones. They pick up sounds from both sides of the microphone. If you remember the golden days of radio, you can remember how popular these mics were.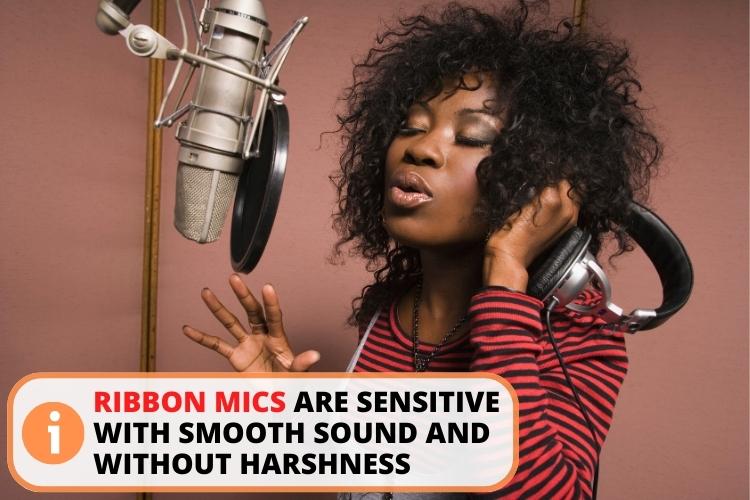 Usually, ribbon mics are also sensitive microphones with smooth sound and without harshness. Like dynamic mics, a ribbon microphone doesn't require any phantom power. Still, they can be used in a number of scenarios:
Ribbon mics are great for recording studios, especially if you want a vintage sound.
These are great for drum overheads and guitars.
They are also suitable for limited multi-instrument recordings.
3. Condenser Microphones
If you want impeccable sensitivity and fidelity, then condenser microphones are the best choice. These microphones have a conductive diaphragm, and the sound waves usually vibrate and transform into signals.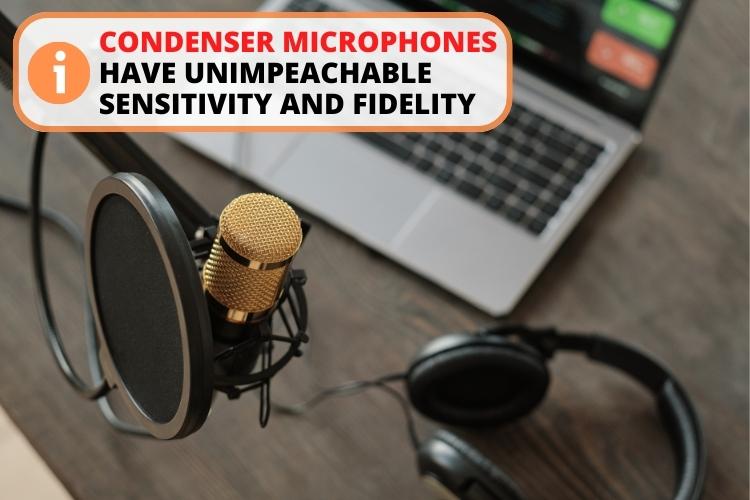 Condenser mics usually use capacitance for improved sound quality and wider frequency response. One drawback of a condenser mic is that it requires phantom power to operate.
Condenser mics have a reduced level of sound distortion.
They are best as live vocal mics.
They are also optimal for a home studio setup.
Important! However, note that condenser mics are not suitable for background recording.
6 Types of Microphones Based on Polar Patterns
Polar patterns are a common way of sorting out different types of microphones. It usually measures how different mics capture the sound waves and the direction of sensitivity.
If you understand the mechanism, it would be easier to pick up the most suitable mics. It will also help you to reduce the unwanted noise to a substantial level. So, let's get started.
1. Cardioid Microphones
Probably, you have heard of cardioid mics before, as they are the most sought-after polar patterns. This cardioid pattern mainly focuses on the front sound production.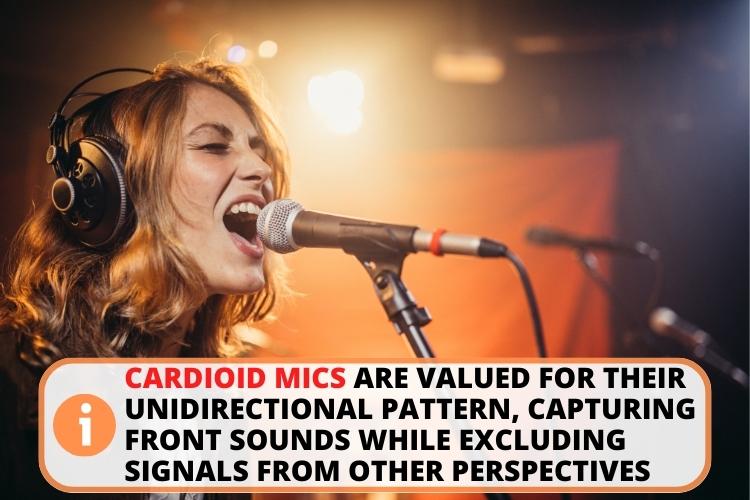 It doesn't capture significant electrical signals from other angles. That's why a cardioid mic is known as an unidirectional pattern.
Cardioid mics are most suitable for big concerts where you project your sound in one direction.
You can use them as acoustic guitar speakers and other musical instruments like the drum kit.
For karaoke bars, these mics are truly useful.
Important! Remember that positioning the speaker and microphone is paramount to getting the desired audio signal.
2. Omnidirectional Microphones
As the name dictates, omnidirectional microphones pick up sounds from all sides and directions. That basically means whether the sound comes from the front or behind, it captures all. An omnidirectional microphone can convert sound waves with exquisite subtlety.
These microphone types are best for capturing details.
They can be suitable for recording wildlife as well as stereo recording.
If the sound level is lower, you can utilize them for live recordings.
Note: However, one thing should be noted here omnidirectional microphones are not good for noisy and loud sound sources.
3. Hyper Cardioid Mics
Similar to a cardioid polar pattern, super or hyper-cardioid microphones have front sound projection. However, the sensitivity level is much lower here, and the noise rejection level is much higher.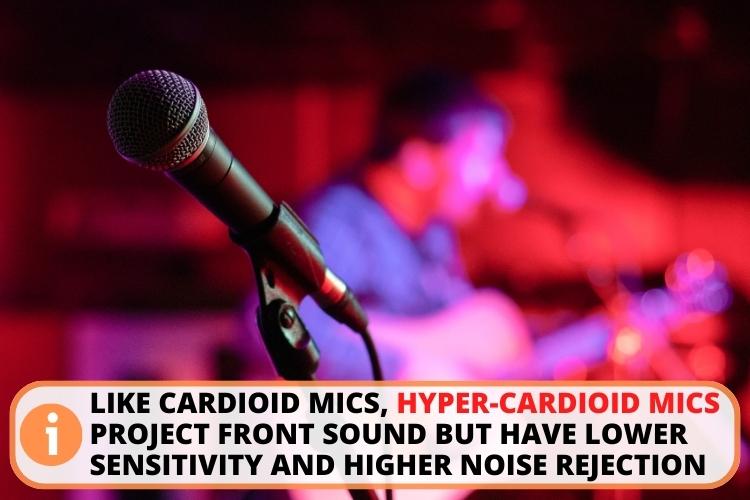 So, a super/hyper-cardioid pattern is good for stage performance.
They are suitable for louder and more natural sound production.
You can even utilize them for recording rooms.
4. Figure-8 Microphones
The polar pattern here mirrors the numerical number 8. Therefore, they are called the figure-8 microphones or bidirectional microphones.
Usually, they capture sound waves from the front and behind only.
This pattern is most suitable for stereo recording.
Note: Many ribbon microphones and, in some cases, large diaphragm condenser microphones use figure-8 patterns.
5. Multi-Pattern Microphones
Switchable microphones are also becoming popular nowadays for their obvious comfy usage and diverse flexibility.
You can switch between different polar patterns and enjoy the several positioning facilities.
Many of today's USB condenser microphones are using this pattern.
Note: Though multi-pattern mics offer tremendous potential, they are vulnerable to breakdown. So I suggest using them with caution.
6. Shotgun Microphones
Shotgun mics have a distinctive gun-barrel pattern. They are also sometimes known as "Line and Gradient designs".
A shotgun mic projects sound to the front only, but the range is comparatively better than a cardioid microphone.
Shotgun mics provide impressive performances for chorus, group singing, and even drums.
Moreover, they are the most common microphone type used in theatre performances.
3 Types of Microphones Based on Diaphragm Sizes
There are different types of microphones based on their diaphragm size. The diaphragm vibrates and transforms the sound into an electrical signal. Note that the diaphragm size can determine the sensitivity range, sound pressure level, and even the sound level.
Let's now explore the three major microphone types based on their diaphragms.
1. Large Diaphragm Condenser Microphone
The thin material or diaphragm is bigger in some microphones, and they can capture air vibration more. These diaphragms can sense the slightest change in sound pressure levels, making the sound detailed and precise.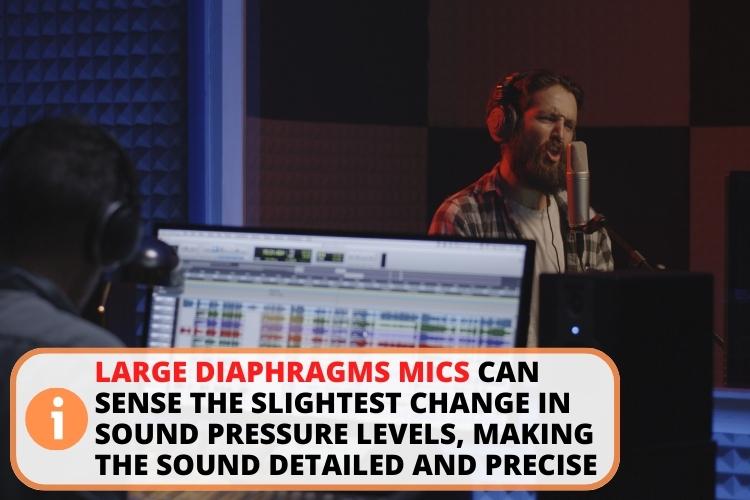 Large-diaphragm mics are optimal for studio and indoor recording.
They are used in most modern USB mics and iPads.
These are compatible with most of the musical instruments.
Note: One thing that should be noted here is that the sound pressure levels must be checked to avert any distortion.
2. Small Diaphragm Condensers
You might have heard about pencil mics, don't you? Well, small diaphragm mics are known by that name because they have thin and tiny cylindrical shapes.
These condenser microphones offer a wider sound range but a disturbing internal noise.
They are great for guitar, cymbal, and some other musical instruments.
The drawback of these mics is their lower sensitivity level.
3. Medium Diaphragm Condenser Microphone
If you combine a large and small diaphragm, then you get a medium diaphragm condenser microphone.
Many people are opting for medium diaphragms due to their compatibility.
You can use them both for studio recording and live performance.
4 Different Microphone Types Are Used in Music
This section is very important to understand each microphone type and their respective music usage. You shall understand which microphone will be best for what purpose. So, let's get started.
1. Drum Mics
Dynamic microphones are most suitable for use in different drum kits because they can capture:
The bass;
Snare;
Loud noise easily.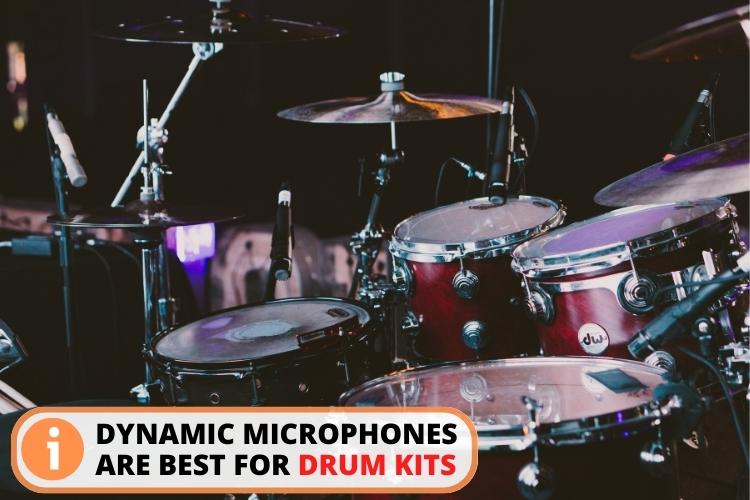 But if you want impeccable precision to capture nuances, then small diaphragm microphones should be your first priority. Moreover, if you are in a puzzle, you should find specialized microphones for different drum kits.
Note:
There are some good omnidirectional and ribbon mics optimal for use with drums. Or browse
through the store
to find your perfect fit.
2. Vocal Mics
Vocal mics should be a perfect fit for a better-synchronized output:
Performances: You should use a cardioid mic for stage and live performances.
Usual Vocal Recording: A large diaphragm condenser mic should be used for recording vocals as they can capture vocal nuances perfectly.
Vintage Vocal Recording: A dynamic mic or a ribbon microphone should be your priority if you want to record vintage vocals.
Group singing: A shotgun mic is best for capturing chorus and group singing. You can also use small diaphragms here.
3. Acoustic Guitar Mics
You have to figure out which one suits most for your needs. My recommendation is better to use large diaphragm condenser mics for acoustic guitars.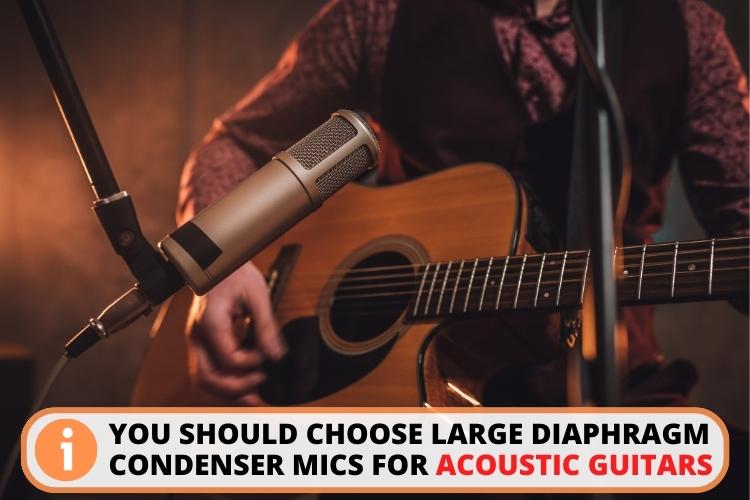 But sometimes, it is better to use figure-8 ribbon microphones or cardioid condenser mics to have softer sound production. Moreover, if you want high frequencies, then I suggest you choose small diaphragm condenser mics.
4. Electric Guitar Amplifier Mics
A hyper-cardioid dynamic microphone is best for dealing with the high sound pressure level (SPL) of an electric guitar. However, you should remember one thing here. The mic placement should be checked and rechecked to find out the perfect positioning.
Which Types of Microphones are Best for Podcasting and Live Streaming?
In recent years, we have seen the booming market of podcasts and live streaming on social media platforms. Well, which mic should you choose for this purpose? To be precise, USB mics are best for podcasts and live streaming.
USB Microphones
USB mics are basically a version of condenser microphones. In some cases, they are the variation of dynamic mics as well.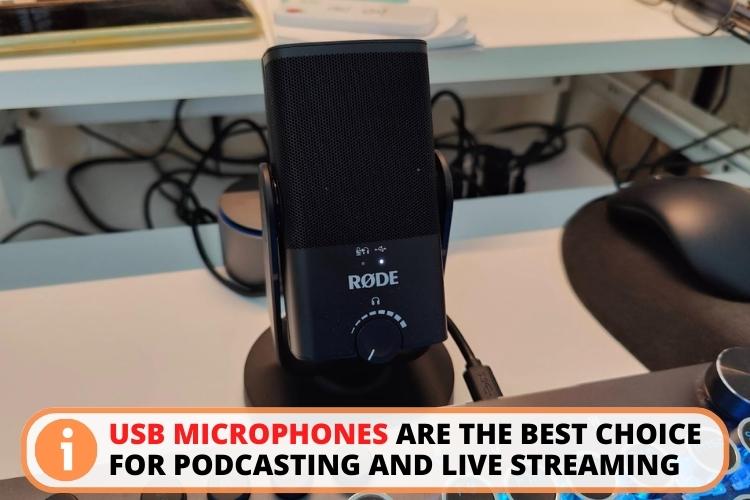 These microphones can be used directly with the computer as no XLR cables are required here.
They are pretty much hassle-free and cheap.
You can easily utilize them for gaming, streaming, and podcasting.
Some of the best condenser mics of this type are Audio Technica AT2020 and RODE Podcaster. Moreover, if you prefer dynamic microphones, then go for Shure MV7.
Which Types of Microphones Are Most Suitable in Filmmaking?
Modern microphones are too sophisticated and advanced. Among them, these followings three types are widely used in the film industry.
1. Wireless Microphone
Wireless microphones don't require any wire to work and are most suitable for stage shows.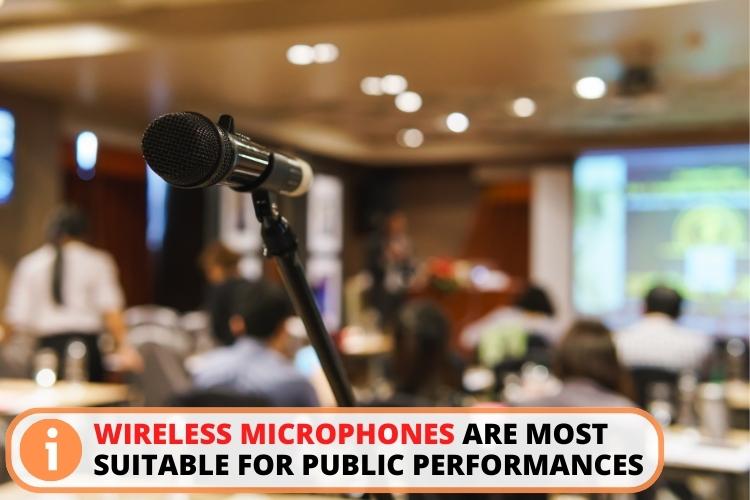 They are easy-breezy and safe to operate in a filmmaking studio.
There are usually wind covers to avert the ruffling wind noise inside the mic.
Sometimes, Lavalier microphones are used inside wireless mics to get better sound waves.
Note: The problem with wireless microphones is that they are pretty expensive.
2. Lavalier Microphone
A Lavalier microphone is highly effective for hands-free and dynamic sound capturing in film studios. These are so small you can clip them into the collar or neck, and no one will ever notice them. You can attach them with the camera or mixer in no time.
Note: What's the best part is that Lavalier microphones are pretty affordable.
3. Shotgun Microphone
I've already discussed shotgun mics in the previous section. These mics are widely used across the globe for their versatile use in filmmaking. You can either attach them with the camera or use a boom pole to capture the sound from the sound source.
Important! Note that a shotgun mic requires phantom power.
How To Choose the Perfect Microphone? A Comprehensive Buying Guide
Now you have understood that there are different types of microphones, and it is difficult to pick the perfect one. To salvage the situation, I've come up with some important factors that you must consider before picking one. Here we go.
1. Consider the Usage
The first thing you should consider is the purpose of picking a microphone. Are you going to record vocals or use the microphone for some instruments? This will help you to choose better.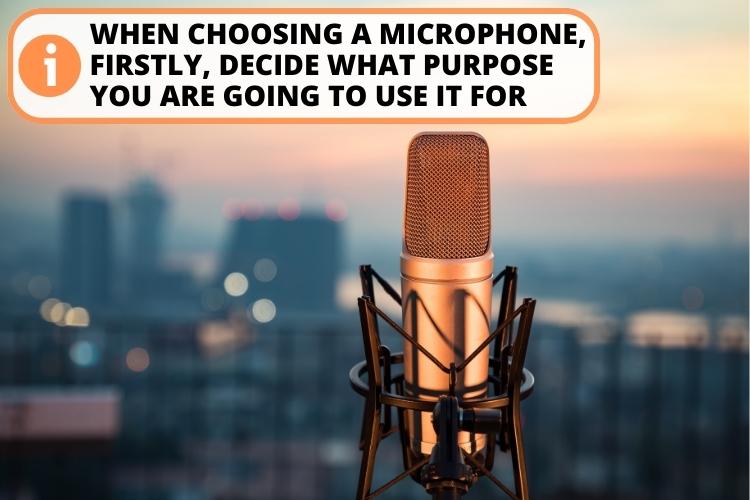 Guitar and Strings: If you want mics for guitar and strings, large diaphragm condenser microphones should be your best bet. You can also try out ribbon microphones or small diaphragm condensers as instrument mics.
Voice records: For vocal recordings, every microphone type is pretty compatible. However, condenser mics are considered better for such jobs.
Podcasting: USB mics are most suitable for podcasting. These mics are pretty comfy to set up and use.
Streaming: USB mics can be pretty good for streaming videos. However, if you are searching for a more advanced option for live streaming, then XLR mics should be your first priority.
Low-frequency instruments: Dynamic microphones are the most compatible with low-frequency instruments like basson or tuba. But for lower sound waves, ribbon mics can be more suitable.
2. Narrow Down Your Genre
Another important thing to consider is to choose specific mics for a particular genre. Narrow down your genre and find out which mics are optimal for certain tasks.
I suggest condenser mics for smooth action if you want to play folk or pop music.
Dynamic mics are best for macho music concerts like rap and rock.
Ribbon mics are best if you have a natural lower voice.
Cardioid and condenser mics are optimal for live streaming and podcasting.
3. Try Out and Test Different Microphones
If you visit the store, be it online or offline, search different models and find out which one suits your needs most. I always recommend going to an offline store and trying out different brands and models. You can easily listen to which one suits your vocals and which one might be good for your studio.
4. Record and Evaluate
Now once you have gone through all types of microphones, record your voice with the selected few. While doing the recording stuff, make sure you have little to no background noise, and the microphone is positioned in the right direction. Now check the recording and evaluate the quality. That's how you choose the perfect mic.
Frequently Asked Questions
What is the Most Common Type of Microphone?
Dynamic microphones are the most common type due to their reliable performance and impressive sound quality.
Why are There Different Types of Microphones?
There are different types of microphones suitable for use in different scenarios. While some microphone types are best for live performance, some are good for studio recording.
What Type of Mic is Best for Vocals?
A large diaphragm condenser mic is best for recording vocals.
What Type of Microphone is Best for Speaking?
Wireless microphones are most suitable for speaking because of their portability and lightweight design.
Conclusion
Now you have got to know all types of microphones available today. So which type should you choose for your activity?
If you want to record vocals or acoustic guitar, then my recommendation is to go for a condenser microphone with a wide diaphragm. If you want to stream YouTube videos, then a good choice is also a condenser mic. But pay attention to the connection type, it should be a USB or XLR.
However, if you need to record a low-frequency instrument such as a bassoon or trumpet, you should opt for a ribbon or dynamic mic. But please make sure to choose microphones that can provide impeccable sound quality and long-term services.