Affiliate disclosure: In full transparency – some of the links on this website are affiliate links, if you use them to make a purchase we will earn a commission at no additional cost for you (none whatsoever!). Will this be a problem? This is how we manage to create free content for you. Please know that your trust is so important for us. If we recommend anything, it is always because we believe it is worth exploring. And, buy me a coffee ☕️
Today in this post let us review Rode NT-USB Mini vs Blue Yeti and find the winner.
[amazon box="B084P1CXFD,B00N1YPXW2″ grid="2″ button_text="Buy from Amazon"]
The Blue Yeti has gained a lot of popularity as one of the best USB mics. Podcasters, vloggers, voice-over artists, and musicians all love it.
The Rode NT-USB Mini is also gaining popularity fast. It's a go-to choice for a lot of content creators. Both these mics are phenomenal at what they do, but we're trying to find out which one is better.
So, which mic sounds better, the Yeti or the NT-USB Mini?
Which one is more effective, and in what use cases?
I answer these questions in this article. Enjoy!
Features
Rode NT-USB Mini
Blue Yeti
Polar Pattern
Cardioid
Cardioid
Bidirectional
Omnidirectional
Stereo
Frequency Range
20 Hz – 20 kHz
20Hz – 20kHz
Sample Rates
48 kHz
48 kHz
Max SPL
110dB SPL (@ 1kHz, 1% THD
into 1KΩ load)
120dB (THD: 0.5% 1kHz)
Signal to Noise
75 dB
100dB
Weight
550 g
1.2 lbs (.55 kg)
Explore more
Check price
Check price
Rode NT-USB Mini vs Blue Yeti: In-depth comparison
Build and design
The Rode NT-USB MIni has a solid frame. The body is mostly made of steel material. You can place it on your table and it still won't take so much space. It comes in matte black only. This color is good for YouTubers who don't want their mic to attract a lot of attention.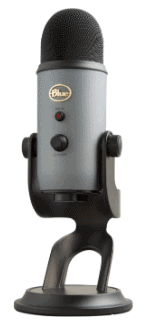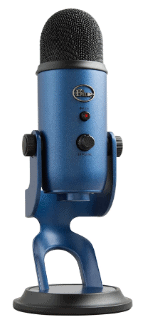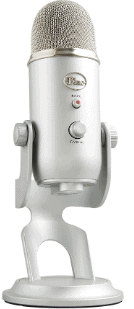 Blue Yeti is also sturdy with a metal frame. However, it comes in up to four different colors; white, black, silver, and gray. If you prefer your mic to stand out in your video, you may go for one of the flashy color options.
Both are USB mics, so they each have a USB port through which you can connect them to your computer.
The Rode has a Type-C USB port while the Yeti has a mini USB port. Type-C is a modern, faster USB connection type. The difference in USB type doesn't have any real effect on the sound quality though.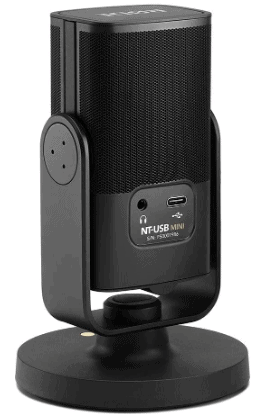 Headphone monitoring is also available in both mics via a 3.5mm output port. It's a zero-latency port that allows you to hear what the mic captures in real-time.
Also, in both the Yeti and NT-USB mini, there's no mic gain control. The knobs on the mics are for headphone monitoring gain.
Verdict: As far as design is concerned, I'll choose the Yeti because it gives me a range of colors to choose from. In other aspects, both mics are quite similar.
Features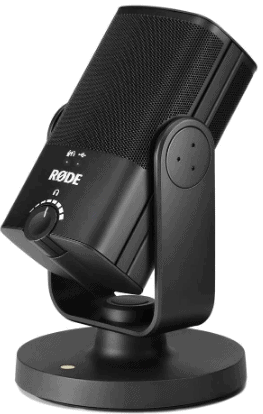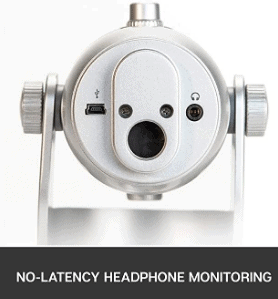 The NT-USB mini is a cardioid microphone. This means that when picking sound, it only captures what's in front of it. That's a plus if you want to reduce background noise in your recording.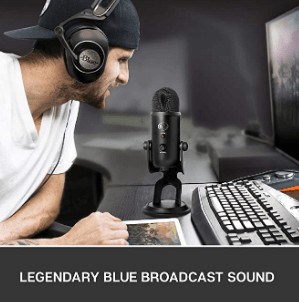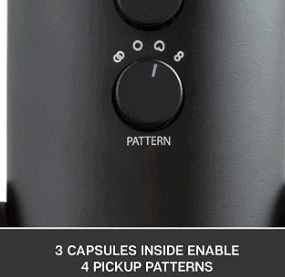 The Yeti offers four different pickup patterns – cardioid, omnidirectional, bidirectional, and stereo. The omnidirectional pattern makes the mic pick sounds from all sides. This can be useful for podcasters who record up to five people at once.
It can also be useful for recording two people if we consider social distancing.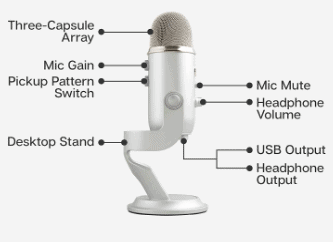 The bidirectional pattern only picks sound from the front and rear of the mic. Having more polar patterns makes Blue Yeti more versatile than its rival. In some cases, the Yeti is used for ASMR recordings while in the omnidirectional pattern.
The Rode has an internal pop filter that reduces the popping effect of plosive sounds. This means you don't have to spend extra money on an external pop filter. To remove this effect in the Yeti, you may have to add an external pop filter.
Of course, it may make the whole setup look bulky in a video. To reduce the pops without an external pop filter, you should place the mic in front of you such that your mouth is slightly above the receiving end. This way, the busts if air won't hit the mic directly.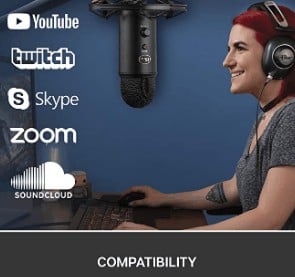 Both mics are only compatible for use with your computer, to be connected via the USB port. They won't work if you try to connect through most audio interfaces.
Sound quality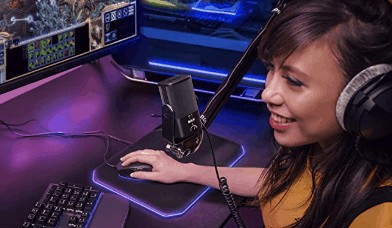 Rode NT-USB Mini has a crisp sound that enables speech to come out clear. It's the main reason why it's good for podcasting and vlogging. This crispiness comes at the expense of some warmth in the low mids and some bass heftiness.
This means that in a voice-over situation, where you need a deep vocal texture, the Rode may reduce the big, bold effect you're looking for.
The NT-USB Mini has less bass and low mids but an enhanced treble, making it good for speech purposes, especially when there's background noise. The voices can stand out and your audience can hear what you're saying.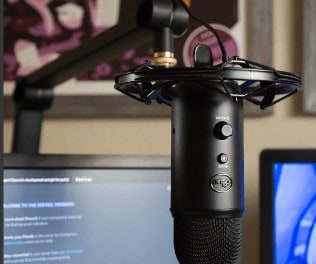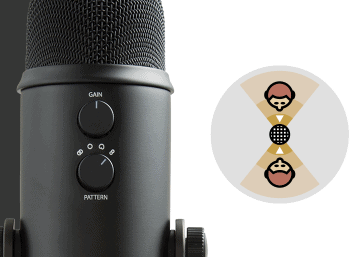 However, it does very well with speech. It doesn't add any dynamic processing before the sound gets to your computer. So, you have control over the sound to a large extent.
The Yeti has a different feel in terms of sound. The general frequency response is quite balanced. It brings out the richness of the original record material in full.
Blue Yeti has more bass and low mids, together with a balanced treble. The Yeti is suitable for recording vocals for music and even instruments. After recording, you have the liberty of editing how you wish.
For multiple use cases, the Yeti has an upper hand because of its different polar patterns. For the best results, you need to move pretty close to the mic. Rode NT-USB Mini, on the other hand, requires you to leave at least for inches space between you and the mic.
Verdict: The better mic here depends on who is using it. If You're recording speech only, and you don't have a lot of audio editing experience, the NT-USB can give you a good start.

On the other hand, if you need a mic for voice-overs and you have a deep voice, or you need the mic for musical purposes, Blue Yeti is your guy.
Similarities and differences of Rode NT-USB Mini vs Blue Yeti
Similarities
Both mics have desk stands which make them suitable for vloggers and gamers.
They're both USB-type microphones, so they only work by connecting to your computer.
Both the Blue Yeti and Rode NT-USB Mini are condenser microphones.
Differences
While the NT-USB has only a cardioid pickup pattern, Blue Yeti has the cardioid pattern plus 3 additional ones.
To connect the NT-USB, you use the mini USB port. The Blue Yeti connects via its USB-C port.
Blue Yeti gives a more balanced sound while the Rode sound has more treble than bass and mid.
Pros and cons
Rode NT USB Mini
Pros
It has a solid frame that can withstand handling.
The sound is crispy and makes speech clear and audible.
It doesn't need an audio interface to work with your computer
Cons
It makes thick voices sound a little thin.
It has just one polar pattern, which makes it less versatile.
Blue Yeti
Pros
It has multiple polar patterns, making it useful in a wide range of situations.
Its balanced frequency response makes it suitable for musical use.
Cons
It needs a pop filter, which may look clumsy when set on your desk.
Verdict
For me, Blue Yeti ticks so many boxes in terms of performance and features. However, that's because I record vocals and instruments. If that's what you do, then the Blue Yeti will serve you better.
For rookie podcasters and YouTubers, Rode NT-USB will prove a very useful choice, especially if you're recording just yourself. It helps you bring out the voice even before editing.
Hi, I'm Jennifer I'm a passionate singer and an audiophile from Detroit, MI. 
I'm on a mission to help music creators to create fine music that help them position uniquely in the saturated music space.
Follow my blog for regular content :-)