In this post today we are reviewing the best ASMR mics and help you decide which one is the best mic to start your career as an AMSR artist.
ASMR audio is fast becoming more popular these days. There are many thriving ASMR artists and numerous other aspiring ones.
Our Best Pick
3Dio FS Pro II (FSP2-2B-003)
Best Value for Money
Logitech for Creators Blue Yeti USB Microphone for Gaming, Streaming, Podcasting, Twitch, YouTube, Discord, Recording for PC and Mac, 4 Polar Patterns, Studio Quality Sound, Plug & Play-Silver
Cheap Microphone for ASMR Recording
Zoom H4N PRO Digital Multitrack Recorder, Black (H4nPro)
Best Value for Money
Logitech for Creators Blue Yeti USB Microphone for Gaming, Streaming, Podcasting, Twitch, YouTube, Discord, Recording for PC and Mac, 4 Polar Patterns, Studio Quality Sound, Plug & Play-Silver
Last update on 2023-12-08 / Affiliate links / Images from Amazon Product Advertising API
Because of the nature of ASMR audio, there are not many microphones that do justice to this kind of recording. There are certain features of a mic that makes it fit for ASMR capturing.
So, which microphone is the best for ASMR recordings?
Does this best microphone fit into your specific needs?
What other quality options do you have if you're on a budget?
These and more are the questions answered in our list of the 5 best mics for recording ASMR.
| | | | | |
| --- | --- | --- | --- | --- |
| # | Product | Frequency response | Signal-to-noise ratio | Amazon product page |
| 1 | Blue Yeti – Our Best Pick | 20Hz – 20kHz | 100dB | |
| 2 | 3Dio FS Pro II FSP-2B-003 – Best Value for Money | 20Hz to 20000Hz | 71 dB(A) | |
| 3 | | 24-bit/96 kHz | 92 dB | |
| 4 | | 100Hz to 10kHz | 80 dB at 1kHz | |
| 5 | | 20Hz-20kHz | 88dB | |
Things to consider before buying the best ASMR microphone
Self-noise
Due to the circuitry in the microphone, every microphone produces some kind of self-noise.
Self-noise is basically the sound the mic makes when everywhere is quiet and the mic is on. For some mics, this self-noise can be audible.
Such mics are a no-no for ASMR recordings.
You need a mic that has very low self-noise (typically below 15dbA) or very high signal to noise ratio (80db and above).

This is because ASMR recording involves low volume whispers and sounds. Those sounds, no matter how light they are must be audible, while the mic's self-noise remains inaudible.
Directionality
For ASMR recordings, binaural microphones are best for the job, with omnidirectional mics following.
Other mic types that will also do a good job are stereo mic, XY mics, and other field recording microphones in general.
This is because they can capture a wider soundstage and provide a more natural-sounding recording than cardioid mics.
Cardioid mics can also be used in matched pairs as in Rode NT1-A to provide the stereo soundstage.
Recorders
The mics will not work alone. You need devices that will record what the mics capture. This may include multitrack recorders, a computer or a mixer.
The recording device you have will determine what mics you can use. If you have a computer and no additional audio interface, a USB mic will be your best bet.
Phantom power
Some of these mics need extra power drive to work to their capacity. This phantom power can be provided via an audio interface, preamp, mixer or external recorder, but it cannot be provided by your computer's USB port.
Here are our handpicked best ASMR mics:
Build and design
Blue Yeti has carved a niche for itself as a go-to mic for ASMR recording. Many ASMR videos that you would find on YouTube today show the artist using a Blue Yeti.
This mic is particularly good for beginner ASMRtists because it's a USB mic. All you need to do is plug it into your computer and you're ready to record. There's no need for any intermediary interface.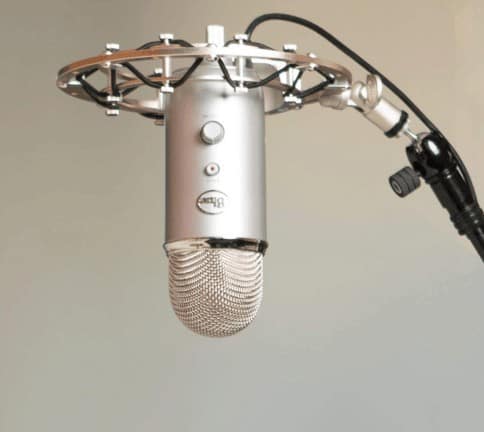 The Yeti's body is made of metal from top to bottom, except for the knobs which are plastic.
To make an ASMR recording, you need the mic to be well placed so that small desk bumps do not upset your recording.
Additionally, you can adjust the sound receiving pattern of this mic. You have four polar patterns to choose from omnidirectional, cardioid, figure-8 and stereo mode. You can easily switch from one pattern to the other while doing your recording.
Sound quality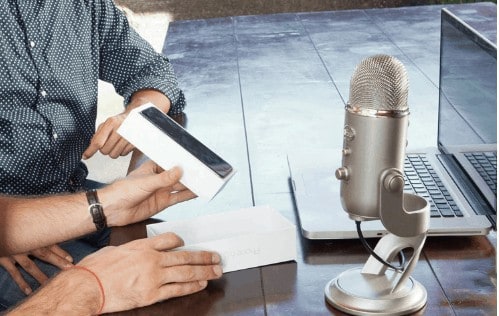 There are a number of sound characteristics that make the Yeti good for ASMR recording. One of the most important ones is the low self-noise of this mic.
It is one of the lowest that you will find at this price point. The advantage of low self-noise in an ASMR mic is that the listeners can hear the whispers and very light sounds clearly. For some mics, the self-noise would get in the way of such low volume recording.
The different polar patterns make it easy to change the behavior of the mic at different points while recording.
For instance, while you're stroking the mic with a brush, your Blue Yeti ASMR settings may include omnidirectional polar pattern to prevent bass buildup and capture the effect from all sides of the mic at the same time.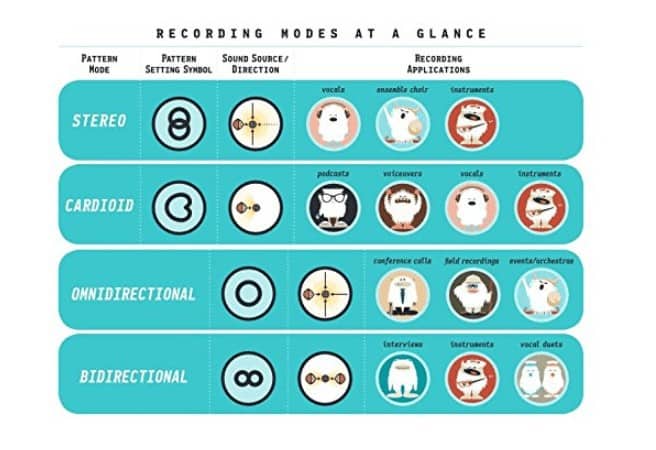 You can also use this pattern to capture whispers from sides of the mic while the gain knob is turned all the way up for maximum sensitivity. At this high gain, other mics would have an audible hiss that would mess up ASMR whispers; not the Yeti!
Pros:
Provides quality sound for ASMR artists on a budget.
Has a flat frequency response
The rounded shape makes it easier to do brush strokes and light scratches
Cons:
Its shape makes it harder for the artist to protect human hearing behavior, unlike ear-shaped mics
Artists must have good breath control when doing whispers at high gain.
Bottomline
At this price range, the Blue Yeti is surely one of the best ASMR mics you will find.
Build and design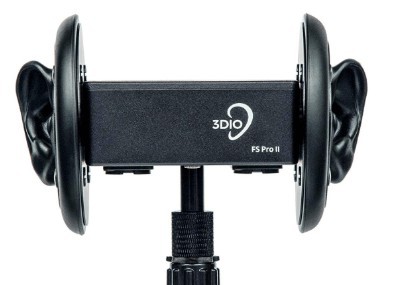 This 3Dio microphone is actually shaped like human ears. The receiving ends are holes inside the ear-shaped ends. It's a binaural microphone.
This means that the microphone is made such that it behaves like the human ears and captures sound as such.
If you want to know where the sound is coming from without even looking? That's exactly how this mic captures ASMR and that's surely how the recorded sound will be delivered to you.
The FS Pro II is an all-black design that has two balanced stereo XLR outputs that require 48V phantom power to work. Phantom power or not, you will need an audio interface to work with this mic.
An XLR will not connect straight to your computer. It's also better to use an audio interface that allows two XLR inputs at the same time.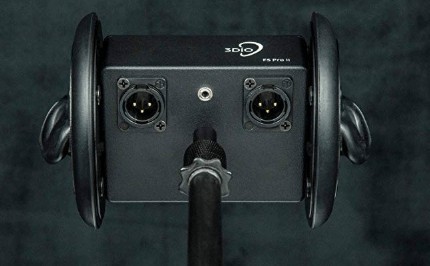 If you don't have an interface that provides the needed phantom power, Pro II has a 9V alkaline battery that can provide enough power to do 300 hours of ASMR recordings.
Sound quality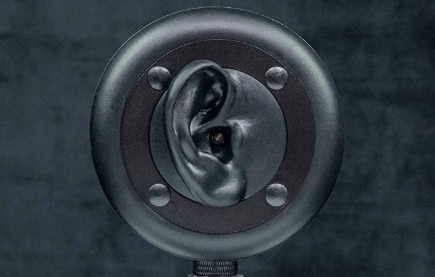 Like most quality mics, FS Pro II has a frequency range of 20Hz to 20000Hz. What sets it apart in sound quality is really not it's frequency range, it's how it captures the sound.
The shape of our outer ears (the part of your ear that you can see and touch) affects the way we perceive sound. The outer ear, also called pinna is an acoustic environment in itself.
So, while some of the sounds enter the ear hole directly, some of it reflects off your outer ear, especially if the sound source is behind you.
What this means, is that the sound you hear is not just a function of the direction or position of the sound source, it's also a function of how your outer ears interact with it.
Now here's the coolest part:
Because the FS Pro II is shaped like the human ears, we can say it does not only capture sound for recording, it "hears" it.
Generally speaking, this may not make a noticeable difference, but in ASMR, it means a lot. You can interact with the mic as though you were with real human ears and you will achieve amazing results.
Pros:
Pure, natural sound
Gives realistic 360-degree soundstage
Flat frequency response
Cons:
Needs an additional audio interface with the preamp.
May lack the tingling sensation you get from lightly scratching a mic's mesh grille.
Bottomline
It's surely a wonderful ASMR mic if it's in your price range.
Build and design
The H4n is a rugged multitrack portable recorder that is capable of recording up to four tracks at the same time.
The best part of this recorder is that it has multiple uses. You can use the built-in XY mics as your primary ASMR capturing mics and you can also choose to connect external mics, using the H4n as your audio interface.
Here we'll be talking more on using it as your ASMR mic. For ASMR triggering activity, you can either screw the recorder on to a stand while you record your routines or hold it in your hand.

Unlike many mics, this recorder does not have handling noise that disturbs your recording just because you changed or you moved it. Also, ASMR triggers can be initiated with those mics. It's best to do this without the windscreen on the mic.

Zoom H4n's body has some grip that keeps it from slipping from your grasp. Its controls are also quite accessible.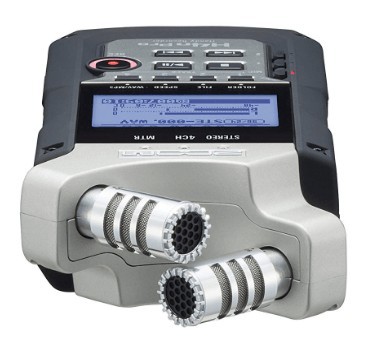 You can record your audio into a memory card after which you can copy it onto a computer. The XY microphone pattern adds some width to the soundstage and makes it sound more natural.
Sound quality
Ordinarily, the H4n has low self-noise, which is the major reason why it's on this list.
However, the mic's quietness ends when you switch from battery power to AC power. The H4n begins to give some background hiss.

You may be tempted to go on with the ASMR recording anyway. Don't! That move may prove costly. That seemingly unimportant hiss may ruin your ASMR whispers at the end.
If you want to monitor the sound, I suggest you do this by wearing best ASMR headphones.
Pros:
It has multiple uses; can be used as a mic and audio interface.
Can be held in the hand while doing ASMR recordings
It can be used on-the-go without any computer or interface.
Cons:
The mic is exposed on top of the recorder
Mic head is small and may be inconvenient for some ASMR triggers
Bottomline
Of course, you'll still have to do some copying and editing, but H4n has what it takes to make a good ASMR recording.
Build and design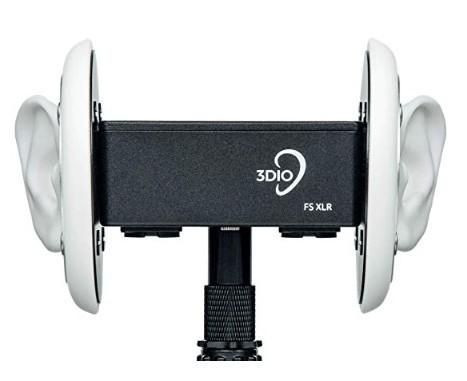 3Dio FS is another binaural microphone shaped in the form of human ears. The ears are white while the rest connecting bridge is black. This design makes it easy to project the audience's listening experience.
All the artist has to do is act as though the mic is the subject's head. Then, the ASMRtist can do all the triggers and sensations as they wish. As you carry out those sensations, you can be sure that your positioning and maneuvers will be accurately replicated in the listener's ears.
You can hook this mic up to your mic stand via the ¼" screw hole provided. Placing this mic on a tripod is much better than placing it on a table or desk.
This is because you can have more space to do your sound positioning. Even though most triggers are done close to the mic, some relaxing episodes can be triggered with sounds from varying distances from the mic.
Sound quality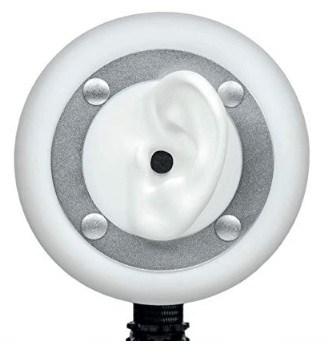 This mic has a frequency response of 100Hz to 10kHz. The 10kHz stated by the manufacturers is not exactly where the frequency range stops, rather it's where the roll-off begins.
Because of its high sensitivity, this 3Dio mic captures everything that sounds around it, including the lightest ASMR whispers. There's one additional amazing feature that makes this mic's sound quality amazing.
In natural human hearing, there's a very tiny time difference between when audio enters one ear and when it enters the other. This little time difference affects how we perceive sound.
This is because as little as this time difference is, it's the reason we can tell where the sound is coming from; that's how our brains are wired.
That's not all.
We can also tell the location of sound by the differences in volume levels. If the sound source is on your right, your right ear will perceive it at a higher volume than your left ear.
All these tiny details have been incorporated into the 3Dio XLR mic, and that's why it sounds so natural. Merely rubbing the fingertips on the mic's ears in the ASMR recording, makes the listener feel as though their ears are being rubbed while listening.
Pros:
Highly sensitive; picks up quiet triggers easily.
High dynamic range; volume difference in sound is accurately represented.
Cons:
Needs phantom power to work.
A battery replacement procedure can be technical.
Bottomline
This binaural mic gives you natural sound, but with less high-frequency freedom than its 3Dio sibling.
Build and design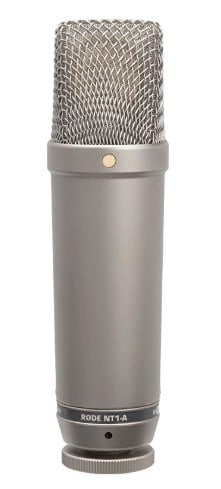 Rode NT1-A has a solid build. The capsule is well protected by a steel grille, and the rest of its body is made of nickel-plated metal.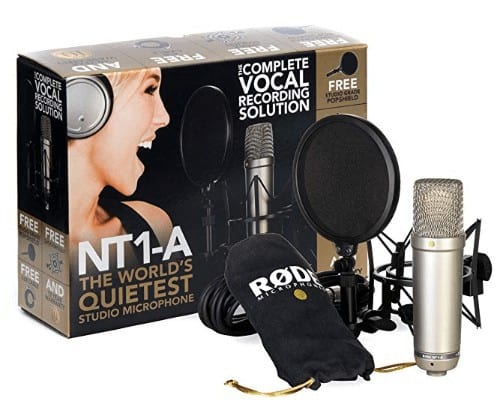 To drive this mic, you would need 24V or 48V phantom power. Add this fact to the XLR connectivity, and you can't escape using an audio interface with this mic. The Zoom H4n earlier mentioned can be quite useful as an audio interface here too.
To use this Rode mic for ASMR recording, you need two of it. This will enable you to have a full stereo recording. Of course, this also means two mic stands and two XLR connecting cables. Set the two matched mics apart to create a natural-sounding soundstage for your ASMR recording.
Sound quality
Rode NT1-A is one of the quietest mics you will ever find. This alone makes it a worthy candidate for ASMR recordings, even though it's a cardioid mic.
It picks the smallest whispers so cleanly without any audible noise from its circuitry. In fact, if you hear any hiss, you should check your other equipment; it's definitely not the Rode mic.
While you can easily record low volume tapping and rubbing with this mic, you should be careful with scratching and other triggers that are in the high-frequency region.
This mic can get a little harsh in those areas. This is because there are no filters between the mesh grille and the capsule.
However, this mic is perfect for all voice triggers including whispering and talking.
Pros:
Extremely low self-noise; can pick up the lightest whispers
Picks voice triggers perfectly
Cons:
Scratching triggers may be a bit harsh
Cardioid polar pattern reduces ASMR effect in off-axis positions
Bottomline
Because of its very low self-noise, the NT1-A will deliver all your sensory ASMR messages to the hearer without hisses or disturbance.
Conclusion
If you didn't know which mic to pick for your ASMR needs, you must have a very good idea by now. Also, if you are looking to improve the quality of your mic, you know which ones to go for.
For aspiring ASMRtists, you must have realized by now that you don't need a lot to start off. Make your choice from our list and kick it off.