Okay so you like music, right?
But let's be honest, listening to music and just that, can get a bit boring…
People like to listen and also watch stuff happen, that is why we enjoy live concerts, correct?
But what if there is no live concert and you are just listening to an album?
What are you supposed to watch while you listen?
Easy… Music Visualizers!
Yes, that software creates these very cool motion graphic effects and animations that move following the music patterns.
How cool is that?
Amazing!
Now, there are hundreds of these music visualizers. Some work on Mac, others on Windows systems.
Which one should you choose?
I promise after reading this, you will know.
Top 7 Music Visualizers Reviewed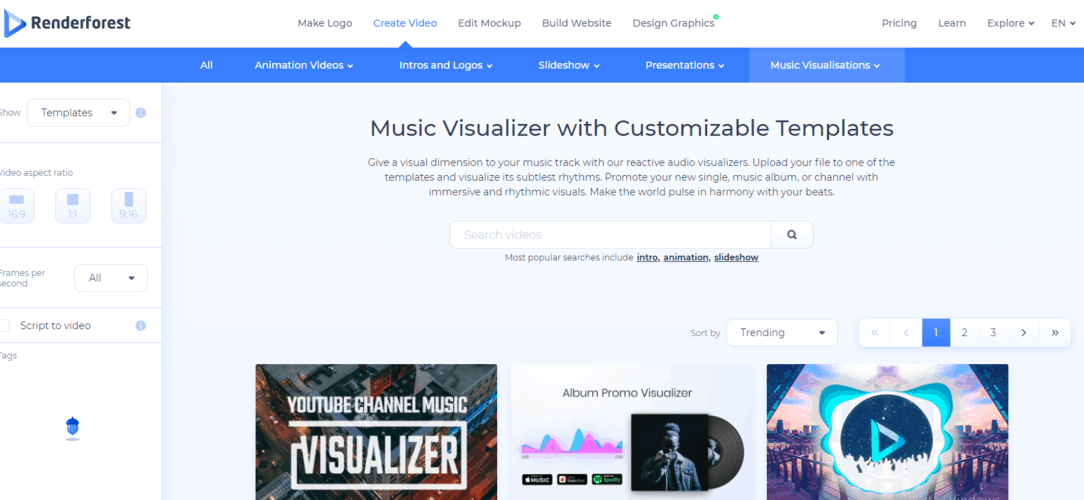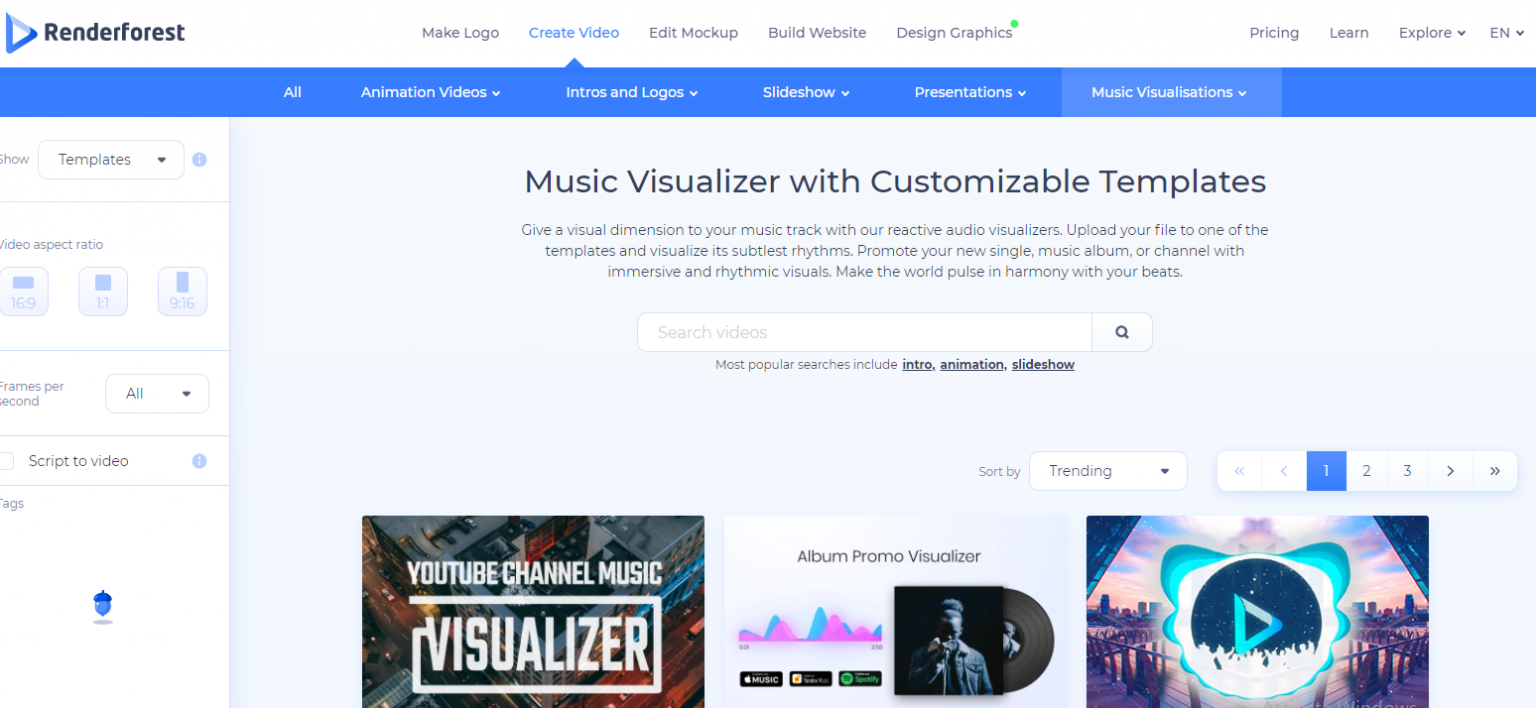 Renderforest is an online branding platform that offers tools to create videos, logos, graphics very fast.
Since it is completely online, it is available on both Windows and Mac (Apple) systems, so don't worry about that.
Now, keep in mind, this is not the software you install on your computer, but an online-based app, so you will in fact need the internet to run it.
As I mentioned before, the Renderforest platform can do a lot of things, and yes, Music Visualizers in one of those!
Pros
It features dozens of pre-made music visualizers that you can just pick and use! Easy and quick.
The platform gives you the possibility of selecting the aspect ratio, that way you can adapt your visualizer to a monitor, a cell phone, or an old square-shaped TV.
The system lets you select the frames per second of the animation, that way you can make it look smoother or "choppier" if needed. Looking for 24 fps for the cinematic look? There it is.
Cons
It comes with different subscription options. Yes, there is a free option but it is low quality. If you want the real 1080p deal, you will be paying.
A lot of people have used this in the past, so don't expect your visualizations to be "original".
Bottomline: If you are cool with paying for a subscription in order to obtain your music visualizer that does the job, this is a good option.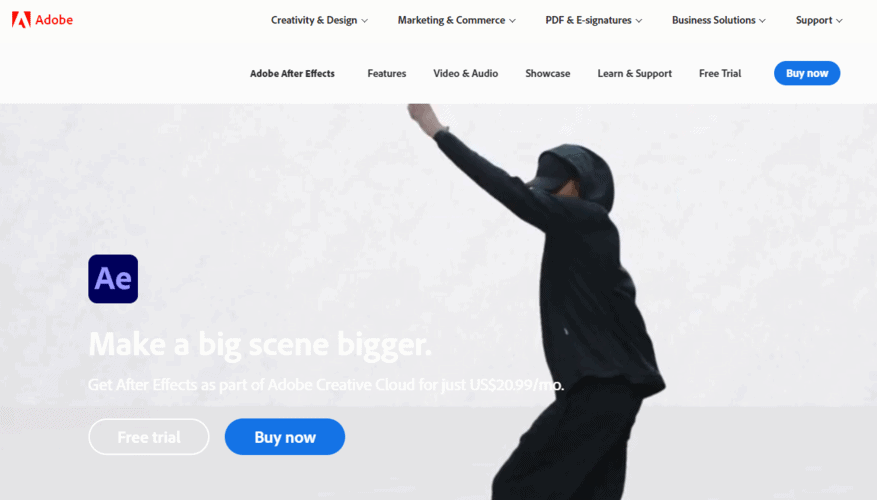 After Effects is a digital visual effect and motion graphics studio software developed by Adobe and available on Windows and Mac (Apple) systems.
This software lets you create your own music visualizer because it can technically create any animation, but you will have a steep learning curve. So be careful.
Pros
This program can do-it-all regarding animation, not just music visualizer.
This professional video editing software features the possibility of customizing anything to your needs, so you will have the most original music visualizer that is for sure!
You will be able to not only create the music visualizer but to actually add the music to it into a compiled video file! All in one.
It features a suite of programs so you can not only do animation, but also video editing, photo editing, and audio.
Cons
It is so deep that you will need to take courses and seminars in order to learn it, not fast at all.
As with all programs from Adobe, they are obviously not free.
Bottomline: If you are a graphic and video designer trying to create custom-made music visualizer effects, this is your best bet.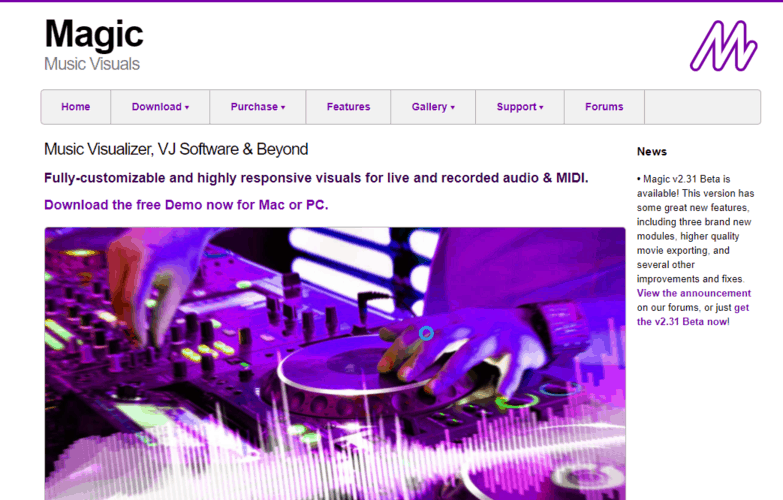 Magic Music Visuals is a computer application that lets you create interactive animation and video effects for music concerts and performances.
This program is available on both Windows and Mac (Apple) systems and it is hardware accelerated so you will benefit from the OpenGL platform.
Pros
This features the ability to create your animations from scratch for pre-programmed concerts by drawing geometric patterns and 3D shapes.
You can also create animations on the fly that react to live audio, MIDI, and OSC signals, making the animation look very original and unexpected.
The program is very lightweight and easy to operate.
It has support for full 4K resolutions and beyond, so yes, you will have great video quality during your shows.
Cons
Not free, but it is not that bad. 50 dollars for a perpetual license is cool, right?
Bottomline: Magic Visual is a great all-around option for visuals dedicated to live performances, especially if you want them to be created on the fly with the input function that it includes. Really cool and easy to use.
Video Bolt is an online-based music visualizer creator.
This online solution lets you select a visualizer template, then upload the music file and download the final animation.
The application lets you customize certain parameters, but realistically, it is template-based. You will not be able to make this from scratch.
Pros
This animation software features plenty of templates that adapt to your needs and are genre-specific.
Besides adding the music, you can also put your logo, song name, and other printed data in order to customize it for you.
Drag-and-drop functionality for all the app, making it extremely easy to operate.
Cons
Not free but they do offer a trial period that you can use!
Besides the template and some printed data, you can't customize anything else.
No input response functionality.
Bottomline: If you are looking for a very easy-to-use application that you don't even need to install on your computer in order to create music visualizations, Videobolt is your best bet.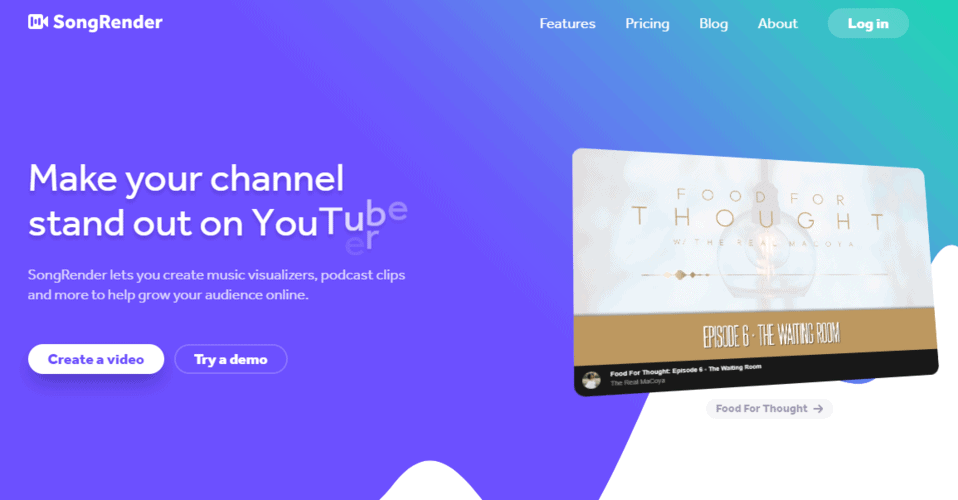 Song Render is another online-based music visualizer creator tool.
Actually, it is not only designed to create music visualizers but graphic visualizers for visualizers for audio-oriented programs such as podcasts.
The key element of this platform is that you can create visualizers and motion graphics for social media applications that will boost your engagement with the followers.
Pros
You can create music visualizers as well as podcast clips, so you have two main operation modes on this program.
The application features the possibility of letting you drag and drop images and audio to use as part of your animation.
As part of the animation, you can add text, graphics, and use several types of fonts.
Rendering is done in the cloud, not in your computer, so do not worry if your computer isn't fast enough, Song Render will do it for you.
Users can even add equalizers to fix or embellish the music, making it sound as professional as possible!
Cons
You gotta pay, yes! But there is a trial you should definitely check out.
Besides the templates and some configurations, there are no other parameters to play with…
Bottomline: Looking for the ultimate solution for creating music visualizers that work 100% online? Song Render is the one.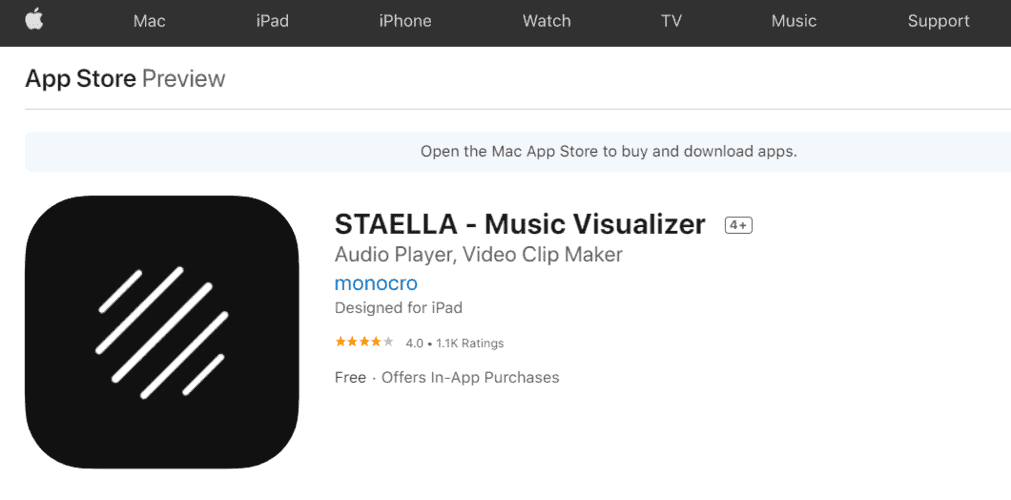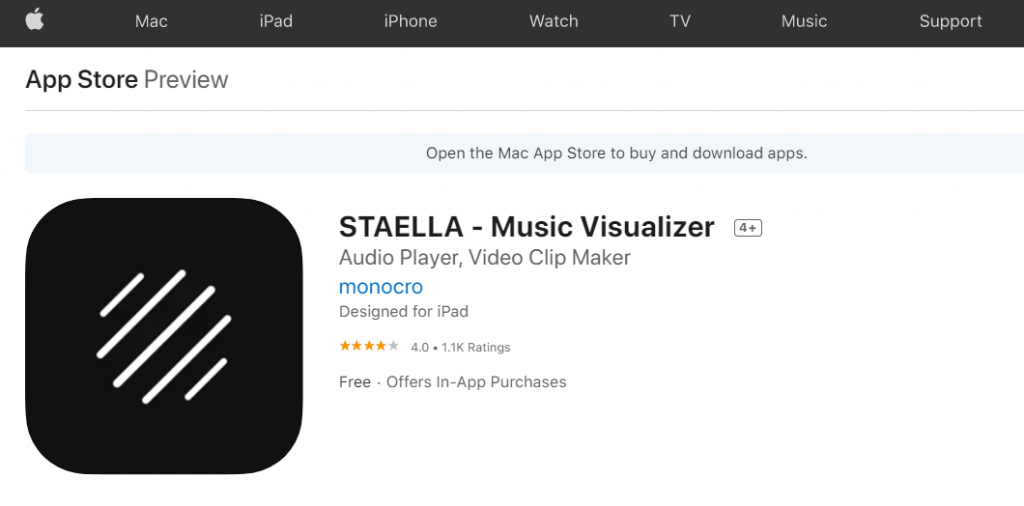 Staella is a music visualizer for mobile devices running Android and iOS systems.
The main purpose of this program is to be able to load an audio file and playback very simple pre-made visuals.
You can connect your phone to a TV or screen and watch it on the fly during a party or meeting.
It comes as a free version that has reduced functionalities, or a paid version that is more expanded and gives you deeper customization options.
Pros
The paid version includes a dedicated video recorder, 10 screen effects, and 10 wallpaper blend modes. Need more for a phone?
The audio can be obtained from the microphone, iTunes, and from an audio file, so you won't have any troubles syncing those.
Users can even apply audio effects such as filter and reverb to modify the character of the sound, which comes in handy on poorly recorded audio clips.
Cons
The free version only included three visual packages you can select, but unfortunately, you cannot configure them.
Bottomline: Considering this is an app for your phone, this is very powerful. Just being able to import audio and video, add wallpapers and effects, all with your smartphone is mindblowing!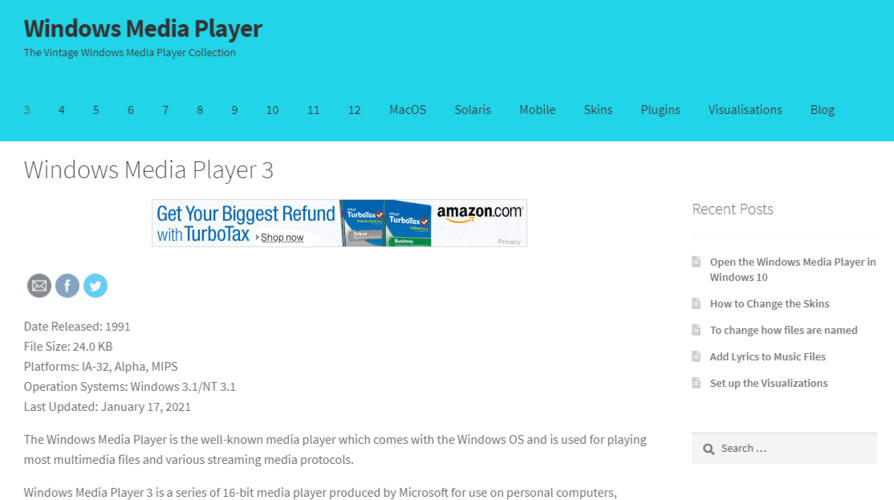 Windows Media Player is the default video and music player developed by Microsoft on their Windows platform.
Every single Windows computer comes with Windows Media Player preloaded.
The application contains a music visualizer with animated graphs that you can hide or show if needed.
Pros
The program is very lightweight and easy to operate.
The embedded visualizer has different modes that you can choose from a list in order to make the experience more exciting
Users can "turn off" the visuals if needed, and simply minimize the program while playing back.
Totally free on the Windows platform, so no need to spend money on this!
Cons
Besides selecting the visualizer type from a list, there are no other customization options.
You cannot create visuals that respond to a video, but only from audio files.
Not available on mobile devices or in Mac (Apple) systems.
Bottomline: Considering this is totally free with the purchase of a Windows-based system, it does a pretty good job at creating animated visuals with a simple touch of a click!
Conclusion
Okay, so let's say you have a mild budget, and you are looking to buy a tool that will let you create your music visualizers in a way that can do-it-all.
Magic Music Visuals is the one. It can create visuals from scratch, templates, react to live music, and support 4K resolutions. Can't go wrong with it!
Now, let's say that you want to experiment with a program that can go past music visualizers and create any animation you can imagine.
If you do not care about the steep learning curve, Adobe After Effects is what you need. This software can do everything you can imagine regarding animations.
Switching gears, suppose you want something completely online, something you do not need to install on your computer but run in your favorite browser.
Videobolt is the answer. It lets you create visuals from templates, add your logo, name, and other printed data. Superfast operation tool with a drag-and-drop philosophy.