We all know it right?
Recording acoustic guitars are extremely hard!
You need a great guitar (like a Taylor for example), great gear, and a fantastic player, all at the same time, in the same room…
After hours of testing different mic positions, you come to realize recording electric guitar with your audio interface is actually easier using virtual studio technology software.
But once again, you want an acoustic guitar, not an electric!
So what are you gonna do?
Should you just go and buy Amplitube like all the people you know?
Should you just buy all the Orange Tree samples or Kontakt?
Simple.
Use the best Acoustic Guitar VST you can find out there and make it sound amazing.
But, which one should you choose?
Read this article, I promise you will know the answer when you finish.
| # | Products | Compatibility | Plugin formats | Product page |
| --- | --- | --- | --- | --- |
| 1 | | macOS and Windows | VST, AU, AAX | |
| 2 | | macOS and Windows | VST, AU, AAX | Get now |
| 3 | | macOS and Windows | VST, AU, AAX | Get now |
| 4 | Good Folks Strum GS-2 | macOS and Windows | VST, AU, AAX | Get now |
| 5 | | macOS and Windows | VST, AU, AAX | Get now |
| 6 | | Windows | VST | Get now |
| 7 | | Windows | VST | Get now |
Top 7 Acoustic Guitar VSTs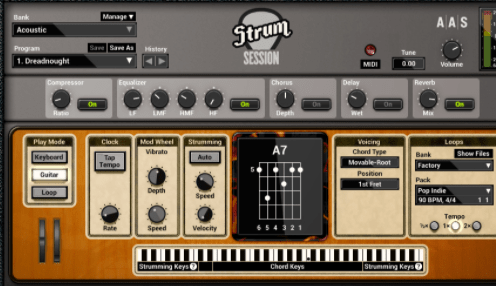 Overview
Strum Session is a virtual instrument plugin developed by the company Applied Acoustics.
It runs both on macOS and Windows under the VST, AAX, and AU plugin formats.
The graphic interface is very easy to operate. It displays controls as physical knobs and buttons, just as if you were in front of a guitar rig.
Some of the controls included giving the user the possibility to tweak the guitar amplifier parameters, compression, equalization, distortion, reverb, and other playing parameters such as chord type, position, and palm-mutes.
This software is suitable for the producer looking to recreate acoustic (or electric) guitar parts either by playing them on the MIDI keyboard or by simply dragging loops to a MIDI track.
Features
The plugin comes with more than 100 presets and 400 MIDI loops. So if you do not know how to play the guitar, they have you covered.
You can simply drag and drop any of the MIDI loops with your preferred preset and you will be good to go! Different articulations included!
Special techniques such as sliding, palm-muting, and scratching are added to the plugin, so you can recreate the most complicated artifacts from a natural guitar, even the fret noise!
You can also slide and bend the strings with the pitch wheel and add vibrato with the modulation wheel. This will give you the possibility to add the "human feel" to the guitar you are playing on your MIDI keyboard.
Bottomline: If you are not a guitar player, but you need to have an acoustic guitar in your song that includes all the artifacts and "feels" of a real guitar and chord positions, Strum Session is for you.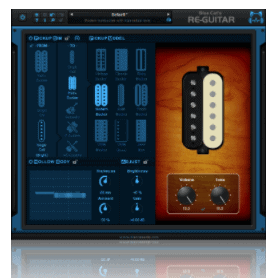 Overview
Re-Guitar is a guitar tone modeler capable of recreating electric and acoustic guitar sounds, developed by Blue Cat Audio.
It can run on Windows and macOS under the VST, AU, and AAX plugin formats.
This is not a virtual instrument, NO!
It is a guitar tone modeler.
You record your guitar and then you can "shape" its characteristics to make it sound like an acoustic or an electric guitar.
The graphic interface is very simple, letting you choose parameters by clicking on the images and tweak knobs as an analog piece of hardware.
Some of the most important controls include the pickup selector, body thickness, and tone knobs.
This plugin is designed for the musician that actually owns and plays the guitar but wants to make it sound like "another" type of guitar.
Features
You can select the pickup type you want to simulate, from single coil to humbucker to acoustic.
So you simply record your electric DI and then change its pickup style virtually.
Within the selected pickup, it will give you several variations of the same type, so you can actually "squeeze" it and make it sound as close as possible to the desired tone!
If you select any type of hollow body guitar, you can also modify the thickness of the body, which will obviously translate in a different tone, harmonics, and sustain of your metal or nylon strings.
With a couple of knobs, you will be able to modify the brightness, volume, and tone of your guitar, just as if you had it right in front of you!
The plugin features absolutely no latency, so yes, you can record with the plugin on! Isn't that awesome?
Bottomline: If you recorded a guitar and you did not like the tone of it, do not worry, Re-Guitar can definitively "fix it in the mix". No need to record again!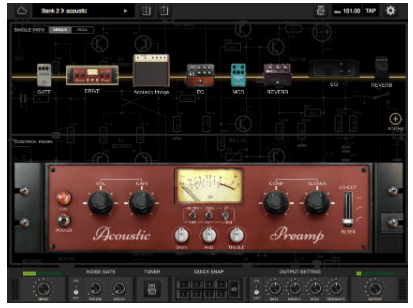 Overview
The Acoustic Expansion Pack is an added expansion pack for the award-winning Bias FX software developed by Positive Grid.
It can only be opened within Bias FX, which is compatible with macOS and Windows under the VST, AU, and AAX plugin formats.
If you do not own a Bias FX desktop or mobile, unfortunately, you won't be able to operate the Acoustic Expansion Pack.
The interface looks like any other guitar emulation plugin.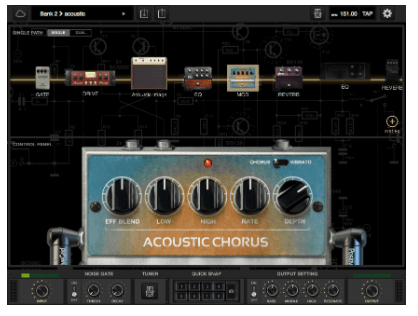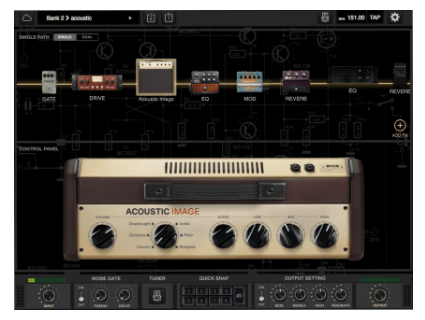 It contains the basic building blocks of a guitar chain such as the pedals, amp sims, and cabinet, but in this case, they are optimized and designed for acoustic guitar purposes.
Some of the controls include the gain equalization on the pedals, compressor, chorus, reverb time, delay time, amplifier gain, amplifier equalization, cabinet selection, and microphone placement.
The plugin is suitable for acoustic guitar players who want to embellish the tones of their guitars with the added effects and controls of this software.
Features
There is an acoustic guitar preamp emulator that can yield interesting results and make your guitar sound deep and warm for vintage-styles of music, or modern and shiny for pop productions!
The equalizer included can easily cut finger noise when it is disturbing or boost the brightness of dull guitars from older strings.
The chorus function will let you make it sound like a "double-track" guitar, adding subtle differences in frequency, opening the stereo spread, and making it sound wide and big.
The amplifiers let you make it sound like a real instrument on stage, giving you the possibility to enhance the string sound and body of the guitar.
Bottomline: If you have an acoustic guitar that you can record, but you want it to sound as professional and polished as possible, this is your choice.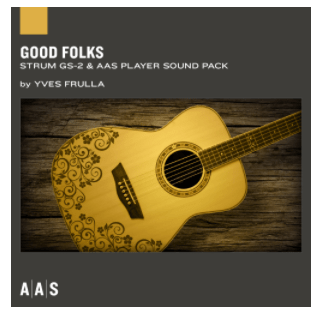 Overview
The Good Folks Strum GS-2 is an expansion pack for the Strum Session virtual instrument developed by Applied Acoustics.
Since it runs within the Strum Session VI, it is compatible with macOS and Windows, on all plugin formats.
Since this is just a soundbank, it really has no "graphic interface" or "controls".
The actual GUI and controls are the ones included in the Strum Session Virtual Instrument.
Suitable for the Strum Session user/owner that wants to explore deeper into the roots of Folk Music styles, chord progressions, and strumming patterns.
Features
It comes with 12 folk styles that will certainly adapt to any of your folk music productions.
Includes 95 presets that will yield plenty of different sound characteristics that you can cycle through in order to obtain the one that perfectly adapts to your song.
It also has 84 strumming patterns, so if you do not know exactly how to program them, you will be covered for sure in that aspect!
It can work as part of the Strum Session VI, or as part of the AAS Player (included with the purchase) so you can also live perform with it!
Bottomline: If you are into folk music and own Strum Session, this expansion pack is for you.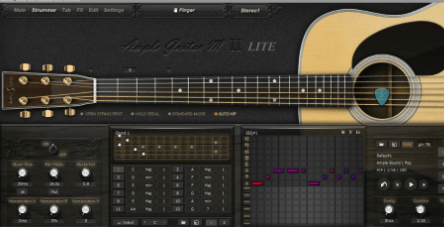 Overview
The Ample Guitar M Lite is a free virtual instrument developed by the company Ample Sound, capable of running on Windows and macOS.
It can be opened inside a DAW on any plugin format or as a standalone application for live performance.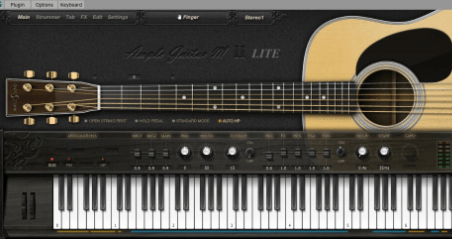 The graphic interface is very simple. Everything is "in-your-face" and there are no hidden sub-menus or hard-to-find parameters.
There is a simple piano roll with knobs that control the different aspects of the acoustic guitar sound.
Some of the most important controls include width, doubling, modulation, technique selector.
The plugin is suitable for musicians on a budget trying to obtain simple acoustic guitar sounds that can be used for a sketch of a song.
Features
The software emulates a Martin D-41 acoustic guitar, very well-known in the recording studio world of music production.
It presents two switchable playing styles for strumming (pick) and finger techniques, that will adapt to any type of music.
The sampling adds Rich Fingering Noise, making the part sound more vivid and realistic within the digital audio realm.
You can set the plugin to run as "double guitar" which basically loads different samples for the Left and Right channels.
The embedded capo function lets the user transpose the part without the need to modify the MIDI with a single click!
Bottomline: If you are looking for a simple, free alternative to acoustic guitar VST's, this is a good choice.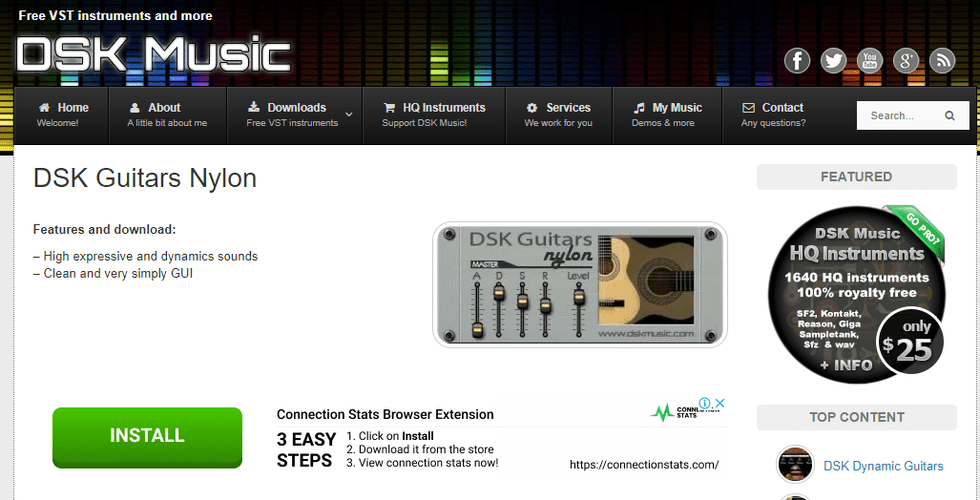 Overview
Akoustik GuitarZ is a virtual instrument that emulates an acoustic guitar developed by the company DSK Music.
It is totally free and only runs as a VST on the Windows platform.
The interface is very simple to operate, based on a single drop-down list and a bunch of sliders that control all the parameters associated.
The main control is the acoustic guitar type that can be selected from a drop-down list.
The rest of the controls are all sliders associated with the ADSR envelope and the 3 included effects.
This plugin was designed as a very easy-to-install alternative for the beginners of this craft of music-making.
Features
It has 4 modes that include an acoustic guitar, a low acoustic guitar, dobro, and nylon acoustic. Ideal for all genres where an acoustic element is included.
There is an ADSR envelope that controls how loud or soft the strings are played, as well as spread, level, and portamento controls.
There are 3 built-in effects with their own associated settings that you can add accordingly using their mix parameters.
These are flanger, delay, and chorus.
They are ideal to get a more "mix-ready" sound from the instrument.
The instrument is programmed to respond to velocity changes, triggering different samples depending on how "loud" the MIDI controller was played.
Bottomline: If you are starting out on the art of making music and you are looking for your first free acoustic guitar VST, this might be your option.
Overview
DSK Guitars Nylon is another free virtual instrument from the company DSK Music.
It is only available for Windows under the VST plugin format.
The interface is extremely simple, perhaps the simplest of all.
It only has sliders. No buttons, no selectors, no switches.
The only controls included are the 4 sliders from the ADSR envelope and the level slider. Besides that, nothing else can be controlled or tweaked.
The plugin only works as a nylon acoustic guitar with almost no controls besides the ADSR envelope, therefore it is suitable for the most basic users.
Features
The sounds are very expressive and dynamic for a nylon acoustic guitar.
Extremely light-weight piece of software, ideal for lower-end computers and starters.
Very easy to use because of its limited amount of controls, making it simple to learn and obtain desired sounds quickly.
The ADSR envelope lets you control the attack, sustain, decay, and release of the nylon guitar, letting you obtain regular guitar sound or more pad-oriented textures.
Bottomline: This is a free plugin that tries to replicate a nylon guitar, nothing else. If you are looking for simplicity, this is your go-to for the nylon string selection.
Conclusion
The conclusion of this article is fairly simple…
If you want a great guitar VST that can give you all the "real aspects" of an acoustic guitar, you must get Strum Session by Applied Acoustics. They really nailed it! Having this plugin is having a realistic guitar sound on your computer!
Now, if you own a guitar and you have the opportunity to record it, but you want to modify its sound and make it even better, your best bet is to use Positive Grid Acoustic Expansion Pack.
Last, but not least, if you want a cheap, extremely simple to use and user-friendly VST plugin for nylon acoustics and you are a total beginner in this world, go download DSK Nylon Guitar, you can thank me later!
Read Also: 7 Best Melodyne Alternatives (Free & Paid Included)