Recording violins… Super tricky and complicated, isn't it?
Do you have any idea of how important it is to have a great room to record violins?
Did you know the violin has to be played perfectly, miked perfectly, and interpreted perfectly?
Can you align all of those aspects at the same time?
Probably not.
So what do you do?
You use a Violin VST instrument. As simple as that!
So, which is the best solo violin VST out there?
Should you buy the Vienna Symphonic Library?
Eastwest libraries? Joshua Bell or Chris Hein libraries?
Or maybe just the Swam Violin?
Read this article and by the end, I promise you will know.
Top 6 Violin VSTs reviewed
Orchestral Companion Strings
Overview
Orchestral Companion Strings is a plugin developed by SONiVOX for Windows and macOS platforms.
It can be installed as VST, AU, and AAX, depending on the required DAW.
The graphic user interface is very self-explanatory. There are a good amount of knobs and switches that are very well labeled with their function on top.
Some of the most important controls include the sound (preset) selector, time-based effects parameters, and a standard ADSR envelope to shape the sound of the strings.
Considering all the presets and functions this software brings, it is suitable for users trying to obtain full string sounds with natural room characteristics.
Features
The instrument comes with over 9 gigabytes of sound libraries. This is A LOT considering it is just strings! You will probably find the one you need from that huge bank of sounds.
On top of that, you have more than 90 presets that are already configured to yield the best string sounds for any occasion. If you do not know how to tweak the parameters, no problem, just try the next preset!
The mod wheel of your keyboard is programmed to recreate volume swells of strings, which is really nice in order to obtain a more realistic string feel for certain genres.
The plugin has four groups of banks for violins, violas, cellos, and contrabasses, so you can mix and match them with whatever you want and need!
Bottomline
The very complete solution for a string ensemble virtual instrument, easy to operate, and great overall control of parameters… It sounds just like a Vienna violin!

Overview
Orb Composer Pro S 1.5 is a plugin developed by Hexachords that is capable of running under Windows and macOS platforms.
The plugin can be opened as a VST or AU when working in a DAW, but it also opens as a standalone application.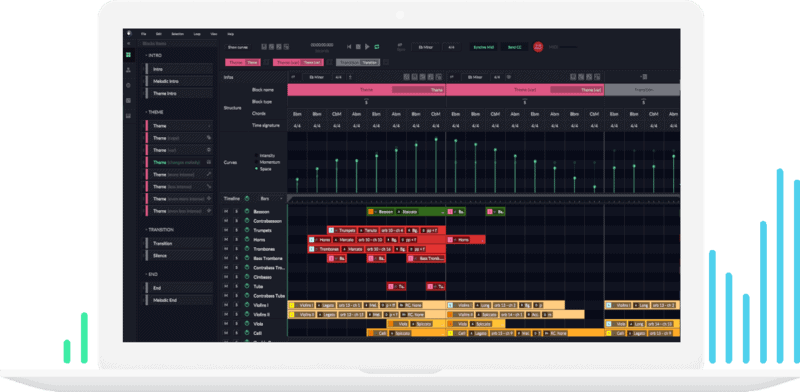 The interface of this plugin is very complicated, especially because it is not just a virtual instrument, but also a sequencer, so it kinda works as a DAW within your DAW.
Some of the controls include instrument or patch selections, instrument parameters, and volume tweaks, panning, sequencing options, arranging functions, etc.
Orb Composer has been designed to be offered to musicians and producers looking to get inspired and create ideas and songs faster while utilizing its embedded instruments.
Features
The plugin comes with 4 different templates that actually include more than strings. Some of these sounds are designed to recreate moods such as Orchestral, Piano, Pop-Rock, Strings, Electro, and Ambient.
You can create music ideas using the AI algorithm based on production approaches such as musical questions and answers or standard writing.
A vast amount of chord progressions is included so that you can simply drag and drop them into the sequencer using your favorite strings patch, or you can also modify them to fit your song or vibe.
The embedded sounds and patches include strings, brass, woodwinds, choir, voice, percussion, scouts, basses, keyboards, and more. This is not just a "strings instrument" but an all-in-one solution.
Bottomline
If you are looking for a more complex solution for sequencing all kinds of sounds (including strings) and experimenting with AI, this is for you.
Film Score Companion
Overview
Film Score Companion Strings is a plugin bundle developed by SONiVOX for Windows and macOS platforms.
You can install it as VST, AU, and AAX, depending on the required DAW.
The GUI depends on which of the instruments you are running, but in general, you will see a good amount of knob-based controls for each parameter of the instrument.
Most instruments included in this bundle will have an ADSR envelope, an area to select the preset/patch, controls for time-based effects, equalization, and volume controls.
This bundle is suitable for the producers and arrangers working on Film Scoring because it includes 5 different virtual instruments that are used very frequently in that field.
Features
It includes 5 different instruments that recreate sounds for strings, brass, woodwinds, piano, and percussion, all oriented for cinematic music productions and FX.
More than 30 gigabytes of sound libraries are included in this bundle, so yes, you will find a patch that you like and adapts perfectly to your song!
Super efficient 64-bit plugin engine, making it run very smooth and reducing the "crashing" probabilities close to zero with modern-day computers.
Each instrument comes with different articulations for different playing styles such as sustain, espressivo, staccato, pizzicato, and tremolo, giving you the most realistic feel as possible, following the best physical modeling algorithms.
Bottomline
If you are into SONiVOX products and you are looking for the ultimate cinematic music production solution, this is gonna be amazing.
Overview
Vertigo Violin is a Kontakt-based virtual instrument developed by the company Cinematique Instruments that runs on any Kontakt-enabled system.
Like any Kontakt instrument, it can be installed as VST, AU, AAX, or even standalone for live performances.
The interface is very simple and self-explanatory, based on sliders and knobs that control the amount associated with each parameter.
Some of the most iconic controls are the solo, pan, volume, ADSR envelope, harmony, randomize, reverb and FX.
The plugin is suitable for users that work under the Kontakt environment and look for a great solution for real Violin sounds, easy to use and that sounds good.
Features
It comes with 14 different sound sources (violin emulations) that go from very subtle interpretations to harsh plays, with everything in between!
There is a signature option called "Dice" that randomizes the interpretation and notes played, adding a very natural human feel to the passage.
It also has 6 different reverb algorithms so you can make your violins "change" their ambiances with a couple of clicks, easy and fast!
Additional effects are also included such as "Fog" and "Retro", making the instrument automatically sound more vintage, deep, and rich… Great for alternative music productions!
Bottomline
If you are a Kontakt-type-of-person and you look for violins and plenty of tweakable parameters, this is for you.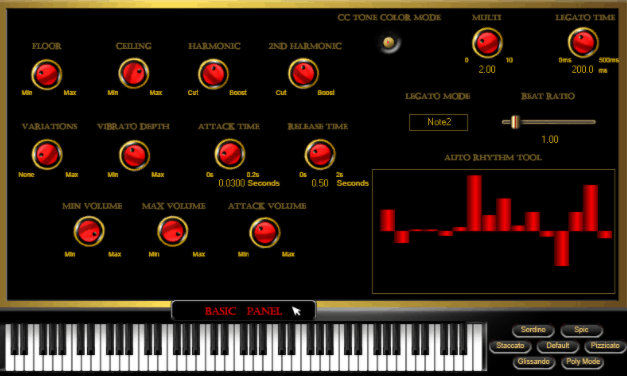 Read Also: River Flows In You (Yiruma) – Easy Piano Notes With Letters
Overview
Orchestral Strings One is a virtual instrument plugin developed by the company Sound Magic and it is totally free!
Unfortunately, it only loads as a VST plugin under the Windows platform, sorry for the macOS users…
The graphic interface is very "boring" and looks a bit "cheap", well, at the end of the day it is free, right?
It basically has a bunch of knobs that you can twist to modify certain parameters and other buttons that kinda look like if they had been taken from the '90s.
Some of the most important controls include harmonics and second harmonies addition, variation control, vibrato depth, and the overall ADSR envelope.
This virtual instrument is perhaps suitable for producers on a budget trying to find a lightweight violin VST that does the job.
Features
The instrument patches included in this plugin were recorded at the Berliner Hall, giving you the ultimate Berliner Philharmoniker sound and depth to your patches.
The VST comes with more than 30 different string instruments that go from violin to violas, cellos, and double basses. So basically the whole string section is included!
Their signature Neo Hybrid Modeling Engine makes it possible for this VST to fit all of its sound libraries into just 200 megabytes of data, making it extremely lightweight for running in older systems.
You can program you MIDI controller and keys to change in real time from Spic, Staccato, Pizzicato, Legato, Cresando, Decresando, PFP, Vibrato and other expressions.
The plugin lets you modify the position of the multi-microphone array used in order to change the relationship between the dry and reverb signals, giving you ultimate control of depth and dimension.
Bottomline
If you want a free plugin that has a complete string section and a good amount of overall parameter control, get this one.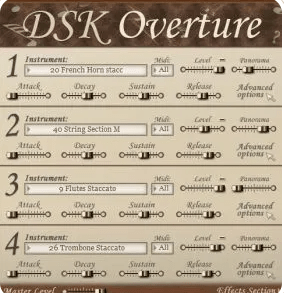 Overview
Overture is a free plugin from DSK Music that emulates several orchestral instruments.
It is only available as a VST plugin for Windows platforms.
Even though Overture is capable of replicating several orchestral instruments, their most important parts are the strings and horns ensembles.
The interface it presents is extremely simple. It only contains some sliders to tweak a few parameters of each instrument.
The plugin does not offer much control over the sounds besides the ADSR envelope and the volume, but it is fine considering it is a free solution.
It is suitable for producers trying to program very basic orchestral parts with not a lot of audio fidelity.
Features
You can load up to 4 different patches at the same time, creating your own desired orchestral ensemble.
Each layer has a dedicated panorama control so you can create your desired stereo field for each element of the ensemble.
You also have the possibility of controlling level, mute, and gain on each layer, in order to "push" elements to the back or bring them to the "front" on your soundstage.
Each layer responds to velocity changes so that different samples are triggered depending on how to load the keys are pressed, yielding more aggressive expressions when hit harder.
Bottomline: Nice plugin if you want to program some orchestral-related production on the fly and you do not care too much about audio quality.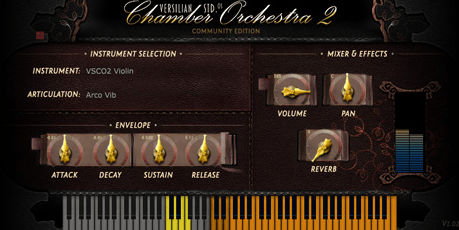 Overview
VSCO2 Violin is the violin virtual instrument developed by BigCat Instruments as a freeware application.
It only runs as a VST plugin on Windows (anything after XP) and macOS.
The interface looks very precarious, typical of a free application…
It is an extremely simple, self-explanatory, and very low-level plugin.
The only controls included are the ADSR envelope, a reverb knob, pan, and volume. Nothing else.
If you are a person that just started in music production and you look for a violin easy to use and free, this might do it on a very beginner's and amateur level.
Features
The samples that are loaded into this plugin were recorded at Versilian Studios by Sam Gossner, assuring they are actually real samples.
It comes with 6 different groups of samples that include Vibrato, Pizzicatto, and Staccato articulations all for the Violin exclusively.
The plugin can be opened in Kontakt, making it "universal" for all Kontakt users around the world.
The samples have been processed and "mixed" so that they are ready to be used in your session.
Bottomline: Easy to use because it almost has no control of anything. Also free and lightweight.
Read Also: 7 Best Melodyne Alternatives (Free & Paid Included)
Conclusion
If you want to go big into music production with strings and you want something reliable that works perfectly, get the Orchestral Companion Strings. It has all you need as far as controls, a nice sound library, and a stable workflow.
Now let's suppose you are looking for something that does "ONLY" violin, and you want it to be as universal as possible, get the Vertigo Violin… Its integration with the Kontakt environment is just unbeatable.
The last one, if you have zero budget and need something free that does the job and is lightweight, there is just no way to beat Orchestral Strings One.