So… Flutes, right?
Can you actually program a flute? Is it gonna sound decent? Or is it gonna be just simply useless?
The answer is… YES, YOU CAN!
But you need to find the right flute VST to make this happen.
For more info on VST's, orchestral virtual instruments, mellotron emulations, and free plugins in general, you should read this: https://www.soundmaximum.com/plugins/
Now, back to Flutes!
How are you supposed to know which is the right VST?
Should you go for the best free VST plugin for the flute? Or the best VST for flutes that are actually paid?
Well, here I am bringing you an overview of our top 6 Flute VST plugins.
We are presenting paid options as well as free! So yeah, you can pick depending on your budget (even if there isn't any!)
| | | | | |
| --- | --- | --- | --- | --- |
| # | Products | Compatibility | Plugin Formats | Product Link |
| 1 | | Windows and macOS | VST – AU – AAX | |
| 2 | | Windows and macOS | VST – AU | |
| 3 | | Windows and macOS | VST – AU – AAX | |
| 4 | | Windows and macOS | VST – AU – AAX | |
| 5 | | Windows and macOS | VST – AU | |
| 6 | | Windows and macOS | VST – AU | |
Top flute VSTs reviewed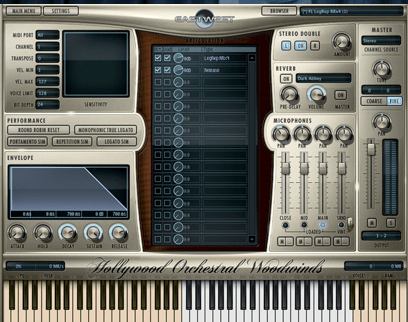 Features
Orchestral Companion Woodwinds is the multi-layered orchestral woodwind virtual instrument presented by the company Sonivox.
The flutes included sound extremely real because they were sampled in the famous Futura Recording Studio in Massachusetts.
Some of the samples include the Solo Piccolo, Flute, English Horn, Oboe, Clarinet, Bassoon, ContraBassoon. So yes, the whole section is there!
The plugin itself comes with over 7 gigabytes of content including diverse articulations & tongue techniques
Under those 7 gigabytes, you will find a vast woodwind collection with over 115 outstanding programs and presets that are just "ready to go" as soon as they are loaded.
Another cool aspect, you can layer up to 5 different woodwind sounds, to create an "ensemble" effect.
It comes with plenty of controls such as patches, time-based effects, filters, tuning, transposition, VCA, LFO's, and envelopes for pretty much endless possibilities as far as sound.
Pros
Plenty of controls let you shape your sound as your wish
The extended library contains all sounds you might ever need in your life!
Cons
The learning curve for the plugin is a bit steep because of all the possibilities it has, not ideal for beginners.
Bottomline: If you want a general solution for a Woodwind ensemble available on Windows and macOS, this is your guy!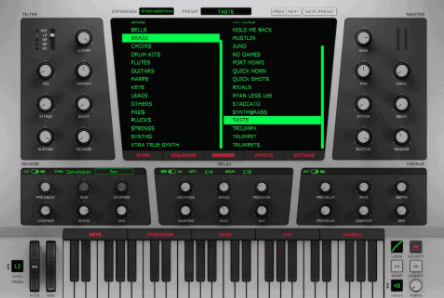 Features
Heat Up 3 is an all-around virtual instrument developed by the company Initial Audio, available on Mac and PC.
This plugin is not technically a "Flute VST" but a VST that samples any instrument due to its gigantic library of sounds.
This VST contains high-quality multi-samples recorded from many different sound sources, such as pianos, brasses, flutes as well as samples from analog and digital hardware. Once again all done in professional recording studios.
Its library includes 850 different virtual instruments, so yes, plenty of flutes to choose from!
Each instrument lets you control its expression parameters to make it sound more natural or more artificial, depending on your production.
Some of its controls include 2 ADSR envelopes and 2 LFOs with waveform editor routable to any parameter.
So technically, you can control anything with LFO's.
Some other additional effects include 12 reorderable rack emulations, such as Reverb, Chorus, Compressor, Vibrato, and Tremolo. This lets you shape the sound as if you were in the actual recording studio!
Pros
850 instruments are included, so you don't really need any other VST besides this one!
Rack effects let you shape the sound right in the VST, saving CPU resources.
Cons
The plugin can be a bit heavy for older systems due to its extended library size.
Bottomline: This plugin can do it all as far as production and instrument emulation. Just make sure your computer can handle it!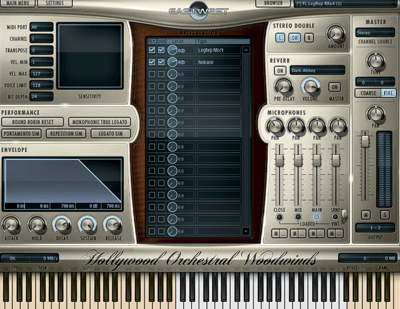 Features
Hollywood Woodwinds is the VST developed by the company EastWest that samples a Woodwinds section, available on Mac and PC systems.
This virtual instrument is known for its "cinematic" sound that makes it famous among producers making music for film and pictures.
Some of the samples taken include flutes, clarinets, bassoons, horns, and piccolos, all played by professional musicians.
Some of the articulations include legato intervals, double tonguing, expressive sustains, multi-dynamic playable runs patches, multi-speed, and multi-dynamic repetition performances, and staccatos.
Pretty much every possible way of interpreting these instruments has been captured!
The included library has 20 gigabytes of sounds, only associated with woodwinds! Plenty of sounds that is for sure.
The controls included are really complex!
You can play with portamento and legato performance parameters. But also modify the ADSR envelope to make these woodwinds have more attack or slower growth.
There are options for stereo doubling that makes them sound very wide and big.
There is a crucial function that lets you play with 4 different microphone positions that can embellish or hide the tone of the instruments.
Pros
Microphone placement options make the sound extremely realistic, as in the studio.
A large amount of articulation makes this ideal for producing orchestral music.
Cons
MIDI functions that control ports, channels, and voice can be a bit confusing for beginner users, be careful.
Bottomline: One of the best VST if you are looking for natural-sounding woodwinds definitively.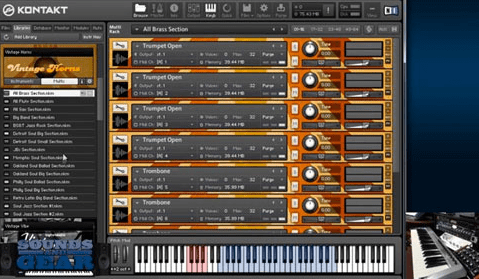 Features
Vintage Horns is a horns sound library developed by the company Big Fish Audio, available under the Kontakt and Reason Refill formats that run on both Windows and macOS systems.
This library pack is not technically a "flutes" pack, but a pack of "horns". This means it comes with sax, trumpets, and trombones.
It comes with 9 multi-sampled brass and woodwind instruments, that are combined into sections or also individually.

Some of these samples include the all brass section, all flute section, big band section, and Memphis Soul section.
This is extremely realistic because it comes with several articulations that let you program Long notes, Short notes, Stabs, Falls, and Swells, ideal for any type of music.
Besides selecting the patch and its volume, you can also control the amount of tape saturation and reverb added, giving you the ultimate "vintage" sound to the instrument.
Each section has been recorded in a different space with different musicians, giving you the "tone" associated with each genre.
Pros
Being a Kontakt instrument makes this extremely versatile through all digital audio workstations.
The added tape saturation lets you shape the tone to sound more vintage and add the classic 60's vibe we all want in soul and jazz sections.
Cons
No flute-only sound, mostly brass horns, and sections.
Bottomline: If you are looking for the real vintage horn sound with a funky vibe, you need this pack!

Features
Iowa Alto Flute is the flute VST instrument developed by the company Big Cat Instruments, available on Windows and macOS systems.
This plugin is completely free and only available in VST and AU formats.
You can run this as 32 or 64 bits in your host system.
The VST was designed with samples taken from the Iowa Electronic Music Studios
The sounds are multi-sampled and multi-velocity layered, therefore you have a more realistic feel to the way they project their tones,
The only articulation included is a basic sustain, so in that sense, there is not a lot of "play" or space to experiment.
The library itself is really small, even less than 30 megabytes worth of samples, so don't expect a huge palette of sounds,
The controls are pretty basic. You have the standard volume and pan within the VST, as well as the ADSR envelope to shape the attack of the notes.
Pros
Super lightweight plugin, ideal for older computers and outdated DAWs.
Easy to install, easy to operate. Perfect for basic scratch productions.
Totally free!
Cons
Quite a small library, not a lot of sounds.
Very basic controls, not a lot of "creative" options.
Bottomline: If you are on a budget, and you need a simple VST to get flute sounds for your scratch tracks, this is the one!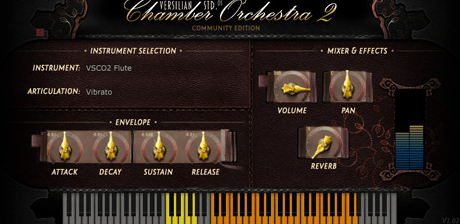 Features
VSCO2 Flute is the flute VST instrument developed by the company Big Cat Instruments, available on Windows and macOS systems.
These samples were recorded at Versilian Studios by the engineer Sam Gossner.
The flutes were recorded using the most transparent equipment. Room coloration was kept to the bare minimum and multi-mic positions were captured, giving you a good amount of control over the overall sound.
The flutes sound very raw and natural, therefore you can shape them as you wish during the mixing stage.
Around 2000 samples were recorded as part of the 3 GB library.
Cool fact, this is completely free!
As with most freeware, articulations are very limited, so realistically the samples are simply different mic positions.
Basic mixing controls include the overall volume pot, panning, and even some default reverb that you can add to taste.
You can also control the ADSR envelope and select the desired articulation after the patch.
Pros
A good amount of flute sounds for a free library.
Kontakt compatibility makes this versatile.
Free!
Cons
Only single articulation is provided.
Besides reverb, there are no other possible effects.
Bottomline: If you are a producer on a budget, and you want a flute sound for your productions, this could be your friend. A good amount of samples and nice multi-mic setups.
CONCLUSION
If you are looking for the ultimate flute sound, with a multi-mic setup, a vast library. With a great user interface, East-West Hollywood Orchestral Woodwinds is the king. No questions asked.
Now, suppose you need a VST that works as a flute, but eventually, as another instrument, because you might get "experimental" every once in a while, you need to get Heat Up 3.
Besides having a massive library of sounds, the included rack effects give you the ultimate control over the sound within the same piece of software!
Looking for a free option that actually sounds decent? VSCO2 Flute is the answer. Runs in Kontakt, the library is multi-mic and you even have a reverb option embedded… Did I mention free?
Read Also: 7 Best Melodyne Alternatives (Free & Paid Included)