Affiliate disclosure: In full transparency – some of the links on this website are affiliate links, if you use them to make a purchase we will earn a commission at no additional cost for you (none whatsoever!). Will this be a problem? This is how we manage to create free content for you. Please know that your trust is so important for us. If we recommend anything, it is always because we believe it is worth exploring. And, buy me a coffee ☕️
Do you have a baritone voice? A baritone voice can be a blessing or a curse, especially in music. There are many benefits of having a deep rich voice if you're an artist. However, the downside is some mics just won't be able to capture your voice correctly if you're a baritone singer.
Baritones are more common than you may think and can be pretty awesome. Highly regarded as the "voice of God," — baritone voices are powerful and smooth.
A baritone has a lower-than-tenor but a higher-than-bass vocal range, which means that many singers in this vocal range are often referred to as baritones (particularly in musical theatre).
While singers with baritone voices might feel away about their voices, they shouldn't feel limited. Your vocals will highlight every performance or recording session with the right microphone choice.
But you must already know that finding the right microphone is not easy if you are a baritone. The best solution is to find one that works great for your voice and recording technique.
There are quite a few microphones on today's market that will work with your baritone voice.
Continue reading to find out the 5 best mics for baritone vocals.
Top 5 mics for baritone vocals reviewed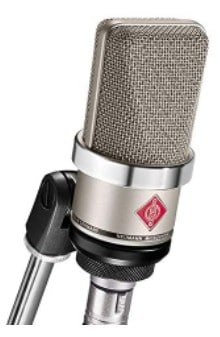 The Neumann TLM 102 is an excellent baritone mic that needs no introduction.
The Neumann TLM 102 is a large-diaphragm microphone with a cardioid directional pattern that only your voice is picked up when you sing or talk in front of the mic. This proximity effect feature is useful because it prevents the microphone from picking up unwanted noises in the room. When you have some friends over, and they are opening a can of beer or a bag of chips, for example,
The boost on 6 kHz is one feature that makes this microphone ideal for baritone singers and one that you will notice right away.

Because baritone vocals are darker and deeper, this enhancement helps your voice stand out, increasing clarity and presence. This way, it will stand out more in a mix.
The Neumann TLM 102 produces a balanced sound because it has an uncolored sound and a faster transient response.
It also has an integrated pop screen to help remove plosives, sibilance, hum, and noise, resulting in a clear, focused, and definitive sound.
It also has low self-noise and floor noise levels, allowing for a clean analog recording.
The Neumann TLM 102 is also well-engineered to handle sound pressure levels (SPLS) without distortion, regardless of how high they are.
This microphone is extremely versatile, and you can use it to record vocals, podcasts, talk shows, broadcasting, and drums, among other things.
This mic is ideal for keeping your baritone voice authentic and achieving a balanced, silky tone.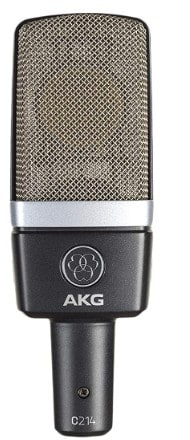 For male singers with a low voice, finding a microphone that can fully capture the richness and resonance of your vocal range can be a challenge. Luckily, AKG has a solution.
Their Audio Pro C214 model is one of the best mics available for baritone vocals (and beyond). Its sleek design gives it a modern look that's sure to impress. It also has an amazing sonic character, with an extended bass end and excellent dynamic range.
It's strong enough to handle all sorts of loud noises but still sensitive enough to catch even the softest whispers in a live performance or recording
Additionally, it features an integrated suspension to reduce mechanical noise and vibration from the stage and scratch and is shock-resistant to increase its durability and reduce vibration.
And finally, its super-cardioid polar pattern is great for close recording—so you can get those dramatic, up-close vocals in the studio without sacrificing sound quality. If you're looking for the perfect mic for your deep voice, this is one to consider.
Although commonly used to record vocals, but can also be used for electric guitar, bass, and acoustic instruments. It's also versatile, and you can use it for anything audio, whether podcasts, talk shows or broadcasts.
The AKG Pro Audio C214 has a transparent sound and great dynamic range. This sturdy workhorse of a mic works especially well in high-pressure situations such as live concerts. Its integrated suspension reduces mechanical noise and vibration from the stage.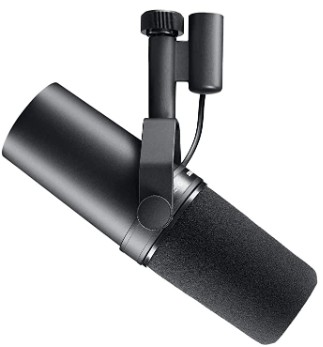 This list would be incomplete if I did not include the most well-known podcast microphone, the Shure SMB7. You've probably seen the Shure SM7B on your favorite talk show.
But that isn't all. This mic isn't just for podcasts. You can use it for anything because it's versatile and great for baritone vocals.
Podcasts, talk shows, sports announcements, professional studio recording, home recording, streaming, and more are all possible.
Many artists prefer the Shure SMB7 because they trust its capabilities, and you should, too, if you have a baritone voice.
Here's why:
The Shure SM7B includes an exclusive dynamic cartridge. This cartridge ensures that the microphone is sensitive to a wide range of frequencies. As a result, you have a smooth, flat vocal baritone recording that you are pleased with.

The dynamic cartridge is also to blame for the clean and natural vocals and speech you hear from your favorite baritone singers, podcasters, and talk shows.
Another reason the Shure SM7B is ideal for baritone singers is its air suspension shock isolation, which eliminates mechanical noise and line hum.
It also has an internal pop filter to reduce plosives and sibilance. This is also useful if you take a lot of deep breaths.
Connecting the Shure mic to your audio interface is also simple with an XLR cable. This gives you more freedom to manipulate audio while achieving a high-quality, warm, balanced baritone sound.
Another distinguishing feature of the Shure SM7B that appeals to baritone singers is its classic cardioid pattern, which ensures balanced, uniform sound capture by rejecting axis audio.
It also includes advanced electric shielding to eliminate electric hum from your recordings permanently.
The bass roll-off and midrange frequency emphasis make this mic ideal for baritone singers with deep voices, as this feature eliminates the annoying boomy low end while enhancing the sweet midrange frequencies.

The Electro Voice RE20 is a professional microphone that is a dynamic cardioid and works as a condenser microphone.
If you have a baritone voice and want to replicate the high-quality FM radio voice, the Electro Voice RE20 is for you.
This is due to the RE20's smooth, natural, and professional sonic control character, which fully captures your baritone voice and tames harsh and boomy low bass and boxy frequencies.
The Electro Voice has a variable D design that distinguishes it from other microphones in terms of appearance. But this feature isn't just for looks; it's also great for capturing your basic voice in a balanced manner when you're singing close to the mic.
This microphone also has an internal pop filter to capture plosive sibilances and unwanted noise while recording.
Another feature that makes the RE20 popular among podcasters is its internal shock mount, which absorbs unwanted mechanical noises caused by vibration when the mic or table is knocked.
The steel case also means that it has a strong build and will last longer.
Furthermore, it has a hum blocking coil that gives the mic exceptional magnetic shielding from mechanical and electric line hum.
This mic is a great fit if you have a baritone voice because it's versatile, and you can use it for a podcast, voice-over work, audiobook narration, talk shows, sports broadcasting, radio, and music production.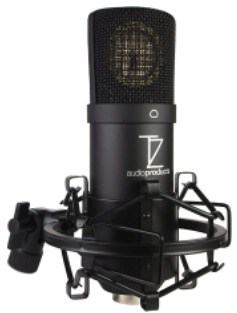 The TZ Stellar X2 microphone is another great brand for baritone singers. The TZ Stellar X2 has the most finely tuned sound of any microphone on the market today.
Because it has a balanced and neutral frequency response, you should not be concerned about your deep boomy baritone voice boom while using this microphone.
Their EQ reduces the presence of certain frequencies in your voice, in this case, the low baritone end and mid-range frequencies, while increasing the presence of others, such as the high frequencies.
This incredible frequency response also ensures that your vocals are smooth and not harsh, allowing you to listen to them repeatedly without having ear fatigue.
The TX Stellar X2 captures every detail of your baritone sound because it has a high-quality diaphragm and is made of high-quality brass and Japanese mylar.
This microphone also includes a low noise circuit, which ensures that the noise floor level is low, allowing your baritone voice to stand out. This is also important because it reduces distortion.
The TX Stellar X2 also has a high-strength iron body and sturdy construction to ensure its longevity.
Wrap Up: Top Three Picks
Although it can be difficult to find the best microphones for baritones, any of the five options mentioned in this article will result in better recordings.
Here are our top three picks:
Neumann TLM 102: Crisp, clean sound, less sibilance, sensitive with a faster transient response.
AKG Pro Audio: Warm sound with flat frequency response.
Shure SM7B: More sensitivity and high-quality sound at an affordable price.
These baritone microphone choices will serve you well in producing quality recordings of your music and vocals, so it comes down to what works best for your current and future needs.
I hope that you find the information outlined here helpful as you make your selection.
Remember, you should not be ashamed of your baritone voice because there are many singers with a low register like you.
Hi, I'm Jennifer I'm a passionate singer and an audiophile from Detroit, MI. 
I'm on a mission to help music creators to create fine music that help them position uniquely in the saturated music space.
Follow my blog for regular content :-)