Are you a fan of Japanese audio technology? Is Pioneer your go-to brand for speakers?
You have come to the right place!
We have brought together for you some of the best pioneer speakers that will rock your world.
And even if you do not know much Pioneer, do not worry. This brand has been in the market since the 1930s! From car audio speakers, speakers for bass, 2 way, and 3-way speakers, 4 way and 5-way speakers – they have it all.
Let's not bore you now and begin right away!
Best Pioneer speakers for car reviewed
Specifications:
Lightweight Elastic Polymer Surround
Increased Dynamic Range
Speaker Size 6 Inches
Speakers Maximum Output Power 320 Watts
Impedance 4 Ohm
Woofer Diameter 6-1/2"
Midrange Diameter 1-5/8"
Tweeter Diameter 3/8"
Sound quality and performance
Thanks to its 6.5-inch 3-way coaxial speaker, the Pioneer TS-A1676S delivers exceptional sound quality. Not to mention, the technological tweaks play a major part in that as well.
How about the bass?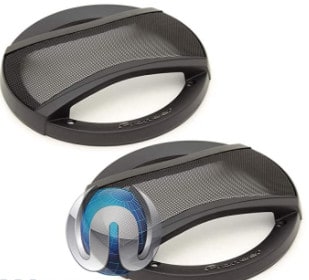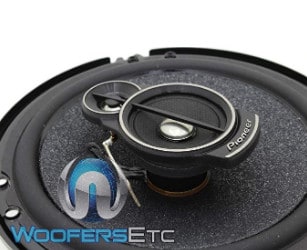 Well, one word – it is deep! So much so, that users will not only hear it, but they will feel rumbling their bodies!
Additionally, this speaker houses a newly designed tweeter. What does it do? An enhanced range of mid frequencies. No matter how much you crank the volume up, Pioneer TS-A1676S promises optimized sounds.
Moreover, the extended dynamic range of the speakers enables them to produce detailed trebles.
Features
One worth mentioning feature of Pioneer TS-A1676S is its awesome power handling. It is rated with a maximum power output of 320 watts. Impressive, right?
Connect these monsters with a powerful subwoofer amplifier and transform your car into a thunderous concert on the roads!
Pioneer TS-A1676S is able to achieve such impressive bass sounds with its multilayer mica matrix cone structure. It is made of materials that offer superior rigidity. This trait ensures the speaker maintains a wider sound dispersion and fewer vibrations.
What do we like?
Superb overall sound quality
Extremely affordable
Tremendous power handling
What we don't like?
Bottomline: If you want the best results with Pioneer TS-A1676S, pair it with a subwoofer amplifier. They will blast off high-quality sound inside your car! Want to feel the bass on your chest? – this is the speaker your car needs!
Specifications:
Power handling: peak: 600 watts per pair/ RMS: 80 watts per pair
Rubber-coated cloth Surround/ 1-3/16" Balanced dome tweeter
Top-mount depth: 1-3/4"/ 4 ohms impedance
Max power: 300 W / RMS: 50 W
The 3-way speaker with a multilayer mica matrix cone
Sound quality and performance
The balanced dome tweeter is a classic feature of the Pioneer TS-G1620F. This 2-way speaker offers great musicality and performance!
A deep bass, reduced distortion, and amazing sound quality – what else could you ask for? This speaker gives you everything!
Pioneer TS-G1620F has superb reproduction.
Want to know how?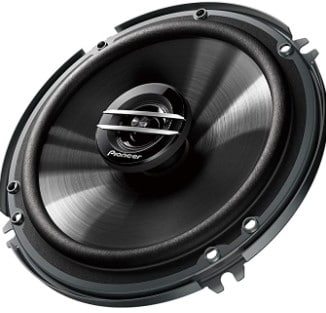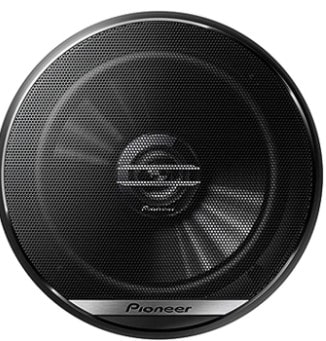 This speaker houses a spider progressive flex suspension system. This system supports the voice coil, which in turn dampens the excessive vibrations!
This speaker has two parts – soft and hard. While the former smoothen the movement even at high input levels, the latter prevents any kind of movement errors.
Features
Pioneer TS-G1620F is capable of handling a maximum power of 300 watts.
It is rated with a frequency response from 31Hz to 18000Hz.
But that's not it. Pioneer TS-G1620F gets its sound from the composite cone woofer. It is made with an incredibly strong and lightweight material – Injected Molded Polypropylene.
This cone woofer stops the sound from getting distorted. It also helps in maintaining great sensitivity.
The dome tweeter combines with the cone woofer and makes the Pioneer TS-G1620F one of the best car speakers!
What do we like?
Easy installation process
Impressive sound quality
Complete value for money
What we don't like?
Bass tends to suffer at times
Can get distorted at higher volumes
Bottomline: This speaker won't be ideal for heavy bass music such as rock and metal, or even heavy house music. However, for good light music, the Pioneer TS-G1620F can be really ideal. Plus, it is worth the investment for a car speaker.
Specifications:
Speaker Type Subwoofer
Speaker Size 4 Inches
Item Weight 1.84 Pounds
Frequency range from 45Hz to 14kHz
150W MAX peak power handling
Sound quality and performance
The woofer of Pioneer TS-F1034R is made from the widely used polypropylene. They have made an interesting change with the woofer surrounds of the speaker. Instead of butyl rubber, it features a cloth-like material for the surroundings.
How does this modification affect the sound? You can feel it in the nice low range and bass sounds.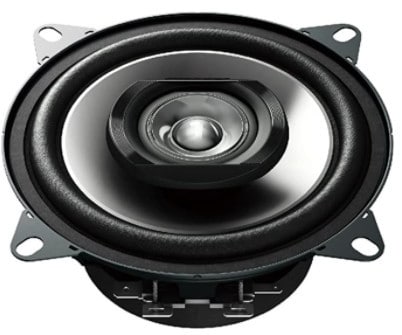 As for the dome tweeters of the speaker, they are film based. It enables the speaker to produce higher frequencies with better clarity and detailing.
Pioneer TS-F1034R has impressive mid-range performance as well.
All-in-all, given the size and price of this speaker, the sound quality is up to the mark.
Features
Pioneer TS-F1034R has a decent power handling capacity of up to 150 watts. That's more than enough you could ask for from a speaker with an affordable price tag.
The sensitivity of the speaker is rated at 88 dB, which is quite average.
Pioneer TS-F1034R has a frequency response from 45Hz-18,000Hz.
What do we like?
Easy to install and use
Very affordable for a car speaker
Trustable build quality
What we don't like?
Needs a subwoofer to achieve good bass
The sound gets distorted at higher levels
Bottomline: Pioneer TS-F1034R is a great car speaker option for those with a tight budget. These tiny cone-shaped speakers deliver a lot. Combine them with a good subwoofer, and you are set!
Pioneer 6×9 speakers
Specifications:
700 watts Max power (120 watts nominal)
Triple polyethylene terephthalate (pet) hard dome tweeter
2-1/4" Polyetherimide (PEI) film cone midrange
6 x 9" Carbon and mica reinforced injection-molded polypropylene (IMPP) cone construction
Sound quality and performance
Let's start off by talking about this speaker's driver response. Pioneer TS-A6990F features an Open and Smooth sound concept. This feature helps in maintaining a seamless transition between the midrange driver and the tweeter.
As a result, the speaker has a rather open staging due to its smooth driver response transition.
Pioneer TS-A6990F comprises a hard-dome tweeter. It is made with triple polyethylene terephthalate.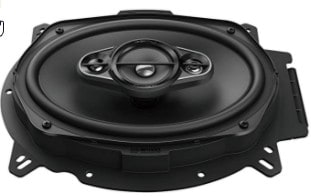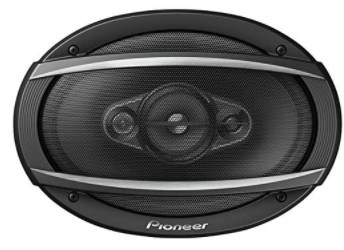 Additionally, the speaker has a deep woofer basket. The oversized motor structure design makes sure that you get amazing bass.
The midrange gets much prominence with polyetherimide film cone drivers.
Features
Pioneer TS-A6990F can attain a whopping music power of 700 watts.
There is another fascinating feature of this speaker. The Injected Molded Polypropylene cone is reinforced with Mica and Carbon. This is how the speaker gets its quick response. Also, it becomes capable of a higher sensitivity of up to 90 dB. You can see the results through its rich and deep bass sounds!
Moreover, the cone of Pioneer TS-A6990F is surrounded by elastic polymer for enhanced durability. Even in extreme conditions, this speaker will not give up!
The cone also features a new, redesigned magnet that is bigger and better. It drives more power to the voice coil. In turn, the speaker produces crispier higher frequencies.
Last but not the least, the Pioneer TS-A6990F comes with a fully covered grille. It prevents the speaker from getting damaged. And it ensures higher endurance and greater reliability.
What do we like?
Impressive and powerful bass
Detailed highs with no distortion
Very durable, heavy-duty speakers
What we don't like?
Bluetooth connectivity issues
Bottomline: Looking for a set of strong car speakers? Pioneer TS-A6990F is here for you! Don't have a subwoofer? Not a problem with this speaker. With mind-boggling bass and clear highs, this is one of the best car speakers!
Specifications:
450 watts Max power (90 watts nominal)
Twin 11mm polyethylene terephthalate (pet) hard dome tweeter
2-1/4" Cellulose fiber cone midrange
6 x 9" Carbon and mica reinforced injection-molded polypropylene (IMPP) cone construction
Sound quality and performance
Similar to the TS-A6990F, the Pioneer TS-A6960F boasts the Open and Smooth sound concept. This smoothens the transition between the drivers.
The speaker has a hard dome tweeter made from twin polyethylene terephthalate. Whereas the cone is a combination of carbon and mica reinforced Injected Molded Polypropylene.
The sound quality of Pioneer TS-A6960F is characterized by deep-impact bass. The cellulose fiber cone delivers an accurate midrange.
Features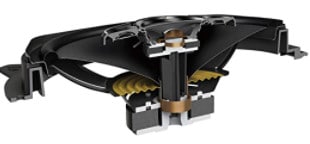 Pioneer TS-A6960F rates a maximum sound output of 450 watts.
In terms of sensitivity, the speaker can attain a sound pressure level of 89 dB.
The frequency response of TS-A6960F ranges from 35 Hz to 24 kHz.
Have a difficult time in speaker installation? Pioneer TS-A6960F solves that problem for you.
The multi-fit installation adapters come along with these speakers. These adapters expand the flexibility of the speakers. Not only that – they also improve their acoustic performance!
Just like the TS-A6990F, Pioneer TS-A6960F is compatible with the CarSoundFit app. It is a car sound simulator that enables you to experience in-car sound via your smartphone. You can easily down the app on your Android or iOS devices.
What do we like?
Works brilliantly even without an amp
Installation adapters are really useful
Sounds incredible even in open-air cars
What we don't like?
Good treble but weak bass
Bottomline: The Pioneer TS-A6960F is a great car speaker option for those who face installation issues. They sound good without any amp, so that would save you the extra money.
Read Also:
Conclusion
Still cannot decide which one to pick? To put an end to your confusion, we have shortlisted three of them that we would recommend.
To begin with, we very much like the Pioneer TS-A1676S. These are 320 watts, 3-way speakers, with exceptional sound quality. Plus, they are so affordable. Feature-packed and topping with performance, this is definitely the best choice for a car speaker.
Next up, we have the 4" dual cone speakers – the Pioneer TS-F1034R. But there's a catch to it. You need to connect it with a decent subwoofer and your job is done. What else? The build quality is very reliable. And once again, they offer complete value for money!
And finally, we have the 6×9 speaker – the Pioneer TS-A6960F. Forget about getting an extra amp. Don't worry about installation issues. Even if you have an open-air car, these babies will work just fine.
But there's more – the CarSoundFit app. Get it on your smartphone and experience authentic in-car sound like never before.
When it comes to the best pioneer speakers, these are our favorites. Which one are you going to pick?