What are the best compact stereo receivers?
If you want to connect your phone to your wired speakers via Bluetooth, what are your options?
Wireless receivers allow you to reduce cable clutter and add a wireless component to your setup without changing much. However, there are so many of them, so it may be difficult to make a pick.
In this article, I have reviewed the best 5 mini home stereo receivers you'll find today. No matter what your current setup looks like, you will certainly find one that works for you.
Top 5 Compact (Mini) Stereo Receivers Reviewed
Specifications:
Frequency Range: 20Hz – 20kHz (±1 dB)
Input Sensitivity: ≤ 280mV;
Terminating Impedance: 2 – 8 Ohm
MAX Power Output: 50W x 2+100W
Input Mode: Bluetooth and RCA
Bluetooth Transmission Distance: Up to 50 Ft
Sound quality and performance
The Fosi Audio BT330D only gives you room to connect a 2.1 stereo system. There's no surround sound option, but it gives your subwoofer and satellite speakers the push they need even with a wireless connection.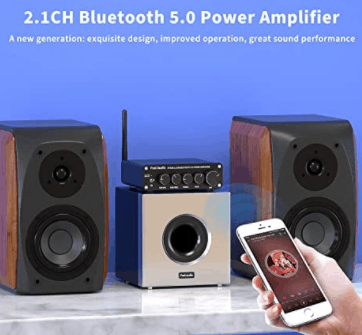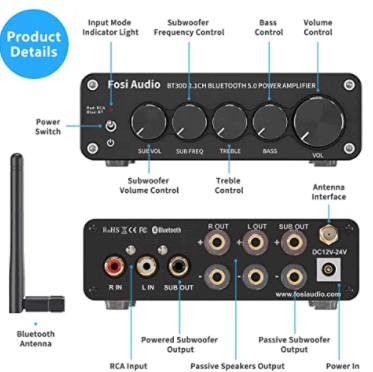 You can adjust the system to give you the sound you want by turning the knobs. This Fosi Audio receiver gives treble and bass boost. It also allows you to adjust the sub volume and sub frequency. This gives you a lot of control over your sound.
This way you can work with a wider range of speakers. All the controls are on the receiver, there's no remote.
With this receiver you can stream audio from your phone or computer via Bluetooth connection. It works over a distance of up to 50 feet. It is suitable for small to medium rooms and for playing music even if your device is in the next room.
Other features
Aside from the Bluetooth wireless input, the Fosi Audio receiver also has RCA inputs in case you need wired connection to use it as an amp.
This receiver's built-in amp is rated 2 X 50W. With an additional 100W for your sub, this is enough to fill an average living space with sound.

The outputs are banana plug ports that you can connect to your passive bookshelf speakers. Also, with this receiver, you can use a powered or passive subwoofer. If you need more power, simply use the powered subwoofer port with your active sub.
One drawback is the lack of a headphone jack output. It would have been a useful addition.
Pros
Multiple controls to choose your preferred sound.
Supports both passive and powered subwoofers.
Does not need an external amp to work.
Can work simply as an amp without using a wireless connection.
Cons
No headphone jack
No remote
Bottomline: If the lack of a headphone jack is not a dealbreaker for you, then the BT30D is a solid Bluetooth stereo receiver choice.
Specifications:
MAX Power Output: 100W x 2
THD ≤ 0.04%
Frequency Range: 20Hz – 20kHz (±1 dB)
SNR ≥ 98dB
Input Sensitivity ≤ 280mV
Input Mode: Bluetooth and RCA
Sound quality and performance
If you use bookshelf speakers or decent soundbars, the PDA20BT will certainly drive them loud enough.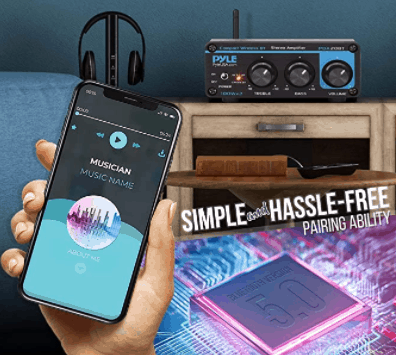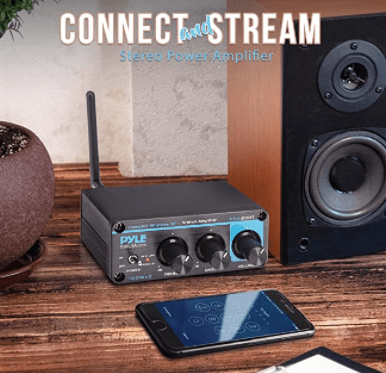 Like the Fosi Audio BT30D, it has treble and bass controls that allow you to tweak the sound to your taste.

But that's where the similarities end. It doesn't have sub-frequency or sub-level knobs like the Fosi Audio receiver. There are no remotes, so all controls must be done on the receiver.
Also, this receiver gives you up to 30 feet distance from your device. That's good enough for connecting within your house or room.
Other features

This Pyle receiver gives you the options of both line and wireless connection. It has RCA inputs and banana plug ports as output. Also, like the Fosi Audio receiver, it has no headphone jack.
However, there's no dedicated connection to a subwoofer, whether powered or passive. If you need such a connection you would have to connect the unit to an amp or DAC that has a subwoofer output. Or you could just go for the Fosi Audio BT30D.

This Bluetooth receiver unit can power your speakers up to 2 X 100W rating. No wonder it gets pretty loud on bookshelf speakers.
Pros
Compact design
Drives most home speakers to high levels
Cons
No dedicated subwoofer port.
No headphone jack.
Bottomline: If you don't have a subwoofer in your setup, the Pyle PDA20BT will give your stereo speakers the power they need for high-volume playback.
Specifications:
Version: 2.1 + Enhanced Data Rate (EDR)
Maximum Receiver Power: Class 2, 4 dBm.
Receiver Frequency: 2.4 GHz – 2.480 GHz.
Receiver Range: Up to 82 ft. / 25 m.
Supported Codec: SBC, MP3, AAC, aptX.
Sound quality and performance
The DN-200BR is only a Bluetooth audio receiver. It has no built-in amp for playing loud music. It is designed to be part of a chain that includes amplifiers and maybe a mixer.
Aside from the missing amp, there's also no control knobs for adjusting the bass or treble. The only controls available are power and volume.
If you don't have an amp yet, you'll need to search for one. You can easily find one of the best budget stereo amplifiers to complete the setup.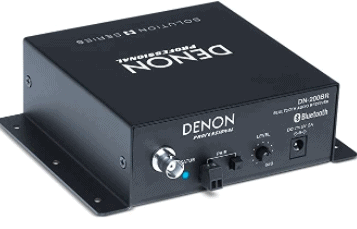 Even though it lacks a built-in amp or mixer like the Pyle and Fosi Audio, it does a better job than them in terms of Bluetooth connection distance.
This Bluetooth receiver allows you to connect to devices up to a distance of 80 feet. But the distance drops drastically when there are multiple walls in between.
There's no remote here either. This isn't much of an issue, since the only controls it has are volume and power.
Other features
It's important to talk about its design here. This Denon receiver is made such that you can screw it onto a surface as part of a rig. Also, the Bluetooth antenna and power adapter ports are in front of the receiver – a very unusual position for such features.
So, if the presence of the antenna or power cable will disturb your room's aesthetics, maybe you should look at the Fosi Audio or Pyle receiver.
The only input here is Bluetooth. There's no wired alternative. Also, the outputs are 1/4-inch stereo and XLR balanced ports. These kinds of outputs are mostly used in higher grade or pro level equipment.
Pros
Very solid build
Wide Bluetooth connection reach
Cons
No built-in amp
Not suitable for in-house small audio setup.
No bass and treble adjustment controls.
Bottomline: If you're looking to add a wireless receiver component to your already complete rig, then the Denon DN-200BR is perfect. Otherwise, you'll need to buy an amp and mini mixer to get the best of it.

Specifications:
Max Power Output: 90 Watt Output
Frequency Response: 20Hz-20kHz
Speaker Impedance: 4-8Ω
Signal to Noise Ratio: >80dB
Weight :1.34 lbs.
Sound quality and performance
Here's another receiver that is suited to home use. It has a built-in amp that supports speakers up to 45W on each channel. It also has treble and bass controls to enable you to adjust your sound to taste.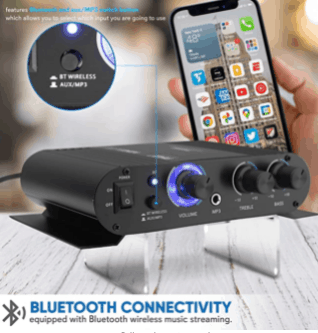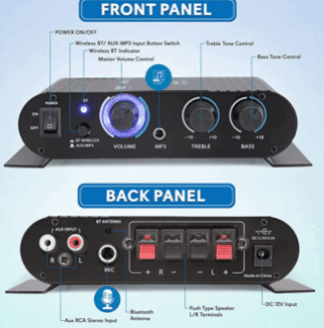 If your speakers are decent enough, you will hear everything through this receiver. The frequency response range of 20Hz to 20kHz makes sure of that.
The Bluetooth range is up to 40 feet – that's 10 feet more than the other Pyle receiver on this list. This distance will drop when there's solid obstruction between your device and the receiver. However, you shouldn't have any problem in an average sized apartment.
Other features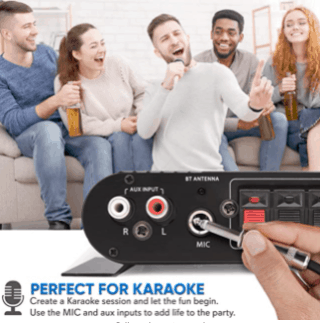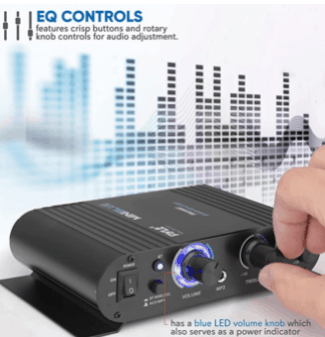 The Pyle PFA330BT has RCA and 3.5mm as wired input options if you're not using Bluetooth.
Also, it has a mic input option which is a fun feature for lovers of Karaoke and house parties. The outputs are push-type speaker connections.
If your speakers use RCA inputs, you'll have to get the correct adapters to connect them to the receiver. For Banana-plug speakers, you can get a straightforward connection with Fosi Audio BT30D and Pyle PDA20BT receivers.
Like those other two receivers, the Pyle PFA330BT has no headphone jack, so you can't just use it as an amp for your headset.
Pros
Has wired connection option
Overheating protection
Mic connection gives you more fun options.
Cons
No headphone jack
No dedicated subwoofer port.
Bottomline: The Pyle PFA330BT is the real deal if you like the mic connection option, and your speakers use the push-type connections.
Specifications:
AUX Frequency Response: 20Hz-20KHz
Subwoofer Frequency : 20Hz-120 Hz
S/N: 89 dB
Bluetooth version: Qualcomm 5.0
Sleep Timer: 10-90 minutes
Weight: 0.6Kg (1.32 lb)
Sound quality and performance
The KEiiD Mini Stereo Receiver stands out among all others on this list. The wireless connection is one of the major reasons. It gives you the option of using WiFi or Bluetooth for receiving audio from your device.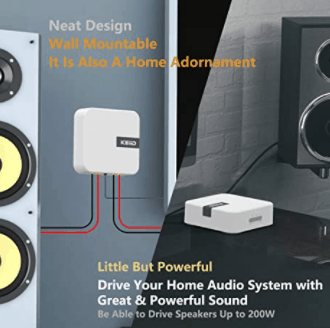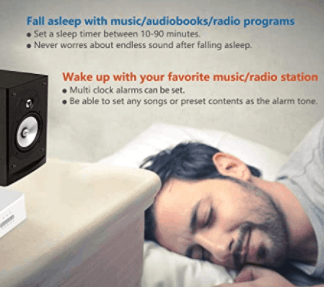 Also, this Bluetooth audio receiver has a built-in mini amp with enough power to drive two 100W speakers. Essentially turning your speakers into a Bluetooth stereo system.
That's more than enough for your bedroom or medium sized living room.
Even though it doesn't have enough channels to support surround sound, it does a great job with the Stereo 2.1 system. However, it only works with powered subwoofers. The other connected speakers can be passive.
This KEiiD receiver is also the only one on this list that comes with a remote. The remote is useful if you're using the receiver with your TV or computer. If you're streaming from your phone, you can use the Muzo app to control the unit.
Aside from acting as a remote, you can also use the app to stream online radio stations and music from streaming platforms. But the app only works when you're connected with WiFi.
Speaking of wireless connections, this receiver allows a distance up to 65 feet. Also, you can connect different KEiiD receivers to stream the same audio in different rooms.
Other features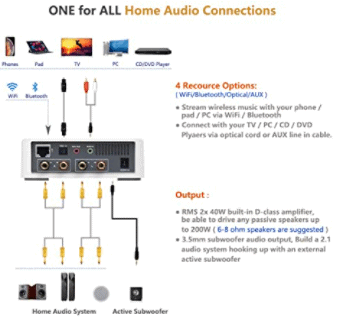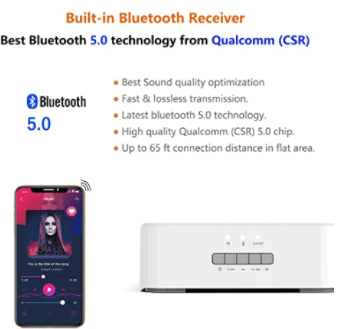 Aside from WiFi and Bluetooth, you can connect via optical audio and 3.5mm inputs.
The optical audio functionality is crucial, because KEiiD is one of the few portable receivers with such. It makes it possible to connect your PS4, Xbox or TV to the receiver for amped up sound.
The outputs are banana plugs that go to your speakers and a single output for your powered subwoofer.
Lastly, I have to mention the sleek design. The KEiiD receiver will sit pretty next to the other gadgets in your living room. Its all-white design with grey buttons add a real touch of class.
Pros
Sleek design
Multiple input options – Aux, optical, Bluetooth, and Wifi
Drive your bookshelf and floorstanding speakers really loud.
Cons
The app does not work over a Bluetooth connection.
No headphone jack.
Bottomline: If you need a sleek wireless receiver that does its job excellently, the KEiiD is a good choice.
Conclusion
5 wireless audio receivers have been reviewed here.
But my top picks are Fosi Audio BT30D, Pyle PDA20BT, and the KEiiD receivers.
I picked these 3 because they allow wired connection options. Also, the outputs are banana plugs which is what most speakers come with.
And it's easier to get a Banana to RCA adapter than others. Hence, my picks are based on convenience. Your current setup may suggest other options from the list.
Related articles: