Doesn't the technological advancements for in-car entertainment just baffle you? Over the years, amazing devices and gadgets have made driving very exciting.
In today's world, you can get any kind of entertainment unit for your car. They come in all shapes and sizes, loaded with features and functionalities.
And that is exactly what we are going to talk about today. The Pioneer AVH-2300NEX is one such entertainment device that will energize and inject life into your car!
So let's not bore you with the shenanigans and get on with the real deal, shall we?
What is Pioneer AVH-2300NEX? And who is it for?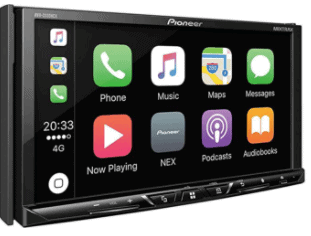 As you can tell from the looks of it, the Pioneer AVH-2300NEX is a car head unit. It is one of the best double din head units that you come across in recent times.
This multimedia DVD receiver is packed with numerous features. It is designed to revolutionize your in-car entertainment experience.
Now let's talk a little about for whom the Pioneer- AVH-2300NEX is for. First things first, this is a car stereo system that supports both iOS and Android devices. So all you need is a smartphone and you can start right away!
Do you like streaming music on Spotify, Amazon Music, Pandora, etc? Well if so, the AVH-2300NEX is ideal for you. This entertainment is loaded with various music streaming apps that make the job even easier for you.
But there's more. With the likes of Google Assistant and Siri, you get more command over the functions inside your car. How cool is that?
Pioneer AVH-2300NEX reviewed
Build and design
Pioneer AVH-2300NEX has been generous with its screen size. With an aspect ratio of 16:9, the 7-inch touchscreen display with multi-color illumination will spark up your dashboard. The display works fine under any kind of lighting conditions.
The VGA display screen features are impressive. The touch response time of the screen is simply amazing. You will hardly find it any different from that of a smartphone or a tablet screen.
The AVH-2300NEX features two USB input ports. You can connect two phones or tablets simultaneously. These ports act as chargers as well.
As far as connectivity options are concerned, the Bluetooth is highly efficient and offers a strong signal. It is secure, stable, and remains steadily connected to the source.
The 5GHz wi-fi connection gets easily connected with any Android or iOS smartphone or tablet.
One of the main highlights of the AVH-2300NEX is its fully customized touchscreen interface. You can set your own icon layout in whichever way you wish to.
Sound quality and performance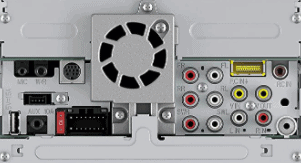 You will never like to compromise with the sound quality of any multimedia entertainment unit, right? And for that very reason, Pioneer AVH-2300NEX has paid special attention to its sound and performance.
It has got a bunch of functions that will refurbish your listening experience. A huge chunk of the credit for AVH-2300NEX's amazing sound quality goes to the Auto EQ and Time Alignment features.
The unit also houses an in-built low pass. The high pass crossover comes with adjustable points.
The AVH-2300NEX features a very accurate 13 band graphic equalizer. It has touch panel swipe settings and works perfectly in fine-tuning the sound output of your likeness!
But there's a catch with the Auto EQ feature. In order to activate it, you need to get a CD MC20 microphone. And yes, you have to buy it separately.
Device compatibility
Compatibility is key for a multimedia unit. And to our luck, the Pioneer AVH-2300NEX gets along with almost any device.
As long as you have an Android or iOS smartphone or tablet with a stable Bluetooth, Wi-Fi, or USB connection, you don't need to worry about anything else.
Installing AVH-2300NEX is very straightforward. You won't have to bust your brains to start enjoying this device.
All you need to do is follow the instructions carefully. There are a few wired connections that you would want to get right. It may seem like a mammoth task but indeed it is quite simple.
The AVH-2300NEX is created by keeping user-friendliness as a top priority. There is nothing too complicated about the functions and features of this entertainment unit.
It's almost like using your smartphone or tablet.
Features
The list of features in Pioneer AVH-2300NEX just goes on and on. Anything that you can expect from a car entertainment unit is covered by this amazing device.
Firstly, let's begin with the basics – Apple Carplay and Android Auto. The AVH-2300NEX supports both of them.
Apple Carplay focuses on optimizing your overall driving experience. If you are an iPhone user, you can make seamless calls and high-quality music via this platform. You can even check your messages instantly through voice command. Google maps are yet to be featured in Apple Carplay.
Next comes Android Auto. This platform supports a number of audio controls right on the steering wheel. But in order to avail that, you will need an adapter.
The AVH-2300NEX is SiriusXM-ready. Feels gibberish? Let us break it down for you. It's nothing but an A/V receiver enabled that gives you access to over 140 radio channels.
Upon getting a separate subscription, you can also benefit from the SiriusXM Connect Vehicle Tuner.
Are you a radio junkie? Shuffle through radio stations with the satellite radio. It has an AM/FM stereo tuner for a smooth transition between different stations.
Another game-changing feature is the AppRadio Mode. This is a personalized app that has various services such as maps, media, news, calendar, etc. The app can be easily downloaded. Once done, sync all the services and enjoy worry-free driving.
Making hands free phone calls in AVH-2300NEX is a breeze. You can easily integrate Google Assistant or Siri with the unit.
While talking about ease of use, we can definitely not forget about the remote control.
Besides handling the functions from a distance, the remote combines with the steering wheel control as well. It makes the use of remote adapters for the smooth processing of the functions.
Online music streaming has taken the world by storm. The AVH-2300NEX took note of that and thus features music streaming services like Spotify and Pandora.
When it comes to media files, there are various formats. Fortunately enough, the AVH-2300NEX is capable of playing a number of file formats. It supports MP3, WAV, FLAC, MP4, MKV, and AAC. Connect any external device such as a CD or DVD player and play your favorite music!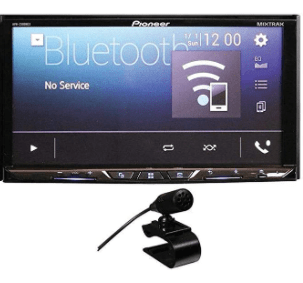 Bluetooth connectivity is crucial for any multimedia device. And quite evidently so, the AVH-2300NEX put the built-in Bluetooth technology into use both for wireless audio streaming and Bluetooth hands-free calling. Pairing your phone with the unit is hassle-free as long as it is within the range of the receiver.
The AVH-2300NEX has inputs for a backup camera. It comes really handy when you are parking your car in a tough spot.
Want to play songs directly from a memory card? You can do that too! Just know that the bigger your card is, the longer it will take for the unit to load the songs.
The AVH-2300NEX supports all quality speakers – front, rear, and subwoofer. But please keep in mind that the sound quality will depend on the quality of speakers as well.
Read Also: How to Fix Bluetooth Lag in Car? – 8 Super Quick Solutions
Conclusion
The Pioneer AVH-2300NEX car stereo is an epitome of high tech double din units. From music streaming to the radio, from video playback to hands-free calling – this entertainment unit covers all the bases.
If we have to put it this way, the AVH-2300NEX looks almost like a small TV and works just like any other smartphone or tablet.
Its design will become the center of attention on any car dashboard. The screen size is generously big and the display is super responsive.
You will never get tired of accessing the line of features and a bunch of apps that the AVH-2300NEX has to offer to you.
Get one of these beauties for your car. Change your way of driving for the better.