Are you looking for the best ambisonic mics available in the market today?
Editor's best pick
Rode SoundField NT-SF1 Ambisonic Microphone
Best mic with no coloration
Sennheiser Professional Microphone, Black (Ambeo VR 3D Microphone)
Best surround-sound portable recorder
Zoom H2n Stereo/Surround-Sound Portable Recorder, 5 Built-In Microphones, X/Y, Mid-Side, Surround Sound, Ambisonics Mode, Records to SD Card, For Recording Music, Audio for Video, and Interviews
Last update on 2023-09-21 / Affiliate links / Images from Amazon Product Advertising API
Ambisonic and binaural recordings are some of the most realistic recording techniques today. While binaural mics are a bit popular, it's not the same for ambisonic microphones. To find the best, you have to do a lot of searching.
I wrote this article to save you a lot of time by giving you the best microphones for ambisonic recording today.
Signal to Noise Ratio: 77 dB

Transducer Principle Externally-polarized condenser

Polarity: Pin1 (GND), Pin2 (+), Pin3 (-)

Microphone: Built-In 5-Mic Array, Mid/Side, and X/Y Configurations

Audio File Formats: BWF, MP3, WAV

Microphone: Built-In Cardioid Condenser 4-Mic Array

Number of Tracks – WAV: 8

Memory Card Support: SD, SDHC, SDXC (Up to 512 GB)
Well, do you know what an ambisonic microphone is?
An ambisonic microphone is a type of mic with four capsules. The mic's head houses four sub-cardioid capsules arranged in a tetrahedral array. The arrangement is such that all four capsules are facing different directions. This mic is used in the ambisonic recording.
An ambisonic recording is a technique used to record all parts of a room or space with one mic only. The aim is to record realistic-sounding audio. So, how is this different from binaural recording?
The ambisonic recording is adaptive. So, the whole recorded sound divides into channels based on the playback system. This means the same audio can give 5.1 surround, 7.1 surround and stereo 2.1 depending on your speaker setup.
How to record with an ambisonic microphone?
When recording with an ambisonic mic, positioning is 70 percent of the work. Since the mic will record the whole space, the relative positions of everyone and everything is essential.
If you're recording a video, be mindful of the camera position. For the best viewing experience, the camera and microphone positions should be such that the video and audio will show the same perspectives.
Top 5 ambisonic microphones reviewed

Specifications:
Frequency Range: 20Hz – 20kHz
Output Impedance: 63Ω
Equivalent Noise (A-weighted): 17 dB SPL (as per IEC651)
Maximum SPL: 129 dB SPL
Power Requirements: 6.2mA @ 48V (Per Channel) Phantom Power
Frequency Response: 30 Hz – 20 kHz ±3dB // 20 Hz – 20 kHz ±4dB
Signal to Noise Ratio: 77 dB
Sound quality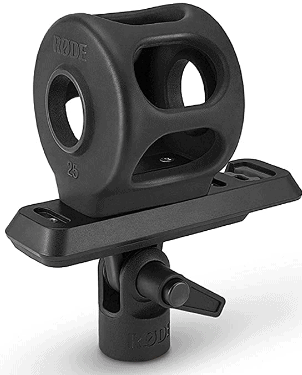 Due to some peculiarities, I would advise that you use the NT-SF1. With a good preamp. It's quite a sensitive mic that can pick up sound with high gain.
The sensitivity makes it prone to distortion when you capture loud instruments with it. The maximum SPL of 129db also contributes to this. If you use a preamp with the pad function, you can prevent distortion by engaging a 10db or 20db pad.
This Rode ambisonic mic may not be very suitable for quieter sounds. Even though it's highly sensitive, it has some noise too. When compared to other mics, it may not seem very noisy. However, for ambisonic recording, you need some quietness.
Features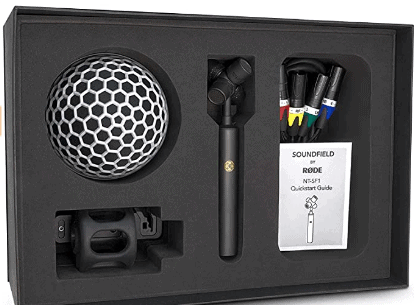 This mic has a frequency response of 20Hz to 20kHz. It requires 48V phantom power to power it.
You can get this from most audio interfaces and some mixers. The frequency response curve shows flatness for most of the range.
Across all the frequencies, you'll only find a 3db cut or boost at most.
What do we like?
Windshield makes outdoor recording easier
Good for recording on a tight budget
What we don't like?
No protective case for mobile use
You need a DAW to monitor the sound.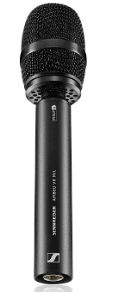 Specifications:
Transducer Principle Externally-polarized condenser
Pickup Pattern 4x cardioid, in Ambisonics A-format arrangement: front-left-up (FLU), front-right-down (FRD), back-left-down (BLD), back-right-up (BRU)
Frequency Response 20 Hz to 20 kHz
Polarity: Pin1 (GND), Pin2 (+), Pin3 (-)
Sound quality
The best part of this mic is its frequency response. There is no audible coloration of the original sound.
After taking an ambient recording of nature, the playback sounds so natural. This makes the Ambeo VR 3D useful for field recording.
Some parts of the mid frequencies have a slight boost. Incidentally, our ears naturally pick those frequencies more than others.
This mic records both VR and 3D audio. What is 3D audio? It's sound that not only gives you left and right soundstage, but also gives height and depth in its dimensions. It sounds like you're right in the middle of the music.
Additionally, the Sennheiser Ambeo has a maximum SPL of 130db. It will be a hard task to drive it to distortion.
Features

Just by looking at the mic, you wouldn't guess that it's an ambisonic microphone. All the capsule heads are arranged at the top of the mic shaft and covered with a regular handheld mic head.
Also, like the Rode NT-SF1, Ambeo captures everything between 20Hz and 20kHz. It covers the whole spectrum of human hearing.
Even though this mic has a handheld design, you should place it on a stand when it's in use. This is to minimize errors from the wrong placement.
What do we like?
Flat, realistic frequency response
High maximum SPL
What we don't like?
No presence peak for speech clarity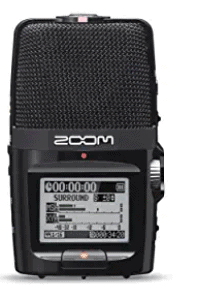 Specifications:
Number of Tracks: 4
Max Sample Rate/Resolution: 96 kHz / 24-Bit
Microphone: Built-In 5-Mic Array, Mid/Side, and X/Y Configurations
Built-In Speaker: Yes, 400 mW Mono
Audio File Formats: BWF, MP3, WAV
Sample Rates WAV: 44.1 / 48 / 96 kHz, MP3: 44.1 / 48 kHz
Sound quality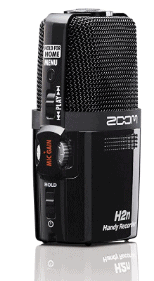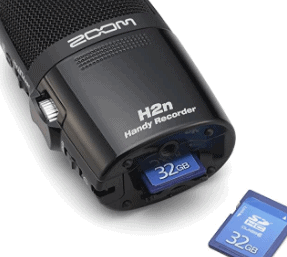 Even though the Zoom H2N is not a dedicated ambisonic sound recorder, it still does a good job.
The mic is not super quiet, but its self-noise is usable for ambisonic recording. The H2N sounds bold, with emphasis on speech clarity.
Even with the presence boost present, it's still a good mic for field recording too. The bass is bold; the mic records thumping sounds quite well, as well as the higher frequency sounds.
Features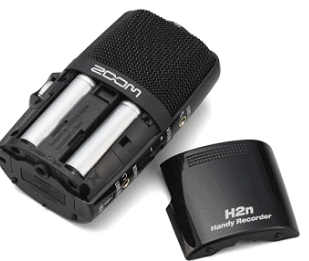 The mic frame houses five microphones. Although there are different recording formats, you should choose the spatial sound option for ambisonic recording.
If you had your H2n recorder for a while, you may need to do a software update to access this feature. The recorder uses two AA batteries as its power source. The controls are on the right side of the recorder, and the input ports are on the left side.
What do we like?
Portable recording system; you don't need to have a computer or mixer on location.
User friendly
What we don't like?
Doesn't come with a windshield
Battery compartment cover feels flimsy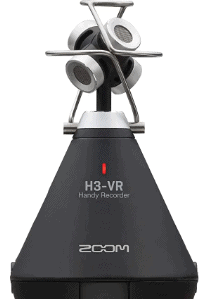 Specifications:
Number of Tracks: 4
Max Sample Rate/Resolution: 96 kHz / 24-Bit
Microphone: Built-In Cardioid Condenser 4-Mic Array
Built-In Speaker: No
Display: Monochrome LCD
Memory Card Support: microSD, microSDHC, microSDXC (Up to 512 GB)
Max SPL: 120 dB
Sound quality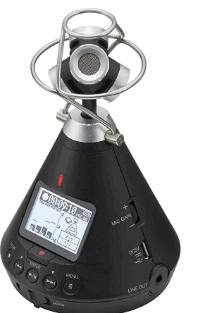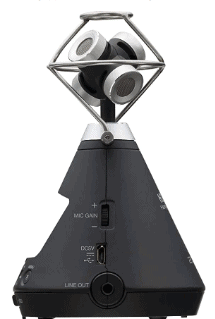 The Zoom H3-VR has a four-mic arrangement that records audio up to 96kHz/24-bit quality. The sound is quite realistic, although you may notice a little reduction in the low-frequency region.
This means that sounds that are naturally deep and explosive may be a little understated. However, it is a way of reducing the boomy buildup from sources closer to the mic.
Features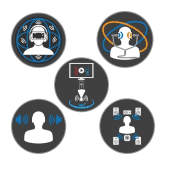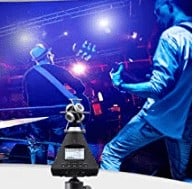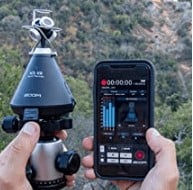 The H3-VR is a compact mic unit, which makes it easier to use with a camera. Also, it is quite an efficient mic as well. The 'VR' in the recorder's name is significant.
What does VR mean? It is an acronym for Virtual Reality. With the aid of VR goggles, you can see a 3d display right in front of you, just as if you were physically immersed in that virtual environment.
Because it can record into a micro SD card, it removes the need for an external mixer or recorder. This saves you time and money. The setup is also easier since all you need is the recorder itself with no cables or other gadgets.
What do we like?
Easy setup
Compact unit; easy to keep out of the camera shot.
What we don't like?
Need to pause long shoots to free the memory.
Does not use rechargeable batteries
Low SPL
Zoom F6 – Best for noisy environment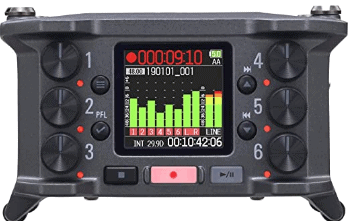 Specifications:
Number of Tracks – WAV: 8 (6 Inputs + Stereo Mix)
Max Sample Rate/Resolution: 192 kHz / 32-Bit
Microphone: None
Built-In Speaker: None
Display: Color LCD (Backlit)
Memory Card Support: SD, SDHC, SDXC (Up to 512 GB)
Sound quality
The Zoom F6 has great preamps. It is a great choice if you want pristine audio quality from your outdoor recordings.
Of course, this level of performance comes at a price. Zoom F6's limiter capabilities make it good for recording loud sources like thunder rumbles and loud explosions.
Features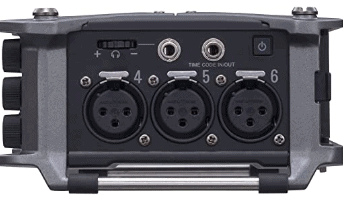 The F6 is made for the outdoors. It has a rugged build, solid buttons and knobs, and a clear display screen. To record ambisonics, you need to change the settings accordingly. The setup is easy because there are no visible mic arrangements to deal with.
All you need is to place the recorder in a strategic position. The battery runs for 16.5 hours before going down.
What do we like?
Rugged build; good for the outdoors
Long battery life
What we don't like?
Not for videographers on a tight budget
Conclusion
All four of these mics are excellent in their own rights, but I still have to choose my best 3 options.
My favorites are the Rode Soundfield, Sennheiser Ambeo, and Zoom H3-VR. These three mics are dedicated ambisonic mics and they are designed as such.
Their outdoor performance is an important factor I considered. Zoom H2n's windshield is not readily available.
Read Also: How to Earrape Mic? (Discord, Zoom) – Don't Miss this Guide