Today in this post I am going to present you the Spotify statistics.
Spotify is undoubtedly the most subscribed streaming platform in the world. However, there's a lot more to the numbers.
The platform has over 250 million active users from 79 countries. Most music creators and consumers may want to know how the number is distributed. Out of all the active users, what fraction are paying users?
Whether you're an artist, manager, or consumer, all of this information lets you know whether Spotify suits your music streaming needs. This article gives you an in-depth analysis of Spotify's statistics and what they mean.
Spotify user statistics
According to the Q1 2020 report, there were 286 million monthly active users of Spotify, out of these 130 million were premium subscribers.
In 2019, it has only 271 million active users and 124 million premium subscribers.
Spotify has estimated that monthly users will increase to 289-299 million.
In 2019, more than 60 million users have used 'Your Top Songs' and 'Spotify Wrapped' features and shared the content 40 million times while streaming 6.5 billion songs from the playlists.
Spotify has launched editorially curated playlists in April 2020.
10% of the Spotify MAUs have shown their interest and engaged with 700,000 podcasts available.
Spotify has also introduced Spotify kids in the U.S., France, and Canada.
Spotify users demographics
Spotify is now available in 79 countries globally.
Europe has the highest number of Spotify users and subscribers, followed by North America.
In India, there are 2 million Spotify users.
Spotify total monthly active users by region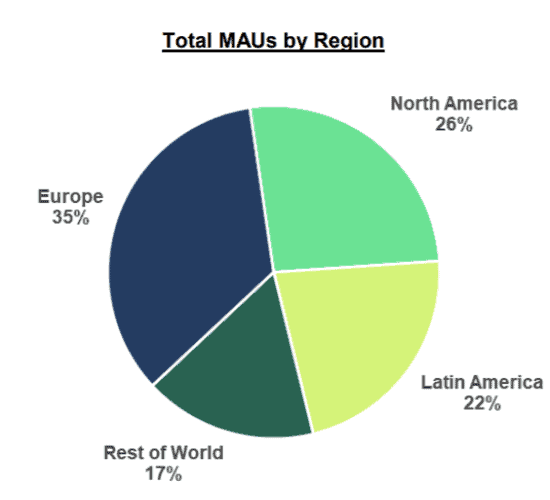 Spotify vs. other music streaming services
Spotify vs Apple Music
In the U.S. Spotify has beaten Apple Music with its highest number of subscribers in July 2018.
In 2019, AppleMusic emerged out as the top music service provider with 28 U.S. million users compared to Spotify's 26million subscribers.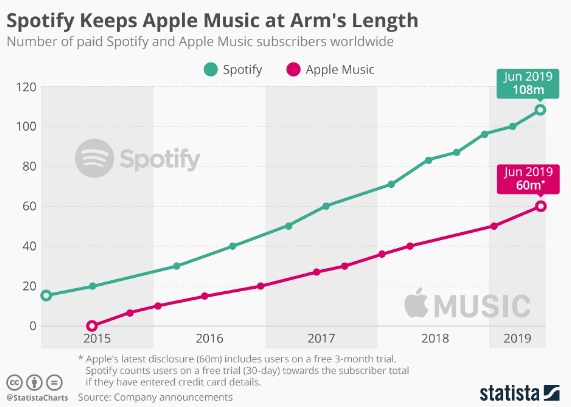 Spotify has a 35% contribution to the total market share of music streaming services while AppleMusic has a 19% market share.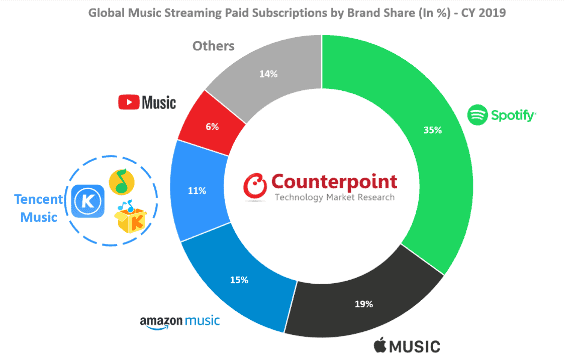 During the first half of 2019, MIDIA has done research regarding the subscription revenue of music streaming services. In that study, it was found that Spotify has got the highest revenue of $1,669.9 million, followed by AppleMusic and AmazonMusic.
US Spotify users vs Pandora [2017 – 2023]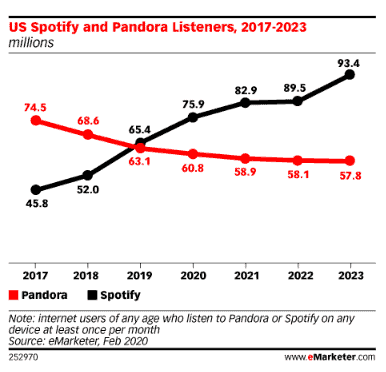 eMarketer report shows that Spotify has overtaken Pandora in 2019 in the U.S.65.4 million users compared to Pandora's 63.1 million.
Also, it is expected that Spotify will continue to grow over Pandor and it will hit 93.4 million users.
Spotify users by age:
Spotify is the most widely used channel of the people under 30.
Looking at the above chart shows that 56% of the Spotify users are male while 44% of them are female. Also, majority of the Spotify users are youths.
Spotify usage statistics
Spotify has revealed that the average number of artists Spotify users listens to increased by 37%.
Also, the average listening time of Spotify users increased by 25%. As of 2018 data, ad-supported Spotify users will listen to 2.5 hours per day on average.
Spotify devices
Spotify dominates with mobile users compared to desktop users. As you see in the above chart, mobile users are the highest in number.
Spotify Content Statistics
Over 50 million songs and 700,000 podcast titles are listed on Spotify. While Apple Music and Amazon Music reported having over 60 million songs.
Spotify's first 10 songs to cross the 1 billion steams threshold:
Drake – "One Dance (ft. WizKid and Kyla)"
Ed Sheeran – "Shape of You"
The Chainsmokers – "Closer (ft. Halsey)"
Ed Sheeran – "Thinking Out Loud"
Justin Bieber – "Sorry"
Luis Fonsi and Daddy Yankee – "Despacito (ft. Justin Bieber)"
Justin Bieber – "Love Yourself"
The Chainsmokers – "Don't Let Me Down (ft. Daya)"
Mike Posner – "I Took A Pill In Ibiza" (Seeb Remix)
Most-listened artists on Spotify by year:
| | | |
| --- | --- | --- |
| Year | Artist | Total streams |
| 2014 | Ed Sheeran | 860 million |
| 2015 | Drake | 1.8 billion |
| 2016 | Drake | 7.4 billion |
| 2017 | Ed Sheeran | 6.3 billion |
| 2018 | Drake | 8.2 billion |
| 2019 | Post Malone | 6.5 billion |
In 2019, Billie Eilish's WHEN WE ALL FALL ASLEEP, WHERE DO WE GO? was the most-listened album on Spotify.
Most-listened podcasts on Spotify
Joe Budden Podcast with Rory & Mal
My Favourite Murder with Karen Kilgariff and Georgia Hardstark
German comedy podcast Gemischtes Hack
Most-streamed song each year since Spotify launch
2008 – The Killers – "Human"
2009 – The Black Eyed Peas – "I Gotta Feeling"
2010 – Eminem, Rihanna – "Love The Way You Lie"
2011 – Don Omar, Lucenzo – "Danza Kuduro"
2012 – Gotye, Kimbra – "Somebody That I Used To Know"
2013 – Macklemore & Ryan Lewis – "Can't Hold Us" (feat. Ray Dalton)
2014 – Pharrell Williams – "Happy" – from Despicable Me 2
2015 – Major Lazer, MØ, DJ Snake – "Lean On"
2016- Drake – "One Dance"
2017 – Ed Sheeran – "Shape of You"
Top-streamed artists of all time on Spotify
Drake
Ed Sheeran
Eminem
The Weeknd
Rihanna
Kanye West
Coldplay
Justin Bieber
Calvin Harris
Ariana Grande
First 10 artists to reach 1 billion streams on Spotify
Rihanna (2013)
David Guetta (2013)
Eminem (2013)
Kanye West (2014)
Avicii (2014)
Coldplay (2014)
JAY Z (2014)
Katy Perry (2014)
Drake (2014)
Pitbull (2014)
Most-streamed female artists globally
Rihanna
Ariana Grande
Sia
Beyoncé
Nicki Minaj
Adele
Taylor Swift
Selena Gomez
Katy Perry
Shakira
Most-streamed albums globally
Ed Sheeran – ÷
Justin Bieber – Purpose
Drake – Views
Ed Sheeran – x
Post Malone – beerbongs & bentleys
The Weeknd – Starboy
Drake – Scorpion
The Weeknd – Beauty Behind The Madness
Post Malone – Stoney
Kendrick Lamar – DAMN.
Conclusion
By looking at these Spotify statistics, you can see that unlike SoundCloud, Spotify's most popular artists are spread out over different genres.
There are both singers and rappers on the list. Also, we have seen that Spotify isn't just limited to music.
You can access interesting podcasts and talk shows here too.
If Spotify is not available in your country yet, you can explore other options as a consumer. However, as a creator, you may still place your music on the site for a wider reach.