Affiliate disclosure: In full transparency – some of the links on this website are affiliate links, if you use them to make a purchase we will earn a commission at no additional cost for you (none whatsoever!). Will this be a problem? This is how we manage to create free content for you. Please know that your trust is so important for us. If we recommend anything, it is always because we believe it is worth exploring. And, buy me a coffee ☕️
Want some help to decide which is the best condenser microphone between the MXL 770 and the MXL 990?
Last update on 2022-12-09 / Affiliate links / Updated prices and images from Amazon Product Advertising API
Let us do the hard-work!
MXL is reputed as one of the flag-bearers of the vocal tech industry and it has always impressed us by producing high-quality microphones exemplifying a remarkable value for the money invested with its premium quality outfit and outstanding performance.
Today we have the two MXL brothers at our disposal – the 770 and the 990 and we are going to answer the question that has been quite a debating factor – which one is a better condenser microphone?
Let's not keep you waiting anymore and start the discussion.
Are you ready?
Let's look at the specifications of these microphones in the below table.
MXL 770 Cardioid Condenser Vocal Microphone
MXL Instrument Condenser Microphone, XLR Connector, Champagne (MXL-990)
Tube type
Pressure Gradient Condenser Microphone
Pressure Gradient Condenser Microphone
Maximum Sound Pressure Level
MXL 770 Cardioid Condenser Vocal Microphone
Tube type
Pressure Gradient Condenser Microphone
Maximum Sound Pressure Level
MXL Instrument Condenser Microphone, XLR Connector, Champagne (MXL-990)
Tube type
Pressure Gradient Condenser Microphone
Maximum Sound Pressure Level
Last update on 2022-12-09 / Affiliate links / Updated prices and images from Amazon Product Advertising API
MXL 770 vs MXL 990: Let's end this debate
Design and build quality
To get on with the proceedings, let's peep into the physical aspects of both the microphones and see which one of them woos us with its looks!
The MXL 770 has a black color body with a matte-like finish and the front and lining are golden, giving it quite a classy look.
Inclining towards a more dampened lustrous end, the MXL 990 has a silver or champagne exterior body coloring with the lining and fonts in black.
Dimension wise, both the MXL 770 and the MXL 990 are fairly similar with minor differences. The MXL 770 is the longer of the two, while the MXL 990 is more broad and weighs a bit more as well.
The build quality of the MXL 770 and the MXL 990 is quite similar as both of them have a full metal body construction featuring a metal grille.
They showcase an almost weightless body type in-spite of being incredibly durable although they contain a majority of plastic materials. A proper use with the necessary accessories can eliminate the possibility of any potential damage.
The light-weighted design further broadens the scope for its versatile usage irrespective of whether you chose to hold the microphone or place it on a stand.
Features
Any instrument that comes with a handful of features is always a matter of delight for the user and that's exactly what the MXL 770 and the MXL 990 has to offer!
One of the most significant feature of MXL 770 and the MXL 990 is that both the microphones are based on a transformerless output system.
Couple of features work together significantly in achieving a wider dynamic range and eliminate any kind of buzzing noise and feedback.
The difference begins when we look at the polar pattern of both the microphones.
On one hand, we have the MXL 770 sticking to the conventional cardioid polar pattern picking up the signal from the front and cuts off any sound coming from the sides and specifically from the rear.
Thus, it is less likely that the MXL 770 will pick up much of any ambient noises.
While on the other hand, the MXL 990 showcases a 90 degree X/Y stereo polar pattern, which means it can be really useful in re-creating a more realistic sound imaging.
However, this trait can make the MXL 990 a bit too sensitive as a result of which it is very much prone to pick up ambient noises.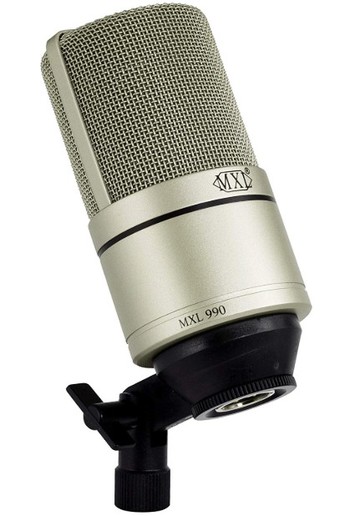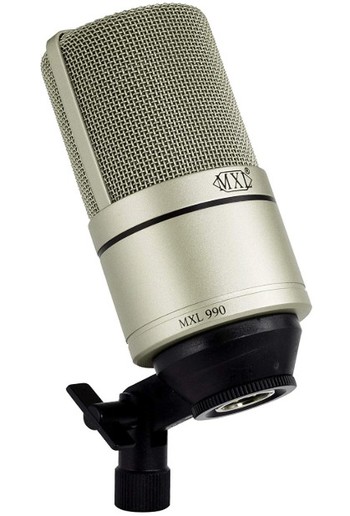 That being said, both the MXL 770 and MXL 990 are likely to capture the subtle details in sound and hence, both the microphones are recommended to be used in acoustically treated environments for the best possible output.
Moving on, with the MXL 770 you get a switchable high pass filter which attenuates at 150 Hz by 6 dB per octave and also a -10 dB pad switch.
These characteristics of the MXL 770 contribute massively towards reducing the low-frequency noises, especially caused by breathing and wind vibrations.
In addition to that, it also boosts the mid range and treble which increases the presence in the vocals or acoustic instruments.
There is no high pass filter switch in the MXL 990, but you can get a three-way positionable pad switch, where you can select between Hi (0 dB), Medium (-5 dB) and Lo (-10 dB).
Other complimentary features include a shock mount and a carrying case.
Lastly, both the MXL 770 and the MXL 990 are powered through a 48 volt Phantom power and XLR cables are used to connect them with mixer boards or interfaces.
Sound and Performance
Though both the MXL 770 and MXL 990 house a 6 micron gold-splutter low distortion diaphragm and have a similar frequency response range, the MXL 990 tends to sound a bit more flat and neutral with minimal coloration to its audio reproduction.
In simpler words, it doesn't mess with the originality of the sound and doesn't alter the tone. It has smooth high ends as well as the lows and mids sound solid and tight.
Meanwhile, the MXL 770 adds a little extra warmth to the sound and delivers an enhanced clarity to its high-end sound. With the high pass filter switch on, the midrange becomes more prominent while minimizing the low noise.
Keep in mind that both these condenser microphones are meant for professional use and they specialize in picking up the most intricate details of sound.
While the MXL 990 has an incredibly well-balanced and rich soundstage with a highly noticeable bass undertone, the MXL 770 excels in wider range of performance and offers immaculate clarity.
Adding to the list of differences, the MXL 770 is capable of handling louder sounds better than the MXL 990, thanks to its increased maximum sound pressure level handling capacity.
Pros and cons
MXL 770
Pros
Nice fullness and warmth to vocals
Crispy and clear highs, punchy, and tight lows
High pass filter and pad switch reduces the need for extra EQing
Cons
Tends to sound a bit raw
Ground noise and humming sounds caused by the grille
MXL 990
Pros
Sturdy and durable build and perfect for beginners
Emphasizes the subtleties of voice
Nice and bassy undertone
Cons
Can sound a bit muddy at times due to lack of high pass filter
Struggles with strong and loud signals
Also read: MXL 770 vs Audio Technica AT2020- Here is the Winner !
Bottomline
To sum it up,
Let's just take a moment and appreciate the performance put up by the MXL 770 and the MXL 990 before we pen down the verdict because they both deserve it!
Now, the difficult part after such a close competition, is our verdict. It has to be the MXL 770 and there's a couple of reasons to it.
Firstly, the high pass filter comes really handy in improving the sound quality. Secondly, it has a warm sound and it doesn't get distorted while handling loud sounds. And thirdly, the price factor.
The MXL 770 is cheaper than the MXL 990 and since it has so much to offer at a lower price, it's definitely a go from our side! The MXL 990 is a fabulous microphone overall but it's not as good as the MXL 770!
Hi, I'm Jennifer I'm a passionate singer and an audiophile from Detroit, MI. 
I'm on a mission to help music creators to create fine music that help them position uniquely in the saturated music space.
Follow my blog for regular content :-)