In this post, we are going to review the great vocal mics Neumann TLM 103 and AKG C414.
Last update on 2023-09-21 / Affiliate links / Images from Amazon Product Advertising API
When you think of studio equipment, isn't a good microphone that pops in your mind at the first instant?
It's quite natural as recording live is always better than electronically synthesized sounds.
A condenser microphone is used for high-quality vocal and instrument recordings which pay attention to the smallest details.
You would want the proper ambient feel of the sound source and along with that, you cannot compromise with its authenticity as well.
The Neumann TLM 103 and the AKG C414 are two top of the line studio condenser microphones. Without further ado, let's dive right in to find out which one is better than the other.
Let's look at the specifications of these two microphones in the table below:
Neumann TLM 103 Condensor Microphone
AKG Pro Audio C414 XLII Vocal Condenser Microphone, Multipattern, Black
Neumann TLM 103 Condensor Microphone
AKG Pro Audio C414 XLII Vocal Condenser Microphone, Multipattern, Black
Last update on 2023-09-21 / Affiliate links / Images from Amazon Product Advertising API
Neumann TLM 103 vs AKG C414: Let's break it down
Build quality
If you are familiar with Neumann's legendary U87 microphone, you'd know how the TLM 103 is similar to it; the condenser capsule and the grille exterior design is what connects both of them.
For the AKG C414, you can say that it has two brothers:
C414B XLS – mesh design and legend engravings all in gold.
C414 XLII – silver grille and silver legends.
Both the Neumann TLM 103 and the AKG C414 are based on a transformerless electric circuit which maximizes the headroom and reduces self-noise.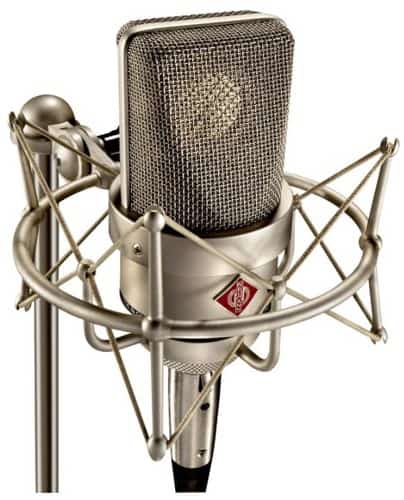 The Neumann TLM 103 is considerably heavier than the AKG C414 – 450 grams and 300 grams respectively – making the latter handier than the former.
The AKG C414 is longer than the Neumann TLM 103 – 160 millimeters against 132 millimeters.
Another added advantage of the AKG C414 over the Neumann TLM 103 is that it comes along with top quality accessories like shock mount, pop filter, and windscreen which contributes to greater ease of use.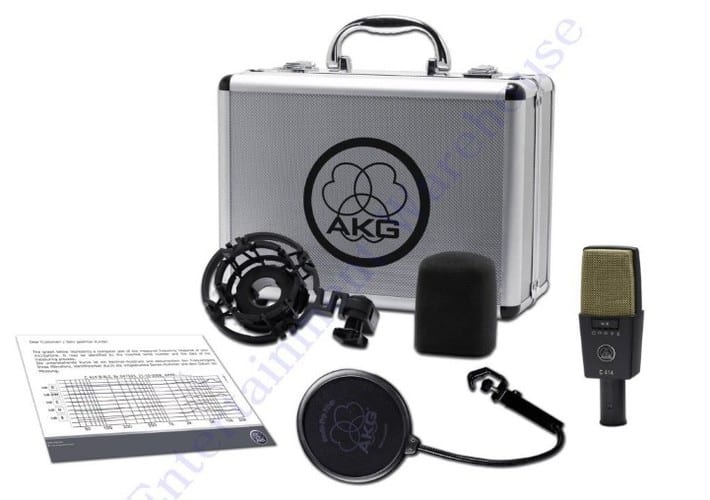 Whereas the Neumann TLM 103 comes with a hard mount which is little concerning safety issues and handling.
Features and usability
You can think of the Neumann TLM 103 as a pretty conventional large diaphragm condenser microphone as all you'll need is an XLR cable and 48V Phantom power to get started. It is similar in the case of the AKG C414 as well.
The Neumann TLM 103 comes with only one polar pattern that is a cardioid. On the other, you can select from the 5 different polar patterns to choose from, according to your needs:
Omnidirectional
Wide Cardioid
Cardioid
Hypercardioid
Figure of 8
While the Neumann TLM 103 offers no frequency roll-off or pad switches, the AKG C414 will surprise you with the number of buttons it comes with on itself, accompanied by little LED lights to enhance its effect.
Let's get you acquainted with the low cut filters, or high pass filters, whichever name you prefer, the AKG C414 has in store for you:
-12 dB per octave at 40 Hz – helps you to get rid of the unnecessary low rumble in bass instruments and lets you enjoy its good depth without any distortion.
-12 dB per octave at 80hz – say you want to omit the low-end frequencies that have been causing some disturbance from vocals or solo instruments, that's where this option comes really handy.
-6 dB per octave at 160 Hz – if the bass buzz of the acoustic guitar is constantly bothering you, this makes it much better.
If you want the AKG C414 to be more user-friendly, and then fret not, it doesn't disappoint you in that case either. The three pad switches at -6 dB, -12 dB and -18 dB comfortably enable you to control the sound pressure level to which the microphone is exposed to.
Note: for the AKG C414, changes made in the polar pattern lead to a change in frequency response as well. Combine them with the filter buttons and you can experiment with new sounds on your own!
Sound quality
It would be really a sin to judge a microphone based on its frequency response chart and predict the kind of sound we can expect from it. The chart does help in estimating the range, but at the end of the day, sound is all about feeling it rather than calculating it using numbers.
Both the Neumann TLM 103 and the AKG C414 are outstanding microphones for recording vocals and instruments.
Even though the Neumann TLM 103 has a single cardioid polar pattern, it delivers a three-dimensional sound effect, fascinatingly through a mono signal!
And it's very essential to get the guitar sound right in any recording as it can either make or break the feel of the song. With the Neumann TLM 103, you get an inside-out classiness of your acoustic guitar.
Similarly for the AKG C414, it is an all-round player with its different polar patterns to choose from making it ideally suited for vocals as well as acoustic instruments.
Speaking in technical terms, the AKG C414 offers a boost between 2 kHz and 5 kHz, which means the audio stands out due to its unmatched quality. To boil it down, even more, it helps the vocals and other lead instruments to cut through the mix and provide clarity to the sounds.
What might concern you with the Neumann TLM 103 is that you will find it really difficult to use it in an acoustically untreated room as it will definitely catch the reflections from the room, even though it has a cardioid pattern.
It is therefore recommended that you use acoustic panels or isolators surrounding the recording space to nullify the unwanted ambiance.
Meanwhile, the AKG C414 reduces much of your work to a greater extent. EQ and signal processing come later in the production process but what if you can't record the sound in such a way that you don't need to make the additional tweaks? Sounds really amazing, doesn't it?.
The different settings in the AKG C414 make sure you record a great sound firsthand, which minimizes the amount of work you put into a signal in the mixing process.
Pros and Cons
Neumann TLM 103:
It has a ruggedly constructed structure maintaining the standard quality of Neumann.
The recording quality is transparent and clean because of its flat frequency response.
Its transformerless circuit eliminates the possibility of the audio signal being affected by any radio frequency interference.
Cons
No option for rolling off unwanted frequencies.
Additional EQ is required in order to get rid of the hissing in vocal recordings due to the bright top.

AKG C414:
Excellent dubbing quality for Rap and R&B vocals.
Huge difference in audio quality than its predecessors and lower-end versions.
The brightness in the sound output is not overdone and provides a crisp and natural finish to it.
Suffers a little bit in terms of bass and fullness of the output.
Changing the polar pattern causes quite an audible pop which might turn out to be harmful to the monitors.
FAQs: Neumann TLM 103 vs AKG C414
Do these mics support multiple polar patterns?
Neumann TLM 103 has only a cardioid polar pattern while AKG C414 supports multiple polar patterns and you can choose from omnidirectional, wide cardioid, cardioid, hypercardioid and figure of 8.
Among these two headphones which mic is having more features?
AKG wins in this case as it comes with a lot of features including shock mount, pop filter and windscreen and also the flexibility to choose among five polar patterns.
What pads do these mics come with?
TLM 103 doesn't have any pads whereas AKG C414 supports 3 pads -6 dB, -12 dB and -18 dB
On what principle these mics work?
TLM 103 works on the pressure gradient principle whereas C414's principle is not specified.
What frequency ranges do these mics cover?
Both these mics cover a wide frequency range of 20 Hz to 20 kHz
Bottomline
Quite evidently enough, both the Neumann TLM 103 and the AKG C414 are superb studio microphones. While the Neumann affords you with the meatier version of the audio, the AKG's output has an airy vibe.
However, the AKG comes with a lot of embedded options, namely filter and pad buttons, which makes it a better option as it saves a considerable amount of time in the overall recording process.
You can manipulate the sound and experiment with it in whichever way you desire to during recording rather than tweaking knobs while mixing. You don't need to buy added accessories for the AKG as it comes along with the microphone.
Its highly portable, progressive and professional aspects make the AKG C414 a better condenser microphone than the Neumann TLM 103.