In this let me review the two great headphones Hifiman HE400i and Sennheiser HD650.
Last update on 2023-12-10 / Affiliate links / Images from Amazon Product Advertising API
The Hifiman HE400i is recently released by Hifiman. Hifiman is good at its production of planar magnetic headphones.
This headphone has some interesting features, so we have decided to put HE400i against the renowned Sennheiser HD650.
I urge you not to make conclusions just yet, because you may be surprised at the outcome.
Let's move on with the in-depth review of HE400i vs HD650.
Look at the specifications in the table below:
HIFIMAN HE-400I Over Ear Full-Size Planar Magnetic Headphones Adjustable Headphone with Comfortable Earpads Open-Back Design Easy Cable Swapping
Sennheiser Consumer Audio HD 650 - Audiophile Hi-Res Open Back Dynamic Headphone, Titan
HIFIMAN HE-400I Over Ear Full-Size Planar Magnetic Headphones Adjustable Headphone with Comfortable Earpads Open-Back Design Easy Cable Swapping
Sennheiser Consumer Audio HD 650 - Audiophile Hi-Res Open Back Dynamic Headphone, Titan
Last update on 2023-12-10 / Affiliate links / Images from Amazon Product Advertising API
HE400i vs HD650: Let's find the winner!
Design and build quality
At first glance, we tend to believe that Hifiman HE400i is made for home use, and not to be carried around. This is mainly because it is relatively bulky and may be uncomfortable for mobile use.
This gets a tad confusing though when you consider the length of the cord that comes with the HE400i. For a headphone that you want to use at home, you need at least 3m of cord length.
The HE400i comes with a 1.5m cord. This means if you're trying to use it in a living room setting, you may find it a bit uncomfortable.
That being said, the cable is quite bulky, so you can be pretty sure of its durability. The cable is detachable from the earcups, this means it can be easily replaced in case of damage.
The connectors are gold plated! Apart from the beauty (they sure look good), the gold plating helps to protect the connectors from corrosion and increases the durability.
The cable connector is a renowned 3.5mm plug which you can easily fit into any appliance either directly or through a 6.3mm adapter. The HE400i is an open-back headphone.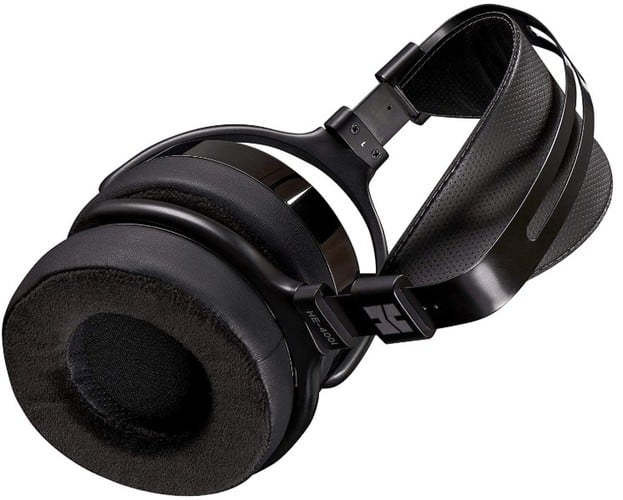 This means sound from the environment filters into the headphone and some of the sound you're listening to filters out. The advantage of this design is that there is a better representation of low frequencies, so you can be sure you're not over-complementing for your bass.
Another benefit of the open-back design is the open, airy feel it gives, as opposed to the closed-back headphones, which usually sound more like the music is boxed in your head.
Also noteworthy fact that you may not find it comfortable to use the Hifiman HE400i for very long hours, you might become irritated after some hours.
The Sennheiser HD650 has what I call a universal design a "one size fits all". It clamps right on, even with moderate headgear. It is also very comfortable and well padded; very suitable for long stretches.
Like the Hifiman HE400i, it sports the open-back design that permits flow of some sound in and out of the headphone.
Since the grip on your head will be quite firm, it may experience a little friction if you wear glasses. The seemingly weak link in this strong design is the joint connecting the headband to the earcups.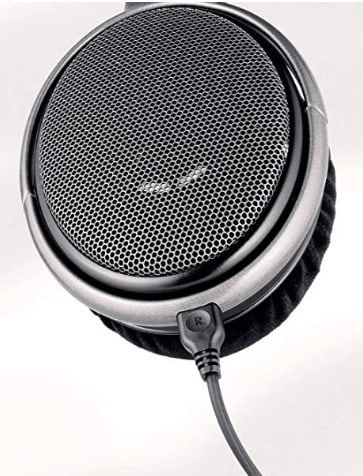 It is quite fragile at that particular point and care must be taken so as not to put it under much stress.
Sound quality and performance
As earlier stated, both the Hifiman HE400i and the Sennheiser HD650 are open back design, allowing passage of sound in and out of the headphone.
This has a direct effect on the quality of sound you perceive. For instance, if you are listening in a noisy environment, some of that noise would definitely seep in and meddle with the music you're listening to.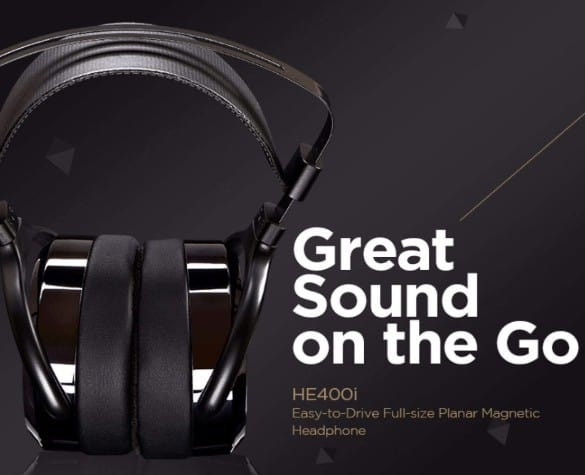 By implication, you are advised to use any of these headphones indoors and in relatively quiet areas for a more immersive listening experience.
So, since they are reference headphones, it is recommended you wear them inside a closed environment, the best being in your studio or a silent room.
If you are looking for good studio headphones, then you can opt these.
The Hifiman HE400i is not very flattering. What this means is that what you have is what you get. The manufacturers tried as much as possible to make the sound as natural as possible, which they achieved to a large extent.
Therefore if your music originally does not have much bass, don't expect the HE400i to add a bottom to the sound. If you're a or bright sound lover you might find this one a bit neutral.
Bass
Hifiman HE400i's bass is quite decent. It holds its own pretty well with the kick and bass guitars. It renders the low frequencies without unnecessary rumbles and muddiness.
However, with songs heavy on bass, there is the tendency for the heavy low frequencies to be undermined, just a little bit. I'm no matchmaker, but if you're a heavy bass head, HE400i may just not be the one for you.
Mid
The midrange is the sweet spot of the HE400i. You can be assured of near perfect representation of the mid frequencies in your listening material. It produces a well-rounded, fleshed-up mid frequency distribution without adding too much or too little emphasis at any points.
This implies that for any music you're listening to, you can be sure the midrange instruments like the piano, guitars, and the vocals will be well defined. Combined with its decent low frequency, the HE400i should make a great companion if you're an avid pop, country or jazz music consumer or producer.
Treble
The high frequencies are a different story. A little too much emphasis seems to be placed on the 8KHz and above. This makes the overall music sound a tad too bright at times.
This may go unnoticed for some time but can induce ear tiredness over time. There is only so much cymbal sounds and vocal shrills one can take.
Again, if you do not use the headphones for several hours at a stretch, you need not to be bothered about this because it is barely noticeable; it only becomes important after several listening hours and accumulated listening begins to cause fatigue.
At first contact, you may be tempted to think the HD650 has too much bass, especially if you were previously used to closed-back headphones.
Now, a little chat about closed-back headphones: The bass in closed-back headphones never seem to be enough because they can't effectively reproduce frequencies below 100Hz.
Let's say you make music with closed-back headphones, you would be tempted to always crank up the bass because it never seems to be enough.
Therefore, if you are used to closed-back headphones, when you listen through the HD650, you would probably think "too much bass" whereas, in reality, you are just not familiar with perfect low-frequency representation.
This is a major strength of the Sennheiser HD650: Succinct low bass frequencies, much better than the HE400i.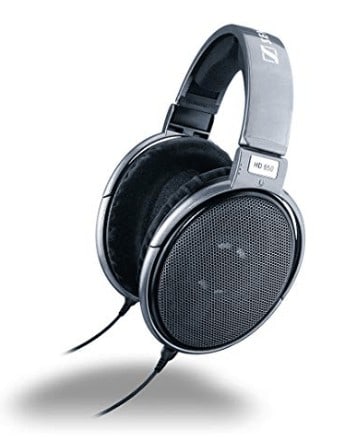 The presence of the bass here does not necessarily refer to volume. Even at very low volumes, the bass is still very much audible. The same goes for the very high frequencies too. It's almost as though the frequency spectrum just got a bit wider with the HD650.
The midrange is quite balanced and very clear too, but not as prominent as the low and high frequencies. At times, it almost feels like a U-shaped eq, with a little dip on the mid frequencies. This drop is barely noticeable though.
The high frequencies, like the bass, are quite pronounced, which is expected in order to balance out the prominent low frequencies.
Another major plus that the HD650 has is its soundstage. When listening through it, it seems less like an enclosed oval shaped sound box around your ears and more like an immersive spectrum with massive depth and height.
You can literally pick out different instruments and voices in different positions in the sonic space.
Pros and cons
Hifiman HE400i
Pros
Awesome midrange
Durable connecting cable
Cons
A little soft on low frequencies
A bit bulky, so not fit for mobile use.
Sennheiser HD650
Pros
Amazing low frequencies
Wide frequency range
Pronounced high frequencies
A lot of depth
Cons
Also read:
1. HE400I vs HE400S: Let's Settle This Now!
2. AKG K702 vs Sennheiser HD650: Which is the Best Reference Headphone?
Conclusion
After all is said and done, we have come to a final verdict and declare the winner in HE400i vs HD650 battle.
But before that, it is important to note that these pros and cons, especially in the aspect of frequency distribution are very subtle factors and they are barely noticeable, except if the style or genre of music you listen to focus on such attributes.
For instance, the little drop in the midrange for the HD650 will mostly be noticeable if you listen to a lot of jazz, country or classical music. Hip-hop and Pop music lovers would most likely not notice any differences.
That being said, considering the fact that they both cancel each other out in the design department (they're both bulky), we would need to judge based on sound quality. In that case, the Sennheiser HD650 WINS IT!