Deciding on what free music mixer to use as a DJ is challenging as a beginner because there are many DJs available today.
Mixer apps are necessary if you're a digital DJ who uses a laptop to perform on their shows. And lack of funds shouldn't be the reason you delay your mixing career.
Luckily there are free DJ apps available today. If you're looking for the best free music software to kickstart your career, read on because we'll be discussing various software that suits you as a beginner.
When you're starting as a DJ, you might not be able to afford some software. That's why you need free alternatives. These mixer apps are great whether you want to pursue a professional DJ career or a hobby.
7 Free Music Mixer Apps for Djs Reviewed
Are you looking to mix music in the comfort of your mobile phone? Get Edging Mix. It completely transforms your mobile phone into a professional DJ setup.
This app gives you access to the song library from Soundcloud. Plus, you can access songs from local folders. It's portable and fits right into your pocket.
Edjing Mix has a smart search feature that allows you to locate music easily in alphabetical order and it comes with 20 sample packs and 16 samples.
Also, it has an automatic BPM and tap Bpm feature. You can record mixes in HD and save your songs.
This app has a great hardware integration, an amazingly intuitive interface, and provides song key information.
GarageBand – Best for Apple Devices
GarageBand is a free music production software that's only available for Mac users. It's also available for your iPad and iPhone.
It's easy to learn and use, that's why it's recommended for beginners who are yet to start music production. This app comes with amazing instruments, presets, and sound effects that help you produce high-quality music.
Garage band is great for DJs because it comes with Remix Fx that helps DJs perform various DJ style effects. It has a great multitouch and live looping ability. Plus, you can connect instruments like a guitar for live recording and performances.
Virtual DJ – Best for Professional DJs
If you're looking to scratch, edit, mix, slow down, speed up tracks on your laptop but still enjoy that real turntable experience, download Virtual DJ today.
Virtual DJ is one of the best free DJ mixing software available today. It's available for both Mac and Android users. This app has an intuitive, easy-to-navigate interface and that's why it's great for both beginners and professional DJs.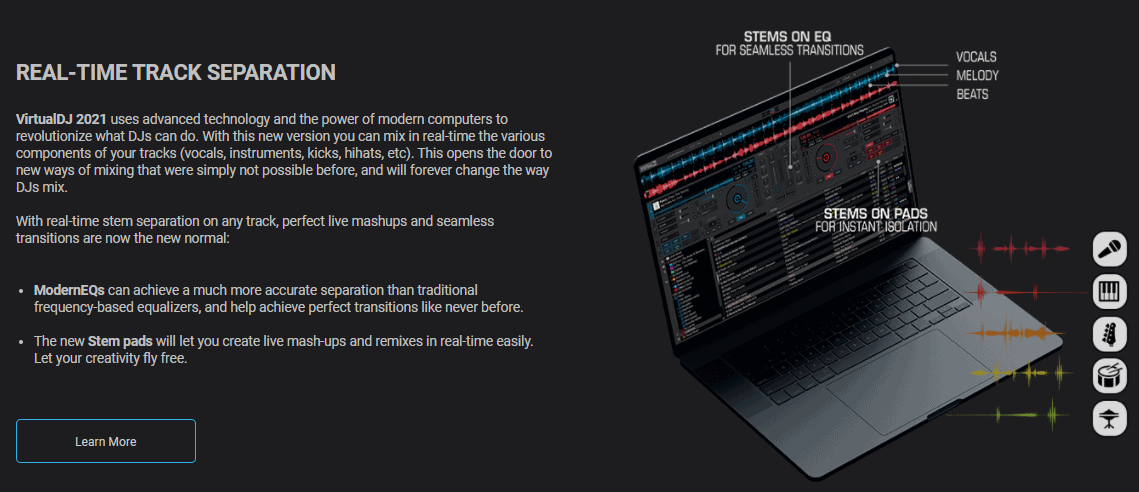 Virtual DJ comes with an inbuilt sandbox that allows you to broadcast your performances live to your listeners. Virtual DJ is free for bedroom DJs. However, buy it if you want to use it professionally.
Mixx – Best to Use with Turntbles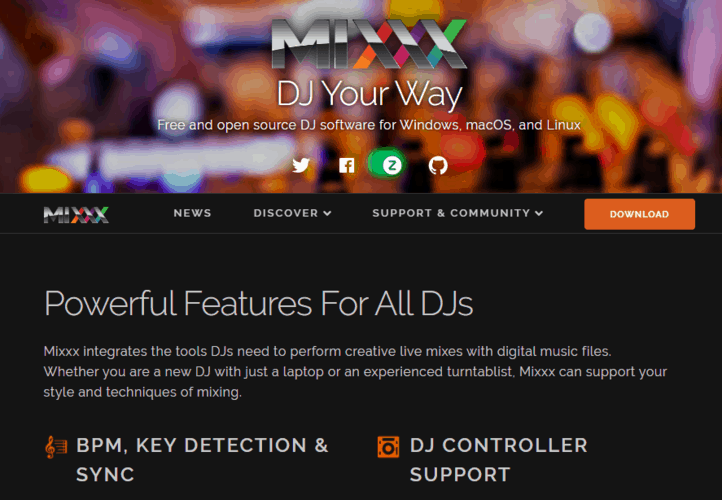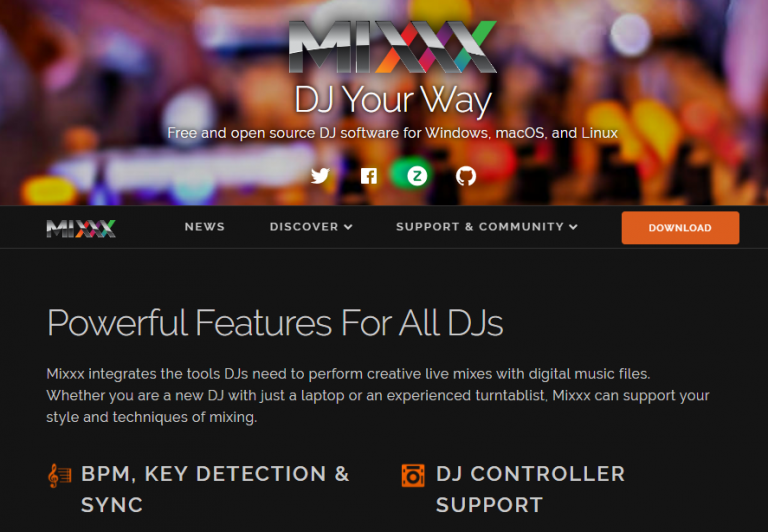 The Mixx DJ software stands out from other software because it's a collaboration software made by DJs and mixers for DJs. They developed Mixx to challenge expensive mainstream DJ software.
Mixx is a versatile free and open-source software. Whether you're a beginner or a professional you can use it on your laptop or with a turntable. It's great for every DJ because it supports all styles and techniques of mixing.
This app has an automatic Bpm and key detection. This comes in handy when searching for the next perfect track. It also has master sync to sync your tempo and beats.
Lastly, it has outstanding effects, DJ controller support, and vinyl record support.
DJ Studio 5 – Good Skin Customization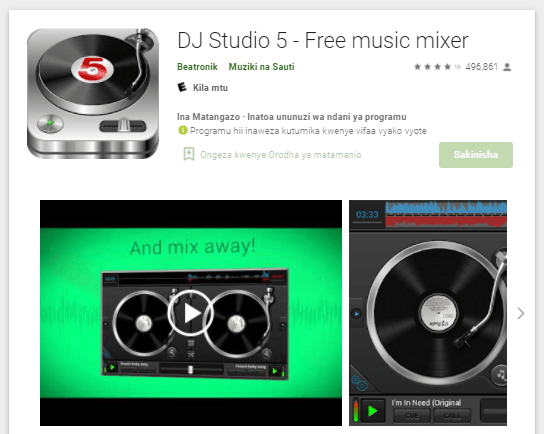 DJ Studio 5 helps you to mix, scratch, remix, create loops, loop, and music at the comfort of your device. It's very responsive, easy to use, and is compatible with Android 2.3 and above.
This app has a unique scratch engine and allows you to customize your look with up to seven skins.
When it comes to effects, DJ studio is at par with other free DJ software. It comes with a free flanger, phaser, gate, reverb, and bit crusher.
DJ studio also comes with a recorder to record your live mixes and share with your fans worldwide. It's great for both beginners and Pros.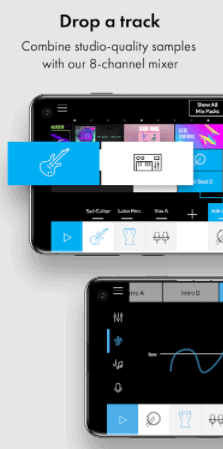 Music Maker Jam stands out from other software because it's not limited to DJs. It's perfect for both beginner and professional music producers, and music creators.
This app has a powerful and user-friendly interface. You can use it for song-making, mixing, remixing, and loops.
It allows you to express your creativity and experience by recording and adding various effects to your music.
What's more, you can join their community and share your music. This app allows you to make music on the go, anywhere anytime from the comfort of your phone or tablet.
If you're looking for a DJ mixing app that is optimized for phone and tablet use, get Cross DJ Free. This app will blow your mind.
Cross DJ free has an intuitive and easy-to-use interface that beats most of its competitors. It comes with 2 virtual turntables and a wonderful 3 band eq mixer.
There are numerous samples available in this app and the best part is that you can record your own to your liking and taste in the app.
This app gives you multiple sorting options like title, artist, album, and bpm thus making your work easier.
Lastly, the system requirements are not outrageous. All you need is an Android, 2GB ram, and a dual processor. This free version comes with numerous effects. But If you want to explore more features like getting rid of ads, get their in-app purchases.
Conclusion
All these 7 DJ software are amazing and are great for both beginners and professionals. We recommend you try these 3 because they have way more to offer.
The first app we recommend is Virtual DJ because it meets the industry standard. Plus, it's easy to learn and master.
Secondly, we recommend Music maker Jam if you want to mix music on your phone or tablet. It's the best in that category.
Lastly, we recommend Mixx. It's easy to use and it's software by the DJ community who understand what makes a good DJ software. Which of these DJ apps will you try first, let us know?
Recommended read: 6 Best Music Genre Finder Websites to Check Genres of any Song